You are currently browsing the tag archive for the 'mid-market' tag.
This week there was an interesting discussion on LinkedIn initiated by Alex Bruskin from Senticore Technologies. I have known Alex for over 20 years, starting from the SmarTeam days and later through encounters in the PLM space. Alex is a real techie on the outside but also a person with a very creative mind to connect technology to business.
You can see his LinkedIn featured posts here to get an impression.
Where is PLM @ Startups?
This time Alex shared an observation from an event organized by the Pittsburgh Robotics Network, where he spoke with several startups.
His point, and I quote Alex:
Then, I spoke to a number of presenters there, explaining Senticore capabilities and listening to their situation around engineering/ manufacturing.

– many startups offered an add-on to other platforms => an autonomous module for UAV/helicopter/Vehicle. Some offered robotic components or entire robots (robot-dog).

– all startups use #solidworks , and none use #catia or #nx

– none of them have a PLM system nor an MES. I am 90% certain none of them have ERP, either. They all are apparently using #excel for all these purposes.

– only a handful of them are considering getting a PLM system in the near future.
Read the full post here and the comments below to get a broader insight into the topic.
The PLM Doctor knows it all.
The point reminded me of an episode I did together with Helena Gutierrez from Share PLM last year. She asked the same question to the PLM Doctor.
Do you think PLM is only for big corporations or can startups also benefit from it?
You can see the conversation here:
Meanwhile, the PLM Doctor is unemployed due to the lack of incoming questions.
When looking at startups, I could see two paths. One is the traditional path based on historical mechanical PLM, and a second (potential) approach which is based on understanding the future complexity of the startup offering.
There are two paths – path #1
The first evolutionary path you might have seen a few times before in my blog post is the one depicted by Marc Halpern from Gartner in 2015. At that time, we started discussing Product Innovation Platforms and the new generation of PLM. You can see Marc's slide below, which is still valid for most situations.
In the slide above, you see the startup company on the left side.
Often the main purpose of a startup company is to be visible on the market with their concept as fast as possible. Startups are often driven by a small group of multifunctional people developing a solution. In this approach, there is no place for people and reflection on processes as they are considered overhead.
Only when you target your solution in a strongly regulated environment, e.g., medical devices and aerospace, you need to focus on the process too.
Therefore it is logical that most startup companies focus on the tools to develop their solution. A logical path, as what could you do without tools? Next, the choice of the tools will be, most of the time, driven by the team's experience and available skills in the market.
Again statistics show it is not likely that advanced tools like NX or CATIA will be chosen for the design part. More likely mid-market products like SolidWorks or Autodesk products. And for data management and reporting, the logical tools are the office tools, Excel, Word and Visio.
And don't forget PowerPoint to sell the solution.
The role of investors is often also here to question investments that are not clearly understood or relevant at that time.
How a startup scales up very much depends on the choices they make for Repeatable business. This is the moment that a company starts to create its legacy. Processes and best practices need to be established and why you often see is that seasoned people join the company. These people have proven their skills in the past, and most likely, they are willing to repeat this.
And here comes the risk – experienced people come with a much better holistic overview of the product lifecycle aspects. They know what critical steps are needed to move the company to an Integrated business. These experiences are crucial; however, they should not become the new single standard.
Implementing the past is not a guarantee for success in a digital and connected future.
Implementing their past experiences would focus too much on creating a System of Record (PLM 1.0), which is crucial for configuration management, change management and compliance. However, it would also create a productivity dip for those developing the product or solution.
This is the same dilemma that very small and medium enterprises face. They function reasonably well in a Repeatable business. How much should they invest in an Integrated or Collaborating business approach?
Following the evolution path described by Marc Halpern always brings you to the point where technology changes from Coordinated to Connected. This is a challenging and immature topic, which I have discussed in my blog posts and during conferences.
See: The Challenges of a connected ecosystem for PLM or this full series of posts:  The road to model-based and connected PLM.
There are two paths – path #2
Another path that startups could follow is a more forward-looking path, understanding that you need a coordinated and connected approach in the long term. For the fastest execution, you would like to work in a multidisciplinary mode in real time, exactly the characteristic of a startup.
However, in path #2, the startup should have a longer-term vision. Instead of choosing the obvious tools, they should focus on their company's most important value streams. They have the opportunity to select integrated domains that are based on a connected, often model-based approach. Some examples of these integrated domains:
An MBSE environment focusing on real-time interaction related to product architecture and solution components(RFLP)
A connected product design environment, where in real-time a virtual product can be created, analyzed, and optimized – connected software might be relevant here.
A connected product realization environment where product engineering and suppliers work together in real time.
All three examples are typical Systems of Engagement. The big difference with individual tools is that they already focus on multidisciplinary collaboration on a data-driven, model-based approach.
In addition, having these systems in place allows the startup company to invest separately in a System of Record(s) environment when scaling up. This could be a traditional PLM system combined with a Configuration Management System or an Asset Management System.
System of Record choices, of course, depends on the industry needs and the usage of the product in the field. We should not consider one system that serves all; it is an infrastructure.
In the image below, you see the concept of this approach described by Erik Herzog from SAAB Aeronautics during the recent PLM Roadmap / PDT Europe conference. You can read more details of this approach in this post: The Week after PLM Roadmap PDT Europe.
Note: SAAB is not a startup; therefore, they must deal with their legacy. They are now working on business sustainable concepts for the future: Heterogeneous and federated PLM.
My opinion: The heterogeneous and federated approach is the ultimate target for any enterprise. I already mentioned the importance of connected environments regarding digital twins and sustainability. Material properties, process environmental impacts and product behavior coming from the field will all work only efficiently if dealt with in a connected and federated manner.
Conclusion
The challenge for startups is that they often start without the knowledge and experience that multidisciplinary collaboration within a value stream is crucial for a connected future. This a topic that I would like to explore further with startups and peers in my ecosystem. What do you think? What are your questions? Join the conversation.
In the previous seven posts, learning from the past to understand the future, we have seen the evolution from manual 2D drawing handling. Next, the emerge of ERP and CAD followed by data management systems (PDM/PLM) and methodology (EBOM/MBOM) to create an infrastructure for product data from concept towards manufacturing.
Before discussing the extension to the SBOM-concept, I first want to discuss Engineering Change Management and Configuration Management.
ECM and CM – are they the same?
Often when you talk with people in my PLM bubble, the terms Change Management and Configuration Management are mixed or not well understood.
When talking about Change Management, we should clearly distinguish between OCM (Organizational Change Management) and ECM (Engineering Change Management). In this post, I will focus on Engineering Change Management (ECM).
When talking about Configuration Management also here we find two interpretations of it.
The first one is a methodology describing technically how, in your PLM/CAD-environment, you can build the most efficient way connected data structures, representing all product variations. This technology varies per PLM/CAD-vendor, and therefore I will not discuss it here. The other interpretation of Configuration Management is described on Wiki as follows:
Configuration management (CM) is a systems engineering process for establishing and maintaining consistency of a product's performance, functional, and physical attributes with its requirements, design, and operational information throughout its life.
This is also the area where I will focus on this time.
And as-if great minds think alike and are synchronized, I was happy to see Martijn Dullaart's recent blog post, referring to a poll and follow-up article on CM.
Here Martijn precisely touches the topic I address in this post. I recommend you to read his post: Configuration Management done right = Product-Centric first and then follow with the rest of this article.
Engineering Change Management
Initially, engineering change management was a departmental activity performed by engineering to manage the changes in a product's definition. Other stakeholders are often consulted when preparing a change, which can be minor (affecting, for example, only engineering) or major (affecting engineering and manufacturing).
The way engineering change management has been implemented varies a lot. Over time companies all around the world have defined their change methodology, and there is a lot of commonality between these approaches. However, terminology as revision, version, major change, minor change all might vary.
I described the generic approach for engineering change processes in my blog post: ECR / ECO for Dummies from 2010.
The fact that companies have defined their own engineering change processes is not an issue when it works and is done manually. The real challenge came with PDM/PLM-systems that need to provide support for engineering change management.
Do you leave the methodology 100 % open, or do you provide business logic?
I have seen implementations where an engineer with a right-click could release an assembly without any constraints. Related drawings might not exist, parts in the assembly are not released, and more. To obtain a reliable engineering change management process, the company had to customize the PLM-system to its desired behavior.
An exercise excellent for a system integrator as there was always a discussion with end-users that do not want to be restricted in case of an emergency  ("we will complete the definition later" / "too many clicks" / "do I have to approve 100 parts ?"). In many cases, the system integrator kept on customizing the system to adapt to all wishes. Often the engineering change methodology on paper was not complete or contained contradictions when trying to digitize the processes.
For that reason, the PLM-vendors that aim to provide Out-Of-The-Box solutions have been trying to predefine certain behaviors in their system. For example, you cannot release a part, when its specifications (drawings/documents) are not released. Or, you cannot update a released assembly without creating a new revision.
These rules speed-up the implementation; however, they require more OCM (Organizational Change Management) as probably naming and methodology has to change within the company. This is the continuous battle in PLM-implementations. In particular where the company has a strong legacy or lack of business understanding, when implementing PLM.
There is an excellent webcast in this context on Minerva PLM TV – How to Increase IT Project Success with Organizational Change Management.
Click on the image or link to watch this recording.
Configuration Management
When we talk about configuration management, we have to think about managing the consistency of product data along the whole product lifecycle, as we have seen from the Wiki-definition before.
Configuration management existed long before we had IT-systems. Therefore, configuration management is more a collection of activities (see diagram above) to ensure the consistency of information is correct for any given product. Consistent during design, where requirements match product capabilities. Consistent with manufacturing, where the manufacturing process is based on the correct engineering specifications. And consistent with operations, meaning that we have the full definition of product in the field, the As-Built, in correct relation to its engineering and manufacturing definition.
This consistency is crucial for products where the cost of an error can have a massive impact on the manufacturer. The first industries that invested heavily in configuration management were the Aerospace and Defense industries. Configuration management is needed in these industries as the products are usually complex, and failure can have a fatal impact on the company. Combined with many regulatory constraints, managing the configuration of a product and the impact of changes is a discipline on its own.
Other industries have also introduced configuration management nowadays. The nuclear power industry and the pharmaceutical industry use configuration management as part of their regulatory compliance. The automotive industry requires configuration management partly for compliance, mainly driven by quality targets. An accident or a recall can be costly for a car manufacturer. Other manufacturing companies all have their own configuration management strategies, mainly depending on their own risk assessment. Configuration management is a pro-active discipline – it costs money – time, people and potential tools to implement it. In my experience, many of these companies try to do "some" configuration management, always hoping that a real disaster will not happen (or can happen). Proper configuration management allows you to perform reliable impact analysis for any change (image above)
What happens in the field?
When introducing PLM in mid-market companies, often, the dream was that with the new PLM-system configuration, management would be there too.
Management believes the tools will fix the issue.
Partly because configuration management deals with a structured approach on how to manage changes, there was always confusion with engineering change management. Modern PLM-systems all have an impact analysis capability. However, most of the time, this impact analysis only reaches the content that is in the PLM-system. Configuration Management goes further.
If you think that configuration management is crucial for your company, start educating yourselves first before implementing anything in a tool. There are several places where you can learn all about configuration management.
To summarize
In regulated industries, Configuration Management and PLM are a must to ensure compliance and quality. Configuration management and (engineering) change management are, first of all, required methodologies that guarantee the quality of your products. The more complex your products are, the higher the need for change and configuration management.
PLM-systems require embedded engineering change management – part of the PDM domain. Performing Engineering Change Management in a system is something many users do not like, as it feels like overhead. Too much administration or too many mouse clicks.
So far, there is no golden egg that performs engineering change management automatically. Perhaps in a data-driven environment, algorithms can speed-up change management processes. Still, there is a need for human decisions.
Similar to configuration management. If you have a PLM-system that connects all the data from concept, design, and manufacturing in a single environment, it does not mean you are performing configuration management. You need to have processes in place, and depending on your product and industry, the importance will vary.
Conclusion
In the first seven posts, we discussed the design and engineering practices, from CAD to EBOM, ending with the MBOM. Engineering Change Management and, in particular, Configuration Management are methodologies to ensure the consistency of data along the product lifecycle. These methodologies are connected and need to be fit for the future – more on this when we move to modern model-based approaches.
Closing note:
While finishing this blog post today I read Jan Bosch's post: Why you should not align. Jan touches the same topic that I try to describe in my series Learning from the Past ….., as my intention is to make us aware that by holding on to practices from the past we are blocking our future. Highly recommended to read his post – a quote:
The problem is, of course, that every time you resist change, you get a bit behind. You accumulate some business, process and technical debt. You become a little less "fitting" to the environment in which you're operating
Already five posts since we started looking at the roots of PLM, where every step illustrated that new technical capabilities could create opportunities for better practices. Alternatively, sometimes, these capabilities introduced complexity while maintaining old practices. Where the previous posts were design and engineering-centric, now I want to make the step moving to manufacturing-preparation and the MBOM. In my opinion, if you start to manage your manufacturing BOM in the context of your product design, you are in the scope of PLM.
For the moment, I will put two other related domains aside, i.e., Configuration Management and Configured Products. Note these domains are entirely different from each other.
Some data model principles
In part five, I introduced the need to have a split between a logical product definition and a technical EBOM definition. The logical product definition is more the system or modular structure to be used when configuring solutions for a customer. The technical EBOM definition is, most of the time, a stable engineering specification independent of how and where the product is manufactured. The manufacturing BOM (the MBOM) should represent how the product will be manufactured, which can vary per location and vary over time. Let us look in some of the essential elements of this data model
The Product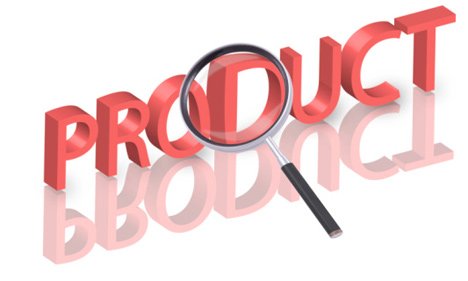 The logical definition of the product, which can also be a single component if you are a lower tier-supplier, has an understandable number, like 6030-10B. A customer needs to be able to order this product or part without a typo mistake. The product has features or characteristics that are used to sell the product. Usually, products do not have a revision, as it is a logical definition of a set of capabilities. Most of the time, marketing is responsible for product definition. This would be the sales catalog, which can be connected in a digital PLM environment. Like the PDM-ERP relation, there is a similar discussion related to where the catalog resides—more on the product side later in time.
The EBOM
Related to the product or component in the logical definition, there is an actual EBOM, which represents the technical specification of the product. The image above shows the relation represented by the blue "current" link.
Note: not all systems will support such a data model, and often the marketing sides in managed disconnected from the engineering side. Either in Excel or in a specialized Product Line Engineering (PLE) tools.
We discussed in the previous post that if you want to minimize maintenance, meaning fewer revisions on your EBOM, you should not embed manufacturer-specific parts in your EBOM.
The EBOM typically contains purchase parts and make parts. The purchased parts are sourced based on their specification, and you might have a single source in the beginning. The make parts are entirely under your engineering control, and you define where they are produced and by whom. For the rest, the EBOM might have functional groupings of modules and subassemblies that are defined for reuse by engineering.
Note: An EBOM is the place where multidisciplinary collaboration comes together. This post mainly deals with the mechanical part (as we are looking at the past)
Note: An EBOM can contain multiple valid configurations which you can filter based on a customer or market-specific demand. In this case, we talk about a Configured EBOM or a 150 % EBOM.
The MBOM
The MBOM represents the way the unique product is going to be manufactured. This means the MBOM-structure will represent the manufacturing steps. For each EBOM-purchase-part, the approved manufacturer for that plant needs to be selected. For each make-part in the EBOM, if made in this plant per customer order, the EBOM parts need to be resolved by one or more manufacturing steps combined with purchased materials.
Let us look at some examples:
The flat MBOM
Some companies do not have real machinery anymore in their plants, the product they deliver to the market is only assembled at the best financial location. This means that all MBOM-parts should arrive at the shop floor to be assembled there. As an example, we have plant A below.
Of course, this is a simplified version to illustrate the basics of the MBOM. The flat MBOM only makes sense if the product is straightforward to assemble. Based on the engineering specifications, the assembly drawing(s) people on the shop floor will know what to do.
The engineering definition specifies that the chassis needs to be painted, and fitting the axles requires grease. These quantities are not visible in the EBOM; they will appear in the MBOM. The quantities and the unit of measure are, of course, relevant here.
Note: The exact quantities for paint and grease might be adjusted in the MBOM when a series of Squads have been manufactured.
The MBOM and Bill of Process
Most of the time, a product is manufactured in several process steps. For that reason, the MBOM is closely related to the Bill of Process or the Routing definitions. The image below illustrates the relationship between an MBOM and the operations in a plant.
If we continue with our example of the Squad, let us now assume that the wheels and the axle are joined together in a work cell. In addition, the chassis is painted in a separate cell. The MBOM would look like the image below:
In the image, we see that the same Engineering definition now results in a different MBOM. A company can change the MBOM when optimizing the production, without affecting the engineering definition. In this MBOM, the Axle assembly might also be used in other squads manufactured by the company.
The MBOM and purchased parts
In the previous example, all components for the Squad were manufactured by the same company with the option to produce in Plant A or in Plant B. Now imagine the company also has a plant C in a location where they cannot produce the wheels and axle assembly. Therefore plant C has to "purchase" the Wheel-Axle assembly, and lucky for them plant B is selling the Wheel+Axle assembly to the market as a product.
The MBOM for plant C would look like the image below:
For Plant C, they will order the right amount of the Wheel+Axle product, according to its specifications (HF-D240). How the Wheel+Axle product is manufactured is invisible for Plant C, the only point to check is if the Wheel+Axle product complies with the Engineering Definition and if its purchase price is within the target price range.
Why this simple EBOM-MBOM story?
For those always that have been active in the engineering domain, a better understanding of the information flow downstream to manufacturing is crucial. Historically this flow of information has been linear – and in many companies, it is still the fact. The main reason for that lies in the fact that engineering had their own system (PDM or PLM), and manufacturing has their own system (ERP).
Engineers did their best to provide the best engineering specification and release the data to ERP. In the early days, as discussed in Part 4, the engineering specification was most of the time based on a kind of hybrid BOM containing engineering and manufacturing parts already defined.
Next, manufacturing engineering uses the engineering specifications to define the manufacturing BOM in the ERP system. Based on the drawings and parts list, they create a preferred manufacturing process (MBOM and BOP) – most of the time, a manual process. Despite the effort done by engineering, there might be a need to change the product. A different shape or dimension make manufacturing more efficient or done with existing tooling. This means an iteration, which causes delays and higher engineering costs.
The first optimization invented was the PDM-ERP interface to reduce the manual work and introduction of typos/misunderstanding of data. This topic was "hot" between 2000 and 2010, and I visited many SmarTeam customers and implementers to learn and later explain that this is a mission impossible. The picture below says it all.
We have an engineering BOM (with related drawings). Through an interface, this EBOM will be restructured into a manufacturing BOM, thanks to all kinds of "clever" programming based on particular attributes. Discussed in Part 3
The result, however, was that the interface was never covering all situations and became the most expensive part of the implementation.
Good business for the implementing companies, bad for the perception of PDM/PLM.
The lesson learned from all these situations: If you have a PLM-system that can support both the EBOM and MBOM in the same environment, you do not need this complex interface anymore. You can still use some automation to move from an EBOM to an MBOM.
However, three essential benefits come from this approach
Working in a single environment allows manufacturing engineers to work directly in the context of the EBOM, proposing changes to engineering in the same environment and perform manual restructuring on the MBOM as programming logic does not exist. Still, compare tools will ensure all EBOM-parts are resolved in the manufacturing definition.
All product Intellectual Property is now managed in a single environment. There is no scattered product information residing in local ERP-systems. When companies moved towards multiple plants for manufacturing, there was the need for a centralized generic MBOM to be resolved for the local plant (local suppliers / local plant conditions). Having the generic MBOM and Bill of Process in PLM was the solution.
When engineers and manufacturing engineers work in the same environment, manufacturing engineering can start earlier with the manufacturing process definition, providing early feedback to engineering even when the engineering specification has not been released. This approach allows real concurrent engineering, reducing time to market and cost significantly
Conclusion
Again 1600 words this time. We are now at the stage that connecting the EBOM and the MBOM in PLM has become a best practice in most standard PLM-systems. If implemented correctly, the interface to ERP is no longer on the critical path – the technology never has been the limitation – it is all about methodology.
Next time a little bit more on advanced EBOM/MBOM interactions
Last time in the series Learning from the past to understand the future, we zoomed in on how the 3D CAD-structure in the mid-market had to evolve. In a typical Engineering To Order (ETO) scenario, it makes sense to extract from the 3D CAD-structure a BOM-structure to collect all the individual parts that are needed for manufacturing. Combined with the drawings generated based on the 3D CAD assemblies/parts, the complete manufacturing information could be provided. Let's have a look.
The BOM in ERP (part 1)
To understand what most mid-market companies have been doing, I created the image below. When you click on it, you will have an enlarged version.
Note: for educational purposes an extremely simplified example
There is a lot to explain here.
First, on the right we see the 3D CAD assembly, two phantom assemblies, grouping the wheels and the axle. And at the end, the individual parts, i.e. chassis, axle, and wheel. The 3D CAD-structure is an instance-based structure; therefore, there are no quantities in the structure (all quantity 1)
For the individual parts, there are drawings. Also, for the product, we have an assembly drawing. The drawings are essential as we want to have them in the ERP-system for manufacturing.
Finally, the physical parts, now with a different ID than the drawing as we learned this one-to-one relation created a lot of extra work. The physical parts are often called Items or Materials (SAP naming). Unfortunately, for engineering, there is a different meaning behind Materials. Still, SAP's data model was not built with an engineering mindset.
The physical part structure, which we call the BOM contains quantities. Most PDM-CAD-integrations can filter out phantom assemblies and summarize the parts on the same level
I am still reluctant to call the Part-structure an EBOM as the design of the product has been mainly focusing on extracting manufacturing information, parts, and drawings.
The BOM in ERP (part 2)
In customized PDM-implementations, some implementers created an interface from the BOM-structure to ERP, so the ERP-system would have the basic definition of the parts and a copy of the relevant drawings.
Now manufacturing could create the manufacturing definition without the need to go into the PDM-system.
Some "clever" – Dick Bourke would say "smart – therefore lazy" – proposed to "draw" also manufacturing entities in the 3D CAD-structure, so the PDM-CAD-interface would automatically deliver manufacturing parts too inside the ERP. In the example below, we added paint for the body and grease needed for the axels.
Although "smart, a new problem was introduced here – the 3D CAD-structure, instance-based, always has quantities 1. The extracted BOM would have rounded numbers when considering design parts. Now the grease comes with an estimate of  0.025 kg, assuming quantities are based on SI-units. We could also add other manufacturing information to this BOM, like 0.3-liter paint. Anyway, the result would look like below:
Important to notice from the diagram here: There are placeholders for grease and paint "drawn" in the 3D CAD-structure – parts without a geometrical definition and, therefore, not having an associated drawing. However, these parts have a material specification, and therefore in the BOM-structure, they appear as Materials.
Next in the BOM-structure, the engineers would enter the expected/required quantity – which is no longer a rounded number.
At this stage, you cannot call the BOM on the left an EBOM. It is a kind of hybrid structure, combining engineering and manufacturing data. A type of BOM we discover a lot in companies that started with a type of ETO-product.
The ETO-product
Many companies that developed specialized machinery have started with a base product, from where they developed the custom solution – their IP. Next, with more and more customers, the original solution was extended by creating either new or changed capabilities.
I worked a lot with companies that moved to the full definition of their products in 3D CAD, creating a correct 3D CAD-structure per customer order. Instead of creating new BOM variants, companies were often tempted/forced to make the configuration inside the 3D CAD-model.
The 3D CAD vendor often provided functionality to have multiple configurations of the same part/product inside a single file. A nice feature for designers as there are fewer files to maintain, however, a crime for data management.
Every time one of the configurations of the part would change, or a new configuration was added, the file has to be revised.
And if the change was at level five of a 3D CAD-structure, many assembly files needed to be updated. The versioning problem illustrates the challenge of managing configurations inside a 3D CAD-file, meanwhile creating complexity for the PDM/PLM-system.
Last week Tech-Clarity published the highlights of their survey: Bringing Custom-Engineered Products to Market with a link to the full report, sponsored by Propel.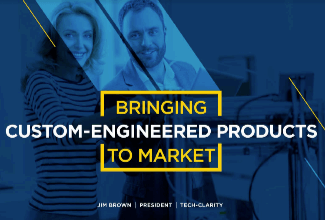 As you can imagine, this survey is more about PLM collaboration, breaking down the silos and acting agile. Unfortunately, the report does not expose required methodologies, like modularity and "common sense" engineering practices that we discuss here. Still worthwhile to read as the report addresses precisely the type of companies I am referring too here.
If we look at the methodology of custom-engineered products, let us look at how their "best practice" from the past is blocking the future.
When a new customer request is coming in, sales engineering is looking for the best match of delivered products. Hopefully, 80-90 % remains the same, and engineering has to focus only on the differences.
First, the best-match 3D CAD-structure is copied to a new project. As you can see most 3D CAD-systems provide the functionality to create a derived structure from an original 3D CAD-structure. From there, a traditional ETO-process starts as described at the beginning of this post. We complete the 3D CAD-structure with manufacturing in mind, generate the BOM and drawings, and we can deliver. In the case of purchase parts, the generated BOM often contains already the supplier part number in the 3D CAD-structure as we are focusing on this single delivery.
The disadvantage of this approach that in theory, we have to check if the structure that we reused is really the best so far, otherwise we introduce errors again.
The second disadvantage is that if one supplier part in the structure becomes obsolete and needs to be revised, the company has to go through all the 3D CAD-structures to fix it.
Also, having supplier parts in the 3D CAD-structure makes it more difficult to standardize, as the chosen supplier part matched the criteria for that customer at that time. Will it match the criteria also in other situations?
From ETO to BTO to CTO
Many companies that started with custom-engineered products, the ETO-approach, want to move towards a Configure To Order (CTO) approach – or if not possible at least Build To Order (BTO). More reuse, less risk,  instead of creating every time a new solution for the next customer, as discussed before.
This is not a mission impossible; however, often, I have seen that companies do not set the right priorities to move towards a configure to order environment. There are a few changes needed to become a configure to order company (if possible):
Analyze your solution and define modules and options. Instead of defining a full solution, the target now is to discover a commonality between the various solutions. Based on commonality, define modules and options in such a manner that they can be used in different situations. Crucial for these modules is that there is a standard interface to the rest of the product. Every company needs to master this specific methodology for their products
Start defining products from a logical structure, defining how products, modules and options are compatible and which combinations are allowed (or preferred). For companies that are not familiar with logical structure, often a configured EBOM is used to define the solutions. Not the optimal way; however, this was the first approach most companies took ten years ago. I will explain the configured EBOM below.
A product definition and its modules now should start from a real EBOM, not containing manufacturing characteristics. The EBOM should represent the logical manner of how a product is defined. You will notice this type of EBOM might be only 2 – 3 levels deep. At the lowest level, you have the modules that have their own lifecycle and isolated definition.
You should no longer use supplier part numbers in your EBOMs. As the engineering definition of a module or option should not depend over time from a single supplier. We will discuss in the next post the relation between EBOM parts and the Approved Manufacturer List (AML)
To conclude for today
Changing from ETO to CTO requires modularity and a BOM-driven approach. Starting from a 3D CAD-structure can still be done for the lowest levels – the modules, the options. In a configure to order process, it might not be relevant anymore to create a full 3D-representation of the product.
However, when we look forward, it would be greatly beneficial to have the 3D-representation of every specific solution delivered. This is where concepts as augmented/virtual reality and digital twin come in.
Next time more on the BOM-structures – as we have just touched the upcoming of the EBOM – enough to clarify next week(s).
In my last post related to Learning from the past to understand the future, I discussed what happened when 3D CAD became available for the mid-market. In the large automotive or aerospace & defense companies, 3D CAD has been introduced along the path of defining processes and selecting tools. In the mid-market 3D CAD started from the other side, first as a productivity tool, not thinking further to change methodologies or processes.
The approach starting with 3D CAD without changing processes, has created several complexities. Every company that is aiming to move towards a digital future needs to reduce complexity to remain competitive. Now let us focus on the relation between the 3D CAD-structure and a BOM.
The 3D CAD-structure
When building a product in a 3D CAD system, the concept is that you have individual parts designed in 3D. Every single part has a unique identifier.
If possible, the (file) name would equal the physical part number.
Next, a group of parts could be stored as a subassembly. Such an assembly is sometimes called a phantom assembly, in case they only group together several 3D parts. The usage of this type of assemblies increased CAD productivity. For data management reasons, these assemblies need to have a unique identifier, preferably not with the same numbering scheme for physical part numbers. It would consume part numbers that would never be used during manufacturing.
Note: in the early days of connecting 3D CAD to ERP, there was a considerable debate about which system could generate the part number.
ERP has always been the leading system for parts definition, why change ? And why generate part numbers that might not be used later in production. "Wasting" part numbers was a bad practice as historically, the part number was like a catalog number: 6 to 7 digits.
Next, there is also another group of subassemblies that represent one or more primary components of a product. For example, a pump assembly, that might be the combination of the pump, the motor, and the base frame. This type of assembly appears most of the time high in the CAD-structure. They can be considered as a phantom assembly too, regarding a required identifier for this subassembly.
Finally, there might be parts in the CAD-structure that will not exist in reality as part but need to be created during the manufacturing process. Sheet metal parts are created during the manufacturing process. Cappings, strips and cables shown in the CAD-structure might come from materials that are purchased in standardized sizes (1 meter / 2 meter / 10 meter) and need to be cut during manufacturing. Here the instances in the CAD-structure will have a unique identifier. What type of identifier to use depends on the manufacturing process. It might be a physical part number, as it is a half-fabricate, or it remains a unique identifier for the CAD-structure only.
The reason I am coming back to these identifiers is that as described before, companies wanted to keep a relation between the part number and the file name.
There was a problem with flexible parts. A rubber hose with a specific length could be shaped differently in an assembly based on its connection. Two different shapes would create two files and therefore break the rule of a part number equals file name. The 3D CAD vendors "solved" this issue by storing configurable views of the same part inside one file and allow the user to select the active view.
Later we will see that management of views inside the 3D CAD model is not a wrong choice. This, contrary to managing different configurations of a part/product inside a single file, which creates complexity in the PLM domain.
In the end, the product became an assembly with several levels of subassemblies. At that time, when I worked a lot with CAD-integrations, the average depth of 3D CAD-structures was 6 to 7 levels deep, with exceptions in both directions.
The entire product CAD-structure is mainly used for a final digital mock-up, to allow engineers to analyze the full product behavior. One of my favorite YouTube movies is the one from Airbus – seven years ago, they described the power of a full digital mock-up used for the A380.
In ETO-processes, the 3D CAD-structure is unique for a given customer solution – like the A380.
In the case of large assemblies with a lot of parts and subassemblies, there were situations where the full product could not be resolved anymore. For Airbus a must, for the mid-market not always easy to reach. Graphics memory, combined with the way graphics were represented, are the major constraint. This performance issue is resolved in the gaming world, however then the 3D representation had no longer the required accuracy or definition.
The Version pop-up problem
Working with a 3D CAD structure created a new problem when designers were sharing parts and assemblies between themselves and suppliers. The central storage of the files required a versioning mechanism, supported by a check-in and check-out mechanism.
Depending on the type of 3D CAD integration, the PDM system generated a new minor revision of the file after check-in again. In this way, there was full traceability of the changes before release. The image below shows an example of how SmarTeam was dealing with minor and major revisions combined with lifecycle stages.
When revising a part, all assemblies that contained the changed part need to be updated too, in case you want to have traceability and preventing others from overwriting your version. Making sure this assembly file points to the right file again. In the cases of a 6-level deep CAD-structure, this has led to a lot of methodology problems on how to deal (or not to deal) with file changes.
In the case of a unique delivery for a customer, the ETO-process, the issue might not be so big. As everything in the 3D CAD-structure is work in progress, you only need to be sure during the release process of the 3D CAD-structure that all parts and assemblies are resolved to the latest version (and verified)
Making changes on an existing product is way more complicated, as assemblies are released, and parts exist in production. In that case, the Bill of Material is the leading structure to control the versions and the change impact, as we will see.
Note: Most CAD- and PLM-vendors loved to show you their demos, where starting from the CAD-structure, a product gets created (the ETO-process). The reality is that most companies do not start from the CAD-structure, but from an existing Bill of Material. In 2010, I wrote a few posts, discussing the relation between CAD and the BOM:
to explain there is more than a CAD-driven scenario.
The EBOM
In most PDM-systems with CAD-integrations, it is possible to create a Bill of Materials from the 3D CAD-structure. The Bill of Materials will be based on the parts inside the 3D CAD-structure. There is often the option to filter out phantom assemblies.
The structures are not the same. The 3D CAD-structure is instance-based, where the extracted Bill of Materials will summarize the part quantities on the same level. See the image below. There are four Wheel instances in the CAD structure, in the EBOM-structure, we have only one Wheel reference with quantity 4.
I named the structure on the right the EBOM as the structure represents the Bill of Materials from the engineering point of view. This definition is a little arbitrary, as we will see. In companies that started to develop products based on a conceptual BOM, often, this conceptual BOM was an "early" EBOM that had to be developed further. This EBOM was more representing a logical or modular structure driving the design, instead of an extract from the 3D CAD-structure. In the next post, I will zoom in on these differences. I want to conclude this time with a critical methodology needed to manage the 3D CAD structure changes in relation to an EBOM.
Breaking the rule Drawing ID (Model ID) = Part ID
Although I have been writing mostly about the 3D CAD structure, I want to remind us that the 3D Model in the mid-market is mainly used for design purposes. The primary delivery for manufacturing or a supplier is still a 2D-drawing for most companies. The 3D Model might be "nice to have" for CAM- or quality usage. Still, in case of a dispute, the 2D Drawing will be leading.
For that reason, in many mid-market companies, there was the following relation below:
In an environment without file versioning through check-in/check-out, this relation was easy to maintain. In the electronic world, every change in the 3D Model (which could be an assembly) triggers a new file version and, therefore, most of the time, a new version of the drawing and the physical part. However, you do not want to have a physical part with many revisions, in particular when this part could be again part of a Bill of Material.
To solve this issue, the Physical Part and the related Drawing/Model should have different lifecycles. The relation between the Physical Part and the Drawing Model should no longer be based on numbers but on a relation in the PDM/PLM-system. One of the main characteristics of a PDM/PLM-system is that it allows users to navigate through relations to find information in context. For example, solving a Where Used – question is a (few) mouse-click(s) in a PDM/PLM-system.
Click on the image to see the details.
Breaking this one-to-one numbering rule is a must if you want to evolve to an item-centric or data-driven PLM-environment. When to introduce this change and how to implement this new behavior is a methodology exercise, not an implementation of a new tool.
There is a lot to read about this topic as it is related to the Form-Fit-Function-discussion we had earlier this year. A collection of information can be found in these two LinkedIn-post, where the comments are providing the insights:
I will not dive deeper into this theme (reached 1700 words ☹) – next time I will zoom in on the EBOM and leave the world of 3D CAD behind (for a while)
To understand our legacy in the PLM-domain, what are the types of practices we created, I started this series of posts: Learning from the past to understand the future. My first post (The evolution of the BOM) focused on the disconnected world between engineering – generation of drawings as a deliverable – and execution MRP/ERP – the first serious IT-systems in a company.
At that time, due to minimal connectivity, small and medium-sized companies had, most of the time, an informal connection between engineering and manufacturing. I remember a statement at that time, PLM was just introduced. One person during a conference claimed:
"You guys make our lives so difficult with your systems. If we have a problem, we gather around the machine, and we fix it."
PLM started at large enterprises
Of course, large enterprises could not afford such behavior as they operate globally. The leading enterprises for PDM/PLM were the Aerospace & Defense and Automotive companies. They needed consistent processes and formal ways of working to guarantee quality output.
In that sense, I was happy with the reaction from Jean-Jacques Urban-Galindo, who shared in the LinkedIn comments a reference to a relevant chapter of John Stark's PLM book. In the pdf describing the evolution of CAD / PDM / PLM at PSA. Jean-Jacques was responsible at that time for Responsible for the re-engineering of the Product & Process Engineering processes using digital tools (CAD/CAM, DMU, and more).
Read the PSA story here: PLM at GROUPE PSA. It describes nicely where 3D CAD and EBOM are coming in. In large enterprise like PSA, the need for tools are driven by the processes. When you read it to the end, you will also see the need for a design and a manufacturing view. A topic I will touch in future posts too.
The introduction of 3D CAD in the mid-market
Where large automotive and aerospace companies already invested in (expensive) 3D CAD hard and software, for the majority of the midsize companies, the switch from 2D CAD (AutoCAD mainly) towards 3D CAD (SolidWorks, Solid Edge, Inventor) started at the end of the 20th century.
It was the time that Microsoft NT became a serious platform beside the existing mainframe and mini-computer based CAD-systems. The switch to PCs went so fast that the disruption from DEC (Digital Equipment Company) is one of the cases discussed by Clayton Christensen in his groundbreaking book: The Innovator's dilemma
3D CAD introduced a lot of new capabilities, like DMU (Digital Mock-Up), for clash detection, and above all, a better understanding of a product's behavior. The introduction of 3D CAD introduced a new set of challenges to be resolved.
For example, the concept of reusing 3D CAD parts. Mid-market companies, most of the time, are buying productivity tools. Can I design my product faster and with higher quality in 3D instead of using only the 2D definitions?
Mid-market companies usually do not redesign their business processes – no people available for strategy – the pain of lack of strategy is felt in a different way compared to large enterprises—a crucial differentiator for the future of PLM.
Reuse of (3D) CAD parts / Assemblies
In the 2D CAD world, there was not so much reuse of CAD parts. Standard parts were saved in libraries or generated on demand by parametric libraries. Now with 3D CAD, designers might spend more time to define the part. The benefits come from the reuse of small sub-assemblies (modules) into a larger product assembly. Something not relevant in the 2D CAD world.
As every 3D CAD part had to have a file name, it became difficult to manage the file names without a system. How do you secure that the file with name Part01.xxx is unique? Another designer might also create an assembly, where the 3D CAD tool would suggest Part01.xxx as the name. And what about revisions? Do you store them in the filename, and how do you know you have the correct and latest version of the file?
Companies had already part naming rules for drawings, often related to the part's usage similar to "intelligent" numbers I mentioned in my previous post.
With 3D CAD it became a little more complicated as now in electronic formats, companies wanted to maintain the relation:
Drawing ID = Part ID = File Name
The need for a PDM-system,
If you look to the image on the left, which I found in one of my old SmarTeam files, there is a part number combined with additional flags A-A-C, which also have meaning (I don't know ☹ ) and a description.
The purpose of these meaningful flags was to maintain the current ways of working. Without a PDM-system, parts of the assembly could be shared with an OEM or a supplier. File-based 3D CAD without using a PDM-system was not a problem for small and medium enterprises.
The 3D CAD-system maintained the relations in the assembly files, including relations to the 2D Drawings. Despite the introduction of 3D CAD, the 2D Drawing remained the deliverable the rest of the company or supply chain, was waiting for. Preferably a drawing containing a parts list and balloon numbers, the same as it has been done before. Why would you need a PDM-system?
PDM for traceability and reuse
If you were working in your 3D CAD-system for a single product, or on individual projects for OEMs, there was no significant benefit for a PDM-system. All deliveries needed for the engineering department were in the 3D CAD environment. Assembly files and drawing files are already like small databases, containing references to the source files of the part (image above).
A PDM-system at this stage could help you build traceability and prevent people from overwriting files. The ROI for this part only depends on the cost and risks of making mistakes.
However, when companies started to reuse parts or subassemblies, there was a need for a system that could manage the 3D models separately. This had an impact on the design methodology.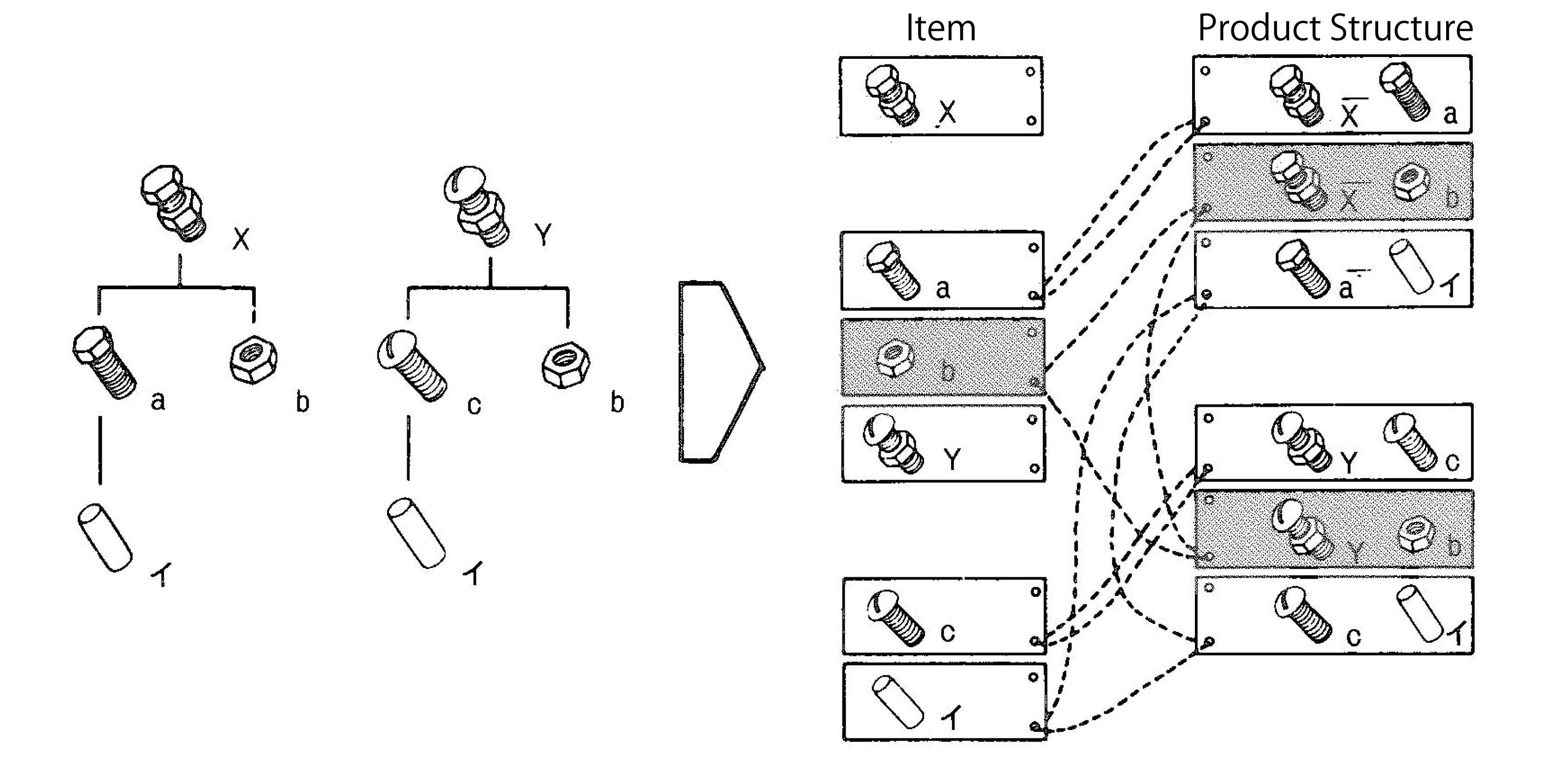 Now parts could be used in various products. How do you discover parts for reuse, and how do you know you have the last released version. For sure their naming cannot be related anymore to a single product or project (a practice still used a lot)
This is where PDM-systems came in. Using additional attributes per file combined with relations between parts, allowing companies to structure and deliver more details related to a part. A detailed description for internal usage, a part type (classification), and the part material were commonly used attributes. And not to forget the status and revision.
For reuse, it was important that the creators of content had a strategy to define a part for future reuse or discovery. Engineerings were not used to provide such services, filling in data in a PDM-system was seen as an overhead – bureaucracy.
As they were measured on the number of drawings they produced, why do extra work with no immediate benefits?
The best compromise was to have the designer fill in properties in the CAD-file when creating a part. Using the CAD-integration with the PDM-system could be used to fill attributes in the PDM-system.
This "beautiful" simple concept lead later to a lot of complexity.
Is the CAD-model the source of data, meaning designers should always start from CAD when designing a product. If someone added or modified data in the PDM-system, should we open the CAD-file to update some properties? Changing a file means it is a new version. What happens if the CAD-file is released, and I update some connected attributes in PDM?
To summarize this topic. Companies have missed the opportunity here to implement data governance. However, none of the silos (manufacturing preparation, service) recognized the need. Implementing new tools (3D CAD and PDM) did not affect the company's way of working.
Instead of people, processes, tools, the only focus was on new tools and satisfying the people withing the same process.
Of course, when introducing PDM, which happened for mid-market companies at the beginning of this century, there was no PLM vision. Talking about lifecycle support was a waste of time for management. As we will discover in the future posts, large enterprises and small and medium enterprises have the same PLM needs. However, there is already a fundamentally different starting point. Where large enterprises are analyzing and designing business processes, the small and medium enterprises are buying tools to improve the current ways of working
The Future?
Although we have many steps to take in the upcoming posts, I want to raise your attention to an initiative from the PLM Interest Group together with Xlifecycle.com. The discussion is about what will be PLM's role in digital transformation.
As you might have noticed, there are people saying the word PLM is no longer covering the right context, and all kinds of alternatives have been suggested. I recommend giving your opinion without my personal guidance. Feel free to answer the questionnaire, and we will be all looking forward to the results.
Find the survey here: Towards a digital future: the evolving role of PLM in the future digital world
Conclusion
We are going slow. Discovering here in this post the split in strategy between large enterprises (process focus) and small and medium enterprises (tool focus) when introducing 3D CAD. This different focus, at this time for PDM, is one of the reasons why vendors are creating functions and features that require methodology solving – however, who will provide the methodology.
Next time more on 3D CAD structures and EBOM
In my previous post, the PLM blame game, I briefly mentioned that there are two delivery models for PLM. One approach based on a PLM system, that contains predefined business logic and functionality, promoting to use the system as much as possible out-of-the-box (OOTB) somehow driving toward a certain rigidness or the other approach where the PLM capabilities need to be developed on top of a customizable infrastructure, providing more flexibility. I believe there has been a debate about this topic over more than 15 years without a decisive conclusion. Therefore I will take you through the pros and cons of both approaches illustrated by examples from the field.
PLM started as a toolkit
The initial cPDM/PLM systems were toolkits for several reasons. In the early days, scalable connectivity was not available or way too expensive for a standard collaboration approach. Engineering information, mostly design files, needed to be shared globally in an efficient manner, and the PLM backbone was often a centralized repository for CAD-data. Bill of Materials handling in PLM was often at a basic level, as either the ERP-system (mostly Aerospace/Defense) or home-grown developed BOM-systems(Automotive) were in place for manufacturing.
Depending on the business needs of the company, the target was too connect as much as possible engineering data sources to the PLM backbone – PLM originated from engineering and is still considered by many people as an engineering solution. For connectivity interfaces and integrations needed to be developed in a time that application integration frameworks were primitive and complicated. This made PLM implementations complex and expensive, so only the large automotive and aerospace/defense companies could afford to invest in such systems. And a lot of tuition fees spent to achieve results. Many of these environments are still operational as they became too risky to touch, as I described in my post: The PLM Migration Dilemma.
The birth of OOTB
Around the year 2000, there was the first development of OOTB PLM. There was Agile (later acquired by Oracle) focusing on the high-tech and medical industry. Instead of document management, they focused on the scenario from bringing the BOM from engineering to manufacturing based on a relatively fixed scenario – therefore fast to implement and fast to validate. The last point, in particular, is crucial in regulated medical environments.
At that time, I was working with SmarTeam on the development of templates for various industries, with a similar mindset. A predefined template would lead to faster implementations and therefore reducing the implementation costs. The challenge with SmarTeam, however, was that is was very easy to customize, based on Microsoft technology and wizards for data modeling and UI design.
This was not a benefit for OOTB-delivery as SmarTeam was implemented through Value Added Resellers, and their major revenue came from providing services to their customers. So it was easy to reprogram the concepts of the templates and use them as your unique selling points towards a customer. A similar situation is now happening with Aras – the primary implementation skills are at the implementing companies, and their revenue does not come from software (maintenance).
The result is that each implementer considers another implementer as a competitor and they are not willing to give up their IP to the software company.
SmarTeam resellers were not eager to deliver their IP back to SmarTeam to get it embedded in the product as it would reduce their unique selling points. I assume the same happens currently in the Aras channel – it might be called Open Source however probably it is only high-level infrastructure.
Around 2006 many of the main PLM-vendors had their various mid-market offerings, and I contributed at that time to the SmarTeam Engineering Express – a preconfigured solution that was rapid to implement if you wanted.
Although the SmarTeam Engineering Express was an excellent sales tool, the resellers that started to implement the software began to customize the environment as fast as possible in their own preferred manner. For two reasons: the customer most of the time had different current practices and secondly the money come from services. So why say No to a customer if you can say Yes?
OOTB and modules
Initially, for the leading PLM Vendors, their mid-market templates were not just aiming at the mid-market. All companies wanted to have a standardized PLM-system with as little as possible customizations. This meant for the PLM vendors that they had to package their functionality into modules, sometimes addressing industry-specific capabilities, sometimes areas of interfaces (CAD and ERP integrations) as a module or generic governance capabilities like portfolio management, project management, and change management.
The principles behind the modules were that they need to deliver data model capabilities combined with business logic/behavior. Otherwise, the value of the module would be not relevant. And this causes a challenge. The more business logic a module delivers, the more the company that implements the module needs to adapt to more generic practices. This requires business change management, people need to be motivated to work differently. And who is eager to make people work differently? Almost nobody,  as it is an intensive coaching job that cannot be done by the vendors (they sell software), often cannot be done by the implementers (they do not have the broad set of skills needed) or by the companies (they do not have the free resources for that). Precisely the principles behind the PLM Blame Game.
OOTB modularity advantages
The first advantage of modularity in the PLM software is that you only buy the software pieces that you really need. However, most companies do not see PLM as a journey, so they agree on a budget to start, and then every module that was not identified before becomes a cost issue. Main reason because the implementation teams focus on delivering capabilities at that stage, not at providing value-based metrics.
The second potential advantage of PLM modularity is the fact that these modules supposed to be complementary to the other modules as they should have been developed in the context of each other. In reality, this is not always the case. Yes, the modules fit nicely on a single PowerPoint slide, however, when it comes to reality, there are separate systems with a minimum of integration with the core. However, the advantage is that the PLM software provider now becomes responsible for upgradability or extendibility of the provided functionality, which is a serious point to consider.
The third advantage from the OOTB modular approach is that it forces the PLM vendor to invest in your industry and future needed capabilities, for example, digital twins, AR/VR, and model-based ways of working. Some skeptic people might say PLM vendors create problems to solve that do not exist yet, optimists might say they invest in imagining the future, which can only happen by trial-and-error. In a digital enterprise, it is: think big, start small, fail fast, and scale quickly.
OOTB modularity disadvantages
Most of the OOTB modularity disadvantages will be advantages in the toolkit approach, therefore discussed in the next paragraph. One downside from the OOTB modular approach is the disconnect between the people developing the modules and the implementers in the field. Often modules are developed based on some leading customer experiences (the big ones), where the majority of usage in the field is targeting smaller companies where people have multiple roles, the typical SMB approach. SMB implementations are often not visible at the PLM Vendor R&D level as they are hidden through the Value Added Reseller network and/or usually too small to become apparent.
Toolkit advantages
The most significant advantage of a PLM toolkit approach is that the implementation can be a journey. Starting with a clear business need, for example in modern PLM, create a digital thread and then once this is achieved dive deeper in areas of the lifecycle that require improvement. And increased functionality is only linked to the number of users, not to extra costs for a new module.

However, if the development of additional functionality becomes massive, you have the risk that low license costs are nullified by development costs.
The second advantage of a PLM toolkit approach is that the implementer and users will have a better relationship in delivering capabilities and therefore, a higher chance of acceptance. The implementer builds what the customer is asking for.

However, as Henry Ford said, if I would ask my customers what they wanted, they would ask for faster horses.
Toolkit considerations
There are several points where a PLM toolkit can be an advantage but also a disadvantage, very much depending on various characteristics of your company and your implementation team. Let's review some of them:
Innovative: a toolkit does not provide an innovative way of working immediately. The toolkit can have an infrastructure to deliver innovative capabilities, even as small demonstrations, the implementation, and methodology to implement this innovative way of working needs to come from either your company's resources or your implementer's skills.
Uniqueness: with a toolkit approach, you can build a unique PLM infrastructure that makes you more competitive than the other. Don't share your IP and best practices to be more competitive. This approach can be valid if you truly have a competing plan here. Otherwise, the risk might be you are creating a legacy for your company that will slow you down later in time.
Performance: this is a crucial topic if you want to scale your solution to the enterprise level. I spent a lot of time in the past analyzing and supporting SmarTeam implementers and template developers on their journey to optimize their solutions. Choosing the right algorithms, the right data modeling choices are crucial.
Sometimes I came into a situation where the customer blamed SmarTeam because customizations were possible – you can read about this example in an old LinkedIn post: the importance of a PLM data model
Experience: When you plan to implement PLM "big" with a toolkit approach, experience becomes crucial as initial design decisions and scope are significant for future extensions and maintainability. Beautiful implementations can become a burden after five years as design decisions were not documented or analyzed. Having experience or an experienced partner/coach can help you in these situations. In general, it is sporadic for a company to have internally experienced PLM implementers as it is not their core business to implement PLM. Experienced PLM implementers vary from size and skills – make the right choice.
Conclusion
After writing this post, I still cannot write a final verdict from my side what is the best approach. Personally, I like the PLM toolkit approach as I have been working in the PLM domain for twenty years seeing and experiencing good and best practices. The OOTB-box approach represents many of these best practices and therefore are a safe path to follow. The undecisive points are who are the people involved and what is your business model. It needs to be an end-to-end coherent approach, no matter which option you choose.
Two weeks ago I got this message from WordPress, reminding me that I started blogging about PLM on May 22nd in 2008. During some of my spare time during weekends, I began to read my old posts again and started to fix links that have been disappearing.
Initially when I started blogging, I wanted to educate mid-market companies about PLM. A sentence with a lot of ambiguities. How do you define the mid-market and how do you define PLM are already a good start for a boring discussion. And as I do not want to go into a discussion, here are my "definitions"
Warning: This is a long post, full of generalizations and a conclusion.
PLM and Mid-market
The mid-market companies can be characterized as having a low-level of staff for IT and strategic thinking. Mid-market companies are do-ers and most of the time they are good in their domain based on their IP and flexibility to deliver this to their customer base. I did not meet mid-market companies with a 5-year and beyond business vision. Mid-market companies buy systems. They bought an ERP system 25-30 years ago (the biggest trauma at that time). They renewed their ERP system for the Y2K problem/fear and they switched from drawing board towards a 2D CAD system. Later they bought a 3D CAD system, introducing the need for a PDM system to manage all data.
PLM is for me a vision, a business approach supported by an IT-infrastructure that allows companies to share and discover and connect product related information through the whole lifecycle. PLM enables companies to react earlier and better in the go-to-market process. Better by involving customer inputs and experience from the start in the concept and design phases. Earlier thanks to sharing and involving other disciplines/suppliers before crucial decisions are made, reducing the amount of iterations and the higher costs of late changes.
Seven years ago I believed that a packaged solution, combined with a pre-configured environment and standard processes would be the answer for mid-market companies. The same thought currently PLM vendors have with a cloud-based solution. Take it, us it as it is and enjoy.
Here I have changed my opinion in the past seven years. Mid-market companies consider PLM as a more complex extension of PDM and still consider ERP (and what comes with that system) as the primary system in the enterprise. PLM in mid-market companies is often seen as an engineering tool.
LESSON 1 for me:
The benefits of PLM are not well-understood by the mid-market
To read more:
PLM for the mid-market – mission impossible?
PLM for the SMB – a process or culture change ?
Culture change in a mid-sized company – a management responsibility
Mid-market PLM – what did I learn in 2009 ?
Implementing PLM is a change not a tool
Who decides for PLM in a mid-market company ?
More on: Who decides for PLM in a mid-market company ?
Globalization and Education
In the past seven years, globalization became an important factor for all type of companies. Companies started offshoring labor intensive work to low-labor-cost countries introducing the need for sharing product data outside their local and controlled premises. Also, acquisitions by larger enterprises and by some of the dominant mid-market companies, these acquisitions introduced a new area of rethinking. Acquisitions introduced discussions about: what are real best practices for our organization? How can we remain flexible, meanwhile adapt and converge our business processes to be future ready?
Here I saw two major trends in the mid-market:
Lack of (PLM) Education
To understand and implement the value of PLM, you need to have skills and understanding of more than just a vendor-specific PLM system. You need to understand the basics of change processes (Engineering Change Request, Engineering Change Order, Manufacturing Change Order and more). And you need to understand the characteristics of a CAD document structure, a (multidisciplinary) EBOM, the MBOM (generic and/or plant specific) and the related Bill of Processes. This education does not exist in many countries and people are (mis-)guided by their PLM/ERP vendor, explaining why their system is the only system that can do the job.
Interesting enough the most read posts on my blog are about the MBOM, the ETO, BTO and CTO processes. This illustrates there is a need for a proper, vendor-independent and global accepted terminology for PLM
Some educational posts:
Bill of Materials for Dummies – ETO  ranked #1
ECR/ECO for Dummies ranked #2
BOM for Dummies – CTO  ranked #4
BOM for Dummies: BOM and CAD  ranked #7
Where does PLM start beyond document management ?
The dominance of ERP
As ERP systems were introduced long before PLM (and PDM), these systems are often considered by the management of a mid-market company as the core. All the other tools should be (preferably) seen as an extension of ERP and if possible, let´s implement ERP vendor´s functionality to support PLM – the Swiss knife approach – one tool for everything. This approach is understandable as at the board level there are no PLM discussions. Companies want to keep their "Let´s do it"-spirit and not reshuffle or reorganize their company, according to modern insights of sharing. Strangely enough, you see in many businesses the initiative to standardize on a single ERP system first, instead of standardizing on a single PLM approach first. PLM can bring the global benefits of product portfolio management and IP-sharing, where ERP is much more about local execution.
LESSON 2:
PLM is not understood at the board level, still considered as a tool
Some post related to PLM and ERP
Where is the MBOM ?  ranked #3
Connecting PLM and ERP (post 1) – (post 2) – (post 3) ranked #8
PLM and ERP – the culture change
5 reasons not to implement PLM – Reason #3 We already have an ERP system
The human factor
A lot of the reasons why PLM has the challenge to become successful have to do with its broad scope. PLM has an unclear definition and most important, PLM forces people to share data and work outside their comfort zones. Nobody likes to share by default. Sharing makes day-to-day life more complicated, sharing might create visibility on what you actually contribute or fix. In many of my posts, I described these issues from various viewpoints: the human brain, the innovators dilemma, the way the older generation (my generation) is raised and used to work. Combined with the fact that many initial PLM/PDM implementations have created so many legacies, the need to change has become a risk. In the discussion and selection of PLM I have seen many times that in the end a company decides to keep the old status quo (with new tools) instead of really having the guts to move toward the future. Often this was a result of investors not understanding (and willing to see) the long term benefits of PLM.
LESSON 3:
PLM requires a long-term vision and understanding, which most of the time does not fit current executive understanding (lack of education/time to educate) and priority (shareholders)
Many recent posts are about the human factor:
The Innovator´s dilemma and PLM
Our brain blocks PLM acceptance
How to get users excited or more committed to a new PLM system?
The digital transformation
The final and most significant upcoming change is the fact that we are entering a complete new era: From linear and  predictable towards fast and iterative, meaning that classical ways we push products to the market will become obsolete. The traditional approach was based on lessons learned from mechanical products after the second world-war. Now through globalization and the importance of embedded software in our products, companies need to deliver and adapt products faster than the classical delivery process as their customers have higher expectations and a much larger range to choose from. The result from this global competitiveness is that companies will change from delivering products towards a more-and-more customer related business model (continuous upgrades/services). This requires companies to revisit their business and organization, which will be extremely difficult. Business wise and human change require new IT concepts – platform? / cloud services? / Big data?
Older enterprises, mid-market and large enterprises will be extremely challenged to make this change in the upcoming 10 years. It will be a matter of survival and I believe the Innovator´s Dilemma applies here the most.
LESSON 4:
The digital transformation is apparent as a trend for young companies and strategic consultants. This message is not yet understood at the board level of many businesses.
Some recent post related to this fast upcoming trend:
From a linear world to fast and circular ?
Did you notice PLM is changing?
Documents or Intelligent Data ?
The difference between files and data-oriented – a tutorial (part 1) – (part 2) – (part 3)
PLM and/or SLM? – (part 1) – (part 2)
Breaking down the silos with data
ROI (Return On Investment)
I also wrote about ROI – a difficult topic to address as in most discussions related to ROI, companies are talking about the costs of the implementation, not about the tremendous larger impact a new business approach or model can have, once enabled through PLM. Most PLM ROI discussions are related to efficiency and quality gains, which are significant and relevant. However these benefits are relative small and not comparable with the ability to change your business (model) to become more customer centric and stay in business.
Some of the ROI posts:
To PLM or Not to PLM – measuring the planning phase  ranked #5
Free PLM Software does not help companies  ranked #6
PLM selection–additional thoughts
PLM Selection: Proof Of Concept observations
Where is my PLM Return On Investment (ROI) ?
Conclusion
A (too) long post this time however perhaps a good post to mark 7 years of blogging and use it as a reference for the topics I briefly touched here. PLM has many aspects. You can do the further reading through the links.
From the statistics it is clear that the education part scores the best – see rankings. For future post, let me know by creating a comment what you are looking for in this blog: PLM Mid-Market, Education, PLM and ERP, Business Change, ROI, Digitalization, or …??
Also I have to remain customer centric – thanks for reading and providing your feedback
Above Image courtesy of the marketoonist.com – Tom Fishburne
Image related to digital transformation: The Economist – the onrushing wave
 The past two years I have been blogging about PLM, with a special focus on the mid-market. My previous post was about PLM selection (which PLM to choose) and thanks to Oleg (How To Choose PLM? (Visual guide)) this became a broader discussion. It made me realize that although we are all talking about PLM, I am not sure if we all have the same opinion about the mid-market.
To be aligned my previous definition of the mid-market:
Mid market company: For me the definition of a mid-market company does not have to do with revenue or the amount of people working for this company. I characterize a mid-market company as a company, where everyone has a focus on the company's primary process. There is no strategic layer of people, who are analyzing the current business and defining new strategies for the future. In addition, the IT-staff is minimal, more seen as an overhead than as strategic. Mid-market companies have their strength in being flexible and reacting fast on changes, which might contradict with a long term strategic approach.
Now I am curious about your opinion. Therefore I published a small questionnaire on a Belgium website, to get a quick feedback and I am looking forward to your response. Although I do not consider it as scientific research, your (anonymous) response will enable me review my opinion and to focus on some specific topics.
Please take the time so answers this questionnaire from the link below:
PLM for the mid-market – your opinion
Thanks for your feedback and I will publish the results end of October
Jos Voskuil
Last weeks have been busy weeks and I have seen various PLM candidates all around Europe. As these companies were mid-market companies, I noticed again how difficult it is for these companies to follow the ideal path towards PLM.
For those reading my blog frequently they might remember my definition of mid-market and PLM. For newer readers I will give my definitions again, as everyone has their own definition.
Mid market company: For me the definition of a mid-market company does not have to do with revenue or the amount of people working for this company. I characterize a mid-market company as a company, where everyone has a focus on the company's primary process. There is no strategic layer of people, who are analyzing the current business and defining new strategies for the future. In addition, the IT-staff is minimal, more seen as an overhead than as strategic. Mid-market companies have their strength in being flexible and reacting fast on changes, which might contradict with a long term strategic approach.
As what happens if you are only in a reactive mode – it can be too late.
PLM: For me PLM is not a product but a vision or business approach based on a collection of best practices (per industry). Main characteristics of PLM are centralizing all product knowledge (IP) throughout all the lifecycle stages and a focus on best practices and immediate visibility on all lifecycle stages.  Combining concept, planning, development, production planning and after sales / service into one integrated process. It is more than concurrent engineering, it is about sharing data and ownership of data through different departments. And this means business transformation, breaking through traditional barriers. Of course PLM vendors have a slight different definition in order to differentiate themselves from other vendors. For example more focus on a virtual product definition (CAD PLM vendors) or a focus on efficiency and one single platform (ERP PLM vendors)
Who will initiate this change ?
And these two definitions already raise the questions I want to reflect here as I experienced again in two recent visits that the pain to move to PLM is here.
First what is the result of a reactive mode, even when it is a quick reaction ?
A reactive mode leads to a situation where a company will never be able to differentiate rapidly from their competition. As every change takes time to implement, it is logically that a real business change will not be implemented as a quick reaction. The company needs to have a long term vision. And this is one of the things I noticed talking with mid-market companies. Ask these questions: "Where do you want to be in five years from now" and "How do you make sure you achieve these goals (if goals exist)" and often you find the company is depending on the business instinct of the founder(s) and has no real answers for the long term future.
This is of course a result of the typical mid-market company, they have no internal people who will step outside the daily hectic and work on a change. And being reactive always means you are (a little) behind. And this was the situation in one of the companies that I have met recently. There was an initial understanding of the values that PLM could bring, but when talking about some of the basic principles of PLM, the answers was: In our company ERP is God. This means real PLM has no chance – you do not want to fight against God.
And now the discussion who can initiate the change towards PLM
Now another example of a mid-market company that had a long term PLM vision but got trapped in their own approach. The company has been growing fast and like many European companies, production is done in China. And this causes collaboration issues around communication and quality between Europe and China as the company only knows CAD data management and ERP. The engineering manager was assigned to solve these issues.He did not get a full strategic assignment to look at the complete picture, but the management pushes him to solve the current pains, having the PLM wishes still in mind.
And solving the current pains lead again to function / feature comparison with a short term justification, believing that in the future all will fit in the PLM vision, as the potential resellers for the new solution said: "Yes we can". Have you ever heard a reseller say "No we cannot"
The result, the engineering manager has to make a decision based on the 'blue eyes' of the reseller as he does not get the mandate and power from his management to analyze and decide on a PLM strategy for the long term. For one of the resellers talking about the details of PLM was even more a disadvantage as it creates an impression that PLM is complex. It is easier to sell a dream. A similar situation as I described in my posts: Who decides for PLM in a mid-market company
My conclusion
Although I am aware that many mid-market companies implement basics of PLM, it is frustrating to see that lack of priority and understanding of the management in mid-market companies blocks the growth to full benefits for PLM. The management is not to blame, as most PLM messages either come from the high-end PLM vendors or from product resellers both not packaged for the mid-market. See PLM for the mid-market – a mission impossible ?
PLM is a cross-departmental solution and the management should look for partners who can explain the business values and share best practices for mid-market companies business  wise.
The partner is 50 % of the success for a PLM implementation.
Do you recoginize similar situations ? How would you address them ?
My PLM blog cloud based on Wordie – see the virtualdutchman blog cloud