You are currently browsing the category archive for the 'PDM' category.
To understand our legacy in the PLM-domain, what are the types of practices we created, I started this series of posts: Learning from the past to understand the future. My first post (The evolution of the BOM) focused on the disconnected world between engineering – generation of drawings as a deliverable – and execution MRP/ERP – the first serious IT-systems in a company.
At that time, due to minimal connectivity, small and medium-sized companies had, most of the time, an informal connection between engineering and manufacturing. I remember a statement at that time, PLM was just introduced. One person during a conference claimed:
"You guys make our lives so difficult with your systems. If we have a problem, we gather around the machine, and we fix it."
PLM started at large enterprises
Of course, large enterprises could not afford such behavior as they operate globally. The leading enterprises for PDM/PLM were the Aerospace & Defense and Automotive companies. They needed consistent processes and formal ways of working to guarantee quality output.
In that sense, I was happy with the reaction from Jean-Jacques Urban-Galindo, who shared in the LinkedIn comments a reference to a relevant chapter of John Stark's PLM book. In the pdf describing the evolution of CAD / PDM / PLM at PSA. Jean-Jacques was responsible at that time for Responsible for the re-engineering of the Product & Process Engineering processes using digital tools (CAD/CAM, DMU, and more).
Read the PSA story here: PLM at GROUPE PSA. It describes nicely where 3D CAD and EBOM are coming in. In large enterprise like PSA, the need for tools are driven by the processes. When you read it to the end, you will also see the need for a design and a manufacturing view. A topic I will touch in future posts too.
The introduction of 3D CAD in the mid-market
Where large automotive and aerospace companies already invested in (expensive) 3D CAD hard and software, for the majority of the midsize companies, the switch from 2D CAD (AutoCAD mainly) towards 3D CAD (SolidWorks, Solid Edge, Inventor) started at the end of the 20th century.
It was the time that Microsoft NT became a serious platform beside the existing mainframe and mini-computer based CAD-systems. The switch to PCs went so fast that the disruption from DEC (Digital Equipment Company) is one of the cases discussed by Clayton Christensen in his groundbreaking book: The Innovator's dilemma
3D CAD introduced a lot of new capabilities, like DMU (Digital Mock-Up), for clash detection, and above all, a better understanding of a product's behavior. The introduction of 3D CAD introduced a new set of challenges to be resolved.
For example, the concept of reusing 3D CAD parts. Mid-market companies, most of the time, are buying productivity tools. Can I design my product faster and with higher quality in 3D instead of using only the 2D definitions?
Mid-market companies usually do not redesign their business processes – no people available for strategy – the pain of lack of strategy is felt in a different way compared to large enterprises—a crucial differentiator for the future of PLM.
Reuse of (3D) CAD parts / Assemblies
In the 2D CAD world, there was not so much reuse of CAD parts. Standard parts were saved in libraries or generated on demand by parametric libraries. Now with 3D CAD, designers might spend more time to define the part. The benefits come from the reuse of small sub-assemblies (modules) into a larger product assembly. Something not relevant in the 2D CAD world.
As every 3D CAD part had to have a file name, it became difficult to manage the file names without a system. How do you secure that the file with name Part01.xxx is unique? Another designer might also create an assembly, where the 3D CAD tool would suggest Part01.xxx as the name. And what about revisions? Do you store them in the filename, and how do you know you have the correct and latest version of the file?
Companies had already part naming rules for drawings, often related to the part's usage similar to "intelligent" numbers I mentioned in my previous post.
With 3D CAD it became a little more complicated as now in electronic formats, companies wanted to maintain the relation:
Drawing ID = Part ID = File Name
The need for a PDM-system,
If you look to the image on the left, which I found in one of my old SmarTeam files, there is a part number combined with additional flags A-A-C, which also have meaning (I don't know ☹ ) and a description.
The purpose of these meaningful flags was to maintain the current ways of working. Without a PDM-system, parts of the assembly could be shared with an OEM or a supplier. File-based 3D CAD without using a PDM-system was not a problem for small and medium enterprises.
The 3D CAD-system maintained the relations in the assembly files, including relations to the 2D Drawings. Despite the introduction of 3D CAD, the 2D Drawing remained the deliverable the rest of the company or supply chain, was waiting for. Preferably a drawing containing a parts list and balloon numbers, the same as it has been done before. Why would you need a PDM-system?
PDM for traceability and reuse
If you were working in your 3D CAD-system for a single product, or on individual projects for OEMs, there was no significant benefit for a PDM-system. All deliveries needed for the engineering department were in the 3D CAD environment. Assembly files and drawing files are already like small databases, containing references to the source files of the part (image above).
A PDM-system at this stage could help you build traceability and prevent people from overwriting files. The ROI for this part only depends on the cost and risks of making mistakes.
However, when companies started to reuse parts or subassemblies, there was a need for a system that could manage the 3D models separately. This had an impact on the design methodology.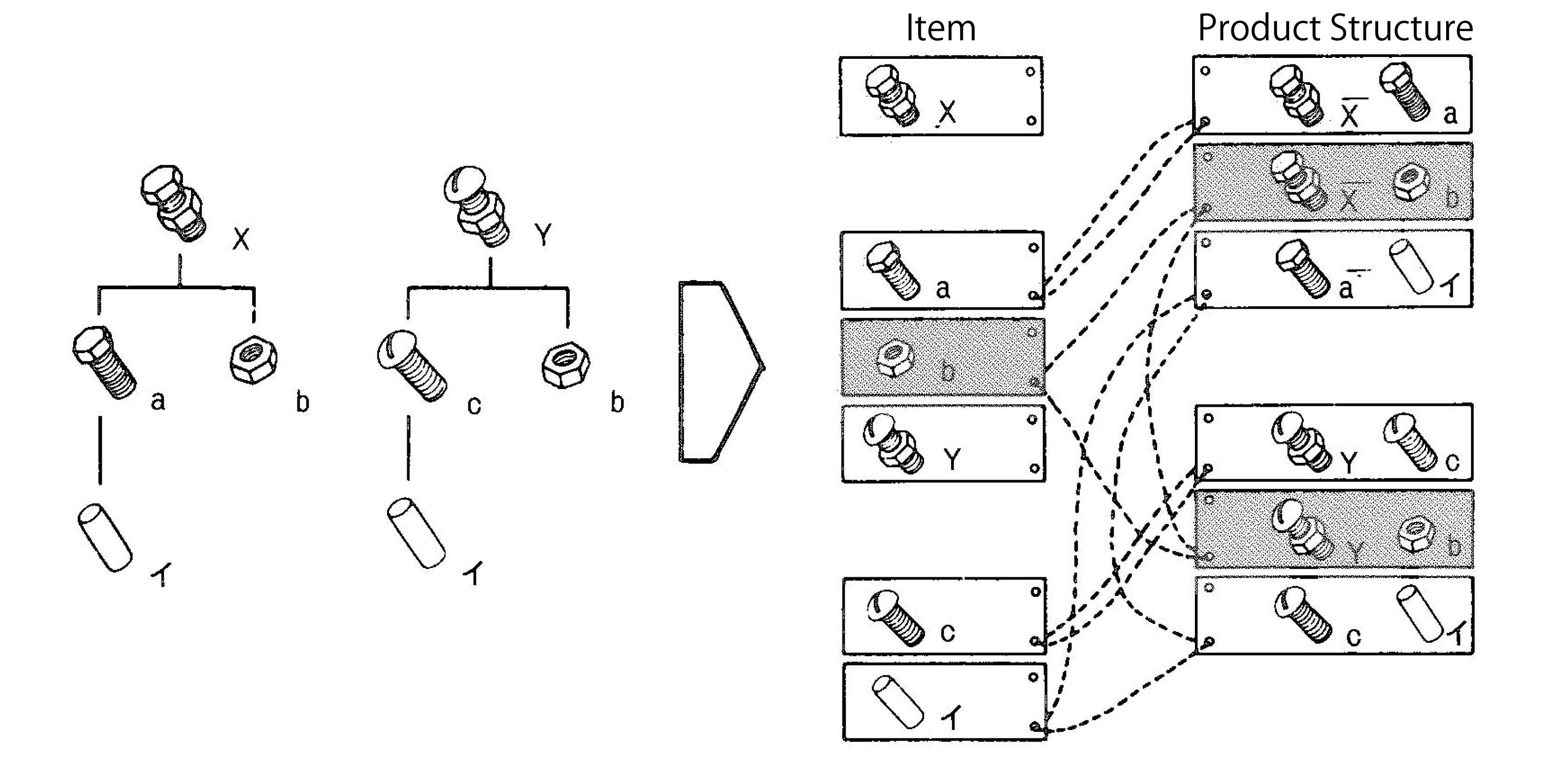 Now parts could be used in various products. How do you discover parts for reuse, and how do you know you have the last released version. For sure their naming cannot be related anymore to a single product or project (a practice still used a lot)
This is where PDM-systems came in. Using additional attributes per file combined with relations between parts, allowing companies to structure and deliver more details related to a part. A detailed description for internal usage, a part type (classification), and the part material were commonly used attributes. And not to forget the status and revision.
For reuse, it was important that the creators of content had a strategy to define a part for future reuse or discovery. Engineerings were not used to provide such services, filling in data in a PDM-system was seen as an overhead – bureaucracy.
As they were measured on the number of drawings they produced, why do extra work with no immediate benefits?
The best compromise was to have the designer fill in properties in the CAD-file when creating a part. Using the CAD-integration with the PDM-system could be used to fill attributes in the PDM-system.
This "beautiful" simple concept lead later to a lot of complexity.
Is the CAD-model the source of data, meaning designers should always start from CAD when designing a product. If someone added or modified data in the PDM-system, should we open the CAD-file to update some properties? Changing a file means it is a new version. What happens if the CAD-file is released, and I update some connected attributes in PDM?
To summarize this topic. Companies have missed the opportunity here to implement data governance. However, none of the silos (manufacturing preparation, service) recognized the need. Implementing new tools (3D CAD and PDM) did not affect the company's way of working.
Instead of people, processes, tools, the only focus was on new tools and satisfying the people withing the same process.
Of course, when introducing PDM, which happened for mid-market companies at the beginning of this century, there was no PLM vision. Talking about lifecycle support was a waste of time for management. As we will discover in the future posts, large enterprises and small and medium enterprises have the same PLM needs. However, there is already a fundamentally different starting point. Where large enterprises are analyzing and designing business processes, the small and medium enterprises are buying tools to improve the current ways of working
The Future?
Although we have many steps to take in the upcoming posts, I want to raise your attention to an initiative from the PLM Interest Group together with Xlifecycle.com. The discussion is about what will be PLM's role in digital transformation.
As you might have noticed, there are people saying the word PLM is no longer covering the right context, and all kinds of alternatives have been suggested. I recommend giving your opinion without my personal guidance. Feel free to answer the questionnaire, and we will be all looking forward to the results.
Find the survey here: Towards a digital future: the evolving role of PLM in the future digital world
Conclusion
We are going slow. Discovering here in this post the split in strategy between large enterprises (process focus) and small and medium enterprises (tool focus) when introducing 3D CAD. This different focus, at this time for PDM, is one of the reasons why vendors are creating functions and features that require methodology solving – however, who will provide the methodology.
Next time more on 3D CAD structures and EBOM
In my series of blog posts related to the (PLM) data model, I talked about Product, BOMs and Parts. This time I want to focus on the EBOM and (CAD) Documents relation. This topic became relevant with the introduction of 3D CAD.
Before companies were using 3D CAD systems, there was no discussion about EBOM or MBOM (to my knowledge). Engineering was producing drawings for manufacturing and not every company was using the mono-system (for each individual part a specifying drawing). Drawings were mainly made to assist production and making a drawing for an individual part was a waste of engineering time. Parametric drawings were used to specify similar parts. But now we are in the world of 3D!
With the introduction of 3D CAD systems for the mainstream in the nineties (SolidWorks, Solid Edge, Inventor) there came a need for PDM systems managing the individual files from a CAD assembly. The PDM system was necessary to manage all the file versions. Companies that were designing simple products sometimes remained working file-based, introducing the complexity of how to name a file and how to deal with revisions. Ten years ago I was investigating data management for the lower tiers of the automotive supply chain. At that time still 60 % of the suppliers were using CATIA were working file-based. Data management was considered as an extra complexity still file version control was a big pain.
This has changed for several reasons:
More and more OEMs were pushing for more quality control of the design data (read PDM)
Products became more modular, which means assemblies can be used as subassemblies in other products, pushing the need for where used control
Products are becoming more complex and managing only mechanical CAD files is not enough anymore – Electronics & Software – mechatronics – became part of the product
Most PDM systems at that time (I worked with SmarTeam) were saving the 3D CAD structure as a quantity-based document structure, resembling a lot a structure called the EBOM.
This is one of the most common mistakes made in PLM implementations.
The CAD structure does not represent the EBOM !!!
Implementers started to build all kind of customizations to create automatically from the CAD structure a Part structure, the EBOM. Usually these customizations ended up as a mission impossible, in particular when customers started to ask for bidirectional synchronization. They expected that when a Part is removed in the EBOM, it would be deleted in the CAD assembly too.
And then there was the issue that companies believed the CAD Part ID should be equal to the Part ID. This might be possible for a particular type of design parts, but does not function anymore with flexible parts, such as a tube or a spring. When this Part is modeled in a different position, it created a different CAD Document, breaking the one-to-one relation.
Finally another common mistake that I have seen in many PDM implementations is the addition of glue, paint and other manufacturing type of parts to the CAD model, to be able to generate a BOM directly from the CAD.
From the data model perspective it is more important to understand that Parts and CAD documents are different type of objects. In particular if you want to build a PLM implementation where data is shared across all disciplines. For a PDM implementation I care less about the data model as the implementation is often not targeting enterprise continuity of data but only engineering needs.
A CAD Document (Assembly / Part / Drawing / …) behaves like a Document. It can be checked-in and checked out any time a change is made inside the file. A check-in operation would create a new version of the CAD Document (in case you want to trace the history of changes).
Meanwhile the Part specified by the CAD Document does not change in version when the CAD Document is changed. Parts usually do not have versions; they remain in the same revision as long as the specifying CAD Document matures.
Moving from PDM to PLM
For a PLM implementation it is important to think "Part-driven" which means from an initial EBOM, representing the engineering specification of the Product, maturing the EBOM with more and more design specification data. Design specification data can be mechanical assemblies and parts, but also electrical parts. The EBOM from a PCB might come from the Electrical Design Application as in the mechanical model you will not create every component in 3D.
And once the Electrical components are part of the EBOM, also the part definition of embedded software can be added to the BOM. For example if software is needed uploaded in flash memory chips. By adding electrical and software components to the EBOM, the company gets a full overview of the design maturity of ALL disciplines involved.
The diagram below shows how an EBOM and its related Documents could look like:
This data model contains a lot of details:
As discussed in my previous post – for the outside world (the customer) there is a product defined without revision
Related to the Product there is an EBOM (Part assembly) simplified as a housing (a mechanical assembly), a connector (a mechanical art) and a PCB (a mechanical representation). All these parts behave like Mechanical Parts; they have a revision and status.
The PCB has a second representation based on an electrical schema, which has only (for simplification) two electrical parts, a resistor and a memory chip. As you can see these components are standard purchasable parts, they do not have a revision as they are not designed.
The Electrical Part Flash Memory has a relation to a Software Part which is defined by Object Code (a zip-file?) which of course is specified by a software specification (not in the diagram). The software object code has a version, as most of the time software is version managed, as it does not follow the classical rules of mechanical design.
Again I reached my 1000 words, a sign to stop explaining this topic. For sure there are a lot of details to explain to this data model part too.
Most important:
A CAD structure is not an EBOM (it can be used to generate a part of the EBOM)

CAD documents and EBOM parts have a different behavior. CAD documents have versions, Parts do not have versions (most of the time

The EBOM is the place where all disciplines synchronize their data, providing during the development phase a single view of the design status.
Let me know if this was to abstract and feel free to ask questions. Important for this series of blog post is to provide a methodology baseline for a real PLM data model.
I am looking forward to your questions or remarks to spark up the discussion.
First of all happy new year to all of you. As there is no "End of the World"  risk anymore in the near future , we can start looking forward and set our goals for the next 5 years or is it a 7-years plan Oleg ?.
Christmas, the moment the light returns on the Northern hemisphere, plus the food , cycling and the preparations for the next Product Innovation conference in Berlin were the drivers for this blog post.
The title might give you the impression that it is an IQ-quiz: "Which word does not fit in this sequence"?  Well, It's not, they are all related.  Let's put them in a chronological order.
Frogs
Frogs existed first, and were exploring the world before us humans.  Paleontologists assume they had no notion of what was global.  In their world it was probably a few ponds in size.  For certain, they did not have anything to do with innovation.  At that time, survival depended on the slow process of evolution.
Millions of years later, the first Homos appeared on the earth surface;  Homo Sapiens, Homo Erectus, Homo Ludens and perhaps more.  They all had something in common: Instead of waiting for the evolution which was ongoing, they started in parallel to innovate.  First by walking upright, using a more advanced language to communicate and learning to have tools to achieve more.  Their world was still within a reasonable walking distance and probably they started to eat frogs.
Human evolution
This evolution continued for thousands of years.  Human beings started to spread around the world and in waves they brought innovation. They built stone temples, learned to sail, discovered gunpowder, electricity, the universe, the internet and more.  It is interesting to see that every time a major innovation was born, these innovators enriched their region in wealth and culture, using their innovation as a competitive advantage to dominate their neighbors.
In many cases 1000 years later, this innovation became a commodity and other civilizations stood up with their innovation and dominated their regional environment which became bigger and bigger in size.  Where possible they made use of the cheap resources (modern word for what was initially called slaves) to enrich their civilization.  For certain, the most civilized were eating frogs!
Market expansion – innovation pace
During the last century, the pace of innovation went faster and faster.  New ways of communication and transportation became available and affordable, which made it impossible for innovations to stay within a specific civilization. Innovation became available for everyone around the world and the domination shifted towards companies and markets.
Companies with a strategy to innovate, discovered that there were new ways needed to respond faster than before to market opportunities.  This was the driving force behind PDM, as an first attempt to get a better grip and understanding of their fast evolving, more complex products, that require more and more global collaboration between design teams.
PDM is now accepted as critical by all manufacturing companies around the world, to guarantee quality and efficiency.  Customer focus became the next demand from the market and interestingly enough, the demand for frogs decreased.
However this wave of innovation was followed by a wave with even greater impact on the global society.  New technologies, the availability of internet and social media, suddenly changed society. Combined with the financial crisis in the US and Europe, it became clear that the way we worked in the past is no longer the way to survive in the future.
Faster and global
PLM was introduced early this century as a new strategy to become more customer-centric, being able to respond faster and better to market demands by bringing innovation to the market before the competition. PLM requires a different approach by companies to work internally and interact with the (global) outside world.  The need to implement the PLM vision requires change and as it cannot be considered as an evolutionary process over several generations, it will be a business change. However, in general, human beings do not like rapid change.  Here the frogs come back into the picture, now as the boiling frog metaphor.
It is based on 19th century anecdote describing a frog slowly being boiled alive.  The premise is that if a frog is placed in boiling water, it will jump out, but if it is placed in cold water that is slowly heated, it will not perceive the danger and will be cooked to death.  The story is often used as a metaphor for the inability of people to react to significant changes that occur gradually.  This metaphor is very applicable for the classical approach companies bring their products to the market, where innovation is more a lucky coincidence than a result of a strategy.
Here it all comes together again.
Innovation is the only way for companies to avoid becoming a commodity – not able to differentiate for your potential customers.  Now the title of this post should be clear: "Do not be a boiling frog, use PLM to support your innovation and become available for the global market"
As the new year has started and it is still time to extend your good intentions, add Innovation, PLM and Change to your survival list.
I look forward to your comments and hope to discuss with you the relation between PLM and Innovation during the upcoming Product Innovation event in Berlin, where I present a session with the title: "PLM loves Innovation ?"
(when you know me, you know the answer, but there are always surprises)
Related articles

"Confused? You won't be after this episode of Soap. "
Who does not remember this tagline from the first official Soap series starting in 1977 and released in the Netherlands in 1979?
Every week the Campbells and the Tates entertained us with all the ingredients of a real soap: murder, infidelity, aliens' abduction, criminality, homosexuality and more.
The episode always ended with a set of questions, leaving you for a week in suspense , hoping the next episode would give you the answers.
For those who do not remember the series or those who never saw it because they were too young, this was the mother of all Soaps.
What has it to do with PLM?
Soap has to do with strange people that do weird things (I do not want to be more specific). Recently I noticed that this is happening even in the PLM blogger's world. Two of my favorite blogs demonstrated something of this weird behavior.
First Steve Ammann in his Zero Wait-State blog post: A PLM junkie at sea point-solutions versus comprehensive mentioned sailing from Ventura CA to Cabo San Lucas, Mexico on a 35 foot sailboat and started thinking about PLM during his night shift. My favorite quote:
Besides dealing with a couple of visits from Mexican coast guard patrol boats hunting for suspected drug runners, I had time alone to think about my work in the PLM industry and specifically how people make decisions about what type of software system or systems they choose for managing product development information. Yes only a PLM "junkie" would think about PLM on a sailing trip and maybe this is why the Mexican coast guard was suspicious.
Second Oleg in his doomsday blog post: The End of PLM Communism, was thinking about PLM all the weekend. My favorite quote:
I've been thinking about PLM implementations over the weekend and some perspective on PLM concepts. In addition to that, I had some healthy debates over the weekend with my friends online about ideas of centralization and decentralization. All together made me think about potential roots and future paths in PLM projects.
It demonstrates the best thinking is done during out-of-office time and on casual locations. Knowing this from my long cycling tours in the weekend, I know it is true.
I must confess that I have PLM thoughts during cycling.
Perhaps the best thinking happens outside an office?

I leave the follow up on this observation to my favorite Dutch psychologist Diederik Stapel, who apparently is out of office too.
Now back to serious PLM
Both posts touch the topic of a single comprehensive solution versus best-of-breed solutions. Steve is very clear in his post. He believes that in the long term a single comprehensive solution serves companies better, although user performance (usability) is still an issue to consider. He provides guidance in making the decision for either a point solution or an integrated solution.
And I am aligned with what Steve is proposing.
Oleg is coming from a different background and in his current position he believes more in a distributed or network approach. He looks at PLM vendors/implementations and their centralized approach through the eyes of someone who knows the former Soviet Union way of thinking: "Centralize and control".
The association with communism which was probably not the best choice when you read the comments. This association makes you think as the former Soviet Union does not exist anymore, what about former PLM implementations and the future? According to Oleg PLM implementations should be more focused on distributed systems (on the cloud ?), working and interacting together connecting data and processes.
And I am aligned with what Oleg is proposing.
Confused? You want be after reading my recent experience.
I have been involved in the discussion around the best possible solution for an EPC contractor (Engineering Procurement Construction) in the Oil & Gas industry. The characteristic of their business is different from standard manufacturing companies. EPC contractors provide services for an owner/operator of a plant and they are selected because of their knowledge, their price, their price, their price, quality and time to deliver.
This means an EPC contractor is focusing on execution, making sure they have the best tools for each discipline and this is the way they are organized and used to work. The downside of this approach is everyone is working on its own island and there is no knowledge capitalization or sharing of information. The result each solution is unique, which brings a higher risk for errors and fixes required during construction. And the knowledge is in the head of experience people ….. and they retire at a certain moment.
So this EPC contractor wanted to build an integrated system, where all disciplines are connected and sharing information where relevant. In the Oil & Gas industry, ISO15926 is the standard. This standard is relative mature to serve as the neutral exchange standard of information between disciplines. The ideal world for best in class tools communicating with each other, or not ?
Imagine there are 6 discipline tools, an engineering environment optimized for plant engineering, a project management environment, an execution environment connecting suppliers and materials, a delivery environment assuring the content of a project is delivered in the right stages and finally a knowledge environment, capitalizing lessons learned, standards and best practices.
This results in 6 tools and 12 interfaces to a common service bus connecting these tools. 12 interfaces as information needs to be send and received from the service bus per application. Each tools will have redundant data for its own execution.
What happens if a PLM provider could offer three of these tools on a common platform? This would result into 4 tools to install and only 8 interfaces. The functionality in the common PLM system does not require data redundancy but shares common information and therefore will provide better performance in a cross-discipline scenario.
In the ultimate world all tools will be on one platform, providing the best performance and support for this EPC contractor. However this is utopia. It is almost impossible to have a 100 % optimized system for a group of independent companies working together. Suppliers will not give up their environment and own IP to embed it in a customer´s ideal environment. So there is always a compromise to find between a best integrated platform (optimal performance – reduced cost of interfaces and cost of ownership) and the best connected environment (tools connection through open standards).
And this is why both Steve and Oleg have a viewpoint that makes sense. Depending on the performance of the tools and the interaction with the supplier network the PLM platform can provide the majority of functionality. If you are a market dominating OEM you might even reach 100 % coverage for your own purpose, although the modern society is more about connecting information where possible.
MY CONCLUSION after reading both posts:
Oleg tries to provoke, and like a soap, you might end up confused after each episode.
Steve in his post gives a common sense guidance, useful if you spend time on digesting it, not a soap.
Now I hope you are not longer confused and wish you all a successful and meaningful 2013. The PLM soap will continue in alphabetical order:
Will Aras survive 21-12-2012 and support the Next generation ?
Will Autodesk get of the cloud or have a coming out ?
Will Dassault get more Experienced ?
Will Oracle PLM customers understand it is not a database ?
Will PTC get out of the CAD jail  and receive $ 200 ?
Will SAP PLM be really 3D  and user friendly ?
Will Siemens PLM become a DIN or ISO standard ?
See the next episodes of my PLM blog in 2013
I am just back from an exciting PLM Innovation 2012 conference. With a full program and around 250 participants, it was two intensive days of PLM interaction.
What I liked the most is that the majority of the audience was focusing on PLM business related topics. The mood of PLM has changed.
In this post, I will give an impression of the event, how I experienced it without going into the details of each session.
Several interesting sessions were in parallel so I could not attend them all, but MarketKey, the organizer of the conference confirmed that all presentations are filmed and will become available on-line for participants. So more excitement to come.
First my overall impression: Compared to last year's conference there was more a focus on the PLM business issues and less on PLM IT or architecture issues (or was it my perception ?)
DAY 1
Gerard Litjens (CIMdata Director European Operations) opened the conference as CIMdata co-hosted the conference. In his overview he started with CIMdata's PLM definition – PLM is a strategic business approach. (Everyone has his own definition as Oleg noticed too). Next he presented what CIMdata sees as the hottest topics. No surprises here: Extension from PLM to new industries, extending PDM towards PLM, Integration of Social Media, Cloud, Open Source, Enterprise integration and compliance.
Next speaker was Thomas Schmidt (Vice President, Head of Operational Excellence and IS – ABB's Power Products Division) was challenging the audience with his key note speech: PLM: Necessary but not sufficient. With this title it seemed that the force was against him (thanks Oleg for sharing).
Thomas explained that the challenge of ABB is being a global company and at the same time acting as a 'local' company everywhere around the world. In this perspective he placed PLM as part of a bigger framework to support operational excellence and presented some major benefits from a platform approach. I believe the Q&A session was an excellent part to connect Thomas's initial statements to the PLM focused audience.
Marc Halpern from Gartner gave his vision on PLM. Also Marc started with the Gartner definition of PLM, where they characterized PLM as a discipline. Gartner identified the following 5 major trends: Software everywhere in products, usage of social media for product development and innovation, using analytics tools to support the whole product lifecycle – after sales, service, connecting to the customer. Opportunities for existing products to deliver them through services (media content, transportation)
Next I attended the Autodesk session, a PLM journey using the cloud, where I was eager to learn their approach towards PLM. Autodesk (Mike Lieberman) let Linda Maepa, COO from Electron Vault in the USA explain the benefits of the Autodesk PLM 360 solution. Electron Vault, a young, high-tech company, has implemented the solution within 2 weeks. And here I got disconnected . Also when the suggestion was raised that you do not need time to specify the requirements for the system (old-fashioned stuff),
I suddenly got into a trance and saw a TV advert from a new washing power, with numerous features (program management, new product introduction, …..) that was washing whiter than all the others and a happy woman telling it to the world. I believe if Autodesk wants to be considered as serious in the PLM world it should also work with existing customers and managing the change in these organizations. Usually it takes already more than two weeks to get them aligned and agree on the requirements. Unfortunate I did not have time during the breaks to meet Autodesk at their booth as I would love to continue the discussion about reality as my experience and focus is on mid-market companies. Waiting for a next opportunity.
After Autodesk, I presented in my session what are the main drivers for making the case for PLM. I also started with my favorite PLM definition (a collection of best practices – 2PLM) and explained that PLM starts with the management vision and targets for the future. Is it about efficiency, quality, time to market, knowledge capture or a more challenging task: creating the platform for innovation?
Next I followed the Energy tracks, where I listened to Charles Gagnon from Hydro Quebec, who gave an interesting lecture called: Implementing Open Innovation and Co-Development.
At first glance this is a sensitive topic. When you innovate it is all about creating new intellectual property, and the fear that when working with partners the IP might be out of the company, Charles explained how this process of collaborative innovation was started and monitored. At the end he reported they measured a significant gain in R&D value perceived when working with external partners. And they did not use a PLM system to manage Innovation (to be investigated how they could survive)
After the lunch I continued with Jonas Hagner from WinWinD, a young manufacturer of windmills that are targeted to operate in extreme climate conditions ( a niche market). They are both implementing PLM and ERP in parallel and they did not have to suffer from years of ERP before PLM and therefore could have a more balanced discussion around part information availability / part number and more. Still I believe they have the challenge to connect in an efficient manner the services of the windmills back to their R&D organization, to do a full PLM circle.
Karer consulting together with Siemens Energy presented the case how they have designed and starting the implement the interface between their PLM system (Teamcenter) and ERP system (SAP). What was disappointing to see was that the interface between Teamcenter and SAP was relative complex (bi-directional with engineering activities in both sides) . Almost 1½ years of development of this interface and one of the main reasons, because SAP was first and they start the engineering order in SAP.
Apparently 2 years later Siemens Energy could not implement a clear distinct separation between PLM and ERP anymore and will not have to live with this complex interface. In the past I have written several times about this complexity that companies seem to accept due to political or historical reasons. Sad story for PLM – Where is the MBOM ?.
The day finished with a closing keynote from Peter Bilello, explaining how a successful PLM implementation could look like. Many wise statements that everyone should follow in case you want to come to a successful implementation (and define correctly what success is)
Thanks to Autodesk we had a nice evening reception, discussion and evaluating with peers the first day.
Day 2
Day 2 started for me with an interesting lecture from Peter Fassbender, Head Design Center Fiat Latin America, describing how in Brazil the Fiat Mio experiment used modern social media techniques, like crowdsourcing, communities and user involvement to guide the innovation and development of a potential car. A unique experiment demonstrating that this type of projects are influence the brand reputation positively (if managed correct) and for me an example of what PLM could bring if R&D is connected to the outside world.
Christian Verstraete Chief Technologist – Cloud Strategy from HP gave an inspiring session about the open frontiers of innovation. The speed of business in the past 30 years has increased dramatically (you need to be from an older generation to be aware of this – the definition of response time has changed due to new technologies) Christian pushed everyone to think Out of the Box and to be innovative, which made me wonder how long will companies in the future build standard boring products. Will keep on innovating in this amazing pace as we did in the past 30 years ?
Graeme Hackland, IT/IS director from the UK based Lotus F1 team presented the challenges a F1 team has to face every year due to changing regulations. I visited Lotus F1 last year and was impressed by the fact that over 500 engineers are all working around one carper year to optimize the car mainly for aerodynamics, but next to assure it performs during the years. Thousands of short interactions, changes to be implemented a.s.a.p. challenge the organization to collaborate in an optimum manner. And of course this is where PLM contributes. All the F1 fans could continue to dream and listen to Graeme's stories but Jeremie Labbe from Processia brought us back to earth by explaining how Processia assisted Lotus F1 in a PLM value assessment as a next step.
Meanwhile I had some side discussions on various PLM topics and went back to the sessions, seeing how David Sherburne, Director of Global R&D Effectiveness from Carestream Health presented his case (open source PLM) and his analysis why an open source PLM model (based on Aras) is very appealing in their case. Indeed the business value perceived and significant lower operational costs for the software are appealing for his organization and for sure will influence the other PLM vendors in their pricing model.
Pierfrancesco Manenti, from IDC Manufacturing Insights gave a clear presentation indicating the future directions for PLM: managing operational complexity, not product complexity. As you could expect from IDC Manufacturing Insights all was well based on surveys in the manufacturing industry and clearly indicating that there is still a lot to do for companies to efficient share and work around a common product development and operational platform. New technologies (the four IT forces: mobility, cloud, social business and big data analytics) will help them to improve.
The closing keynote came from Jason Spyromilio , who was director of the European Southern Observatory's Very Large Telescope (http://www.eso.org) and he gave us the insights in designing (and building) the biggest eye on the sky. Precision challenges for such a huge telescope mirror, being built in the high mountains of Chili in an earthquake sensitive area demonstrate that all participants are required to contribute their IQ in order to realize such a challenge.
Conclusion: This PLM Innovation 2012 event doubled the 2011 event from a year ago in all dimensions. Thanks to the sponsors, the organization and high quality lectures, I expect next year we could double again – in participants, in content and innovation. It shows PLM is alive. But comming back to the title of this post: I saw some interesting innovation concepts – now how to enabale them with PLM ? 
Note: looking at the pictures in this postyou will notice PLM is everywhere. I published this post on February 29th – a unique day which happens only every 4 years. In May this year my blog will be 4 years old.
Last week I started a small series of posts related to the topic PLM 2.0. I was hoping for more comments and discussion about the term PLM 2.0, although I must say I was glad Oleg picked it up in his posts: PLM 2.0 born to die? and Will JT-open enable future of PLM 2.0?
Oleg, as a full-time blogger, of course had the time to draw the conclusions, which will take me another two weeks, hoping meanwhile the discussion evolves. Where Oleg's focus is on technology and openness (which are important points), I will also explain that PLM 2.0 is a change in doing business, but this will be in next week's post.
This week I will focus on the current challenges and pitfalls in PLM. And we all know that when somebody talks about challenges, there might be problems.
| | |
| --- | --- |
| Last week | : What is PLM 2.0? |
| This week: | : Challenges in current PLM |
| Next | : Change in business |
| Final post | : Why PLM 2.0 – conclusions |
The Challenges in current PLM
First I want to state that there are several types of definition in the world for PLM, coming from different type of organizations – I listed here two vendor independent definitions:
In industry, product lifecycle management (PLM) is the process of managing the entire lifecycle of a product from its conception, through design and manufacture, to service and disposal. PLM integrates people, data, processes and business systems and provides a product information backbone for companies and their extended enterprise.
The 2PLM definition:
Product Lifecycle Management (PLM) is the business activity of managing a company's products all the way across the lifecycle in the most effective way. The objective of PLM is to improve company revenues and income by maximizing the value of the product portfolio
And there are more definitions. Just recently, I noticed on the PlanetPTC blog from Aibhe Coughlan a post where she promoted a definition of PLM published in the Concurrent Engineering blog. Here I got immediate a little irritated reading the first words: "PLM is software designed to enhance process efficiencies ……… and more …"
I do not believe PLM is software. Yes there is software used to automate or implement PLM practices, but this definition starts to neglect the culture and process sides of PLM. And as Oleg was faster – read his more extended comment here
(I am not paid by Oleg to promote his blog, but we seem to have similar interests)
Back to the classical definitions
The Wiki definition gives the impression that you need to have an infrastructure to manage (store) all product data in order to serve as an information backbone for the extended enterprise. It becomes more an IT-project, often sponsored by the IT-department, with the main goal to provide information services to the company in a standardized manner.
This type of PLM implementations tends to be the same type of implementation as an ERP system or other major IT-system. In this type of top-down implementations, the classical best practices for project management should be followed. This means:
A clear vision
Management sponsorship
A steering committee
A skilled project leader and team
Committed resources
Power user involvement
Communication
…… and more …
These PLM projects are promoted by PLM vendors and consultants as the best way to implement PLM. And there are a lot of positive things to say about this approach. For many big companies implementing cPDM or PLM was a major step forward. Most of the ROI stories are based on this type of implementations and have been the showcases on PLM events. It is true that data quality increases, therefore efficiency and product quality. Without PLM they would not reach the same competiveness as they have now.
But sometimes these projects go into extreme when satisfying users or IT-guidelines
To avoid the implementation of a 'new IT-system', companies often have the strategy that if we already have an ERP-system , let's customize or extend it, so we can store the additional data and perform workflow processes based on this system.
In a recent webinar, I heard a speaker saying that in their company they had the following automation strategy defined together with IT is:
First they will see if the needed PLM functionality exists in their ERP system or is part of the portfolio of their ERP provider. If the functionality is there (this means the ERP vendor has the capability to store metadata and a factsheet mentioning the right name), there is no looking outside.
If the functionality is not there, there will be a discussion with the ERP vendor or implementer to build it on top of their ERP system.
I have seen implementations where the company has developed complete custom user interfaces in order to get user acceptance (the users would not accept the standard graphical interface). At that time, no one raised the flag about future maintenance and evolution of these custom environments. The mood was: we kept it simple – one single system.
I believe this closes the door for real PLM, as storing data in a system does not mean you will use it in an efficient and optimized manner. How will you anticipate on changes in business if it is just doing more with the same system?
And mid-market companies ?
The top-down approach described before is the fear of many mid-market companies, as they remember how painful their first ERP implementation was. And now with PLM it is even more unclear. PLM aims to involve the engineering department, which so far has not worked in a very procedural manner. Informal and ad-hoc communication combined with personal skills within this department was often the key for success.
And now an unfriendly system is brought in, with low or little usability, pushing these creative people to enter data without seeing any benefits. The organization downstream benefits but this will be only noticed later in time. And for the engineering department it will take more effort to change their work methodology focused on innovation. However, in general in the mid-market, the target of a PLM project is to have a Return on Investment (ROI) in a very short timeframe ( 1-2 years). Investing in usability should be even more important for this type of companies as there is less top-down pressure to accept this new PLM system.
And flexibility ?
In the past years we have seen that business is changing – there is a shift in global collaboration and manufacturing and from the recent history we can learn that those big enterprise projects from the past became a threat. Instead of being able to implement new concepts or new technology, the implementation became more and more vendor monolithic as other capabilities and applications do not fit anymore. This is against the concept of openness and being flexible for the future. I believe if PLM becomes as rigid as ERP, it blocks companies to innovate – the challenge for big companies is to find the balance between stability and flexibility (This was the title from Sony Ericsson's presentation at the PLM forum in Sweden this year)
And again for mid-market companies who do not have the budget or resources to invest in similar projects. They have less a drive to optimize themselves in the same manner as big companies do as flexibility is often their trade mark (and capability to innovate) . So PLM for the mid-market will not work in the classical way.
This is one of the reasons why a mid-market PLM standard has not yet been found (yet ?). From the other hand many mid-market companies are dealing with PLM practices although often it is more close to PDM and CAD data management. And mid-market companies do not change their organization easily – there is more a departmental approach avoiding therefore a change in business.
To summarize the biggest challenges in current PLM described in this post:
PLM is considered complex to implement
PLM is a huge IT-project
PLM requires change and structuring – but what about flexibility
Where is the PLM value and ROI – user acceptance
PLM for the mid-market – does it exist ?
Conclusion: I have been writing about the PLM challenges in the past, see the links below if you are interested in more details on a specific topic.
In 2008,I thought that Out-of-the-Box PLM systems and standard functionalities could bring a solution for the mid-market, perhaps future solutions based on the cloud. However I learned that if you want to do real PLM in a modern manner, you need to change the way you do your business – and this I will explain in my upcoming post.
Related links:
Last weeks have been busy weeks and I have seen various PLM candidates all around Europe. As these companies were mid-market companies, I noticed again how difficult it is for these companies to follow the ideal path towards PLM.
For those reading my blog frequently they might remember my definition of mid-market and PLM. For newer readers I will give my definitions again, as everyone has their own definition.
Mid market company: For me the definition of a mid-market company does not have to do with revenue or the amount of people working for this company. I characterize a mid-market company as a company, where everyone has a focus on the company's primary process. There is no strategic layer of people, who are analyzing the current business and defining new strategies for the future. In addition, the IT-staff is minimal, more seen as an overhead than as strategic. Mid-market companies have their strength in being flexible and reacting fast on changes, which might contradict with a long term strategic approach.
As what happens if you are only in a reactive mode – it can be too late.
PLM: For me PLM is not a product but a vision or business approach based on a collection of best practices (per industry). Main characteristics of PLM are centralizing all product knowledge (IP) throughout all the lifecycle stages and a focus on best practices and immediate visibility on all lifecycle stages.  Combining concept, planning, development, production planning and after sales / service into one integrated process. It is more than concurrent engineering, it is about sharing data and ownership of data through different departments. And this means business transformation, breaking through traditional barriers. Of course PLM vendors have a slight different definition in order to differentiate themselves from other vendors. For example more focus on a virtual product definition (CAD PLM vendors) or a focus on efficiency and one single platform (ERP PLM vendors)
Who will initiate this change ?
And these two definitions already raise the questions I want to reflect here as I experienced again in two recent visits that the pain to move to PLM is here.
First what is the result of a reactive mode, even when it is a quick reaction ?
A reactive mode leads to a situation where a company will never be able to differentiate rapidly from their competition. As every change takes time to implement, it is logically that a real business change will not be implemented as a quick reaction. The company needs to have a long term vision. And this is one of the things I noticed talking with mid-market companies. Ask these questions: "Where do you want to be in five years from now" and "How do you make sure you achieve these goals (if goals exist)" and often you find the company is depending on the business instinct of the founder(s) and has no real answers for the long term future.
This is of course a result of the typical mid-market company, they have no internal people who will step outside the daily hectic and work on a change. And being reactive always means you are (a little) behind. And this was the situation in one of the companies that I have met recently. There was an initial understanding of the values that PLM could bring, but when talking about some of the basic principles of PLM, the answers was: In our company ERP is God. This means real PLM has no chance – you do not want to fight against God.
And now the discussion who can initiate the change towards PLM
Now another example of a mid-market company that had a long term PLM vision but got trapped in their own approach. The company has been growing fast and like many European companies, production is done in China. And this causes collaboration issues around communication and quality between Europe and China as the company only knows CAD data management and ERP. The engineering manager was assigned to solve these issues.He did not get a full strategic assignment to look at the complete picture, but the management pushes him to solve the current pains, having the PLM wishes still in mind.
And solving the current pains lead again to function / feature comparison with a short term justification, believing that in the future all will fit in the PLM vision, as the potential resellers for the new solution said: "Yes we can". Have you ever heard a reseller say "No we cannot"
The result, the engineering manager has to make a decision based on the 'blue eyes' of the reseller as he does not get the mandate and power from his management to analyze and decide on a PLM strategy for the long term. For one of the resellers talking about the details of PLM was even more a disadvantage as it creates an impression that PLM is complex. It is easier to sell a dream. A similar situation as I described in my posts: Who decides for PLM in a mid-market company
My conclusion
Although I am aware that many mid-market companies implement basics of PLM, it is frustrating to see that lack of priority and understanding of the management in mid-market companies blocks the growth to full benefits for PLM. The management is not to blame, as most PLM messages either come from the high-end PLM vendors or from product resellers both not packaged for the mid-market. See PLM for the mid-market – a mission impossible ?
PLM is a cross-departmental solution and the management should look for partners who can explain the business values and share best practices for mid-market companies business  wise.
The partner is 50 % of the success for a PLM implementation.
Do you recoginize similar situations ? How would you address them ?
My PLM blog cloud based on Wordie – see the virtualdutchman blog cloud
In my previous post, BOM for Dummies related to Configure To Order, I promised to come back on the special relation between the items in the BOM and the CAD data. I noticed from several posts in PLM and PDM groups that also the importance of CAD data is perceived in a different manner, depending on the background of the people or the systems they are experienced with.
So I would like to start with some general statements based on these observations.
People who are talking about the importance of CAD data and product structures are usually coming from a background in PDM. In an environment where products are designed, the focus is around data creation, mostly CAD data. The language around parts in the BOM is mostly targeting design parts. So in a PDM environment CAD data is an important topic – therefore PDM people and companies will talk about CAD data and vaults as the center of information.
When you are working in a PLM environment, you need a way to communicate around a product, through its whole lifecycle, not only the design phase but also supporting manufacturing phases, the possible changes of an existing product through engineering changes, the traceability of as-built data and more. In a PLM environment, people have the physical part (often called the ERP part) in mind, when they talk about a part number.
As PLM covers product information across various departments and disciplines, the information carrier for product information cannot be the CAD data. The BOM, usually the mBOM, is the main structure used to represent and produce the product. Most parts in the mBOM have a relation to a CAD document (in many companies still the 2D drawing). Therefore PLM people and companies understanding PLM will talk about items and products and their lifecycle as their center of information.
CAD data in relation to Engineering to Order
The above generalizations have to be combined with the different main business processes. In a strict Engineering To Order environment, where you design and build a solution only once for a specific customer, there is no big benefit of going through an eBOM and mBOM transition.
During the design process the engineer already has manufacturing in mind, which will be reflected in the CAD structure they build – sometime hybrid representing both engineering and manufacturing items. In such an environment CAD data is leading to build a BOM structure.
And in cases where engineering is done in one single 3D CAD system, the company might use the PDM system from this vendor to manage their Bill of Materials. The advantage of this approach is that PDM is smoothly integrated with the design environment. However it restricts in a certain matter the future as we will see in further reading.
Not everyone needs the Engineering to Order process !
Moving to an integrated, multi-disciplinary engineering process or changing the main process from Engineering To Order to Built To Order / Configure To Order will cause major challenges in the company.
I have seen in the recent past, several companies that would like to change their way of working from a CAD centric Engineering To Order process towards a more Built to Order or Configure To Order process. The bottle neck of making this switch was every time that engineering people think in CAD structures and all knowledge is embedded in the CAD data. They now want to configure their products in the CAD system.
For Configure to Order you have to look at a different way to your CAD data:
Questions to ask yourself as a company are:
When I configure my products around a CAD structure, what should I do with data from other disciplines (Electrical/Tooling/Supplier data) ?
When I upgrade my 3D CAD system to a new version, do I need to convert all old CAD data to the newest versions in order to keep my configurations alive?
When configuring a new customer solution, do I need to build my whole product in CAD in order to assure it is complete?
In Configure to Order the engineering BOM and manufacturing BOM are different. Does this mean that when I go through a new customer order, all CAD data need to be handled, going through eBOM and mBOM transition again?
For me it is obvious that only in an Engineering to Order environment the CAD data are leading for order fulfillment. In all other typical processes, BTO (Built to Order), CTO (Configure to Order) and MTS (Make to Stock),  product configuration and definition is done around items and the CAD data is important associated data for the product definition and manufacturing
In the case of order fulfillment in a Configure to Order process, the CAD structure is not touched as configuration of the product is available based on items. Each item in the mBOM has it relations to CAD data or other specifying information.
In the case of Built To Order, a huge part of the product is already configured, like in Configure To Order. Only new interfaces or functionality will go through a CAD design process. This new design might be released through a process with an eBOM to mBOM transition. In cases where the impact or the amount of data created in engineering is not huge, it is even possible to configure the changes immediately in an mBOM environment.
A second point, which is also under a lot of discussion in the field ( PLM interest groups), is that PDM is easily to introduce as a departmental solution. The engineering BOM is forwarded to manufacturing and there further (disconnected) processed.  The step from PDM to PLM is always a business change.
When PDM vendors talk about ERP integration, they often mean the technical solution of connecting the two systems, not integrating the processes around the BOM (eBOM/mBOM transition) 0r an integrated engineering change (ECR/ECO). See how easy it is according to some PDM vendors:
or
PLM requires an adaptation of all departments to work different and together around a single product definition. Especially in a mid-market company, this is a big issue, as all product knowledge is stored in the CAD data and the knowledge how to produce the product is stored in the mBOM on the ERP side. These environments are often disconnected.
Conclusion: In the context of PDM the importance of CAD data is clear and for companies following a strict Engineering To Order process the main source of product knowledge. Companies following the Built To Order / Configure To Order process should configure their products around items to keep flexibility towards the future.
Companies with the intention to move to Built To Order or Configure To Order should not invest too much in CAD data configuration as it creates a roadblock for the future.
In my next post I will address the question that comes up from many directions, addressed by Jim Brown and others, as discussed  in one of his recent posts around a PLM standard definition and more ….
I realized that time is flying when you are busy, and I promised to publish the conclusion from my previous post: More on who decides for plm in a mid market company. In my two previous posts, I described the difficulties companies have to select the right PLM system. So far I discussed the two extremes, the silent approach where a possible bottom up approach was discussed and as the opposite where an 'academical' approach was followed.
Now it is time to get the answers on the academical approach.
These were the questions to be answered in the previous post:
How much time has passed since the management decided PLM was good for their organization?
How independent is the consultancy firm?
Did they consider open source PLM as a solution?
What was the ranking of the PLM vendors?
How much time has passed since the management decided PLM was good for their organization?
The whole process of selecting a PLM system often takes more than one or two years, starting from the first activities till the final conclusion to start. I believe this is unavoidable, as especially in mid-market companies the business values that PLM can bring are not always discussed and realized on the strategic level.
However, I believe the recent years PLM has been recognized by analysts, by software vendors and many young companies as a necessity for innovation and in the long term remaining competitive.  And this is not only in the classical domains where PLM started – automotive / aero / industrial equipment.  PLM value is everywhere in different industries, even apparel for example.
For companies that are now in the decision process, I believe 2009 and early 2010 are the years to decide, because a recovery of the economy might put back the focus on execution and not on strategy and they might miss the management focus for PLM. And as I wrote in a previous post, companies who made the best pit stop will benefit upmost.
For companies still in doubt:  It is now or never
How independent is the consultancy firm?
It is clear that real independent consultancy firms do not exist – even if a consultant wants to be independent, there are three challenges to meet:
How can a consultant evaluate or judge PLM systems they have not seen?
How much experience does the consultant have in your business?
How much work is there required in the project for the consultant?
As you can imagine, reviewing the above challenges, you will realize that consultants usually specialize in systems, where their expertise it required – as they also want to make a living.  Consultants cannot afford to be an academic institute, as coming back to the previous point, all consultancy work at the end will be paid by the customer.
So to conclude on this point, if you want to be cost-effective, a company should do already a pre-selection based on systems and possible implementation partners, that fit naturally to their type of business and then evaluate how consultancy can be achieved.
What you will find out is that the major 'expensive' packages have loads of consultants to offer en the more and more you go into a mid-market environment, consultants become rare. For software from PLM vendors you will usually find a reseller network with people close to your offices that can support you. For Open Source software you will need to find the consultancy services through their software delivery program.
Anyway remember: 50 % of the success of a PLM implementation is based on the right implementation approach and partner not on the PLM functions and features.
Did they consider open source PLM as a solution?
No, because the consultant was not familiar with it, and discouraged the company to look at it. In general Open Source PLM, like PLM On-Demand are interesting trends to follow and should not be neglected.  However the focus and approach for this type of solutions is different. I will not generalize at this moment as also I have no clear picture where Open Source PLM or PLM on Demand would be a big differentiator. I will try to evaluate and report it in future posts.
Comments from Open Source PLM Vendors or On Demand PLM Vendors are welcome to complete the PLM selection approach.
What was the ranking of the PLM vendors?
Ranking was done by the management, the selection team and the design department. These were the results plus their major comment:
Management
1. The slide show PLM provider – they liked the business pitch
2. The CAD supplier with PLM features and gadgets – good guys – we know them
3. The PLM provider who showed everything – too much handling of data – too complex
Selection Team
1. The PLM Provider who showed everything – they really did it
2. The CAD supplier with PLM features and gadgets– we understand where they are going
3. The slide show PLM provider – do they really have a solution?
The Designers
1. The CAD supplier with PLM features and gadgets– he knows what we want
2. The slide show PLM provider– could be a good solution too
3. The PLM Provider who showed everything – too complex, it will limit our productivity
As the management had the final vote, they decided for the slide show PLM Provider, as they felt most comfortable with them.
The reason to drop the CAD supplier was that they were too afraid this provider does not know all about PLM. Both management and users felt the PLM provider that showed everything was too complex, this opposite to the project team where the members were very familiar with PLM capabilities after two years investigation and many demos and trade shows.
Conclusion: Selecting PLM, even in an academical manner is a subjective process. As in general the customer does not exactly knows what he needs and often the PLM provider shows too much in detail, the real journey starts at implementation time. And in this stage you need an experienced implementation partner who can match and communicate the expectations