You are currently browsing the tag archive for the 'Part Number' tag.
To understand our legacy in the PLM-domain, what are the types of practices we created, I started this series of posts: Learning from the past to understand the future. My first post (The evolution of the BOM) focused on the disconnected world between engineering – generation of drawings as a deliverable – and execution MRP/ERP – the first serious IT-systems in a company.
At that time, due to minimal connectivity, small and medium-sized companies had, most of the time, an informal connection between engineering and manufacturing. I remember a statement at that time, PLM was just introduced. One person during a conference claimed:
"You guys make our lives so difficult with your systems. If we have a problem, we gather around the machine, and we fix it."
PLM started at large enterprises
Of course, large enterprises could not afford such behavior as they operate globally. The leading enterprises for PDM/PLM were the Aerospace & Defense and Automotive companies. They needed consistent processes and formal ways of working to guarantee quality output.
In that sense, I was happy with the reaction from Jean-Jacques Urban-Galindo, who shared in the LinkedIn comments a reference to a relevant chapter of John Stark's PLM book. In the pdf describing the evolution of CAD / PDM / PLM at PSA. Jean-Jacques was responsible at that time for Responsible for the re-engineering of the Product & Process Engineering processes using digital tools (CAD/CAM, DMU, and more).
Read the PSA story here: PLM at GROUPE PSA. It describes nicely where 3D CAD and EBOM are coming in. In large enterprise like PSA, the need for tools are driven by the processes. When you read it to the end, you will also see the need for a design and a manufacturing view. A topic I will touch in future posts too.
The introduction of 3D CAD in the mid-market
Where large automotive and aerospace companies already invested in (expensive) 3D CAD hard and software, for the majority of the midsize companies, the switch from 2D CAD (AutoCAD mainly) towards 3D CAD (SolidWorks, Solid Edge, Inventor) started at the end of the 20th century.
It was the time that Microsoft NT became a serious platform beside the existing mainframe and mini-computer based CAD-systems. The switch to PCs went so fast that the disruption from DEC (Digital Equipment Company) is one of the cases discussed by Clayton Christensen in his groundbreaking book: The Innovator's dilemma
3D CAD introduced a lot of new capabilities, like DMU (Digital Mock-Up), for clash detection, and above all, a better understanding of a product's behavior. The introduction of 3D CAD introduced a new set of challenges to be resolved.
For example, the concept of reusing 3D CAD parts. Mid-market companies, most of the time, are buying productivity tools. Can I design my product faster and with higher quality in 3D instead of using only the 2D definitions?
Mid-market companies usually do not redesign their business processes – no people available for strategy – the pain of lack of strategy is felt in a different way compared to large enterprises—a crucial differentiator for the future of PLM.
Reuse of (3D) CAD parts / Assemblies
In the 2D CAD world, there was not so much reuse of CAD parts. Standard parts were saved in libraries or generated on demand by parametric libraries. Now with 3D CAD, designers might spend more time to define the part. The benefits come from the reuse of small sub-assemblies (modules) into a larger product assembly. Something not relevant in the 2D CAD world.
As every 3D CAD part had to have a file name, it became difficult to manage the file names without a system. How do you secure that the file with name Part01.xxx is unique? Another designer might also create an assembly, where the 3D CAD tool would suggest Part01.xxx as the name. And what about revisions? Do you store them in the filename, and how do you know you have the correct and latest version of the file?
Companies had already part naming rules for drawings, often related to the part's usage similar to "intelligent" numbers I mentioned in my previous post.
With 3D CAD it became a little more complicated as now in electronic formats, companies wanted to maintain the relation:
Drawing ID = Part ID = File Name
The need for a PDM-system,
If you look to the image on the left, which I found in one of my old SmarTeam files, there is a part number combined with additional flags A-A-C, which also have meaning (I don't know ☹ ) and a description.
The purpose of these meaningful flags was to maintain the current ways of working. Without a PDM-system, parts of the assembly could be shared with an OEM or a supplier. File-based 3D CAD without using a PDM-system was not a problem for small and medium enterprises.
The 3D CAD-system maintained the relations in the assembly files, including relations to the 2D Drawings. Despite the introduction of 3D CAD, the 2D Drawing remained the deliverable the rest of the company or supply chain, was waiting for. Preferably a drawing containing a parts list and balloon numbers, the same as it has been done before. Why would you need a PDM-system?
PDM for traceability and reuse
If you were working in your 3D CAD-system for a single product, or on individual projects for OEMs, there was no significant benefit for a PDM-system. All deliveries needed for the engineering department were in the 3D CAD environment. Assembly files and drawing files are already like small databases, containing references to the source files of the part (image above).
A PDM-system at this stage could help you build traceability and prevent people from overwriting files. The ROI for this part only depends on the cost and risks of making mistakes.
However, when companies started to reuse parts or subassemblies, there was a need for a system that could manage the 3D models separately. This had an impact on the design methodology.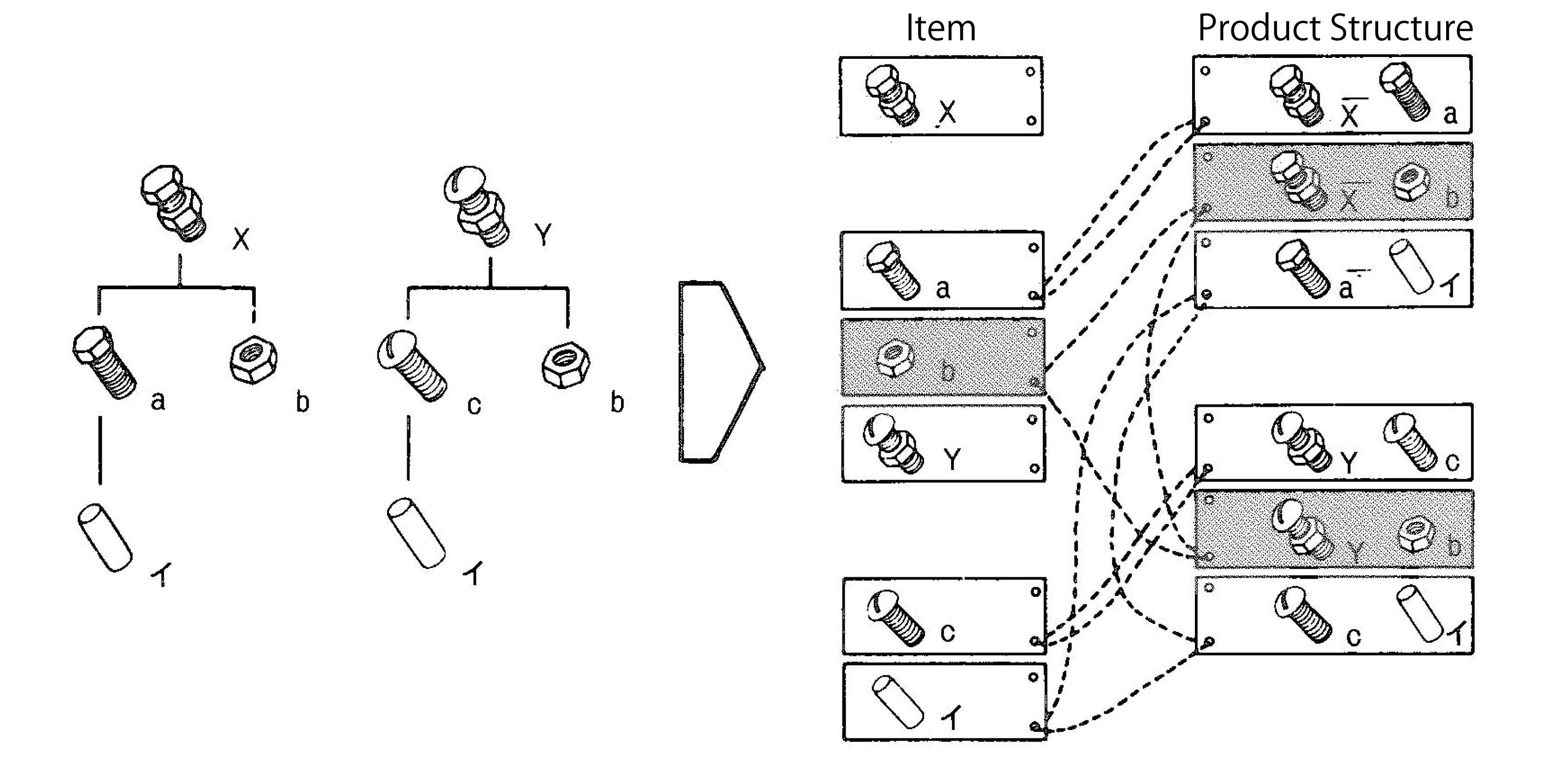 Now parts could be used in various products. How do you discover parts for reuse, and how do you know you have the last released version. For sure their naming cannot be related anymore to a single product or project (a practice still used a lot)
This is where PDM-systems came in. Using additional attributes per file combined with relations between parts, allowing companies to structure and deliver more details related to a part. A detailed description for internal usage, a part type (classification), and the part material were commonly used attributes. And not to forget the status and revision.
For reuse, it was important that the creators of content had a strategy to define a part for future reuse or discovery. Engineerings were not used to provide such services, filling in data in a PDM-system was seen as an overhead – bureaucracy.
As they were measured on the number of drawings they produced, why do extra work with no immediate benefits?
The best compromise was to have the designer fill in properties in the CAD-file when creating a part. Using the CAD-integration with the PDM-system could be used to fill attributes in the PDM-system.
This "beautiful" simple concept lead later to a lot of complexity.
Is the CAD-model the source of data, meaning designers should always start from CAD when designing a product. If someone added or modified data in the PDM-system, should we open the CAD-file to update some properties? Changing a file means it is a new version. What happens if the CAD-file is released, and I update some connected attributes in PDM?
To summarize this topic. Companies have missed the opportunity here to implement data governance. However, none of the silos (manufacturing preparation, service) recognized the need. Implementing new tools (3D CAD and PDM) did not affect the company's way of working.
Instead of people, processes, tools, the only focus was on new tools and satisfying the people withing the same process.
Of course, when introducing PDM, which happened for mid-market companies at the beginning of this century, there was no PLM vision. Talking about lifecycle support was a waste of time for management. As we will discover in the future posts, large enterprises and small and medium enterprises have the same PLM needs. However, there is already a fundamentally different starting point. Where large enterprises are analyzing and designing business processes, the small and medium enterprises are buying tools to improve the current ways of working
The Future?
Although we have many steps to take in the upcoming posts, I want to raise your attention to an initiative from the PLM Interest Group together with Xlifecycle.com. The discussion is about what will be PLM's role in digital transformation.
As you might have noticed, there are people saying the word PLM is no longer covering the right context, and all kinds of alternatives have been suggested. I recommend giving your opinion without my personal guidance. Feel free to answer the questionnaire, and we will be all looking forward to the results.
Find the survey here: Towards a digital future: the evolving role of PLM in the future digital world
Conclusion
We are going slow. Discovering here in this post the split in strategy between large enterprises (process focus) and small and medium enterprises (tool focus) when introducing 3D CAD. This different focus, at this time for PDM, is one of the reasons why vendors are creating functions and features that require methodology solving – however, who will provide the methodology.
Next time more on 3D CAD structures and EBOM
Some weeks ago I wrote a post about non-intelligent part numbers (here) and this was (as expected) one of the topics that fired up other people to react. Thanks to Oleg Shilovitsky (here), Ed Lopategui (here), David Taber (here)  for your contribution to this debate. For me, the interesting conclusion was that nobody denies the advantage of a non-intelligent part number anymore. Five to ten years ago this discussion would be more a debate between defenders of the old "intelligent" methodology and non-intelligent numbers. Now it was more about how to deal/wait/anticipate for the future. Great progress !!
Non-intelligent part number benefits
Again a short summary for those who have not read the posts referenced in the introduction. Non-intelligent part numbers provide the following advantages:
Flexibility towards the future in case of mergers, new products, and technologies of number ranges not foreseen. Reduced risk of changes and maintenance for part numbers in the future.
Reduced support for "brain-related connectivity" between systems (error-prone) and better support for automated connectivity (interfaces / digital scanning devices). Minimizing mistakes and learning time.
What's next?
So when a company decides to move forward towards non-intelligent part numbers, there are still some more actions to take. As the part number becomes irrelevant for human beings, there is a need for more human-readable properties provided as metadata on screens or attributes in a report.
CLASSIFICATION: The first obvious need is to apply a part classification to your parts. Intelligent part numbers somehow were often a kind of classification based on the codes and position of numbers and characters inside the intelligent ID. The intelligent part number containing information about the type of part, perhaps the drawing format, the project, or the year it was issued the first time. You do not want to lose this information and therefore, make sure it is captured in attributes (e.g. part type/creation date) or in related information (e.g. drawing properties, model properties, customer, project). In a modern PLM system, all the intelligence of a part number needs to be at least stored as metadata and relations.
Which classification to use is hard to tell. It depends on your industry and the product you are making. Each industry has its standards which are probably the optimized target when you work in that industry. Classifications like UNSPC might be too generic. Although when you classify, do not invent a new classification yourself. People have spent thousands of hours (millions perhaps) on building the best classification for your industry – don't be smarter unless you are a clever startup.
And next, do not rely on a single classification. Make sure your parts can adhere to multiple classifications as this is the best way to stay flexible for the future. Multiple classifications can offer support for a marketing view, a technology view (design and IP usage), a manufacturing view, and so on.
Legacy parts should be classified by using analytic tools and custom data manipulations to complete the part metadata in the future environment. There are standard tools in the market to support data discovery and quality improvement. Part similarity discovery is done by Exalead's One Part and for more specific tools read Dick Bourke's article on Engineering.com.
DOWNSTREAM USAGE: As Mathias Högberg commented on my post, the challenge of non-intelligent part numbers has its impact downstream on the shop floor. Production line scheduling for variants or production process steps for half-fabricates often depends on the intelligence of the part number. When moving to non-intelligent numbers, these capabilities have to be addressed too, either by additional attributes, immediately identifying product families, or by adding a more standardized description based on the initial attributes of the classification. Also David Taber in his post talked about two identifiers, one meaningless and fixed, and a second used for the outside world, which could be built by a concatenation of attributes and can change during the part lifecycle.
In the latter case, you might say, we remove intelligence from the part number and we bring intelligence back in the description. This is correct. Still human beings are better in mapping a description in their mind than a number.
Do you know Jos Voskuil (a.k.a. virtualdutchman) or
Do you know NL 13.012.789 / 56 ?
Quality of data
Moving from "intelligent" part numbers towards meaningless part numbers enriched with classification and a standardized description, allow companies to gain significant benefits for just part reuse. This is what current enterprises are targeting. Discovering and eliminating similar parts already justifies this process. I consider this as a tactical advantage. The real strategic advantage will come in the next ten years when we will go more and more to a digital enterprise. In a digital enterprise, algorithms will play a significant role (see Gartner) amount of human interpretation and delays. However, algorithms only work on data with certain properties and reliable quality.
Conclusion
Introducing non-intelligent part numbers has its benefits and ROI to stay flexible for the future. However consider it also as a strategic step for the long-term future when information needs to flow in an integrated way through the enterprise with a minimum of human handling.
Happy New Year to all of you and I am wishing you all an understandable and digital future. This year I hope to entertain you again with a mix of future trends related to PLM combined with old PLM basics. This time, one of the topics that are popping up in almost every PLM implementation – numbering schemes – do we use numbers with a meaning, so-called intelligent numbers or can we work with insignificant numbers? And of course, the question what is the impact of changing from meaningful numbers towards unique meaningless numbers.
Why did we create "intelligent" numbers?
Intelligent part numbers were used to help engineers and people on the shop floor for two different reasons. As in the early days, the majority of design work was based on mechanical design. Often companies had a one-to-one relation between the part and the drawing. This implied that the part number was identical to the drawing number. An intelligent part number could have the following format: A4-95-BE33K3-007.A
Of course, I invented this part number as the format of an intelligent part number is only known to local experts. In my case, I was thinking about a part that was created in 1995, drawn on A4. Probably a bearing of the 33K3 standard (another intelligent code) and its index is 007 (checked in a numbering book). The version of the drawing (part) is A
A person, who is working in production, assembling the product and reading the BOM, immediately knows which part to use by its number and drawing. Of course the word "immediately" is only valid for people who have experience with using this part. And this was in the previous century not so painful as it is now. Products were not so sophisticated as they are now and variation in products was limited.
Later, when information became digital, intelligent numbers were also used by engineering to classify their parts. The classification digits would assist the engineer to find similar parts in a drawing directory or drawing list.
And if the world had not changed, there would be still intelligent part numbers.
Why no more intelligent part numbers?
There are several reasons why you would not use intelligent part numbers anymore.
An intelligent number scheme works in a perfect world where nothing is changing. In real life companies merge with other companies and then the question comes up: Do we introduce a new numbering scheme or is one of the schemes going to be the perfect scheme for the future?If this happened a few times, a company might think: Do we have to through this again and again? As probably topic #2 has also occurred.
The numbering scheme does not support current products and complexity anymore. Products change from mechanical towards systems, containing electronic components and embedded software. The original numbering system has never catered for that. Is there an overreaching numbering standard? It is getting complicated, perhaps we can change ? And here #3 comes in.
As we are now able to store information in a digital manner, we are able to link to this complex part number a few descriptive attributes that help us to identify the component. Here the number is becoming less important, still serving as access to the unique metadata. Consider it as a bar code on a product. Nobody reads the bar code without a device anymore and the device connected to an information system will provide the right information. This brings us to the last point #4.
In a digital enterprise, where data is flowing between systems, we need unique identifiers to connect datasets between systems. The most obvious example is the part master data. Related to a unique ID you will find in the PDM or PLM system the attributes relevant for overall identification (Description, Revision, Status, Classification) and further attributes relevant for engineering (weight, material, volume, dimensions).
In the ERP system, you will find a dataset with the same ID and master attributes. However here they are extended with attributes related to logistics and finance. The unique identifier provides the guarantee that data is connected in the correct manner and that information can flow or connected between systems without human interpretation or human-spent processing time.
And this is one of the big benefits of a digital enterprise, reducing overhead in data handling, often reducing the cost of data handling with 50 % or more (people / customizations)
What to do now in your company?
There is no business justification just to start renumbering parts just for future purposes. You need a business reason. Otherwise, it will only increase costs and create a potential for migration errors. Moving to meaningless part numbers can be the best done at the moment a change is required. For example, when you implement a new PLM system or when your company merges with another company. At these moments, part numbering should be considered with the future in mind.
And the future is no longer about memorizing part classifications and numbers, even if you are from the generation that used to structure and manage everything inside your brain. Future businesses rely on digitally connected information, where a person based on machine interpretation of a unique ID will get the relevant and meaningful data. Augmented reality  (picture above) is becoming more and more available. It is now about human beings that need to get ready for a modern future.
Conclusion
Intelligent part numbers are a best practice from the previous century. Start to think digital and connected and try to reduce the dependency of understanding the part number in all your business activities. Move towards providing the relevant data for a user. This can be an evolution smoothening a future PLM implementation step.
Looking forward to discussing this topic and many other PLM related practices with you face to face during the Product Innovation conference in Munich. I will talk about the PLM identity change and lead a focus group session about PLM and ERP integration. Looking from the high-level and working in the real world. The challenge of every PLM implementation.
In the previous post, I described that the item is the primary entity used in the connection between a PLM system and an ERP system. The initial definition comes from the engineering department, defining the main characteristics of the item, like ID (part number), Description and Classification Data for engineering usage.
Next when the item reaches a certain maturity stage, that it will be purchased or produced, the initial definition needs to be transferred to the ERP system and to be completed in ERP with logistical data. Often as part of the classification data, the engineer has already defined what type of item it will be. This information can be used in ERP to apply default data based on a certain template item or derived-from item.

Item identification / Part Number
Most of the manufacturing companies are using so called 'intelligent' part numbers to identify their items. This was done for historical reasons. As there was no IT system in the company, the part number contained logic and information in order to 'immediately' understand its usage.
For example M210-23-4-00-A3.C tells me immediately it is a manufactured part, first time used in the milling product line (210) and it is used for hydraulic (23), not in stock (4), a preferred item for engineering (00) and its definition can be found on the drawing with the same name, size A3 revision C.
If you did not understand this directly from the number, it does not mean you are not intelligent, although it is an intelligent part number. This shows that intelligent numbers are useful when people are trained and have a good memory. For everyone else in the company (and joining the company later) the number is initially the same as a meaningless number.
For that reason is is recommended to use 'non-intelligent' numbers to identify parts. This creates no overhead for people to learn all kind of intelligent numbering mechanisms and it pushes everyone to look to additional information which can be understood immediately, like the description or classification data. We have now IT systems like a PLM or ERP system that allows us to display more than a number.
For backwards tractability of course beside the new meaningless part number, there can be also a place holder in the IT system to define what the origin of the part was (with the intelligent part number). Specially when companies merge this will happen. The same part exists in different numbering schemes in each company. The only way to solve this is to add a new identifier, preferred to be the 'non-intelligent' number.
Conclusion: For part numbers it is recommended to use non-intelligent numbers based on a sequence, avoiding the creation of legacy information (merge) or training to understand the items by number.
Now the new created part has a meaningless identifier, we have achieved two things:
The PLM and ERP system have unique key to share. Identifying this number with its revision (if relevant) immediately makes it clear for both the PLM and ERP system which part is meant.
To understand what the item really does, we need to understand additional information like its description
Note
: Not all ERP systems support revisions of items. Some work always with the actual version of the item. Where PLM systems trace and keep the exact definition of an item, often ERP systems trace the item by effectivity. You need to know what was the engineering definition, when the item was manufactured.

Description / Classification
Initially when an item is defined the engineer might create a description, like HYDRAULIC CLAMP without any further details. Some years later there might be 10 or more hydraulic clamps in the system, where some of them might be identical and others differ. However the description HYDRAULIC CLAMP might be sufficient for a part list to be shipped to a customer (we do not want the customer to know the exact item characteristics in order to have him order the spare parts through us).
Often on the engineering side an additional description field is added, which is a detailed description. This description is used internally and should be standardized in order to support the engineer to select the right item.
So HYDRAULIC CLAMP could have an internal definition HYDRAULIC CLAMP 400-600 describing its usage. This detailed description should be either enforced and generated by the PLM or should be handled through a librarian or standardization role in engineering. This should be combined with a classification of the new item. The advantage of a detailed description and classification is two-fold:
It supports engineers to search for existing items – so reuse is more likely. Often the description in the ERP system was not built in this way and for that reason engineers re-invent items while they might exist.
The classification will alert the engineer or librarian that an item with the same classification characteristics already exists. This means it might be identical or an additional classification characteristic is needed to differentiate the two items.
The definition of a new item would go through the following steps:
The engineer defines the description and can work with the item in a temporary mode as he is not sure of using the new item in this way
The item becomes mature and he needs to generate the detailed description.
At this stage the librarian or a standardization committee might come in, to analyze the need for the new item. And if so to define all its classification data, knowing it is a new and unique item needed.
Once the engineering definition is completed, the item definition can be send to the ERP system in order to complete it with logistical data – who can manufacture it and tens of attributes more. The item still is not released
A hand-shake from the ERP system will confirm that the item definition is completed and as part of the release process the item can be approved for manufacturing. In case no pre-production stage exists it might be released even.
Conclusion: Standard Description, Detailed Description and Classification information is done on the PLM side to support reuse of items and to avoid creation of similar items with a different part number. The ERP systems uses the description definition and completes the definition with ERP required information. Data relevant for the engineering is synchronized back once the full definition is available.
The next post in this sequence will be discussing the BOM transfer to ERP