You are currently browsing the category archive for the 'Education' category.
It Is 2021, and after two weeks' time-out and reflection, it is time to look forward. Many people have said that 2020 was a "lost year," and they are looking forward to a fresh restart, back to the new normal. For me, 2020 was the contrary of a lost year. It was a year where I had to change my ways of working. Communication has changed, digitization has progressed, and new trends have become apparent.
If you are interested in some of the details, watch the conversation I had with Rob Ferrone from QuickRelease, just before Christmas: Two Santas looking back to 2020.
It was an experiment with video, and you can see there is a lot to learn for me. I agree with Ilan Madjar's comment that it is hard to watch two people talking for 20 minutes. I prefer written text that I can read at my own pace, short videos (max 5 min), or long podcasts that I can listen to, when cycling or walking around.
So let me share with you some of the plans I have for 2021, and I am eager to learn from you where we can align.
PLM understanding
I plan a series of blog posts where I want to share PLM-related topics that are not necessarily directly implemented in a PLM-system or considered in PLM-implementations as they require inputs from multiple sources.  Topics in this context are: Configuration Management, Product Configuration Management, Product Information Management, Supplier Collaboration Management, Digital Twin Management, and probably more.
For these posts, I will discuss the topic with a subject matter expert, potentially a vendor or a consultant in that specific domain, and discuss the complementary role to traditional PLM. Besides a blog post, this topic might also be more explained in-depth in a podcast.
The PLM Doctor is in
Most of you might have seen Lucy from the Charley Brown cartoon as the doctor giving advice for 5¢. As an experiment, I want to set up a similar approach, however, for free.
These are my conditions:
Only one question at a time.
The question and answer will be published in a 2- 3 minute video.
The question is about solving a pain.
If you have such a question related to PLM, please contact me through a personal message on LinkedIn, and I will follow-up.
PLM and Sustainability
A year ago, I started with Rich McFall, the PLM Green Global Alliance.  Our purpose to bring people together, who want to learn and share PLM-related practices, solutions,  ideas contributing to a greener and more sustainable planet.
We do not want to compete or overlap with more significant global or local organizations, like the Ellen McArthur Foundation or the European Green Deal.
We want to bring people together to dive into the niche of PLM and its related practices.  We announced the group on LinkedIn; however, to ensure a persistent referential for all information and interactions, we have launched the website plmgreenaliance.com.
Here I will moderate and focus on PLM and Sustainability topics. I am looking forward to interacting with many of you.
PLM and digitization
For the last two years, I have been speaking and writing about the gap between current PLM-practices, based on shareable documents and files and the potential future based on shareable data, the Model-Based Enterprise.
Last year I wrote a series of posts giving insights on how we reached the current PLM-practices. Discovering sometimes inconsistencies and issues due to old habits or technology changes. I grouped these posts on a single blog page with the title:  Learning from the past.
This year I will create a collection of posts focusing on the transition towards a Model-Based Enterprise. Probably the summary page will be called: Working towards the future currently in private mode.
Your feedback
I am always curious about your feedback – to understand in which kind of environment your PLM activities take place. Which topics are unclear? What am I missing in my experience?
Therefore, I created a small anonymous survey for those who want to be interacting with me. On purpose, the link is at the bottom of the post, so when you answer the survey, you get my double appreciation, first for reaching the end of this post and second for answering the survey.
Take the survey here.
Conclusion
Most of us will have a challenging year ahead of us. Sharing and discussing challenges and experiences will help us all to be better in what we are doing. I look forward to our 2021 journey.
For those living in the Northern Hemisphere: This week, we had the shortest day, or if you like the dark, the longest night. This period has always been a moment of reflection. What have we done this year?
Rob Ferrone (Quick Release), the Santa on the left (the leftist), and Jos Voskuil (TacIT), the Santa on the right (the rightist), share in a dialogue their highlights from 2020
Wishing you all a great moment of reflection and a smooth path into a Corona-proof future.
It will be different; let's make it better.
Last week I shared my first review of the PLM Roadmap / PDT Fall 2020 conference, organized by CIMdata and Eurostep. Having digested now most of the content in detail, I can state this was the best conference of 2020. In my first post, the topics I shared were mainly the consultant's view of digital thread and digital twin concepts.
This time, I want to focus on the content presented by the various Aerospace & Defense working groups who shared their findings, lessons-learned (so far) on topics like the Multi-view BOM, Supply Chain Collaboration, MBSE Data interoperability.
These sessions were nicely wrapped with presentations from Alberto Ferrari (Raytheon), discussing the digital thread between PLM and Simulation Lifecycle Management and Jeff Plant (Boeing) sharing their Model-Based Engineering strategy.
I believe these insights are crucial, although there might be people in the field that will question if this research is essential. Is not there an easier way to achieve to have the same results?
Nicely formulated by Ilan Madjar as a comment to my first post:
Ilan makes a good point about simplifying the ideas to the masses to make it work. The majority of companies probably do not have the bandwidth to invest and understand the future benefits of a digital thread or digital twins.
This does not mean that these topics should not be studied. If your business is in a small, simple eco-system and wants to work in a connected mode, you can choose a vendor and a few custom interfaces.
However, suppose you work in a global industry with an extensive network of partners, suppliers, and customers.
In that case, you cannot rely on ad-hoc interfaces or a single vendor. You need to invest in standards; you need to study common best practices to drive methodology, standards, and vendors to align.
This process of standardization is so crucial if you want to have a sustainable, connected enterprise. In the end, the push from these companies will lead to standards, allowing the smaller companies to ad-here or connect to.
The future is about Connected through Standards, as discussed in part 1 and further in this post. Let's go!
Global Collaboration – Defining a baseline for data exchange processes and standards
Katheryn Bell (Pratt & Whitney Canada) presented the progress of the A&D Global Collaboration workgroup. As you can see from the project timeline, they have reached the phase to look towards the future.
Katheryn mentioned the need to standardize terminology as the first point of attention. I am fully aligned with that point; without a standardized terminology framework, people will have a misunderstanding in communication.
This happens even more in the smaller businesses that just pick sometimes (buzz) terms without a full understanding.
Several years ago, I talked with a PLM-implementer telling me that their implementation focus was on systems engineering. After some more explanations, it appeared they were making an attempt for configuration management in reality. Here the confusion was massive. Still, a standard, common terminology is crucial in our domain, even if it seems academic.
The group has been analyzing interoperability standards, standards for long-time archival and retrieval (LOTAR), but also has been studying the ISO 44001 standard related to Collaborative business relationship management systems
In the Q&A session, Katheryn explained that the biggest problem to solve with collaboration was the risk of working with the wrong version of data between disciplines and suppliers.
Of course, such errors can lead to huge costs if they are discovered late (or too late). As some of the big OEMs work with thousands of suppliers, you can imagine it is not an issue easily discovered in a more ad-hoc environment.
The move to a standardized Technical Data Package based on a Model-Based Definition is one of these initiatives in this domain to reduce these types of errors.
You can find the proceedings from the Global Collaboration working group here.
Connect, Trace, and Manage Lifecycle of Models, Simulation and Linked Data: Is That Easy?
I loved Alberto Ferrari's (Raytheon) presentation how he described the value of a model-based digital thread, positioning it in a targeted enterprise.
Click on the image and discover how business objectives, processes and models go together supported by a federated infrastructure.
Alberto's presentation was a kind of mind map from how I imagine the future, and it is a pity if you have not had the chance to see his session.
Alberto also focused on the importance of various simulation capabilities combined with simulation lifecycle management. For Alberto, they are essential to implement digital twins. Besides focusing on standards, Alberto pleas for a semantic integration, open service architecture with the importance of DevSecOps.
Enough food for thought; as Alberto mentioned, he presented the corporate vision, not the current state.
More A&D Action Groups
There were two more interesting specialized sessions where teams from the A&D action groups provided a status update.
Brandon Sapp (Boeing) and Ian Parent (Pratt & Whitney) shared the activities and progress on Minimum Model-Based Definition (MBD) for Type Design Certification.
As Brandon mentioned, MBD is already a widely used capability; however, MBD is still maturing and evolving.  I believe that is also one of the reasons why MBD is not yet accepted in mainstream PLM. Smaller organizations will wait; however, can your company afford to wait?
More information about their progress can be found here.
Mark Williams (Boeing) reported from the A&D Model-Based Systems Engineering action group their first findings related to MBSE Data Interoperability, focusing on an Architecture Model Exchange Solution.  A topic interesting to follow as the promise of MBSE is that it is about connected information shared in models. As Mark explained, data exchange standards for requirements and behavior models are mature, readily available in the tools, and easily adopted. Exchanging architecture models has proven to be very difficult. I will not dive into more details, respecting the audience of this blog.
For those interested in their progress, more information can be found here
Model-Based Engineering @ Boeing
In this conference, the participation of Boeing was significant through the various action groups. As the cherry on the cake, there was Jeff Plant's session, giving an overview of what is happening at Boeing. Jeff is Boeing's director of engineering practices, processes, and tools.
In his introduction, Jeff mentioned that Boeing has more than 160.000 employees in over 65 countries. They are working with more than 12.000 suppliers globally. These suppliers can be manufacturing, service or technology partnerships. Therefore you can imagine, and as discussed by others during the conference, streamlined collaboration and traceability are crucial.
The now-famous MBE Diamond symbol illustrates the model-based information flows in the virtual world and the physical world based on the systems engineering approach. Like Katheryn Bell did in her session related to Global Collaboration, Jeff started explaining the importance of a common language and taxonomy needed if you want to standardize processes.
Zoom in on the Boeing MBE Taxonomy, you will discover the clarity it brings for the company.
I was not aware of the ISO 23247 standard concerning the Digital Twin framework for manufacturing, aiming to apply industry standards to the model-based definition of products and process planning. A standard certainly to follow as it brings standardization on top of existing standards.
As Jeff noted: A practical standard for implementation in a company of any size. In my opinion, mandatory for a sustainable, connected infrastructure.
Jeff presented the slide below, showing their standardization internally around federated platforms.
This slide resembles a lot the future platform vision I have been sharing since 2017 when discussing PLM's future at PLM conferences, when explaining the differences between Coordinated and Connected – see also my presentation here on Slideshare.
You can zoom in on the picture to see the similarities. For me, the differences were interesting to observe. In Jeff's diagram, the product lifecycle at the top indicates the platform of (central) interest during each lifecycle stage, suggesting a linear process again.
In reality, the flow of information through feedback loops will be there too.
The second exciting detail is that these federated architectures should be based on strong interoperability standards. Jeff is urging other companies, academics and vendors to invest and come to industry standards for Model-Based System Engineering practices.  The time is now to act on this domain.
It reminded me again of Marc Halpern's message mentioned in my previous post (part 1) that we should be worried about vendor alliances offering an integrated end-to-end data flow based on their solutions. This would lead to an immense vendor-lock in if these interfaces are not based on strong industry standards.
Therefore, don't watch from the sideline; it is the voice (and effort) of the companies that can drive standards.
Finally, during the Q&A part, Jeff made an interesting point explaining Boeing is making a serious investment, as you can see from their participation in all the action groups. They have made the long-term business case.
The team is confident that the business case for such an investment is firm and stable, however in such long-term investment without direct results, these projects might come under pressure when the business is under pressure.
The virtual fireside chat
The conference ended with a virtual fireside chat from which I picked up an interesting point that Marc Halpern was bringing in. Marc mentioned a survey Gartner has done with companies in fast-moving industries related to the benefits of PLM. Companies reported improvements in accuracy and product development. They did not see so much a reduced time to market or cost reduction. After analysis, Gartner believes the real issue is related to collaboration processes and supply chain practices. Here lead times did not change, nor the number of changes.
Marc believes that this topic will be really showing benefits in the future with cloud and connected suppliers. This reminded me of an article published by McKinsey called The case for digital reinvention. In this article, the authors indicated that only 2 % of the companies interview were investing in a digital supply chain. At the same time, the expected benefits in this area would have the most significant ROI.
The good news, there is consistency, and we know where to focus for early results.
Conclusion
It was a great conference as here we could see digital transformation in action (groups). Where vendor solutions often provide a sneaky preview of the future, we saw people working on creating the right foundations based on standards. My appreciation goes to all the active members in the CIMdata A&D action groups as they provide the groundwork for all of us – sooner or later.
About a year ago we started the PLM Global Green Alliance, further abbreviated as the PGGA. Rich McFall, the main driver behind the PGGA started the website, The PLM Green Alliance, to have a persistent place to share information.
Also, we launched the PLM Global Alliance LinkedIn group to share our intentions and create a community of people who would like to share knowledge through information or discussion.
Our mission statement is:
The mission of the new PLM Green Alliance is to create global connection, communication, and community between professionals who use, develop, market, or support Product Lifecycle Management (PLM) related technologies and software solutions that have value in addressing the causes and consequences of climate change due to human-generated greenhouse gas emissions. We are motivated by the technological challenge to help create a more sustainable and green future for our economies, industries, communities, and all life forms on our planet that depend on healthy ecosystems.
My motivation
My personal motivation to support and join the PGGA was driven by the wish to combine my PLM-world with interest to create a more sustainable society for anyone around the world. It is a challenging combination. For example, PLM is born in the Aerospace and Defense industries, probably not the most sustainable industries.
Having worked with some companies in the Apparel and Retail industry, I have seen that these industries care more about their carbon footprint. Perhaps because they are "volume-industries" closely connected to their consumers, these industries actively build practices to reduce their carbon footprint and impact societies. The sense or non-sense of recycling is such a topic to discuss and analyze.
At that time, I got inspired by a session during the PLM Roadmap / PDT 2019 conference.
Graham Aid's from the Ragn-Sells group was a call to action. Sustainability and a wealthy economy go together; however, we have to change our habits & think patterns.  You can read my review from this session in this blog post: The weekend after PLM Roadmap / PDT 2019 – Day 1
Many readers of this post have probably never heard of the Ragn-Sells group or followed up on a call for action.  I have the same challenge. Being motivated beyond your day-to-day business (the old ways of working) and giving these activities priority above exploring and learning more about applying sustainability in my PLM practices.
And then came COVID-19.
I think most of you have seen the image on the left, which started as a joke. However, looking back, we all have seen that COVID-19 has led to a tremendous push for using digital technologies to modernize existing businesses.
Personally, I was used to traveling every 2 – 3 weeks to a customer, now I have left my home office only twice for business. Meanwhile, I invested in better communication equipment and a place to work. And hé, it remains possible to work and communicate with people.
Onboarding new people, getting to know new people takes more social interaction than a camera can bring.
In the PGGA LinkedIn community, we had people joining from all over the world. We started to organize video meetings to discuss their expectations and interest in this group with some active members.
We learned several things from these calls.
First of all, finding a single timeslot that everyone worldwide could participate in is a challenge. A late Friday afternoon is almost midnight in Asia and morning in the US. And is Friday the best day – we do not know yet.
Secondly, we realized that posts published in our LinkedIn group did not appear in everyone's LinkedIn feed due to LinkedIn's algorithms. For professionals, LinkedIn becomes less and less attractive as the algorithms seem to prefer frequency/spam above content.
For that reason, we are probably moving to the PLM Green Alliance website and combine this environment with a space for discussion outside the LinkedIn scope. More to come on the PGGA website.
Finally, we will organize video discussion sessions to ask the participants to prepare themselves for a discussion. Any member of the PGGA can bring in the discussion topics.
It might be a topic you want to clarify or better understand.
What's next
For December 4th, we have planned a discussion meeting related to the Exponential Roadmap 2019 report, where  36  solutions to halve carbon emission by 2030 are discussed. In our video discussion, we want to focus on the chapter: Digital Industries.
We believe that this topic comes closest to our PLM domain and hopes that participants will share their thinking and potential activities within their companies.
You can download the Exponential Roadmap here or by clicking on the image. More details about the PLM Global Green Alliance you will find in the LinkedIn group. If you want to participate, let us know.
The PGGA website will be the place where more and more information will be collected per theme, to help you understand what is happening worldwide and the place where you can contribute to let us know what is happening at your side.
Conclusion
The PLM Global Green Alliance exists now for a year with 192 members. With approximately five percent active members, we have the motivation to grow our efforts and value. We learned from COVID-19 there is a need to become proactive as the costs of prevention are always lower than the costs of (trying) fixing afterward.
And each of us has the challenge to behave a little differently than before.
Will you be one of them ?
In the last two weeks, three events were leading to this post.
First, I read John Stark's recent book Products2019. A must-read for anyone who wants to understand the full reach of product lifecycle related activities. See my recent post: Products2019, a must-read if you are new to PLM
Afterwards, I talked with John, discussing the lack of knowledge and teaching of PLM, not to be confused by PLM capabilities and features.
Second, I participated in an exciting PI DX USA 2020 event. Some of the sessions and most of the roundtables provided insights to me and, hopefully, many other participants. You can get an impression in the post: The Weekend after PI DX 2020 USA.
A small disappointment in that event was the closing session with six vendors, as I wrote. I know it is evident when you put a group of vendors in the arena, it will be about scoring points instead of finding alignment. Still, having criticism does not mean blaming, and I am always open to having a dialogue. For that reason, I am grateful for their sponsorship and contribution.
Oleg Shilovitsky mentioned cleverly that this statement is a contradiction.
"How can you accuse PLM vendors of having a limited view on PLM and thanking them for their contribution?"
I hope the above explanation says it all, combined with the fact that I grew up in a Dutch culture of not hiding friction, meanwhile being respectful to others.
We cannot simplify PLM by just a better tool or technology or by 3D for everybody. There are so many more people and processes related to product lifecycle management involved in this domain if you want a real conference, however many of them will not sponsor events.
It is well illustrated in John Stark's book. Many disciplines are involved in the product lifecycle. Therefore, if you only focus on what you can do with your tool, it will lead to an incomplete understanding.
If your tool is a hammer, you hope to see nails everywhere around you to demonstrate your value
The thirds event was a LinkedIn post from John Stark – 16 groups needing Product Lifecycle Knowledge, which for me was a logical follow-up on the previous two events. I promised John to go through these 16 groups and provide my thoughts.
Please read his post first as I will not rewrite what has been said by John already.
CEOs and CTOs
John suggested that they should read his book, which might take more than eight hours. CEOs and CTOs, most of the time, do not read this type of book with so many details, so probably mission impossible.
They want to keep up with the significant trends and need to think about future business (model).
New digital and technical capabilities allow companies to move from a linear, coordinated business towards a resilient, connected business. This requires exploring future business models and working methods by experimenting in real-life, not Proof of Concept. Creating a learning culture and allowing experiments to fail is crucial, as you only learn by failing.
CDO, CIOs and Digital Transformation Executives
They are the crucial people to help the business to imagine what digital technologies can do. They should educate the board and the business teams about the power of having reliable, real-time data available for everyone connected. Instead of standardizing on systems and optimizing the siloes, they should assist and lead in new infrastructure for connected services, end-to-end flows delivered on connected platforms.
These concepts won't be realized soon. However, doing nothing is a big risk, as the traditional business will decline in a competitive environment. Time to act.
Departmental Managers
These are the people that should worry about their job in the long term. Their current mission might be to optimize their department within its own Profit & Loss budget. The future is about optimizing the information flow for the whole value chain, including suppliers and customers.
I wrote about it in "The Middle Management Dilemma." Departmental Managers should become more team leaders inspiring and supporting the team members instead of controlling the numbers.
Products Managers
This is a crucial role for the future, assuming a product manager is not only responsible for the marketing or development side of the product but also gets responsibility for understanding what happens with the product during production and sales performance. Understanding the full lifecycle performance and cost should be their mission, supported by a digital infrastructure.
Product Developers
They should read the book Products2019 to be aware there is so much related to their work. From this understanding, a product developer should ask the question:
"What can I do better to serve my internal and external customers ?"
This question will no arise in a hierarchical organization where people are controlled by managers that have a mission to optimize their silo. Product Developers should be trained and coached to operate in a broader context, which should be part of your company's mission. Too many people complain about usability in their authoring and data management systems without having a holistic understanding of why you need change processes and configuration management.
Product Lifecycle Management (PLM) deployers
Here I have a little bit of the challenge that this might be read as PLM-system users. However, it should be clear that we mean here people using product data at any moment along the product lifecycle, not necessarily in a single system.
This is again related to your company's management culture. In the ideal world, people work with a purpose and get informed on how their contribution fits the company's strategy and execution.
Unfortunately, in most hierarchical organizations, the strategy and total overview get lost, and people become measured resources.
New Hires and others
John continues with five other groups within the organization. I will not comment on them, as the answers are similar to the ones above – it is about organization and culture.
Educators and Students
This topic is very close to my heart, and one of the reasons I continue blogging about PLM practices. There is not enough attention to product development methodology or processes. Engineers can get many years of education in specific domains, like product design principles, available tools and technologies, performing physical and logical simulations.
Not so much time is spent on educating current best practices, business models for product lifecycle management.
Check in your country how many vendor-independent methodology-oriented training you can find. Perhaps the only consistent organization I know is CIMdata, where the challenge is that they deliver training to companies after students have graduated. It would be great if education institutes would embed serious time for product lifecycle management topics in their curriculum. The challenge, of course, the time and budget needed to create materials and, coming next, prioritizing this topic on the overall agenda.
I am happy to participate to a Specialized Master education program aiming at the Products and Buildings Digital Engineering Manager (INGENUM). This program organized by Arts Et Metiers in France helps create the overview for understanding PLM and BIM – in the French language as before COVID-19 this was an on-site training course in Paris.
Hopefully, there are more institutes offering PLM eductation – feel free to add them in the comments of this post.
Consultants, Integrators and Software Company Employees
Of course, it would be nice if everyone in these groups understands the total flow and processes within an organization and how they relate to each other. Too often, I have seen experts in a specific domain, for example, a 3D CAD-system having no clue about revisioning, the relation of CAD to the BOM, or the fundamentals of configuration management.
Consultants, Integrators and Software Company Employees have their own challenges as their business model is often looking for specialized skills they can sell to their clients, where a broader and general knowledge will come from experience on-the-job.
And if you are three years working full-time on a single project or perhaps work in three projects, your broader knowledge does not grow fast. You might become the hammer that sees nails everywhere.
For that reason, I recommend everyone in my ecosystem to invest your personal time to read related topics of interest. Read LinkedIn-posts from others and learn to differentiate between marketing messages and people willing to share experiences. Don't waste your time on the marketing messages and react and participate in the other discussions. A "Like" is not enough. Ask questions or add your insights.
In the context of my personal learning, I mentioned that I participated in the DigitalTwin-conference in the Netherlands this week. Unfortunately, due to the partial lockdown, mainly a virtual event.
I got several new insights that I will share with you soon. An event that illustrated Digital Twin as a buzzword might be hype, however several of the participants illustrated examples of where they applied or plan to apply Digital Twin concepts. A great touch with reality.
Another upcoming conference that will start next week in the PLM Roadmap 2020 – PDT conference. The theme: Digital Thread—the PLM Professionals' Path to Delivering Innovation, Efficiency, and Quality is not a marketing theme as you can learn from the agenda. Step by step we are learning here from each other.
Conclusion
John Stark started with the question of who should need Product Lifecycle Knowledge. In general, Knowledge is power, and it does not come for free. Either by consultancy, reading or training. Related to Product Lifecycle Management, everyone must understand the bigger picture. For executives as they will need to steer the company in the right direction. For everyone else to streamline the company and enjoy working in a profitable environment where you contribute and can even inspire others.
An organization is like a human body; you cannot have individual cells or organs that optimize themselves only – we have a name for that disease. Want to learn more? Read this poem: Who should be the boss?
This time it is again about learning. Last week, I read John Stark's book: Products2019: A project to map and blueprint the flow and management of products across the product lifecycle: Ideation; Definition; Realisation; Support of Use; Retirement and Recycling. John, a well-known PLM consultant and writer of academic books related to PLM, wrote this book during his lockdown due to the COVID-19 virus. The challenge with PLM (books) is that it is, in a way boring from the outside. Remember my post: How come PLM and CM are boring? (reprise) ?
This time John wrapped the "boring" part into a story related to Jane from Somerset, who, as part of her MBA studies, is performing a research project for Josef Mayer Maschinenfabrik. The project is to describe for the newly appointed CEO what happens with the company's products all along the lifecycle.
A story with a cliffhanger:
What happened to Newt from Cleveland?
Seven years in seven weeks
Poor Jane, in seven weeks, she is interviewing people on three sites. Two sites in Germany and one in France, and she is doing over a hundred interviews on her own. I realized that thanks to relation to SmarTeam at that time, it took me probably seven years to get in front of all these stakeholders in a company.
I had much more fun most of the time as you can see below. My engagements were teamwork, where you had some additional social relief after work. Jane works even at the weekends.
However, there are also many similarities. Her daily rhythm during working days. Gasthaus Adler reflects many of the typical guesthouses that I have visited. People staying there with a laptop were signs of the new world. Like Jane, I enjoyed the weissbier and noticed that sometimes overhearing other guests is not good for their company's reputation. A lot of personal and human experiences are wrapped into the storyline.
Spoiler: Tarzan meets Jane!
Cultural differences
The book also illustrates the cultural difference between countries (Germany/France/US) nicely and even between regions (North & South). Just check the breakfast at your location to see it.
Although most of the people interviewed by Jane contributed to her research, she also meets that either for personal or political reasons, do not cooperate.
Having worked worldwide, including in Asian countries, I learned that understanding people and culture is crucial for successful PLM engagements.
John did an excellent job of merging cultural and human behavior in the book. I am sure we share many similar experiences, as both this book and my blog posts, do not mention particular tools. It is about the people and the processes.
Topics to learn
You will learn that 3D CAD is not the most important topic, as perhaps many traditional vendor-related PDM consultants might think.
Portfolio Management is a topic well addressed. In my opinion, to be addressed in every PLM roadmap, as here, the business goals get connected to the products.
New Product Introduction, a stage-gate governance process, and the importance of Modularity are also topics that pop up in several cases.
The need for innovation, Industry 4.0 and AI (Artificial Intelligene) buzz, the world of software development and the "War for Talent" can all be found in the book.
And I was happy that even product Master Data Management was addressed. In my opinion, not enough companies realize that a data-driven future requires data quality and data governance. I wrote about this topic last year: PLM and PIM – the complementary value in a digital enterprise.
There are fantastic technology terms, like APIs, microservices, Low Code platforms. They all rely on reliable and sharable data.
What's next
Products2019 is written as the starting point for a sequel. In this book, you quickly learn all the aspects of a linear product lifecycle, as the image below shows
I see an opportunity for Products2020 (or later). What is the roadmap for a company in the future?
How to deal with more data-driven, more agile in their go-to-market strategy, as software, will be more and more defining the product's capabilities?
How to come from a linear siloed approach towards a horizontal flow of information, market-driven and agile?
Perhaps we will learn what happened with Newt from Cleveland?
Meanwhile, we have to keep on learning to build the future.
My learning continues this week with PI DX USA 2020. Usually, a conference I would not attend as traveling to the USA would have too much impact on my budget and time. Now I can hopefully learn and get inspired – you can do the same! Feel free to apply for a free registration if you are a qualified end-user – check here.
And there is more to learn, already mentioned in my previous post:
Conclusion
John Stark wrote a great book to understand what is currently in most people's heads in mid-size manufacturing companies. If you are relatively new to PLM, or if you have only been active in PDM, read it  –  it is affordable!  With my series Learning from the past, I also shared twenty years of experience, more a quick walkthrough, and a more specialized view on some of the aspects of PLM. Keep on learning!

In the previous seven posts, learning from the past to understand the future, we have seen the evolution from manual 2D drawing handling. Next, the emerge of ERP and CAD followed by data management systems (PDM/PLM) and methodology (EBOM/MBOM) to create an infrastructure for product data from concept towards manufacturing.
Before discussing the extension to the SBOM-concept, I first want to discuss Engineering Change Management and Configuration Management.
ECM and CM – are they the same?
Often when you talk with people in my PLM bubble, the terms Change Management and Configuration Management are mixed or not well understood.
When talking about Change Management, we should clearly distinguish between OCM (Organizational Change Management) and ECM (Engineering Change Management). In this post, I will focus on Engineering Change Management (ECM).
When talking about Configuration Management also here we find two interpretations of it.
The first one is a methodology describing technically how, in your PLM/CAD-environment, you can build the most efficient way connected data structures, representing all product variations. This technology varies per PLM/CAD-vendor, and therefore I will not discuss it here. The other interpretation of Configuration Management is described on Wiki as follows:
Configuration management (CM) is a systems engineering process for establishing and maintaining consistency of a product's performance, functional, and physical attributes with its requirements, design, and operational information throughout its life.
This is also the area where I will focus on this time.
And as-if great minds think alike and are synchronized, I was happy to see Martijn Dullaart's recent blog post, referring to a poll and follow-up article on CM.
Here Martijn precisely touches the topic I address in this post. I recommend you to read his post: Configuration Management done right = Product-Centric first and then follow with the rest of this article.
Engineering Change Management
Initially, engineering change management was a departmental activity performed by engineering to manage the changes in a product's definition. Other stakeholders are often consulted when preparing a change, which can be minor (affecting, for example, only engineering) or major (affecting engineering and manufacturing).
The way engineering change management has been implemented varies a lot. Over time companies all around the world have defined their change methodology, and there is a lot of commonality between these approaches. However, terminology as revision, version, major change, minor change all might vary.
I described the generic approach for engineering change processes in my blog post: ECR / ECO for Dummies from 2010.
The fact that companies have defined their own engineering change processes is not an issue when it works and is done manually. The real challenge came with PDM/PLM-systems that need to provide support for engineering change management.
Do you leave the methodology 100 % open, or do you provide business logic?
I have seen implementations where an engineer with a right-click could release an assembly without any constraints. Related drawings might not exist, parts in the assembly are not released, and more. To obtain a reliable engineering change management process, the company had to customize the PLM-system to its desired behavior.
An exercise excellent for a system integrator as there was always a discussion with end-users that do not want to be restricted in case of an emergency  ("we will complete the definition later" / "too many clicks" / "do I have to approve 100 parts ?"). In many cases, the system integrator kept on customizing the system to adapt to all wishes. Often the engineering change methodology on paper was not complete or contained contradictions when trying to digitize the processes.
For that reason, the PLM-vendors that aim to provide Out-Of-The-Box solutions have been trying to predefine certain behaviors in their system. For example, you cannot release a part, when its specifications (drawings/documents) are not released. Or, you cannot update a released assembly without creating a new revision.
These rules speed-up the implementation; however, they require more OCM (Organizational Change Management) as probably naming and methodology has to change within the company. This is the continuous battle in PLM-implementations. In particular where the company has a strong legacy or lack of business understanding, when implementing PLM.
There is an excellent webcast in this context on Minerva PLM TV – How to Increase IT Project Success with Organizational Change Management.
Click on the image or link to watch this recording.
Configuration Management
When we talk about configuration management, we have to think about managing the consistency of product data along the whole product lifecycle, as we have seen from the Wiki-definition before.
Configuration management existed long before we had IT-systems. Therefore, configuration management is more a collection of activities (see diagram above) to ensure the consistency of information is correct for any given product. Consistent during design, where requirements match product capabilities. Consistent with manufacturing, where the manufacturing process is based on the correct engineering specifications. And consistent with operations, meaning that we have the full definition of product in the field, the As-Built, in correct relation to its engineering and manufacturing definition.
This consistency is crucial for products where the cost of an error can have a massive impact on the manufacturer. The first industries that invested heavily in configuration management were the Aerospace and Defense industries. Configuration management is needed in these industries as the products are usually complex, and failure can have a fatal impact on the company. Combined with many regulatory constraints, managing the configuration of a product and the impact of changes is a discipline on its own.
Other industries have also introduced configuration management nowadays. The nuclear power industry and the pharmaceutical industry use configuration management as part of their regulatory compliance. The automotive industry requires configuration management partly for compliance, mainly driven by quality targets. An accident or a recall can be costly for a car manufacturer. Other manufacturing companies all have their own configuration management strategies, mainly depending on their own risk assessment. Configuration management is a pro-active discipline – it costs money – time, people and potential tools to implement it. In my experience, many of these companies try to do "some" configuration management, always hoping that a real disaster will not happen (or can happen). Proper configuration management allows you to perform reliable impact analysis for any change (image above)
What happens in the field?
When introducing PLM in mid-market companies, often, the dream was that with the new PLM-system configuration, management would be there too.
Management believes the tools will fix the issue.
Partly because configuration management deals with a structured approach on how to manage changes, there was always confusion with engineering change management. Modern PLM-systems all have an impact analysis capability. However, most of the time, this impact analysis only reaches the content that is in the PLM-system. Configuration Management goes further.
If you think that configuration management is crucial for your company, start educating yourselves first before implementing anything in a tool. There are several places where you can learn all about configuration management.
To summarize
In regulated industries, Configuration Management and PLM are a must to ensure compliance and quality. Configuration management and (engineering) change management are, first of all, required methodologies that guarantee the quality of your products. The more complex your products are, the higher the need for change and configuration management.
PLM-systems require embedded engineering change management – part of the PDM domain. Performing Engineering Change Management in a system is something many users do not like, as it feels like overhead. Too much administration or too many mouse clicks.
So far, there is no golden egg that performs engineering change management automatically. Perhaps in a data-driven environment, algorithms can speed-up change management processes. Still, there is a need for human decisions.
Similar to configuration management. If you have a PLM-system that connects all the data from concept, design, and manufacturing in a single environment, it does not mean you are performing configuration management. You need to have processes in place, and depending on your product and industry, the importance will vary.
Conclusion
In the first seven posts, we discussed the design and engineering practices, from CAD to EBOM, ending with the MBOM. Engineering Change Management and, in particular, Configuration Management are methodologies to ensure the consistency of data along the product lifecycle. These methodologies are connected and need to be fit for the future – more on this when we move to modern model-based approaches.
Closing note:
While finishing this blog post today I read Jan Bosch's post: Why you should not align. Jan touches the same topic that I try to describe in my series Learning from the Past ….., as my intention is to make us aware that by holding on to practices from the past we are blocking our future. Highly recommended to read his post – a quote:
The problem is, of course, that every time you resist change, you get a bit behind. You accumulate some business, process and technical debt. You become a little less "fitting" to the environment in which you're operating
Already five posts since we started looking at the roots of PLM, where every step illustrated that new technical capabilities could create opportunities for better practices. Alternatively, sometimes, these capabilities introduced complexity while maintaining old practices. Where the previous posts were design and engineering-centric, now I want to make the step moving to manufacturing-preparation and the MBOM. In my opinion, if you start to manage your manufacturing BOM in the context of your product design, you are in the scope of PLM.
For the moment, I will put two other related domains aside, i.e., Configuration Management and Configured Products. Note these domains are entirely different from each other.
Some data model principles
In part five, I introduced the need to have a split between a logical product definition and a technical EBOM definition. The logical product definition is more the system or modular structure to be used when configuring solutions for a customer. The technical EBOM definition is, most of the time, a stable engineering specification independent of how and where the product is manufactured. The manufacturing BOM (the MBOM) should represent how the product will be manufactured, which can vary per location and vary over time. Let us look in some of the essential elements of this data model
The Product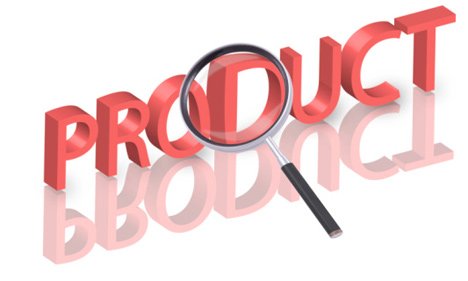 The logical definition of the product, which can also be a single component if you are a lower tier-supplier, has an understandable number, like 6030-10B. A customer needs to be able to order this product or part without a typo mistake. The product has features or characteristics that are used to sell the product. Usually, products do not have a revision, as it is a logical definition of a set of capabilities. Most of the time, marketing is responsible for product definition. This would be the sales catalog, which can be connected in a digital PLM environment. Like the PDM-ERP relation, there is a similar discussion related to where the catalog resides—more on the product side later in time.
The EBOM
Related to the product or component in the logical definition, there is an actual EBOM, which represents the technical specification of the product. The image above shows the relation represented by the blue "current" link.
Note: not all systems will support such a data model, and often the marketing sides in managed disconnected from the engineering side. Either in Excel or in a specialized Product Line Engineering (PLE) tools.
We discussed in the previous post that if you want to minimize maintenance, meaning fewer revisions on your EBOM, you should not embed manufacturer-specific parts in your EBOM.
The EBOM typically contains purchase parts and make parts. The purchased parts are sourced based on their specification, and you might have a single source in the beginning. The make parts are entirely under your engineering control, and you define where they are produced and by whom. For the rest, the EBOM might have functional groupings of modules and subassemblies that are defined for reuse by engineering.
Note: An EBOM is the place where multidisciplinary collaboration comes together. This post mainly deals with the mechanical part (as we are looking at the past)
Note: An EBOM can contain multiple valid configurations which you can filter based on a customer or market-specific demand. In this case, we talk about a Configured EBOM or a 150 % EBOM.
The MBOM
The MBOM represents the way the unique product is going to be manufactured. This means the MBOM-structure will represent the manufacturing steps. For each EBOM-purchase-part, the approved manufacturer for that plant needs to be selected. For each make-part in the EBOM, if made in this plant per customer order, the EBOM parts need to be resolved by one or more manufacturing steps combined with purchased materials.
Let us look at some examples:
The flat MBOM
Some companies do not have real machinery anymore in their plants, the product they deliver to the market is only assembled at the best financial location. This means that all MBOM-parts should arrive at the shop floor to be assembled there. As an example, we have plant A below.
Of course, this is a simplified version to illustrate the basics of the MBOM. The flat MBOM only makes sense if the product is straightforward to assemble. Based on the engineering specifications, the assembly drawing(s) people on the shop floor will know what to do.
The engineering definition specifies that the chassis needs to be painted, and fitting the axles requires grease. These quantities are not visible in the EBOM; they will appear in the MBOM. The quantities and the unit of measure are, of course, relevant here.
Note: The exact quantities for paint and grease might be adjusted in the MBOM when a series of Squads have been manufactured.
The MBOM and Bill of Process
Most of the time, a product is manufactured in several process steps. For that reason, the MBOM is closely related to the Bill of Process or the Routing definitions. The image below illustrates the relationship between an MBOM and the operations in a plant.
If we continue with our example of the Squad, let us now assume that the wheels and the axle are joined together in a work cell. In addition, the chassis is painted in a separate cell. The MBOM would look like the image below:
In the image, we see that the same Engineering definition now results in a different MBOM. A company can change the MBOM when optimizing the production, without affecting the engineering definition. In this MBOM, the Axle assembly might also be used in other squads manufactured by the company.
The MBOM and purchased parts
In the previous example, all components for the Squad were manufactured by the same company with the option to produce in Plant A or in Plant B. Now imagine the company also has a plant C in a location where they cannot produce the wheels and axle assembly. Therefore plant C has to "purchase" the Wheel-Axle assembly, and lucky for them plant B is selling the Wheel+Axle assembly to the market as a product.
The MBOM for plant C would look like the image below:
For Plant C, they will order the right amount of the Wheel+Axle product, according to its specifications (HF-D240). How the Wheel+Axle product is manufactured is invisible for Plant C, the only point to check is if the Wheel+Axle product complies with the Engineering Definition and if its purchase price is within the target price range.
Why this simple EBOM-MBOM story?
For those always that have been active in the engineering domain, a better understanding of the information flow downstream to manufacturing is crucial. Historically this flow of information has been linear – and in many companies, it is still the fact. The main reason for that lies in the fact that engineering had their own system (PDM or PLM), and manufacturing has their own system (ERP).
Engineers did their best to provide the best engineering specification and release the data to ERP. In the early days, as discussed in Part 4, the engineering specification was most of the time based on a kind of hybrid BOM containing engineering and manufacturing parts already defined.
Next, manufacturing engineering uses the engineering specifications to define the manufacturing BOM in the ERP system. Based on the drawings and parts list, they create a preferred manufacturing process (MBOM and BOP) – most of the time, a manual process. Despite the effort done by engineering, there might be a need to change the product. A different shape or dimension make manufacturing more efficient or done with existing tooling. This means an iteration, which causes delays and higher engineering costs.
The first optimization invented was the PDM-ERP interface to reduce the manual work and introduction of typos/misunderstanding of data. This topic was "hot" between 2000 and 2010, and I visited many SmarTeam customers and implementers to learn and later explain that this is a mission impossible. The picture below says it all.
We have an engineering BOM (with related drawings). Through an interface, this EBOM will be restructured into a manufacturing BOM, thanks to all kinds of "clever" programming based on particular attributes. Discussed in Part 3
The result, however, was that the interface was never covering all situations and became the most expensive part of the implementation.
Good business for the implementing companies, bad for the perception of PDM/PLM.
The lesson learned from all these situations: If you have a PLM-system that can support both the EBOM and MBOM in the same environment, you do not need this complex interface anymore. You can still use some automation to move from an EBOM to an MBOM.
However, three essential benefits come from this approach
Working in a single environment allows manufacturing engineers to work directly in the context of the EBOM, proposing changes to engineering in the same environment and perform manual restructuring on the MBOM as programming logic does not exist. Still, compare tools will ensure all EBOM-parts are resolved in the manufacturing definition.
All product Intellectual Property is now managed in a single environment. There is no scattered product information residing in local ERP-systems. When companies moved towards multiple plants for manufacturing, there was the need for a centralized generic MBOM to be resolved for the local plant (local suppliers / local plant conditions). Having the generic MBOM and Bill of Process in PLM was the solution.
When engineers and manufacturing engineers work in the same environment, manufacturing engineering can start earlier with the manufacturing process definition, providing early feedback to engineering even when the engineering specification has not been released. This approach allows real concurrent engineering, reducing time to market and cost significantly
Conclusion
Again 1600 words this time. We are now at the stage that connecting the EBOM and the MBOM in PLM has become a best practice in most standard PLM-systems. If implemented correctly, the interface to ERP is no longer on the critical path – the technology never has been the limitation – it is all about methodology.
Next time a little bit more on advanced EBOM/MBOM interactions
In this post in the series Learning from the past to understand the future, I want to leave the 3D CAD structures behind. But before doing so, I want to mention some of the lessons learned:
In Part 1: "Intelligent" drawing numbers were the source for "intelligent" part numbers as often there was a one-to-one relationship between the drawing and the part(s) on a drawing.
In Part 2: 3D CAD has been introduced in the automotive and aerospace industry due to process optimization, where a 3D CAD environment created better collaboration possibilities (DMU). The introduction of 3D CAD in the mid-market was different. Here 3D CAD is used as an engineering tool, not changing any processes.
The complexity grew because also file names needed to be managed, introducing the need for PDM-systems.
In Part 3: we discussed the challenges of working with file-based 3D CAD structures. The versioning problem with check-in/check-out of structure in particular in the case of data reuse. Here the best practice was introduced to have physical parts with a different lifecycle than 3D CAD parts and assemblies.
Now engineers need to create valid configurations based on links between the physical part and the 3D/2D object. This requires a PDM-system with BOM and CAD-files as standard information objects.
In Part 4: we discussed the relations between the BOM and 3D CAD structures without neglecting the fact the 2D Drawing is still the primary legal information carrier for manufacturing/suppliers. The point discussed in this post was the fact that most companies used a kind of ETO-approach. Starting from the 3D CAD-system, adding sometimes manufacturing parts in this structure, to generate a BOM that can be served as input for the ERP-system.
I want to follow up from the last conclusion:
Changing from ETO to CTO requires modularity and a BOM-driven approach. Starting from a 3D CAD-structure can still be done for the lowest levels – the modules, the options. In a configure to order process, it might not be relevant anymore to create a full 3D-representation of the product.
Starting from a conceptual structure
Most companies that deliver products to the market do not start from scratch, as we discussed. They will start from either copying an existing product definition (not recommend) or trying to manage the differences between them, meanwhile keeping shared components under revision control.
This cannot be done based on 3D CAD-structures anymore. At that time (we are in the early 2000s) in the mid-market, the PDM-system was used to manage these structures, in particular, they used the BOM-capabilities.
The BOM-structure was often called the EBOM, as engineers were defining the EBOM. But is it really an EBOM? Let us have a look wat defines an EBOM.
What characterizes an EBOM?
There are many personal definitions of what is considered as an EBOM. Also, the Wiki-definition here does not help us a lot. So here is my personal 2004 definition:
The EBOM reflects the engineering view of a product and, therefore, can have a logical structure of assemblies and subassemblies based on functionality, modularity, and standardization.
The EBOM is a part structure specifying a product from its design intent, specifying parts, materials, tolerances, finishing.
The EBOM-structure is allowing multidisciplinary teams to work together on a joint definition of the product
The picture below illustrates the above definition.
In this EBOM-structure, we see that the first two levels actually are more a logical division of functional groups, either as units, product/discipline-specific definitions (cabling/software). These components should not be in the EBOM if you have support for logical structures in your PLM-environment. However, in 2004 – PLM was not that mature in the mid-market, and this approach was often chosen.
If we look at the Line Feed module, which could also be used in other products, there is the typical mechanical definition and in parallel the electrical definition. Having them inside a single EBOM gives the advantage of being able to do a "where-used" and status/impact-analysis.
1 – Purchased parts
Motor P280 is an interesting EBOM-part to consider. This motor is required; however, in an EBOM, you should not specify the supplier part number directly. As supplier part availability and preference will change over time, you do not want to revise the EBOM every time a supplier part gets changed.
Therefore, the Motor P280 should have an internal part number in the EBOM. Next, it will be engineering that specifies which motors fulfill the need for Motor P280. Preferably they will create an Approved Manufacturing List for this motor to give manufacturing/purchasing the flexibility to decide per order where to purchase the motor and from which supplier.
The relation between the Approved Manufacturing List and the Approved Vendor List is shown in the diagram above.
Or follow the link to this image to read more in Arena's glossary. In particular, for electronic components, this concept is needed as high-level specifications for electronic parts might be the same.
However, the details (tolerances/environment) can be decisive, which component is allowed. Besides, due to the relatively short lifecycle of electronic components, the EBOM needs to be designed in such a manner to anticipate changes in suppliers.
You can only benefit from this approach if, from the beginning of your designs, there are no supplier-specific parts in your EBOM. For Engineering, to Order companies that want to become more Build to Order, this is a challenging but critical point to consider.
Note: The functional characteristics for the motor will come from the electrical definition, and through a reference designator, we create the link between the functional definition and the physical implementation in the product.
2 – Make Parts
Secondly, if we look to the conveyor block D1020 rev A, this block is a make part, with probable a whole assembly of parts below it. As it is a make part, there is at least an assembly drawing and, more likely, a related technical data package linked to D1020 rev A. Make parts still carry a revision as here the Form-Fit-Function discussion can be used when implementing a change of the part.
Note: I used for the final assembly drawing the same number scheme as this is how most companies work. However, in my previous post, I described that if you have a PDM-system in place, the numbering can be different. Maintaining the relations between a part and the related drawing is, in this case, crucial.
The Configured EBOM
The image on the left, we used to illustrate the typical mid-market EBOM in a PDM-system, will become more complicated if we also add options and variants to the EBOM. I assume you know the difference between a variant and an option.
In this case, the EBOM the definition for the full product range. Actually, the top part of the EBOM does not exist as an instance. It is the placeholder to select a resolved EBOM for a specific product configuration. For the ease of use, I have simplified the initial diagram, now zooming in on variants and options, apologizing for my artistic capabilities as the purpose of a blog is different from a book.
If we look at the diagram, this configured structure contains variants and options.
First, on the logical definition, we see a new grouping. There are two types of Line Feed available, one specific for the X-123 and a later, more generic designed LF100, suitable for all X-1nn variants.
As the LF100 is more generic designed, the customer can select between two motors, the standard P280 and the more advanced version P360, with better service capabilities.
For the Line Feed LF200, there is an option to order a Noise Reduction Cover. It was sold once to an existing customer, and as the cover fits all X-123, it has been linked here as an option to the X-123 definition. So, the customer solution with the Noise Reduction Cover does not have an isolated, copied structure in the EBOM.
Also, in the Logical Structure, we see there is a cabling definition for the X-123 or the default cabling set for all other products.
The diagram illustrates what many mid-market companies have been doing more or less in their PDM-system to avoid copying of EBOM structures per customer order.
It is an example of where a tool (the PDM-system) is slowly abused for administrative reasons. Let me explain why.
The link between Products and (E)BOMs
If we look at the upper part of the configured EBOM structure, this is a logical product definition. Or to say it in different words, it is a portfolio definition, which products and modules a company can sell to the market. Some of the grouping of the portfolio is purely based on business reasons, which products and options do we want to sell.
In most companies, the product portfolio is managed in (marketing) documents without a direct connection to the engineering world. However, we will see in an upcoming post, this relation is crucial for a digital enterprise. Meanwhile, look at on old blog post: Products, BOMs and Parts if you want to be faster
The Engineering definition below the red dashed line is a real EBOM, representing the engineering definition of a system, a module, or a component. When these systems and modules are defined in a single structure that can be filtered based on selection criteria, we talk about a Configured EBOM or sometimes a 150 % EBOM.
Each of the components in the configured EBOM can have a related 3D CAD structure or specification that can be developed traditionally.
The result of a resolved EBOM is a variant that can be delivered to the customer. In this EBOM-driven approach, there is not always a full 3D-representation of the customer product.
Again, size (1500+) words make me stop this story, where next time we will go from product to EBOM and introduce the need for an MBOM in specific industries.
Conclusion
A pure EBOM only specifies a product and contains all relevant information in context – designs & specifications. The EBOM should not be mixed or confused with a logical grouping, belonging to a portfolio definition (even if the system allows you to do it)
On my previous post shared on LinkedIn Ilan Madjar, a long-time PLM colleague reacted with the following point (full thread here)
Ilan is pointing to the right challenge in many companies. Changing the way you work is though exercise and requires a good understanding, vision, and execution to move forward. Do not trust the tool to work for you – it is about human understanding and process re-engineering to be more efficient. And if you do not practice this on the basic PDM-level as discussed so far, imagine the impossibility of going through a digital transformation.