You are currently browsing the tag archive for the 'Digital PLM' tag.
Last summer, I wrote a series of blog posts grouped by the theme "Learning from the past to understand the future". These posts took you through the early days of drawings and numbering practices towards what we currently consider the best practice: PLM BOM-centric backbone for product lifecycle information.
You can find an overview and links to these posts on the page Learning from the past.
If you have read these posts, or if you have gone yourself through this journey, you will realize that all steps were more or less done evolutionarily. There were no disruptions. Affordable 3D CAD systems, new internet paradigms (interactive internet), global connectivity and mobile devices all introduced new capabilities for the mainstream. As described in these posts, the new capabilities sometimes created friction with old practices. Probably the most popular topics are the whole Form-Fit-Function interpretation and the discussion related to meaningful part numbers.
What is changing?
In the last five to ten years, a lot of new technology has come into our lives. The majority of these technologies are related to dealing with data. Digital transformation in the PLM domain means moving from a file-based/document-centric approach to a data-driven approach.
A Bill of Material on the drawing has become an Excel-like table in a PLM system. However, an Excel file is still used to represent a Bill of Material in companies that have not implemented PLM.
Another example, the specification document has become a collection of individual requirements in a system. Each requirement is a data object with its own status and content. The specification becomes a report combining all valid requirement objects.
Related to CAD, the 2D drawing is no longer the deliverable as a document; the 3D CAD model with its annotated views becomes the information carrier for engineering and manufacturing.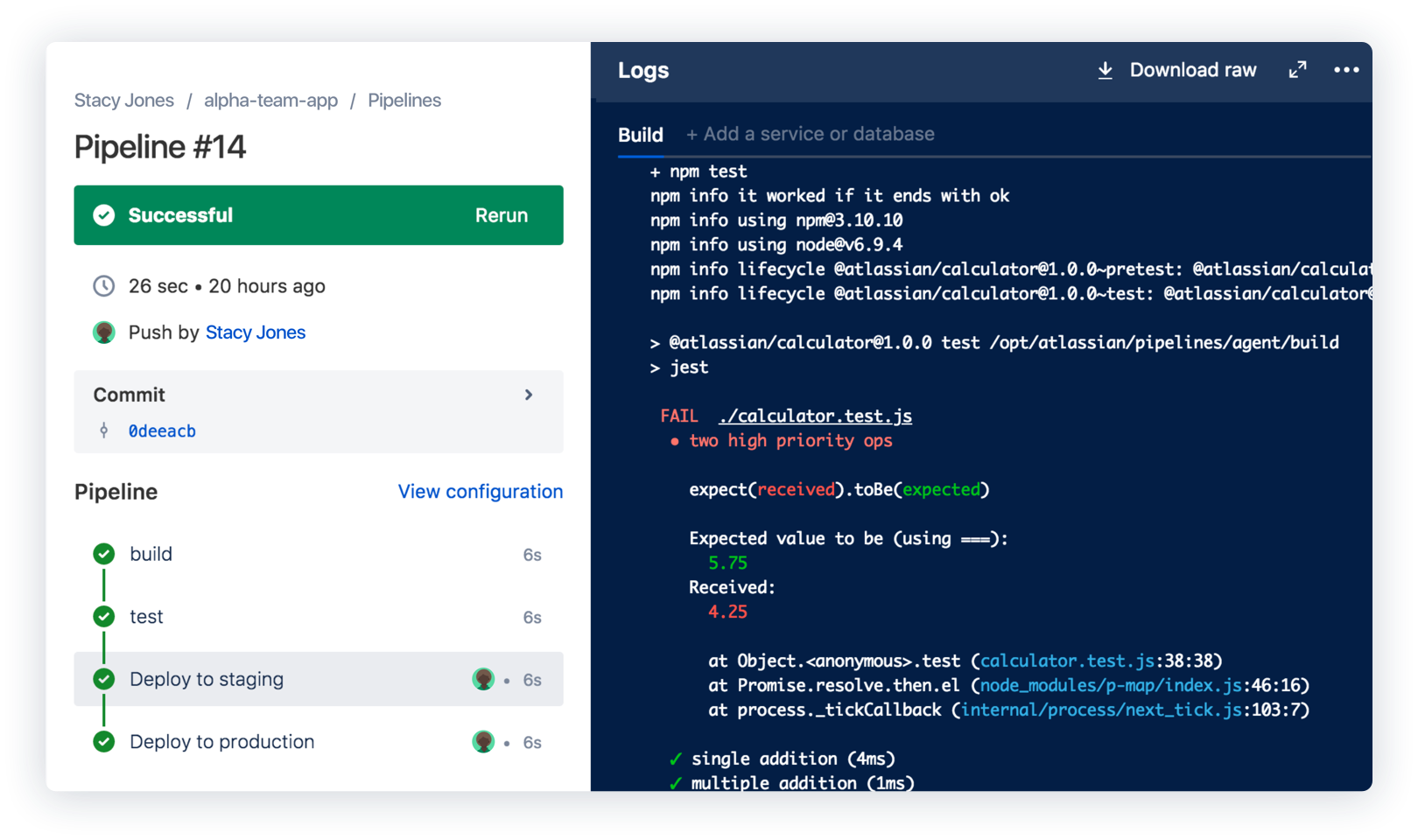 And most important of all, traditional PLM methodologies have been based on a mechanical design and release process. Meanwhile, modern products are systems where the majority of capabilities are defined by software. Software has an entirely different configuration and lifecycle approach conflicting with a mechanical approach, which is too rigid for software.
The last two aspects, from 2D drawings to 3D Models and Mechanical products towards Systems (hardware and software), require new data management methods. In this environment, we need to learn to manage simulation models, behavior models, physics models and 3D models as connected as possible.
I wrote about these changes three years ago: Model-Based – an introduction, which led to a lot of misunderstanding (too advanced – too hypothetical).
I plan to revisit these topics in the upcoming months again to see what has changed over the past three years.
What will I discuss in the upcoming weeks?
My first focus is on participating and contributing to the upcoming PLM Roadmap & PDS spring 2021 conference. Here speakers will discuss the need for reshaping the PLM Value Equation due to new emerging technologies. A topic that contributes perfectly to the future of PLM series.
My contribution will focus on the fact that technology alone cannot disrupt the PLM domain. We also have to deal with legacy data and legacy ways of working.
Next, I will discuss with Jennifer Herron from Action Engineering the progress made in Model-Based Definition, which fits best practices for today – a better connection between engineering and manufacturing. We will also discuss why Model-Based Definition is a significant building block required for realizing the concepts of a digital enterprise, Industry 4.0 and digital twins.
Another post will focus on the difference between the digital thread and the digital thread. Yes, it looks like I am writing twice the same words. However, you will see based on its interpretation, one definition is hanging on the past, the other is targeting the future. Again here, the differentiation is crucial if the need for a maintainable Digital Twin is required.
Model-Based Systems Engineering (MBSE) in all its aspects needs to be discussed too. MBSE is crucial for defining complex products. Model-Based Systems Engineering is seen as a discipline to design products. Understanding data management related to MBSE will be the foundation for understanding data management in a Model-Based Enterprise. For example, how to deal with configuration management in the future?
Writing Learning from the past was an easy job as explaining with hindsight is so much easier if you have lived it through. I am curious and excited about the outcome of "The Future of PLM". Writing about the future means you have digested the information coming to you, knowing that nobody has a clear blueprint for the future of PLM.
There are people and organizations are working on this topic more academically, for example read this post from Lionel Grealou related to the Place of PLM in the Digital Future. The challenge is that an academic future might be disrupted by unpredictable events, like COVID, or disruptive technologies combined with an opportunity to succeed. Therefore I believe, it will be a learning journey for all of us where we need to learn to give technology a business purpose. Business first – then technology.
No Conclusion
Normally I close my post with a conclusion. At this moment. there is no conclusion as the journey has just started. I look forward to debating and learning with practitioners in the field. Work together on methodology and concepts that work in a digital enterprise. Join me on this journey. I will start sharing my thoughts in the upcoming months

After the first episode of "The PLM Doctor is IN", this time a question from Helena Gutierrez. Helena is one of the founders of SharePLM, a young and dynamic company focusing on providing education services based on your company's needs, instead of leaving it to function-feature training.
I might come back on this topic later this year in the context of PLM and complementary domains/services.
Now sit back and enjoy.
Note: Due to a technical mistake Helena's mimic might give you a "CNN-like" impression as the recording of her doctor visit was too short to cover the full response.
PLM and Startups – is this a good match?
Relevant links discussed in this video
Marc Halpern (Gartner): The PLM maturity table
VirtualDutchman: Digital PLM requires a Model-Based Enterprise
Conclusion
I hope you enjoyed the answer and look forward to your questions and comments. Let me know if you want to be an actor in one of the episodes.
The main rule: A single open question that is puzzling you related to PLM.
After "The Doctor is IN," now again a written post in the category of PLM and complementary practices/domains. In January, I discussed together with Henrik Hulgaard from Configit the complementary value of PLM and CLM (Configuration Lifecycle Management). For me, CLM is a synonym for Product Configuration Management.
As expected, readers were asking the question:
"What is the difference between CLM (Configuration Lifecycle Management) and CM(Configuration Management)?"
Good question.
As the complementary role of CM is also a part of the topics to discuss, I am happy to share this blog today with Martijn Dullaart. You probably know Martijn if you are actively following topics on PLM and CM.
Martijn has his own blog mdux.net, and you might have seen him recently in Jenifer Moore's PLM TV-episode: Why CM2 for Faster Change and Better Documentation. Martijn is the Lead Architect for Enterprise Configuration Management at ASML (Our Dutch national pride) and chairperson of the Industry 4.0 committee of the Integrated Process Excellence (IPX) Congress. Let us start.
Configuration Management and CM2
Martijn, first of all, can you bring some clarity in terminology. When discussing Configuration Management, what is the pure definition, what is CM2 as a practice, and what is IpX's role and please explain where you fit in this picture?
Classical CM focuses mainly on the product, the product definition, and actual configurations like as-built and as-maintained of the product. CM2 extends the focus to the entire enterprise, e.g., the processes and procedures (ways of working) of a company, including the IT and facilities, to support the company's value stream.
CM2 expands the scope to all information that could impact safety, security, quality, schedule, cost, profit, the environment, corporate reputation, or brand recognition.
Basically, CM2 shifts the focus to Integrated Process Excellence and promotes continual improvement.
Next to this, CM2 provides the WHAT and the HOW, something most standards lack. My main focus is still around the product and promoting the use of CM outside the product domain.
For all CM related documentation, we are already doing this.
Configuration Management and PLM
People claim that if you implement PLM as an enterprise backbone, not as an engineering tool, you can do Configuration Management with your PLM environment.
What is your opinion?
Yes, I think that this is possible, provided that the PLM tool has the right capabilities. Though the question should be: Is this the best way to go about it. For instance, some parts of Configuration Management are more transactional oriented, e.g., registering the parts you build in or out of a product.
Other parts of CM are more iterative in nature, e.g., doing impact analysis and making an implementation plan. I am not saying this cannot be done in a PLM tool as an enterprise backbone. Still, the nature of most PLM tools is to support iterative types of work rather than a transactional type of work.
I think you need some kind of enterprise backbone that manages the configuration as an As-Planned/As-Released baseline. A baseline that shows not only the released information but also all planned changes to the configuration.
Because the source of information in such a baseline comes from different tools, you need an overarching tool to connect everything. For most companies, this means that they require an overarching system with their current state of enterprise applications.
Preferably I would like to use the data directly from the sources. Still, connectivity and performance are not yet to a level that we can do this. Cloud and modern application and database architectures are very promising to this end.
Configuration Management for Everybody?
I can imagine companies in the Aerospace industry need to have proper configuration management for safety reasons. Also, I can imagine that proper configuration management can be relevant for other industries. Do they need to be regulated, or are there other reasons for a company to start implementing CM processes?
I will focus the first part of my answer within the context of CM for products only.
Basically, all products are regulated to some degree. Aerospace & Defense and Medical Device and Pharma are highly regulated for obvious reasons. Other industries are also regulated, for example, through environmental regulations like REACH, RoHS, WEEE or safety-related regulations like the CE marking or FCC marking.
Customers can also be an essential driver for the need for CM. If, as a customer, you buy expensive equipment, you expect that the supplier of that equipment can deliver per commitment. The supplier can also maintain and upgrade the equipment efficiently with as few disruptions to your operations as possible.
Not just customers but also consumers are critical towards the traceability of the product and all its components.
Even if you are sitting on a rollercoaster, you presume the product is well designed and maintained. In other words, there is often a case to be made to apply proper configuration management in any company. Still, the extent to which you need to implement it may vary based on your needs.
The need for Enterprise Configuration Management is even more significant because one of the hardest things is to change the way an organization works and operates.
Often there are different ways of doing the same thing. There is a lot of tribal knowledge, and ways of working are not documented so that people can easily find it, let alone that it is structured and linked so that you can do an impact analysis when you want to introduce a change in your organization.
CM and Digital Transformation
One of the topics that we both try to understand better is how CM will evolve in the future when moving to a more model-based approach. In the CM-terminology, we still talk about documents as information objects to be managed. What is your idea of CM and a model-based future?
It is indeed a topic where probably new or changed methodology is required, and I started already describing CM topics in several posts on my enterprise MDUX blog. Some of the relevant posts in this context are:
First, let me say that model-based has the future, although, at the same time, the CM aspects are often overlooked.
When managing changes, too much detail makes estimating cost and effort for a business case more challenging, and planning information that is too granular is not desirable. Therefore, CM2 looks at datasets. Datasets should be as small as possible but not smaller. Datasets are sets of information that need to be released as a whole. Still, they can be released independently from other datasets. For example, a bill of materials, a BOM line item is not a dataset, but the complete set of BOM line items that make up the BoM of an assembly is considered a dataset. I can release a BoM independent from a test plan.
Data models need to facilitate this. However, today, in many PLM systems, a BOM and the metadata of a part are using the same revision. This means that to change the metadata, I need a revision of the BoM, while the BoM might not change. Some changes to metadata might not be relevant for a supplier. Communicating the changes to your supplier could create confusion.
I know some people think this is about document vs. model-centric, but it is not. A part is identified in the 'physical world' by its part ID. Even if you talk about allowing revisions in the supply chain, including the part ID's revision, you create a new identifier. Now every new revision will end up in a different stock location. Is that what we want?
In any case, we are still in the early days, and the thinking about this topic has just begun and needs to take shape in the coming year(s).
CM and/or CLM?
As in my shared blog post with Henrik Hulgaard related to CLM, can you make a clear differentiation between the two domains for the readers?
Configuration Lifecycle Management (CLM)  is mainly positioned towards Configurable Products and the configurable level of the product.
Why I think this, even though Configit's  CLM declaration states that "Configuration Lifecycle Management (CLM) is the management of all product configuration definitions and configurations across all involved business processes applied throughout the lifecycle of a product.",
it also states:
"CLM differs from other Enterprise Business Disciplines because it focuses on cross-functional use of configurable products."
"Provides a Single Source of Truth for Configurable Data"
"handles the ever-increasing complexity of Configurable Products".
I find Configuration Lifecycle Management is a core Configuration Management practice you need to have in place for configurable products. The dependencies you need to manage are enormously complex. Software parameters that depend on specific hardware, hardware to hardware dependencies, commercial variants, and options.
Want to learn more?
In this post, we just touched the surface of PLM and Configuration Management. Where can an interested reader find more information related to CM for their company?
For becoming trained in CM2, people can reach out to the Institute for Process Excellence, a company that focuses on consultancy and methodology for many aspects of a modern, digital enterprise, including Configuration Management.
And there is more out there, e.g.:
Conclusion
Thanks, Martijn, for your clear explanations. People working seriously in the PLM domain managing the full product lifecycle should also learn and consider Configuration Management best practices. I look forward to a future discussion on how to perform Configuration Management in a model-based environment.
As promised in my blog post: PLM 2021 – My plans – your goals? I was planning to experiment with a format, which I labeled as: The PLM Doctor is IN.
The idea behind this format that anyone interested could ask a question – anonymous or through a video recording – and I would answer this single question.
As you can see from the survey result, many of the respondents (approx. 30 % that did not skip the question) had a question. Enough for the upcoming year to experiment – if the experiment works for you. As it is an experiment, I am also looking forward to your feedback to optimize this format.
Today the first episode: PLM and ROI
Relevant links discussed in this video
CIMdata webinar: PLM Benefits, Metrics & ROI with John MacKrell
VirtualDutchman: The PLM ROI Myth
Conclusion
What do you think? Does this format help you to understand and ask PLM related questions? Or should I not waste my time as there is already so much content out there. Let me know what you think in the comments.
Added February 10th
As the PLM Doctor sometimes talks like an oracle, it was great to see the summary written by SharePLM Learning Expert Helena Guitierrez.
Click on the image to see the full post.
In the last two weeks, three events were leading to this post.
First, I read John Stark's recent book Products2019. A must-read for anyone who wants to understand the full reach of product lifecycle related activities. See my recent post: Products2019, a must-read if you are new to PLM
Afterwards, I talked with John, discussing the lack of knowledge and teaching of PLM, not to be confused by PLM capabilities and features.
Second, I participated in an exciting PI DX USA 2020 event. Some of the sessions and most of the roundtables provided insights to me and, hopefully, many other participants. You can get an impression in the post: The Weekend after PI DX 2020 USA.
A small disappointment in that event was the closing session with six vendors, as I wrote. I know it is evident when you put a group of vendors in the arena, it will be about scoring points instead of finding alignment. Still, having criticism does not mean blaming, and I am always open to having a dialogue. For that reason, I am grateful for their sponsorship and contribution.
Oleg Shilovitsky mentioned cleverly that this statement is a contradiction.
"How can you accuse PLM vendors of having a limited view on PLM and thanking them for their contribution?"
I hope the above explanation says it all, combined with the fact that I grew up in a Dutch culture of not hiding friction, meanwhile being respectful to others.
We cannot simplify PLM by just a better tool or technology or by 3D for everybody. There are so many more people and processes related to product lifecycle management involved in this domain if you want a real conference, however many of them will not sponsor events.
It is well illustrated in John Stark's book. Many disciplines are involved in the product lifecycle. Therefore, if you only focus on what you can do with your tool, it will lead to an incomplete understanding.
If your tool is a hammer, you hope to see nails everywhere around you to demonstrate your value
The thirds event was a LinkedIn post from John Stark – 16 groups needing Product Lifecycle Knowledge, which for me was a logical follow-up on the previous two events. I promised John to go through these 16 groups and provide my thoughts.
Please read his post first as I will not rewrite what has been said by John already.
CEOs and CTOs
John suggested that they should read his book, which might take more than eight hours. CEOs and CTOs, most of the time, do not read this type of book with so many details, so probably mission impossible.
They want to keep up with the significant trends and need to think about future business (model).
New digital and technical capabilities allow companies to move from a linear, coordinated business towards a resilient, connected business. This requires exploring future business models and working methods by experimenting in real-life, not Proof of Concept. Creating a learning culture and allowing experiments to fail is crucial, as you only learn by failing.
CDO, CIOs and Digital Transformation Executives
They are the crucial people to help the business to imagine what digital technologies can do. They should educate the board and the business teams about the power of having reliable, real-time data available for everyone connected. Instead of standardizing on systems and optimizing the siloes, they should assist and lead in new infrastructure for connected services, end-to-end flows delivered on connected platforms.
These concepts won't be realized soon. However, doing nothing is a big risk, as the traditional business will decline in a competitive environment. Time to act.
Departmental Managers
These are the people that should worry about their job in the long term. Their current mission might be to optimize their department within its own Profit & Loss budget. The future is about optimizing the information flow for the whole value chain, including suppliers and customers.
I wrote about it in "The Middle Management Dilemma." Departmental Managers should become more team leaders inspiring and supporting the team members instead of controlling the numbers.
Products Managers
This is a crucial role for the future, assuming a product manager is not only responsible for the marketing or development side of the product but also gets responsibility for understanding what happens with the product during production and sales performance. Understanding the full lifecycle performance and cost should be their mission, supported by a digital infrastructure.
Product Developers
They should read the book Products2019 to be aware there is so much related to their work. From this understanding, a product developer should ask the question:
"What can I do better to serve my internal and external customers ?"
This question will no arise in a hierarchical organization where people are controlled by managers that have a mission to optimize their silo. Product Developers should be trained and coached to operate in a broader context, which should be part of your company's mission. Too many people complain about usability in their authoring and data management systems without having a holistic understanding of why you need change processes and configuration management.
Product Lifecycle Management (PLM) deployers
Here I have a little bit of the challenge that this might be read as PLM-system users. However, it should be clear that we mean here people using product data at any moment along the product lifecycle, not necessarily in a single system.
This is again related to your company's management culture. In the ideal world, people work with a purpose and get informed on how their contribution fits the company's strategy and execution.
Unfortunately, in most hierarchical organizations, the strategy and total overview get lost, and people become measured resources.
New Hires and others
John continues with five other groups within the organization. I will not comment on them, as the answers are similar to the ones above – it is about organization and culture.
Educators and Students
This topic is very close to my heart, and one of the reasons I continue blogging about PLM practices. There is not enough attention to product development methodology or processes. Engineers can get many years of education in specific domains, like product design principles, available tools and technologies, performing physical and logical simulations.
Not so much time is spent on educating current best practices, business models for product lifecycle management.
Check in your country how many vendor-independent methodology-oriented training you can find. Perhaps the only consistent organization I know is CIMdata, where the challenge is that they deliver training to companies after students have graduated. It would be great if education institutes would embed serious time for product lifecycle management topics in their curriculum. The challenge, of course, the time and budget needed to create materials and, coming next, prioritizing this topic on the overall agenda.
I am happy to participate to a Specialized Master education program aiming at the Products and Buildings Digital Engineering Manager (INGENUM). This program organized by Arts Et Metiers in France helps create the overview for understanding PLM and BIM – in the French language as before COVID-19 this was an on-site training course in Paris.
Hopefully, there are more institutes offering PLM eductation – feel free to add them in the comments of this post.
Consultants, Integrators and Software Company Employees
Of course, it would be nice if everyone in these groups understands the total flow and processes within an organization and how they relate to each other. Too often, I have seen experts in a specific domain, for example, a 3D CAD-system having no clue about revisioning, the relation of CAD to the BOM, or the fundamentals of configuration management.
Consultants, Integrators and Software Company Employees have their own challenges as their business model is often looking for specialized skills they can sell to their clients, where a broader and general knowledge will come from experience on-the-job.
And if you are three years working full-time on a single project or perhaps work in three projects, your broader knowledge does not grow fast. You might become the hammer that sees nails everywhere.
For that reason, I recommend everyone in my ecosystem to invest your personal time to read related topics of interest. Read LinkedIn-posts from others and learn to differentiate between marketing messages and people willing to share experiences. Don't waste your time on the marketing messages and react and participate in the other discussions. A "Like" is not enough. Ask questions or add your insights.
In the context of my personal learning, I mentioned that I participated in the DigitalTwin-conference in the Netherlands this week. Unfortunately, due to the partial lockdown, mainly a virtual event.
I got several new insights that I will share with you soon. An event that illustrated Digital Twin as a buzzword might be hype, however several of the participants illustrated examples of where they applied or plan to apply Digital Twin concepts. A great touch with reality.
Another upcoming conference that will start next week in the PLM Roadmap 2020 – PDT conference. The theme: Digital Thread—the PLM Professionals' Path to Delivering Innovation, Efficiency, and Quality is not a marketing theme as you can learn from the agenda. Step by step we are learning here from each other.
Conclusion
John Stark started with the question of who should need Product Lifecycle Knowledge. In general, Knowledge is power, and it does not come for free. Either by consultancy, reading or training. Related to Product Lifecycle Management, everyone must understand the bigger picture. For executives as they will need to steer the company in the right direction. For everyone else to streamline the company and enjoy working in a profitable environment where you contribute and can even inspire others.
An organization is like a human body; you cannot have individual cells or organs that optimize themselves only – we have a name for that disease. Want to learn more? Read this poem: Who should be the boss?
After the series about "Learning from the past," it is time to start looking towards the future.  I learned from several discussions that I am probably working most of the time with advanced companies. I believe this would motivate companies that lag behind even to look into the future even more.
If you look into the future for your company, you need new or better business outcomes. That should be the driver for your company. A company does not need PLM or a Digital Twin. A company might want to reduce its time to market, improve collaboration between all stakeholders. These objectives can be realized by different ways of working and an IT-infrastructure to allow these processes to become digital and connected.
That is the "game". Coming back to the future of PLM.  We do not need a discussion about definitions; I leave this to the academics and vendors. We will see the same applies to the concept of a Digital Twin.
My statement: The digital twin is not new. Everybody can have their own digital twin as long as you interpret the definition differently. Does this sound like the PLM definition?
The definition
I like to follow the Gartner definition:
A digital twin is a digital representation of a real-world entity or system. The implementation of a digital twin is an encapsulated software object or model that mirrors a unique physical object, process, organization, person, or other abstraction. Data from multiple digital twins can be aggregated for a composite view across a number of real-world entities, such as a power plant or a city, and their related processes.
As you see, not a narrow definition. Now we will look at the different types of interpretations.
Single-purpose siloed Digital Twins
Simple – data only
One of the most straightforward applications of a digital twin is, for example, my Garmin Connect environment. When cycling, my device registers performance parameters (speed, cadence, power, heartbeat, location). After every trip, I can analyze my performance. I can see changes in my overall performance; compare my performance with others in my category (weight, age, sex).
Based on that, I can decide if I want to improve my performance. My personal business goal is to maintain and improve my overall performance, knowing I cannot stop aging by upgrading my body.
On November 4th, 2020, I am participating in the (almost virtual) Digital Twin conference organized by Bits&Chips in the Netherlands. In the context of human performance, I look forward to Natal van Riel's presentation: Towards the metabolic digital twin – for sure, this direction is not simple. Natal is a full professor at the Technical University in Eindhoven, the "smart city" in the Netherlands
Medium – data and operating models
Many connected devices in the world use the same principle. An airplane engine, an industrial robot, a wind turbine, a medical device, and a train carriage; all track the performance based on this connection between physical and virtual, based on some sort of digital connectivity.
The business case here is also monitoring performance, predict maintenance, and upgrade the product when needed.
This is the domain of Asset Lifecycle Management, a practice that exists for decades. Based on financial and performance models, the optimal balance between maintaining and overhaul has to be found. Repairs are disruptive and can be extremely costly. A manufacturing site that cannot produce can costs millions per day. Connecting data between the physical and the virtual model allows us to have real-time insights and be proactive. It becomes a digital twin.
Advanced – data and connected 3D model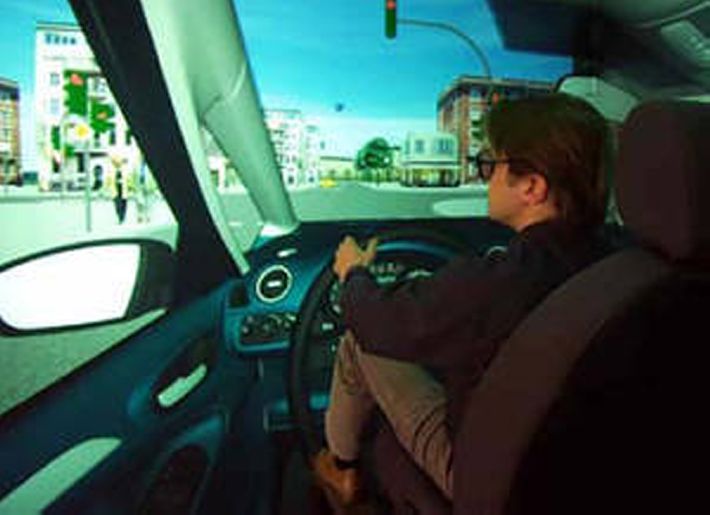 The ditial twin we see the most in marketing videos is a virtual twin, using a 3D-representation for understanding and navigation.  The 3D-representation provides a Virtual Reality (VR) environment with connected data. When pointing at the virtual components, information might appear, or some animation takes place.
Building such a virtual representation is a significant effort; therefore, there needs to be a serious business case.
The simplest business case is to use the virtual twin for training purposes. A flight simulator provides a virtual environment and behavior as-if you are flying in the physical airplane – the behavior model behind the simulator should match as good as possible the real behavior. However, as it is a model, it will never be 100 % reality and requires updates when new findings or product changes appear.
A virtual model of a platform or plant can be used for training on Standard Operating Procedures (SOPs). In the physical world, there is no place or time to conduct such training. Here the complexity might be lower. There is a 3D Model; however, serious updates can only be expected after a major maintenance or overhaul activity.
These practices are not new either and are used in places where the physical training cannot be done.
More challenging is the Augmented Reality (AR) use case. Here the virtual model, most of the time, a lightweight 3D Model, connects to real-time data coming from other sources. For example, AR can be used when an engineer has to service a machine. The AR-environment might project actual data from the machine, indicate service points and service procedures.
The positive side of the business case is clear for such an opportunity, ensuring service engineers always work with the right information in a real-time context. The main obstacle for implementing AR, in reality, is the access to data, the presentation of the data and keeping the data in the AR-environment matching the reality.
And although there are 3D Models in use, they are, to my knowledge, always created in siloes, not yet connected to their design sources.Have a look at the Digital Twin conference from Bits&Chips, as mentioned before.
Several of the cases mentioned above will be discussed here. The conference's target is to share real cases concluded by Q & A sessions, crucial for a virtual event.
Connected Virtual Twins along the product lifecycle
So far, we have been discussing the virtual twin concept, where we connect a product/system/person in the physical world to a virtual model. Now let us zoom in on the virtual twins relevant for the early parts of the product lifecycle, the manufacturing twin, and the development twin. This image from Siemens illustrates the concept: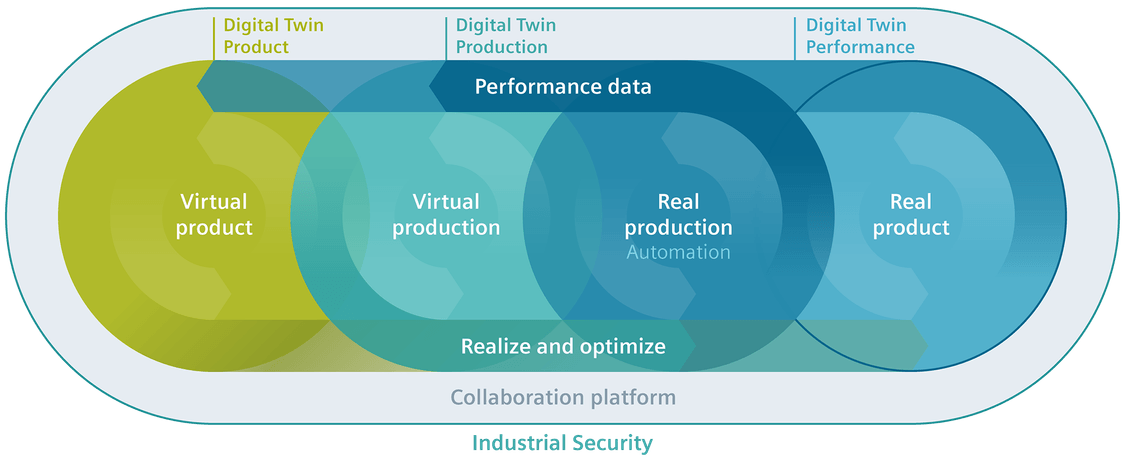 On slides they imagine a complete integrated framework, which is the future vision. Let us first zoom in on the individual connected twins.
The digital production twin
This is the area of virtual manufacturing and creating a virtual model of the manufacturing plant. Virtual manufacturing planning is not a new topic. DELMIA (Dassault Systèmes) and Tecnomatix (Siemens) are already for a long time offering virtual manufacturing planning solutions.
At that time, the business case was based on the fact that the definition of a manufacturing plant and process done virtually allows you to optimize the plant before investing in physical assets.
Saving money as there is no costly prototype phase to optimize production. In a virtual world, you can perform many trade-off studies without extra costs. That was the past (and for many companies still the current situation).
With the need to be more flexible in manufacturing to address individual customer orders without increasing the overhead of delivering these customer-specific solutions, there is a need for a configurable plant that can produce these individual products (batch size 1).
This is where the virtual plant model comes into the picture again. Instead of having a virtual model to define the ultimate physical plant, now the virtual model remains an active model to propose and configure the production process for each of these individual products in the physical plant.
This is partly what Industry 4.0 is about. Using a model-based approach to configure the plant and its assets in a connected manner. The digital production twin drives the execution of the physical plant. The factory has to change from a static factory to a dynamic "smart" factory.
In the domain of Industry 4.0, companies are reporting progress. However, to my experience, the main challenge is still that the product source data is not yet built in a model-based, configurable manner. Therefore, requiring manual rework. This is the area of Model-Based Definition, and I have been writing about this aspect several times. Latest post: Model-Based: Connecting Engineering and Manufacturing
The business case for this type of digital twin, of course, is to be able to customer-specific products with extremely competitive speed and reduced cost compared to standard. It could be your company's survival strategy. As it is hard to predict the future, as we see from COVID-19, it is still crucial to anticipate the future, instead of waiting.
The digital development twin
Before a product gets manufactured, there is a product development process. In the past, this was pure mechanical with some electronic components. Nowadays, many companies are actually manufacturing systems as the software controlling the product plays a significant role. In this context, the model-based systems engineering approach is the upcoming approach to defining and testing a system virtually before committing to the physical world.
Model-Based Systems Engineering can define a single complex product and perform all kinds of analysis on the system even before there is a physical system in place.  I will explain more about model-based systems engineering in future posts. In this context, I want to stress that having a model-based system engineering environment combined with modularity (do not confuse it with model-based) is a solid foundation for dealing with unique custom products. Solutions can be configured and validated against their requirements already during the engineering phase.
The business case for the digital development twin is easy to make. Shorter time to market, improved and validated quality, and reduced engineering hours and costs compared to traditional ways of working. To achieve these results,  for sure, you need to change your ways of working and the tools you are using. So it won't be that easy!
For those interested in Industry 4.0 and the Model-Based System Engineering approach, join me at the upcoming PLM Road Map 2020 and PDT 2020 conference on 17-18-19 November. As you can see from the agenda, a lot of attention to the Digital Twin and Model-Based approaches.
Three digital half-days with hopefully a lot to learn and stay with our feet on the ground.  In particular, I am looking forward to Marc Halpern's keynote speech: Digital Thread: Be Careful What you Wish For, It Just Might Come True
Conclusion
It has been very noisy on the internet related to product features and technologies, probably due to COVIC-19 and therefore disrupted interactions between all of us – vendors, implementers and companies trying to adjust their future. The Digital Twin concept is an excellent framing for a concept that everyone can relate to. Choose your business case and then look for the best matching twin.
This time a short post (for me) as I am in the middle the series "Learning from the past to understand the future" and currently collecting information for next week's post. However, recently Rob Ferrone, the original Digital Plumber, pointed me to an interesting post from Scott Taylor, the Data Whisperer.
In code: The Virtual Dutchman discovered the Data Whisperer thanks to the original Digital Plumber.
Scott's article with the title: "Data Management Hasn't Failed, but Data Management Storytelling Has" matches precisely the discussion we have in the PLM community.
Please read his article, and just replace the words Data Management by PLM, and it could have been written for our community. In a way, PLM is a specific application of data management, so not a real surprise.
Scott's conclusions give food for thought in the PLM community:
To win over business stakeholders, Data Management leadership must craft a compelling narrative that builds urgency, reinvigorates enthusiasm, and evangelizes WHY their programs enable the strategic intentions of their enterprise. If the business leaders whose support and engagement you seek do not understand and accept the WHY, they will not care about the HOW. When communicating to executive leadership, skip the technical details, the feature functionality, and the reference architecture and focus on:

Establishing an accessible vocabulary
Harmonizing to a common voice
Illuminating the business vision

When you tell your Data Management story with that perspective, it can end happily ever after.
It all resonates well with what I described in the PLM ROI Myth – it is clear that when people hear the word Myth, they have a bad connotation, same btw for PLM.
The fact that we still need to learn storytelling is because most of us are so much focused on technology and sometimes on discovering the new name for PLM in the future.
Last week I pointed to a survey from the PLMIG (PLM Interest Group) and XLifcycle, inviting you to help to define the future definition of PLM.
You are still welcome here: Towards a digital future: the evolving role of PLM in the future digital world.
Also, I saw a great interview with Martin Eigner on Minerva PLM TV interview by Jennifer Moore. Martin is well known in the PLM world and has done foundational work for our community
. According to Jennifer, he is considered as The Godfather of PLM.  This tittle fits nicely in today's post. Those who have seen his presentations in recent years will remember Martin is talking about SysLM (System Lifecycle Management) as the future for PLM.
It is an interesting recording to watch – click on the image above to see it. Martin explains nicely why we often do not get the positive feedback from PLM implementations – starting at minute 13 for those who cannot wait.
In the interview, you will discover we often talk too much about our discipline capabilities where the real discussion should be talking business. Strategy and objectives are discussed and decided at the management level of a company. By using storytelling, we can connect to these business objectives.
The end result will be more likely that a company understands why to invest significantly in PLM as now PLM is part of its competitiveness and future continuity.
Conclusion
I shared links to two interesting posts from the last weeks. Studying them will help you to create a broader view. We have to learn to tell the right story. People do not want PLM – they have personal objectives. Companies have business objectives, and they might lead to the need for a new and changing PLM. Connecting to the management in an organization, therefore, is crucial.
Next week again more about learning from the past to understand the future
It's the beginning of the year. Companies are starting new initiatives, and one of them is potentially the next PLM-project. There is a common understanding that implementing PLM requires a business case with ROI and measurable results. Let me explain why this understanding is a myth and requires a myth.
I was triggered by a re-post from Lionel Grealou, titled: Defining the PLM Business Case.  Knowing Lionel is quite active in PLM and digital transformation, I was a little surprised by the content of the post. Then I noticed the post was from January 2015, already 5 years old. Clearly, the world has changed (perhaps the leadership has not changed).
So I took this post as a starting point to make my case.
In 2015, we were in the early days of digital transformation. Many PLM-projects were considered as traditional linear projects. There is the AS-IS situation, there is the TO-BE situation. Next, we know the  (linear) path to the solution and we can describe the project and its expected benefits.
It works if you understand and measure exactly the AS-IS situation and know almost entirely the TO-BE situation (misperception #1).
However,  implementing PLM is not about installing a new transactional system. PLM implementations deal with changing ways-of-working and therefore implementing PLM takes time as it is not just a switch of systems. Lionel was addressing this point:
"The inherent risks associated with any long term business benefit driven projects include the capability of the organization to maintain a valid business case with a benefit realization forecast that remains above the initial baseline. The more rework is required or if the program delivery slips, the more the business case gets eroded and the longer the payback period."
Interestingly here is the mentioning "..the business case gets eroded" – this is most of the time the case. Lionel proposes to track business benefits. Also, he mentions the justification of the PLM-project could be done by considering PLM as a business transformation tool (misperception #2) or a way to mitigate risk,s due to unsupported IT-solutions (misperception #3).
Let's dive into these misperceptions
#1 Compare the TO-BE and the AS-IS situation
Two points here.
Does your company measure the AS-IS situation? Do you know how your company performs when it comes to PLM related processes? The percentage of time spent by engineers for searching for data has been investigated – however, PLM goes beyond engineering. What about product management, marketing, manufacturing, and service?  Typical performance indicators mentioned are:
Do you know the exact TO-BE situation? In particular, when you implement PLM, it is likely to be in the scope of a digital transformation. If you implement to automate and consolidate existing processes, you might be able to calculate the expected benefits. However, you do not want to freeze your organization's processes. You need to implement a reliable product data infrastructure that allows you to enhance, change, or add new processes when required. In particular, for PLM, digital transformation does not have a clear target picture and scope yet. We are all learning.
#2 PLM is a business transformation tool
Imagine you install the best product innovation platform relevant for your business and selected by your favorite consultancy firm. It might be a serious investment; however, we are talking about the future of the company, and the future is in digital platforms. So nothing can go wrong now.
Does this read like a joke? Yes, it is, however, this is how many companies have justified their PLM investment. First, they select the best tool (according to their criteria, according to their perception), and then business transformation can start. Later in time, the implementation might not be so successful; the vendor and/or implementer will be blamed. Read: The PLM blame game
When you go to PLM conferences, you will often hear the same mantras: Have a vision, Have C-level sponsoring/involved, No Big Bang, it is a business project, not an IT-project, and more. And vendor-sponsored sessions always talk about amazing fast implementations (or did they mean installing the POC ?)
However, most of the time, C-level approves the budget without understanding the full implications (expecting the tool will do the work); business is too busy or does not get enough allocated time to supporting implementation (expecting the tool will do the work). So often the PLM-project becomes an IT-project executed mainly by the cheapest implementation partner (expecting the tool will do the work). Again this is not a joke!
A business transformation can only be successful if you agree on a vision and a learning path. The learning path will expose the fact that future value streams require horizontal thinking and reallocation of responsibilities – breaking the silos, creating streams.
Small teams can demonstrate these benefits without disrupting the current organization. However, over time the new ways of working should become the standard, therefore requiring different types of skills (people), different ways of working (different KPIs and P&L for departments), and ultimate different tools.
As mentioned before, many PLM-projects start from the tools – a guarantee for discomfort and/or failure.
#3 – mitigate risks due to unsupported IT-solutions
Often PLM-projects are started because the legacy environment becomes outdated. Either because the hardware infrastructure is no longer supported/affordable or the software code dependencies on the latest operating systems are no longer guaranteed.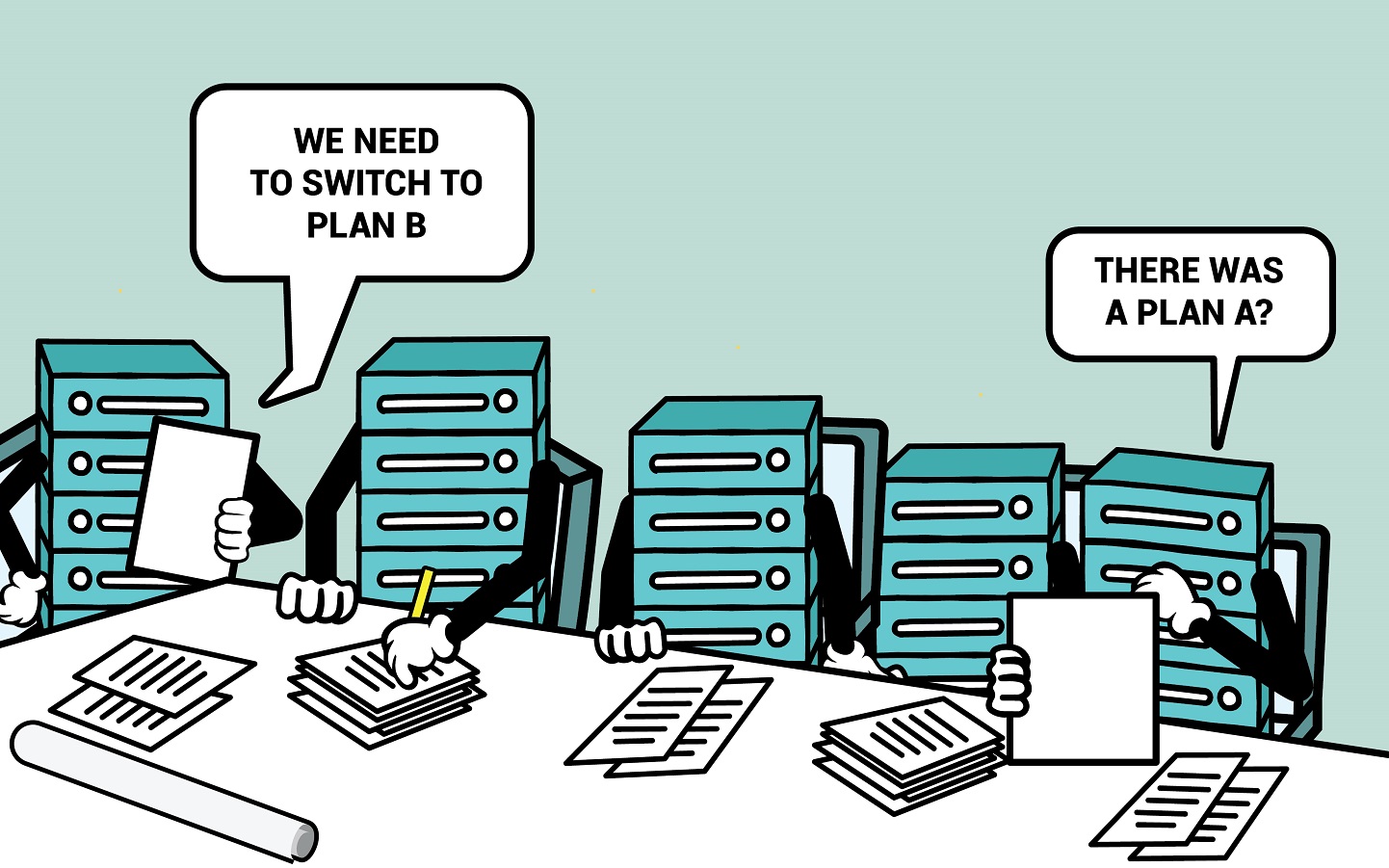 A typical approach to solve this is a big-bang project – the new PLM system needs to contain all the old data and meanwhile, to justify the project, the new PLM system needs to bring additional business value. The latter part is most of the time not difficult to identify as traditional PLM implementations most of the time were in reality cPDM environments with a focus on engineering only.
However, the legacy migration can have such a significant impact on the new PLM-system that it destroys the potential for the future. I wrote about this issue in The PLM Migration Dilemma
How to approach PLM ROI?
A PLM-project never will get a budget or approval from the board when there is no financial business case. Building the right financial business case for PLM is a skill that is often overlooked. During the upcoming PI PLMx London conference (3 – 4 February), I will moderate a Focus Group where we will discuss how to get PLM on the Exec's agenda.
Two of my main experiences:
Connect your PLM-project to the business strategy. As mentioned before, isolated PLM fails most of the time because business transformation, organizational change and the targeted outcome are not included. If PLM is not linked to an actual business strategy, it will be considered as a costly IT-project with all its bad connotations. Have a look at my older post: PLM, ROI and disappearing jobs
Create a Myth. Perhaps the word Myth is exaggerated – it is about an understandable vision. Myth connects nicely to the observations from behavioral experts that our brain does not decide on numbers but by emotion. Big decisions and big themes in the world or in a company need a myth: "Make our company great again" could be the tagline. In such a case people get aligned without a deep understanding of what is the impact or business case; the myth will do the work – no need for a detailed business case. A typical human behavior, see also my post: PLM as a myth.
Conclusion
There should never be a business case uniquely for PLM – it should always be in the context of a business strategy requiring new ways of working and new tools. In business, we believe that having a solid business case is the foundation for success. Sometimes an overwhelming set of details and numbers can give the impression that the business case is solid.  Consultancy firms are experts in this area to build a business case based on emotion. They know how to combine numbers with a myth. Therefore look at their approach – don't be too technical / too financial. If the myth will hold, at the end depends on the people and organization, not on the investments in tools and services.
For me, the joint conference from CIMdata and Eurostep is always a conference to look forward too. The conference is not as massive as PLM-Vendor conferences (slick presentations and happy faces); it is more a collection of PLM-practitioners (this time a 100+) with the intent to discuss and share their understanding and challenges, independent from specific vendor capabilities or features.  And because of its size a great place to network with everyone.
Day 1 was more a business/methodology view on PLM and Day 2 more in-depth focusing on standards and BIM. In this post, the highlights from the first day.
The State of PLM
Peter Bilello, CIMdata's president, kicked of with a review of the current state of the PLM industry. Peter mentioned the PLM-market grew by 9.4 % to $47.8 billion (more than the expected 7 %). Good for the PLM Vendors and implementers.
However, Peter also mentioned that despite higher spending, PLM is still considered as a solution for engineering, often implemented as PDM/CAD data management. Traditional organizational structures, marketing, engineering, manufacturing, quality were defined in the previous century and are measured as such.
This traditional approach blocks the roll-out of PLM across these disciplines. Who is the owner of PLM or where is the responsibility for a certain dataset are questions to solve. PLM needs to transform to deliver end-to-end support instead of remaining the engineering silo. Are we still talking about PLM in the future? See Peter's takeaways below:
We do not want to open the discussion if the the name PLM should change – too many debates – however unfortunate too much framing in the past too.
The Multi View BOM
Fred Feru from Airbus presented a status the Aerospace & Defense PLM action group are working on: How to improve and standardize on a PLM solution for multi-view BOM management, in particular, the interaction between the EBOM and MBOM. See below:
You might think this is a topic already solved when you speak with your PLM-vendor. However, all existing solutions at the participant implementations rely on customizations and vary per company. The target is to come up with common requirements that need to be addressed in the standard methodology. Initial alignment on terminology was already a first required step as before you standardize, you need to have a common dictionary. Moreover, a typical situation in EVERY PLM implementation.
An initial version was shared with the PLM Editors for feedback and after iterations and agreement to come with a solution that can be implemented without customization. If you are interested in the details, you can read the current status here with Appendix A en Appendix B.
Enabling the Circular Economy for Long Term Prosperity
Graham Aid gave a fascinating presentation related to the potentials and flaws of creating a circular economy. Although Graham was not a PLM-expert (till he left this conference), as he is the Strategy and Innovation Coordinator for the Ragn-Sells Group, which performs environmental services and recycling across Sweden, Norway, Denmark, and Estonia. Have a look at their website here.
Graham shared with us the fact that despite logical arguments for a circular economy – it is more profitable at the end – however, our short term thinking and bias block us from doing the right things for future generations.
Look at the missing link for a closed resource-lifecycle view below.
Graham shared weird examples where scarce materials for the future currently were getting cheaper, and therefore there is no desire for recycling them. A sound barrier with rubble could contain more copper than copper ore in a mine.
In the PLM-domain, there is also an opportunity for supporting and working on more sustainable products and services. It is a mindset and can be a profitable business model. In the PDT 2014 conference, there was a session on circular product development with Xerox as the best example. Circular product development but also Product As A Service can be activities that contribute to a more sustainable world. Graham's presentation was inspiring for our PLM community and hopefully planted a few seeds for the future. As it is all about thinking long-term.
With the PLM Green Alliance, I hope we will be able to create a larger audience and participation for a sustainable future. More about the PLM Green Alliance next week.
The Fundamental Role of PLM in Data-driven Product Portfolio Management
Hannu Hannila (Polar) presented his study related to data-driven product portfolio management and why it should be connected to PLM.  For many companies, it is a challenge to understand which products are performing well and where to invest. These choices are often supported by Data Damagement as Hannu called it.
An example below:
The result of this fragmented approach is that organizations make their decisions on subjective data and emotions. Where the assumption is that 20 % of the products a company is selling is related to 80 % of the revenue, Hannu found in his research companies where only 10 % of the products were contributing to the revenue. As PPM (Product Portfolio Management)  often is based on big emotions – who shouts the loudest mentality, influenced by the company's pet products and influence by the HIPPO (HIghest Paid Person in the Office).  So how to get a better rationale?
Hannu explained a data-driven framework that would provide the right analytics on management level, depending on overall data governance from all disciplines and systems.  See below:
I liked Hannu's conclusions as it aligns with my findings:
To be data-driven, you need Master Data Management and Data Governance
Product Portfolio Management is the driving discipline for PLM, and in a modern digital enterprise, it should be connected.
Sponsor sessions
Sponsors are always needed to keep a conference affordable for the attendees.  The sponsor sessions on day 1 were of good quality.  Here a quick overview and a link if you want to invest further
Configit – explaining the value of a configurator that connects marketing, technical and sales, introducing CLM (Configuration Lifecycle Management) – a new TLA
Aras – explaining their view on what we consider the digital thread
Variantum – explaining their CPQ solution as part of a larger suite of cloud offerings
Quick Release – bringing common sense to PLM implementations, similar to what I am doing as PLM coach – focusing on the flow of information
SAP – explaining the change in focus when a company moves toward a product as a service model
SharePLM – A unique company addressing the importance of PLM training delivered through eLearning
Conclusion
The first day was an easy to digest conference with a good quality of presentations. I only shared 50 % of the session as we already reached 1000+ words.  The evening I enjoyed the joint dinner, being able to network and discuss in depth with participants and finished with a social network event organized by SharePLM. Next week part 2.