You are currently browsing the tag archive for the 'Awareness' tag.
It Is 2021, and after two weeks' time-out and reflection, it is time to look forward. Many people have said that 2020 was a "lost year," and they are looking forward to a fresh restart, back to the new normal. For me, 2020 was the contrary of a lost year. It was a year where I had to change my ways of working. Communication has changed, digitization has progressed, and new trends have become apparent.
If you are interested in some of the details, watch the conversation I had with Rob Ferrone from QuickRelease, just before Christmas: Two Santas looking back to 2020.
It was an experiment with video, and you can see there is a lot to learn for me. I agree with Ilan Madjar's comment that it is hard to watch two people talking for 20 minutes. I prefer written text that I can read at my own pace, short videos (max 5 min), or long podcasts that I can listen to, when cycling or walking around.
So let me share with you some of the plans I have for 2021, and I am eager to learn from you where we can align.
PLM understanding
I plan a series of blog posts where I want to share PLM-related topics that are not necessarily directly implemented in a PLM-system or considered in PLM-implementations as they require inputs from multiple sources.  Topics in this context are: Configuration Management, Product Configuration Management, Product Information Management, Supplier Collaboration Management, Digital Twin Management, and probably more.
For these posts, I will discuss the topic with a subject matter expert, potentially a vendor or a consultant in that specific domain, and discuss the complementary role to traditional PLM. Besides a blog post, this topic might also be more explained in-depth in a podcast.
The PLM Doctor is in
Most of you might have seen Lucy from the Charley Brown cartoon as the doctor giving advice for 5¢. As an experiment, I want to set up a similar approach, however, for free.
These are my conditions:
Only one question at a time.
The question and answer will be published in a 2- 3 minute video.
The question is about solving a pain.
If you have such a question related to PLM, please contact me through a personal message on LinkedIn, and I will follow-up.
PLM and Sustainability
A year ago, I started with Rich McFall, the PLM Green Global Alliance.  Our purpose to bring people together, who want to learn and share PLM-related practices, solutions,  ideas contributing to a greener and more sustainable planet.
We do not want to compete or overlap with more significant global or local organizations, like the Ellen McArthur Foundation or the European Green Deal.
We want to bring people together to dive into the niche of PLM and its related practices.  We announced the group on LinkedIn; however, to ensure a persistent referential for all information and interactions, we have launched the website plmgreenaliance.com.
Here I will moderate and focus on PLM and Sustainability topics. I am looking forward to interacting with many of you.
PLM and digitization
For the last two years, I have been speaking and writing about the gap between current PLM-practices, based on shareable documents and files and the potential future based on shareable data, the Model-Based Enterprise.
Last year I wrote a series of posts giving insights on how we reached the current PLM-practices. Discovering sometimes inconsistencies and issues due to old habits or technology changes. I grouped these posts on a single blog page with the title:  Learning from the past.
This year I will create a collection of posts focusing on the transition towards a Model-Based Enterprise. Probably the summary page will be called: Working towards the future currently in private mode.
Your feedback
I am always curious about your feedback – to understand in which kind of environment your PLM activities take place. Which topics are unclear? What am I missing in my experience?
Therefore, I created a small anonymous survey for those who want to be interacting with me. On purpose, the link is at the bottom of the post, so when you answer the survey, you get my double appreciation, first for reaching the end of this post and second for answering the survey.
Take the survey here.
Conclusion
Most of us will have a challenging year ahead of us. Sharing and discussing challenges and experiences will help us all to be better in what we are doing. I look forward to our 2021 journey.
About a year ago we started the PLM Global Green Alliance, further abbreviated as the PGGA. Rich McFall, the main driver behind the PGGA started the website, The PLM Green Alliance, to have a persistent place to share information.
Also, we launched the PLM Global Alliance LinkedIn group to share our intentions and create a community of people who would like to share knowledge through information or discussion.
Our mission statement is:
The mission of the new PLM Green Alliance is to create global connection, communication, and community between professionals who use, develop, market, or support Product Lifecycle Management (PLM) related technologies and software solutions that have value in addressing the causes and consequences of climate change due to human-generated greenhouse gas emissions. We are motivated by the technological challenge to help create a more sustainable and green future for our economies, industries, communities, and all life forms on our planet that depend on healthy ecosystems.
My motivation
My personal motivation to support and join the PGGA was driven by the wish to combine my PLM-world with interest to create a more sustainable society for anyone around the world. It is a challenging combination. For example, PLM is born in the Aerospace and Defense industries, probably not the most sustainable industries.
Having worked with some companies in the Apparel and Retail industry, I have seen that these industries care more about their carbon footprint. Perhaps because they are "volume-industries" closely connected to their consumers, these industries actively build practices to reduce their carbon footprint and impact societies. The sense or non-sense of recycling is such a topic to discuss and analyze.
At that time, I got inspired by a session during the PLM Roadmap / PDT 2019 conference.
Graham Aid's from the Ragn-Sells group was a call to action. Sustainability and a wealthy economy go together; however, we have to change our habits & think patterns.  You can read my review from this session in this blog post: The weekend after PLM Roadmap / PDT 2019 – Day 1
Many readers of this post have probably never heard of the Ragn-Sells group or followed up on a call for action.  I have the same challenge. Being motivated beyond your day-to-day business (the old ways of working) and giving these activities priority above exploring and learning more about applying sustainability in my PLM practices.
And then came COVID-19.
I think most of you have seen the image on the left, which started as a joke. However, looking back, we all have seen that COVID-19 has led to a tremendous push for using digital technologies to modernize existing businesses.
Personally, I was used to traveling every 2 – 3 weeks to a customer, now I have left my home office only twice for business. Meanwhile, I invested in better communication equipment and a place to work. And hé, it remains possible to work and communicate with people.
Onboarding new people, getting to know new people takes more social interaction than a camera can bring.
In the PGGA LinkedIn community, we had people joining from all over the world. We started to organize video meetings to discuss their expectations and interest in this group with some active members.
We learned several things from these calls.
First of all, finding a single timeslot that everyone worldwide could participate in is a challenge. A late Friday afternoon is almost midnight in Asia and morning in the US. And is Friday the best day – we do not know yet.
Secondly, we realized that posts published in our LinkedIn group did not appear in everyone's LinkedIn feed due to LinkedIn's algorithms. For professionals, LinkedIn becomes less and less attractive as the algorithms seem to prefer frequency/spam above content.
For that reason, we are probably moving to the PLM Green Alliance website and combine this environment with a space for discussion outside the LinkedIn scope. More to come on the PGGA website.
Finally, we will organize video discussion sessions to ask the participants to prepare themselves for a discussion. Any member of the PGGA can bring in the discussion topics.
It might be a topic you want to clarify or better understand.
What's next
For December 4th, we have planned a discussion meeting related to the Exponential Roadmap 2019 report, where  36  solutions to halve carbon emission by 2030 are discussed. In our video discussion, we want to focus on the chapter: Digital Industries.
We believe that this topic comes closest to our PLM domain and hopes that participants will share their thinking and potential activities within their companies.
You can download the Exponential Roadmap here or by clicking on the image. More details about the PLM Global Green Alliance you will find in the LinkedIn group. If you want to participate, let us know.
The PGGA website will be the place where more and more information will be collected per theme, to help you understand what is happening worldwide and the place where you can contribute to let us know what is happening at your side.
Conclusion
The PLM Global Green Alliance exists now for a year with 192 members. With approximately five percent active members, we have the motivation to grow our efforts and value. We learned from COVID-19 there is a need to become proactive as the costs of prevention are always lower than the costs of (trying) fixing afterward.
And each of us has the challenge to behave a little differently than before.
Will you be one of them ?
After the series about "Learning from the past," it is time to start looking towards the future.  I learned from several discussions that I am probably working most of the time with advanced companies. I believe this would motivate companies that lag behind even to look into the future even more.
If you look into the future for your company, you need new or better business outcomes. That should be the driver for your company. A company does not need PLM or a Digital Twin. A company might want to reduce its time to market, improve collaboration between all stakeholders. These objectives can be realized by different ways of working and an IT-infrastructure to allow these processes to become digital and connected.
That is the "game". Coming back to the future of PLM.  We do not need a discussion about definitions; I leave this to the academics and vendors. We will see the same applies to the concept of a Digital Twin.
My statement: The digital twin is not new. Everybody can have their own digital twin as long as you interpret the definition differently. Does this sound like the PLM definition?
The definition
I like to follow the Gartner definition:
A digital twin is a digital representation of a real-world entity or system. The implementation of a digital twin is an encapsulated software object or model that mirrors a unique physical object, process, organization, person, or other abstraction. Data from multiple digital twins can be aggregated for a composite view across a number of real-world entities, such as a power plant or a city, and their related processes.
As you see, not a narrow definition. Now we will look at the different types of interpretations.
Single-purpose siloed Digital Twins
Simple – data only
One of the most straightforward applications of a digital twin is, for example, my Garmin Connect environment. When cycling, my device registers performance parameters (speed, cadence, power, heartbeat, location). After every trip, I can analyze my performance. I can see changes in my overall performance; compare my performance with others in my category (weight, age, sex).
Based on that, I can decide if I want to improve my performance. My personal business goal is to maintain and improve my overall performance, knowing I cannot stop aging by upgrading my body.
On November 4th, 2020, I am participating in the (almost virtual) Digital Twin conference organized by Bits&Chips in the Netherlands. In the context of human performance, I look forward to Natal van Riel's presentation: Towards the metabolic digital twin – for sure, this direction is not simple. Natal is a full professor at the Technical University in Eindhoven, the "smart city" in the Netherlands
Medium – data and operating models
Many connected devices in the world use the same principle. An airplane engine, an industrial robot, a wind turbine, a medical device, and a train carriage; all track the performance based on this connection between physical and virtual, based on some sort of digital connectivity.
The business case here is also monitoring performance, predict maintenance, and upgrade the product when needed.
This is the domain of Asset Lifecycle Management, a practice that exists for decades. Based on financial and performance models, the optimal balance between maintaining and overhaul has to be found. Repairs are disruptive and can be extremely costly. A manufacturing site that cannot produce can costs millions per day. Connecting data between the physical and the virtual model allows us to have real-time insights and be proactive. It becomes a digital twin.
Advanced – data and connected 3D model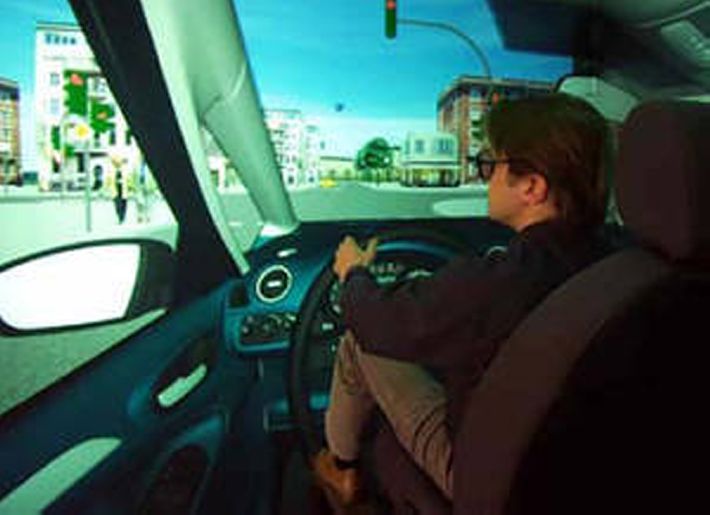 The ditial twin we see the most in marketing videos is a virtual twin, using a 3D-representation for understanding and navigation.  The 3D-representation provides a Virtual Reality (VR) environment with connected data. When pointing at the virtual components, information might appear, or some animation takes place.
Building such a virtual representation is a significant effort; therefore, there needs to be a serious business case.
The simplest business case is to use the virtual twin for training purposes. A flight simulator provides a virtual environment and behavior as-if you are flying in the physical airplane – the behavior model behind the simulator should match as good as possible the real behavior. However, as it is a model, it will never be 100 % reality and requires updates when new findings or product changes appear.
A virtual model of a platform or plant can be used for training on Standard Operating Procedures (SOPs). In the physical world, there is no place or time to conduct such training. Here the complexity might be lower. There is a 3D Model; however, serious updates can only be expected after a major maintenance or overhaul activity.
These practices are not new either and are used in places where the physical training cannot be done.
More challenging is the Augmented Reality (AR) use case. Here the virtual model, most of the time, a lightweight 3D Model, connects to real-time data coming from other sources. For example, AR can be used when an engineer has to service a machine. The AR-environment might project actual data from the machine, indicate service points and service procedures.
The positive side of the business case is clear for such an opportunity, ensuring service engineers always work with the right information in a real-time context. The main obstacle for implementing AR, in reality, is the access to data, the presentation of the data and keeping the data in the AR-environment matching the reality.
And although there are 3D Models in use, they are, to my knowledge, always created in siloes, not yet connected to their design sources.Have a look at the Digital Twin conference from Bits&Chips, as mentioned before.
Several of the cases mentioned above will be discussed here. The conference's target is to share real cases concluded by Q & A sessions, crucial for a virtual event.
Connected Virtual Twins along the product lifecycle
So far, we have been discussing the virtual twin concept, where we connect a product/system/person in the physical world to a virtual model. Now let us zoom in on the virtual twins relevant for the early parts of the product lifecycle, the manufacturing twin, and the development twin. This image from Siemens illustrates the concept: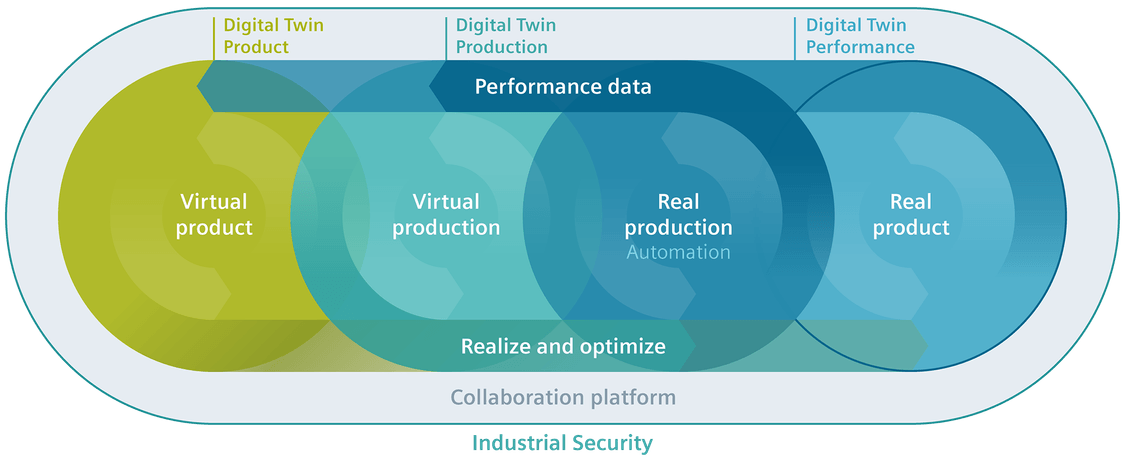 On slides they imagine a complete integrated framework, which is the future vision. Let us first zoom in on the individual connected twins.
The digital production twin
This is the area of virtual manufacturing and creating a virtual model of the manufacturing plant. Virtual manufacturing planning is not a new topic. DELMIA (Dassault Systèmes) and Tecnomatix (Siemens) are already for a long time offering virtual manufacturing planning solutions.
At that time, the business case was based on the fact that the definition of a manufacturing plant and process done virtually allows you to optimize the plant before investing in physical assets.
Saving money as there is no costly prototype phase to optimize production. In a virtual world, you can perform many trade-off studies without extra costs. That was the past (and for many companies still the current situation).
With the need to be more flexible in manufacturing to address individual customer orders without increasing the overhead of delivering these customer-specific solutions, there is a need for a configurable plant that can produce these individual products (batch size 1).
This is where the virtual plant model comes into the picture again. Instead of having a virtual model to define the ultimate physical plant, now the virtual model remains an active model to propose and configure the production process for each of these individual products in the physical plant.
This is partly what Industry 4.0 is about. Using a model-based approach to configure the plant and its assets in a connected manner. The digital production twin drives the execution of the physical plant. The factory has to change from a static factory to a dynamic "smart" factory.
In the domain of Industry 4.0, companies are reporting progress. However, to my experience, the main challenge is still that the product source data is not yet built in a model-based, configurable manner. Therefore, requiring manual rework. This is the area of Model-Based Definition, and I have been writing about this aspect several times. Latest post: Model-Based: Connecting Engineering and Manufacturing
The business case for this type of digital twin, of course, is to be able to customer-specific products with extremely competitive speed and reduced cost compared to standard. It could be your company's survival strategy. As it is hard to predict the future, as we see from COVID-19, it is still crucial to anticipate the future, instead of waiting.
The digital development twin
Before a product gets manufactured, there is a product development process. In the past, this was pure mechanical with some electronic components. Nowadays, many companies are actually manufacturing systems as the software controlling the product plays a significant role. In this context, the model-based systems engineering approach is the upcoming approach to defining and testing a system virtually before committing to the physical world.
Model-Based Systems Engineering can define a single complex product and perform all kinds of analysis on the system even before there is a physical system in place.  I will explain more about model-based systems engineering in future posts. In this context, I want to stress that having a model-based system engineering environment combined with modularity (do not confuse it with model-based) is a solid foundation for dealing with unique custom products. Solutions can be configured and validated against their requirements already during the engineering phase.
The business case for the digital development twin is easy to make. Shorter time to market, improved and validated quality, and reduced engineering hours and costs compared to traditional ways of working. To achieve these results,  for sure, you need to change your ways of working and the tools you are using. So it won't be that easy!
For those interested in Industry 4.0 and the Model-Based System Engineering approach, join me at the upcoming PLM Road Map 2020 and PDT 2020 conference on 17-18-19 November. As you can see from the agenda, a lot of attention to the Digital Twin and Model-Based approaches.
Three digital half-days with hopefully a lot to learn and stay with our feet on the ground.  In particular, I am looking forward to Marc Halpern's keynote speech: Digital Thread: Be Careful What you Wish For, It Just Might Come True
Conclusion
It has been very noisy on the internet related to product features and technologies, probably due to COVIC-19 and therefore disrupted interactions between all of us – vendors, implementers and companies trying to adjust their future. The Digital Twin concept is an excellent framing for a concept that everyone can relate to. Choose your business case and then look for the best matching twin.
In the series learning from the past to understand the future, we have almost reached the current state of PLM before digitization became visible. In the last post, I introduced the value of having the MBOM preparation inside a PLM-system, so manufacturing engineering can benefit from early visibility and richer product context when preparing the manufacturing process.
Does everyone need an MBOM?
It is essential to realize that you do not need an EBOM and a separate MBOM in case of an Engineering To Order primary process. The target of ETO is to deliver a unique customer product with no time to lose. Therefore, engineering can design with a manufacturing process in mind.
The need for an MBOM comes when:
You are selling a specific product over a more extended period of time. The engineering definition, in that case, needs to be as little as possible dependent on supplier-specific parts.
You are delivering your portfolio based on modules. Modules need to be as long as possible stable, therefore independent of where they are manufactured and supplier-specific parts. The better you can define your modules, the more customers you can reach over time.
You are having multiple manufacturing locations around the world, allowing you to source locally and manufacture based on local plant-specific resources. I described these options in the previous post
The challenge for all companies that want to move from ETO to BTO/CTO is the fact that they need to change their methodology – building for the future while supporting the past. This is typically something to be analyzed per company on how to deal with the existing legacy and installed base.
Configurable EBOM and MBOM
In some previous posts, I mentioned that it is efficient to have a configurable EBOM. This means that various options and variants are managed in the same EBOM-structure that can be filtered based on configuration parameters (date effectivity/version identifier/time baseline). A configurable EBOM is often called a 150 % EBOM
The MBOM can also be configurable as a manufacturing plant might have almost common manufacturing steps for different product variants. By using the same process and filtered MBOM, you will manufacture the specific product version. In that case, we can talk about a 120 % MBOM
Note: the freedom of configuration in the EBOM is generally higher than the options in the configurable MBOM.
The real business change for EBOM/MBOM
So far, we have discussed the EBOM/MBOM methodology. It is essential to realize this methodology only brings value when the organization will be adapted to benefit from the new possibilities.
One of the recurring errors in PLM implementations is that users of the system get an extended job scope, without giving them the extra time to perform these activities. Meanwhile, other persons downstream might benefit from these activities. However, they will not complain. I realized that already in 2009, I mentioned such a case: Where is my PLM ROI, Mr. Voskuil?
Now let us look at the recommended business changes when implementing an EBOM/MBOM-strategy
Working in a single, shared environment for engineering and manufacturing preparation is the first step to take.
Working in a PLM-system is not a problem for engineers who are used to the complexity of a PDM-system. For manufacturing engineers, a PLM-environment will be completely new. Manufacturing engineers might prepare their bill of process first in Excel and ultimately enter the complete details in their ERP-system. ERP-systems are not known for their user-friendliness. However, their interfaces are often so rigid that it is not difficult to master the process. Excel, on the other side, is extremely flexible but not connected to anything else.
And now, this new PLM-system requires people to work in a more user-friendly environment with limited freedom. This is a significant shift in working methodology. This means manufacturing engineers need to be trained and supported over several months. Changing habits and keep people motivated takes energy and time. In reality, where is the budget for these activities? See my 2016 post: PLM and Cultural Change Management – too expensive?
From sequential to concurrent
Once your manufacturing engineers are able to work in a PLM-environment, they are able to start the manufacturing definition before the engineering definition is released. Manufacturing engineers can participate in design reviews having the information in their environment available. They can validate critical manufacturing steps and discuss with engineers potential changes that will reduce the complexity or cost for manufacturing. As these changes will be done before the product is released, the cost of change is much lower. After all, having engineering and manufacturing working partially in parallel will reduce time to market.
One of the leading business drivers for many companies is introducing products or enhancements to the market. Bringing engineering and manufacturing preparation together also means that the PLM-system can no longer be an engineering tool under the responsibility of the engineering department.
The responsibility for PLM needs to be at a level higher in the organization to ensure well-balanced choices. A higher level in the organization automatically means more attention for business benefits and less attention for functions and features.
From technology to methodology – interface issues?
The whole EBOM/MBOM-discussion often has become a discussion related to a PLM-system and an ERP-system. Next, the discussion diverted to how these two systems could work together, changing the mindset to the complexity of interfaces instead of focusing on the logical flow of information.
In an earlier PI Event in München 2016, I lead a focus group related to the PLM and ERP interaction. The discussion was not about technology, all about focusing on what is the logical flow of information. From initial creation towards formal usage in a product definition (EBOM/MBOM).
What became clear from this workshop and other customer engagements is that people are often locked in their siloed way of thinking. Proposed information flows are based on system capabilities, not on the ideal flow of information. This is often the reason why a PLM/ERP-interface becomes complicated and expensive. System integrators do not want to push for organizational change, they prefer to develop an interface that adheres to the current customer expectations.
SAP has always been promoting that they do not need an interface between engineering and manufacturing as their data management starts from the EBOM. They forgot to mention that they have a difficult time (and almost no intention) to manage the early ideation and design phase. As a Dutch SAP country manager once told me: "Engineers are resources that do not want to be managed." This remark says all about the mindset of ERP.
After overlooking successful PLM-implementations, I can tell the PLM-ERP interface has never been a technical issue once the methodology is transparent. A company needs to agree on logical data flow from ideation through engineering towards design is the foundation.
It is not about owning data and where to store it in a single system. It is about federated data sets that exist in different systems and that are complementary but connected, requiring data governance and master data management.
The SAP-Siemens partnership
In the context of the previous paragraph, the messaging around the recently announced partnership between SAP and Siemens made me curious. Almost everyone has shared an opinion about the partnership. There is a lot of speculation, and many questions were imaginarily answered by as many blog posts in the field. Last week Stan Przybylinski shared CIMdata's interpretations in a webinar Putting the SAP-Siemens Partnership In Context, which was, in my opinion, the most in-depth analysis I have seen.
For what it is worth, my analysis:
First of all, the partnership is a merger of slide decks at this moment, aiming to show to a potential customer that in the SAP/Siemens-combination, you find everything you need. A merger of slides does not mean everything works together.
It is a merger of two different worlds. You can call SAP a real data platform with connected data, where Siemens offering is based on the Teamcenter backbone providing a foundation for a coordinated approach. In the coordinated approach, the data flexibility is lower. For that reason, Mendix is crucial to make Siemens portfolio behave like a connected platform too.
You can read my doubts about having a coordinated and connected system working together (see image above). It was my #1 identified challenge for this decade: PLM 2020 – PLM the next decade (before COVID-19 became a pandemic and illustrated we need to work connected)
The fact that SAP will sell TC PLM and Siemens will sell SAP PPM seems like loser's statement, meaning our SAP PLM is probably not good enough, or our TC PPM capabilities are not good enough. In reality, I believe they both should remain, and the partnership should work on logical data flows with data residing in two locations – the federated approach. This is how platforms reside next to each other instead of the single black hole.
The fact that standard interfaces will be developed between the two systems is a subtle sales argument with relatively low value. As I wrote in the "from technology to methodology"-paragraph, the challenges are in the organizational change within companies. Technology is not the issue, although system integrators also need to make a living.
What I believe makes sense is that both SAP and Siemens, have to realize their Industry 4.0 end-to-end capabilities. It is a German vision now for several years and it is an excellent vision to strive for. Now it is time to build the two platforms working together. This will be a significant technical challenge mainly for Siemens as its foundation is based on a coordinated backbone.
The biggest challenge, not only for this partnership, is the organizational change within companies that want to build an end-to-end connected solution. In particular, in companies with a vast legacy, the targeted industries by the partnership, the chasm between coordinated legacy data and intended connected data is enormous. Technology will not fix it, perhaps smoothen the pain a little.
Conclusion
With this post, we have reached the foundation of the item-centric approach for PLM, where the EBOM and MBOM are managed in a real-time context. Organizational change is the biggest inhibitor to move forward. The SAP-Siemens partnership is a sales/marketing approach to create a simplified view for the future at C-level discussions.
Let us watch carefully what happens in reality.
Next time potentially the dimension of change management and configuration management in an item-centric approach.
Or perhaps Martijn Dullaart will show us the way before, following up on his tricky poll question
In my last post related to Learning from the past to understand the future, I discussed what happened when 3D CAD became available for the mid-market. In the large automotive or aerospace & defense companies, 3D CAD has been introduced along the path of defining processes and selecting tools. In the mid-market 3D CAD started from the other side, first as a productivity tool, not thinking further to change methodologies or processes.
The approach starting with 3D CAD without changing processes, has created several complexities. Every company that is aiming to move towards a digital future needs to reduce complexity to remain competitive. Now let us focus on the relation between the 3D CAD-structure and a BOM.
The 3D CAD-structure
When building a product in a 3D CAD system, the concept is that you have individual parts designed in 3D. Every single part has a unique identifier.
If possible, the (file) name would equal the physical part number.
Next, a group of parts could be stored as a subassembly. Such an assembly is sometimes called a phantom assembly, in case they only group together several 3D parts. The usage of this type of assemblies increased CAD productivity. For data management reasons, these assemblies need to have a unique identifier, preferably not with the same numbering scheme for physical part numbers. It would consume part numbers that would never be used during manufacturing.
Note: in the early days of connecting 3D CAD to ERP, there was a considerable debate about which system could generate the part number.
ERP has always been the leading system for parts definition, why change ? And why generate part numbers that might not be used later in production. "Wasting" part numbers was a bad practice as historically, the part number was like a catalog number: 6 to 7 digits.
Next, there is also another group of subassemblies that represent one or more primary components of a product. For example, a pump assembly, that might be the combination of the pump, the motor, and the base frame. This type of assembly appears most of the time high in the CAD-structure. They can be considered as a phantom assembly too, regarding a required identifier for this subassembly.
Finally, there might be parts in the CAD-structure that will not exist in reality as part but need to be created during the manufacturing process. Sheet metal parts are created during the manufacturing process. Cappings, strips and cables shown in the CAD-structure might come from materials that are purchased in standardized sizes (1 meter / 2 meter / 10 meter) and need to be cut during manufacturing. Here the instances in the CAD-structure will have a unique identifier. What type of identifier to use depends on the manufacturing process. It might be a physical part number, as it is a half-fabricate, or it remains a unique identifier for the CAD-structure only.
The reason I am coming back to these identifiers is that as described before, companies wanted to keep a relation between the part number and the file name.
There was a problem with flexible parts. A rubber hose with a specific length could be shaped differently in an assembly based on its connection. Two different shapes would create two files and therefore break the rule of a part number equals file name. The 3D CAD vendors "solved" this issue by storing configurable views of the same part inside one file and allow the user to select the active view.
Later we will see that management of views inside the 3D CAD model is not a wrong choice. This, contrary to managing different configurations of a part/product inside a single file, which creates complexity in the PLM domain.
In the end, the product became an assembly with several levels of subassemblies. At that time, when I worked a lot with CAD-integrations, the average depth of 3D CAD-structures was 6 to 7 levels deep, with exceptions in both directions.
The entire product CAD-structure is mainly used for a final digital mock-up, to allow engineers to analyze the full product behavior. One of my favorite YouTube movies is the one from Airbus – seven years ago, they described the power of a full digital mock-up used for the A380.
In ETO-processes, the 3D CAD-structure is unique for a given customer solution – like the A380.
In the case of large assemblies with a lot of parts and subassemblies, there were situations where the full product could not be resolved anymore. For Airbus a must, for the mid-market not always easy to reach. Graphics memory, combined with the way graphics were represented, are the major constraint. This performance issue is resolved in the gaming world, however then the 3D representation had no longer the required accuracy or definition.
The Version pop-up problem
Working with a 3D CAD structure created a new problem when designers were sharing parts and assemblies between themselves and suppliers. The central storage of the files required a versioning mechanism, supported by a check-in and check-out mechanism.
Depending on the type of 3D CAD integration, the PDM system generated a new minor revision of the file after check-in again. In this way, there was full traceability of the changes before release. The image below shows an example of how SmarTeam was dealing with minor and major revisions combined with lifecycle stages.
When revising a part, all assemblies that contained the changed part need to be updated too, in case you want to have traceability and preventing others from overwriting your version. Making sure this assembly file points to the right file again. In the cases of a 6-level deep CAD-structure, this has led to a lot of methodology problems on how to deal (or not to deal) with file changes.
In the case of a unique delivery for a customer, the ETO-process, the issue might not be so big. As everything in the 3D CAD-structure is work in progress, you only need to be sure during the release process of the 3D CAD-structure that all parts and assemblies are resolved to the latest version (and verified)
Making changes on an existing product is way more complicated, as assemblies are released, and parts exist in production. In that case, the Bill of Material is the leading structure to control the versions and the change impact, as we will see.
Note: Most CAD- and PLM-vendors loved to show you their demos, where starting from the CAD-structure, a product gets created (the ETO-process). The reality is that most companies do not start from the CAD-structure, but from an existing Bill of Material. In 2010, I wrote a few posts, discussing the relation between CAD and the BOM:
to explain there is more than a CAD-driven scenario.
The EBOM
In most PDM-systems with CAD-integrations, it is possible to create a Bill of Materials from the 3D CAD-structure. The Bill of Materials will be based on the parts inside the 3D CAD-structure. There is often the option to filter out phantom assemblies.
The structures are not the same. The 3D CAD-structure is instance-based, where the extracted Bill of Materials will summarize the part quantities on the same level. See the image below. There are four Wheel instances in the CAD structure, in the EBOM-structure, we have only one Wheel reference with quantity 4.
I named the structure on the right the EBOM as the structure represents the Bill of Materials from the engineering point of view. This definition is a little arbitrary, as we will see. In companies that started to develop products based on a conceptual BOM, often, this conceptual BOM was an "early" EBOM that had to be developed further. This EBOM was more representing a logical or modular structure driving the design, instead of an extract from the 3D CAD-structure. In the next post, I will zoom in on these differences. I want to conclude this time with a critical methodology needed to manage the 3D CAD structure changes in relation to an EBOM.
Breaking the rule Drawing ID (Model ID) = Part ID
Although I have been writing mostly about the 3D CAD structure, I want to remind us that the 3D Model in the mid-market is mainly used for design purposes. The primary delivery for manufacturing or a supplier is still a 2D-drawing for most companies. The 3D Model might be "nice to have" for CAM- or quality usage. Still, in case of a dispute, the 2D Drawing will be leading.
For that reason, in many mid-market companies, there was the following relation below:
In an environment without file versioning through check-in/check-out, this relation was easy to maintain. In the electronic world, every change in the 3D Model (which could be an assembly) triggers a new file version and, therefore, most of the time, a new version of the drawing and the physical part. However, you do not want to have a physical part with many revisions, in particular when this part could be again part of a Bill of Material.
To solve this issue, the Physical Part and the related Drawing/Model should have different lifecycles. The relation between the Physical Part and the Drawing Model should no longer be based on numbers but on a relation in the PDM/PLM-system. One of the main characteristics of a PDM/PLM-system is that it allows users to navigate through relations to find information in context. For example, solving a Where Used – question is a (few) mouse-click(s) in a PDM/PLM-system.
Click on the image to see the details.
Breaking this one-to-one numbering rule is a must if you want to evolve to an item-centric or data-driven PLM-environment. When to introduce this change and how to implement this new behavior is a methodology exercise, not an implementation of a new tool.
There is a lot to read about this topic as it is related to the Form-Fit-Function-discussion we had earlier this year. A collection of information can be found in these two LinkedIn-post, where the comments are providing the insights:
I will not dive deeper into this theme (reached 1700 words ☹) – next time I will zoom in on the EBOM and leave the world of 3D CAD behind (for a while)
To understand our legacy in the PLM-domain, what are the types of practices we created, I started this series of posts: Learning from the past to understand the future. My first post (The evolution of the BOM) focused on the disconnected world between engineering – generation of drawings as a deliverable – and execution MRP/ERP – the first serious IT-systems in a company.
At that time, due to minimal connectivity, small and medium-sized companies had, most of the time, an informal connection between engineering and manufacturing. I remember a statement at that time, PLM was just introduced. One person during a conference claimed:
"You guys make our lives so difficult with your systems. If we have a problem, we gather around the machine, and we fix it."
PLM started at large enterprises
Of course, large enterprises could not afford such behavior as they operate globally. The leading enterprises for PDM/PLM were the Aerospace & Defense and Automotive companies. They needed consistent processes and formal ways of working to guarantee quality output.
In that sense, I was happy with the reaction from Jean-Jacques Urban-Galindo, who shared in the LinkedIn comments a reference to a relevant chapter of John Stark's PLM book. In the pdf describing the evolution of CAD / PDM / PLM at PSA. Jean-Jacques was responsible at that time for Responsible for the re-engineering of the Product & Process Engineering processes using digital tools (CAD/CAM, DMU, and more).
Read the PSA story here: PLM at GROUPE PSA. It describes nicely where 3D CAD and EBOM are coming in. In large enterprise like PSA, the need for tools are driven by the processes. When you read it to the end, you will also see the need for a design and a manufacturing view. A topic I will touch in future posts too.
The introduction of 3D CAD in the mid-market
Where large automotive and aerospace companies already invested in (expensive) 3D CAD hard and software, for the majority of the midsize companies, the switch from 2D CAD (AutoCAD mainly) towards 3D CAD (SolidWorks, Solid Edge, Inventor) started at the end of the 20th century.
It was the time that Microsoft NT became a serious platform beside the existing mainframe and mini-computer based CAD-systems. The switch to PCs went so fast that the disruption from DEC (Digital Equipment Company) is one of the cases discussed by Clayton Christensen in his groundbreaking book: The Innovator's dilemma
3D CAD introduced a lot of new capabilities, like DMU (Digital Mock-Up), for clash detection, and above all, a better understanding of a product's behavior. The introduction of 3D CAD introduced a new set of challenges to be resolved.
For example, the concept of reusing 3D CAD parts. Mid-market companies, most of the time, are buying productivity tools. Can I design my product faster and with higher quality in 3D instead of using only the 2D definitions?
Mid-market companies usually do not redesign their business processes – no people available for strategy – the pain of lack of strategy is felt in a different way compared to large enterprises—a crucial differentiator for the future of PLM.
Reuse of (3D) CAD parts / Assemblies
In the 2D CAD world, there was not so much reuse of CAD parts. Standard parts were saved in libraries or generated on demand by parametric libraries. Now with 3D CAD, designers might spend more time to define the part. The benefits come from the reuse of small sub-assemblies (modules) into a larger product assembly. Something not relevant in the 2D CAD world.
As every 3D CAD part had to have a file name, it became difficult to manage the file names without a system. How do you secure that the file with name Part01.xxx is unique? Another designer might also create an assembly, where the 3D CAD tool would suggest Part01.xxx as the name. And what about revisions? Do you store them in the filename, and how do you know you have the correct and latest version of the file?
Companies had already part naming rules for drawings, often related to the part's usage similar to "intelligent" numbers I mentioned in my previous post.
With 3D CAD it became a little more complicated as now in electronic formats, companies wanted to maintain the relation:
Drawing ID = Part ID = File Name
The need for a PDM-system,
If you look to the image on the left, which I found in one of my old SmarTeam files, there is a part number combined with additional flags A-A-C, which also have meaning (I don't know ☹ ) and a description.
The purpose of these meaningful flags was to maintain the current ways of working. Without a PDM-system, parts of the assembly could be shared with an OEM or a supplier. File-based 3D CAD without using a PDM-system was not a problem for small and medium enterprises.
The 3D CAD-system maintained the relations in the assembly files, including relations to the 2D Drawings. Despite the introduction of 3D CAD, the 2D Drawing remained the deliverable the rest of the company or supply chain, was waiting for. Preferably a drawing containing a parts list and balloon numbers, the same as it has been done before. Why would you need a PDM-system?
PDM for traceability and reuse
If you were working in your 3D CAD-system for a single product, or on individual projects for OEMs, there was no significant benefit for a PDM-system. All deliveries needed for the engineering department were in the 3D CAD environment. Assembly files and drawing files are already like small databases, containing references to the source files of the part (image above).
A PDM-system at this stage could help you build traceability and prevent people from overwriting files. The ROI for this part only depends on the cost and risks of making mistakes.
However, when companies started to reuse parts or subassemblies, there was a need for a system that could manage the 3D models separately. This had an impact on the design methodology.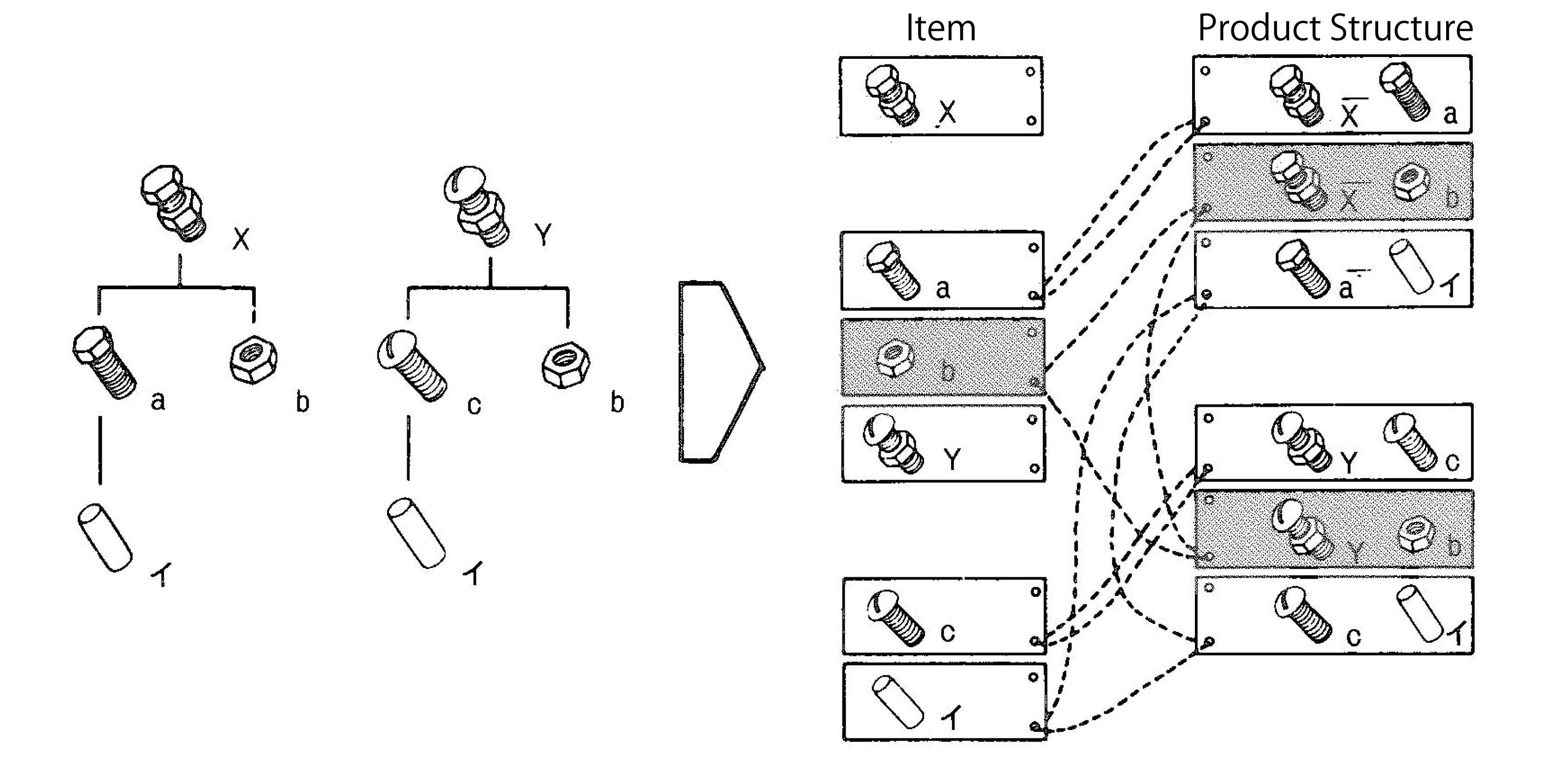 Now parts could be used in various products. How do you discover parts for reuse, and how do you know you have the last released version. For sure their naming cannot be related anymore to a single product or project (a practice still used a lot)
This is where PDM-systems came in. Using additional attributes per file combined with relations between parts, allowing companies to structure and deliver more details related to a part. A detailed description for internal usage, a part type (classification), and the part material were commonly used attributes. And not to forget the status and revision.
For reuse, it was important that the creators of content had a strategy to define a part for future reuse or discovery. Engineerings were not used to provide such services, filling in data in a PDM-system was seen as an overhead – bureaucracy.
As they were measured on the number of drawings they produced, why do extra work with no immediate benefits?
The best compromise was to have the designer fill in properties in the CAD-file when creating a part. Using the CAD-integration with the PDM-system could be used to fill attributes in the PDM-system.
This "beautiful" simple concept lead later to a lot of complexity.
Is the CAD-model the source of data, meaning designers should always start from CAD when designing a product. If someone added or modified data in the PDM-system, should we open the CAD-file to update some properties? Changing a file means it is a new version. What happens if the CAD-file is released, and I update some connected attributes in PDM?
To summarize this topic. Companies have missed the opportunity here to implement data governance. However, none of the silos (manufacturing preparation, service) recognized the need. Implementing new tools (3D CAD and PDM) did not affect the company's way of working.
Instead of people, processes, tools, the only focus was on new tools and satisfying the people withing the same process.
Of course, when introducing PDM, which happened for mid-market companies at the beginning of this century, there was no PLM vision. Talking about lifecycle support was a waste of time for management. As we will discover in the future posts, large enterprises and small and medium enterprises have the same PLM needs. However, there is already a fundamentally different starting point. Where large enterprises are analyzing and designing business processes, the small and medium enterprises are buying tools to improve the current ways of working
The Future?
Although we have many steps to take in the upcoming posts, I want to raise your attention to an initiative from the PLM Interest Group together with Xlifecycle.com. The discussion is about what will be PLM's role in digital transformation.
As you might have noticed, there are people saying the word PLM is no longer covering the right context, and all kinds of alternatives have been suggested. I recommend giving your opinion without my personal guidance. Feel free to answer the questionnaire, and we will be all looking forward to the results.
Find the survey here: Towards a digital future: the evolving role of PLM in the future digital world
Conclusion
We are going slow. Discovering here in this post the split in strategy between large enterprises (process focus) and small and medium enterprises (tool focus) when introducing 3D CAD. This different focus, at this time for PDM, is one of the reasons why vendors are creating functions and features that require methodology solving – however, who will provide the methodology.
Next time more on 3D CAD structures and EBOM
People, wherever you are, we are in a kind of lockdown. Some countries more restricted than others. Still, the challenge will be for most of us how to survive in two perhaps three months of being locked in your home and make the best of it. As I am not a virus expert, I will not give you any recommendations on this topic. As a PLM geek, I want to share with you the opportunities I see for the upcoming months.
A crisis is an opportunity
Most of us should be lucky that we do not live in the same situation as twenty years ago. At that time, internet connectivity was expensive and slow. Meaning working from home would mean isolation from the rest of the world. The positive point now is that we can be connected virtually without travel, without face-to-face meetings, and we are pushed to do so. This external push is an interesting point for me.
The traditional attitude for my PLM engagements was that face-to-face meetings are crucial for creating a human connection and trust. Now I ask myself is this a behavior of the past that should become obsolete in the future. Probably we cannot afford this approach anymore in the future if we take sustainability and the environment into consideration. We live now in a globally connected world, but should we act still in the old way?
Perhaps not. Let's look at some of the examples that it is time to shift behaviors.
We might think in the Western world we know it all due to our dominance in the past hundred years. However, when you study history, you will see civilizations come to power and after hundreds of years, they lose power because they kill themselves internally. Apparently, a typical human property that will not disappear – still interesting to analyze when considering a globally connected world. Where is the point of gravity today?
Interestingly, the ancient Chinese population already knew that a crisis was an opportunity, as I am being told. The Chinese characters for crisis mean danger and opportunity, respectively, according to Wiki – see the image above. Joe Barkai was one of the first in my network that took action to explain that instead of focusing on the loss of what is happening now, we should take the opportunity to be better prepared for the future. You can read his post here: The Corona virus and your company's brand. And these kinds of messages are popping up more frequently now. Let's stay safe while thinking and preparing for the future.
Now a PLM related example.
Remember what the FFF is happening?
Two-three weeks ago, we had a vivid discussion in our PLM and CM community based on the famous FFF mnemonic.  What the FFF is happening was a post sharing my point of view, and there were a lot of reactions from different people.
The purpose of my post was to explain that the whole discussion was based on paradigms that drawings are defining the part. Because of that, we have a methodology to decide if YES or NO we need a new part number or revision. To me, this practice should no longer be a discussion.
A part has a unique identifier, and a document has a unique identifier. In PLM-systems, the information is managed by relations, no longer by identifiers – who knows the exact unique identifier? In a PLM-system information is connected, and the attributes of the part and document will tell you the details of the type of information. "Intelligent or meaningful" identifiers are in such an environment no longer relevant. Think about that…..
In the comments of my post, Jesse Leal was confirming this statement:
This in contrary to Joe Brouwer, who you might have noticed, always is spitting his opinion that the good old days of the draftsman are gone, Boeing made a tremendous mistake and that PLM is fake. This all combined with hyperlinks to his products and opinions. The comment below says it all:
Two points to observe in this response:
"Hey, Bob, send me the new digital identifier".
This statement assumes that if a person needs to retrieve information from someone else, they need to contact this person (Bob).
Bob then needs to drop his current work and answer to the response and send the latest version of a drawing?  This is old school. In a PLM-system,  information should be connected, and if Bob has released his latest drawing (no matter if it is FFF), any user could find the latest approved version, not even having to look at the identifier (which could be meaningless) but by following the relations between products, parts, and documents.
This is PLM!
One of the benefits, Bob does not get disturbed during the day by these kinds of questions and can focus on his critical work as an expert.
Second, if you need to sit with a designer to understand PLM, then you are probably talking with the wrong person. Designers work in the context of PDM. When we speak about PLM, we are talking about a broader scope beyond engineering and design.
This is a common mistake in a lot of marketing stories. Companies that focus on the design space only, some EBOM-integrations with CAD-systems, are most of the time focusing on PDM.  When Agile PLM came out (later Oracle E9) and later Aras without CAD-integrations, these companies were focusing on the flow of information inside the company, not necessarily driven by CAD. Of course, the traditional PLM companies combine CAD integration with other capabilities. Dassault Systèmes, Siemens, and PTC all have a strong relationship with their native CAD-systems. However, their offerings go way beyond CAD-integrations e.g. end-to-end governance, change processes and an item-centric backbone.
The diagram above explains the basics for the future. In a push-mode, the person in the middle has the responsibility to distribute information and ensure it remains accurate for all stakeholders. This makes this person crucial (good job security) but extremely inefficient compared to people working in the pull-mode, being responsible for getting the accurate data themselves. It may be clear the pull-mode is the model of a digital enterprise.
So if you have the time now, take this time to rethink how well your company is ready for a digital future. Companies that currently rely on Bob are in trouble as Bob is currently sitting at home. Companies that have learned to shift from the push-mode to the pull-mode could continue working as planned, as they do not need Bob. And don't worry about your job. If you are in Bob's position you will lose your job over time. However, when you keep on evolving, learning and adding value to your company, you will be always needed – don't lock yourself in.
If you want to be inspired more in this area, read Jan Bosch's post: This is not the end . Here Jan mentions the opportunity to move to digital practices (and more) – get out of our traditional patterns
What can you do?
Even though COVID-19 has, and will have, a dramatic impact on our society, this is also the moment to rewire some of our processes.  Because there was never time to think and act due to the running business. It reminded me of the financial crisis in 2008, when the market for PLM vendors was terrible, no significant sales for them as companies could not invest.
However, for me, 2008 was an extremely busy year,  thanks to all kinds of regulations from governments. There was time and budget to support employees to raise their skills and PLM was one of these domains. That year I conducted many workshops. It was also the year that I started my blog virtualdutchman.com.
Now we are in a similar situation and probably worse as now we are locked to our homes. However, we are also better connected. Imagine this situation without the internet. Now we can learn even better.
So let's benefit from this connectivity and use the lockdown time to learn, think, and discuss with peers. Challenge and involve the management of your company how they see and lead to the future.

In that context, I am happy to spend on average one day per week on free conference calls if you need clarification or support for your PLM-related ideas.
Contact me through a personal message on LinkedIn, and we will find a way to connect.
Conclusion
This decade will be decisive for many of us. At the beginning of this year, I wrote PLM 2020- The next decade (4 challenges). With my narrow PLM-mind, I overlooked viruses. Bill Gates did not do that, as you can see from his 2015 TED talk: The next outbreak? We're not ready.  Bill also explains that our traditional thinking patterns should change in a globally connected world.
I wish you all the time to think and educate yourself and prepare for a changed future. Stay safe inside, stay healthy, knowing for some of you it will be a big challenge.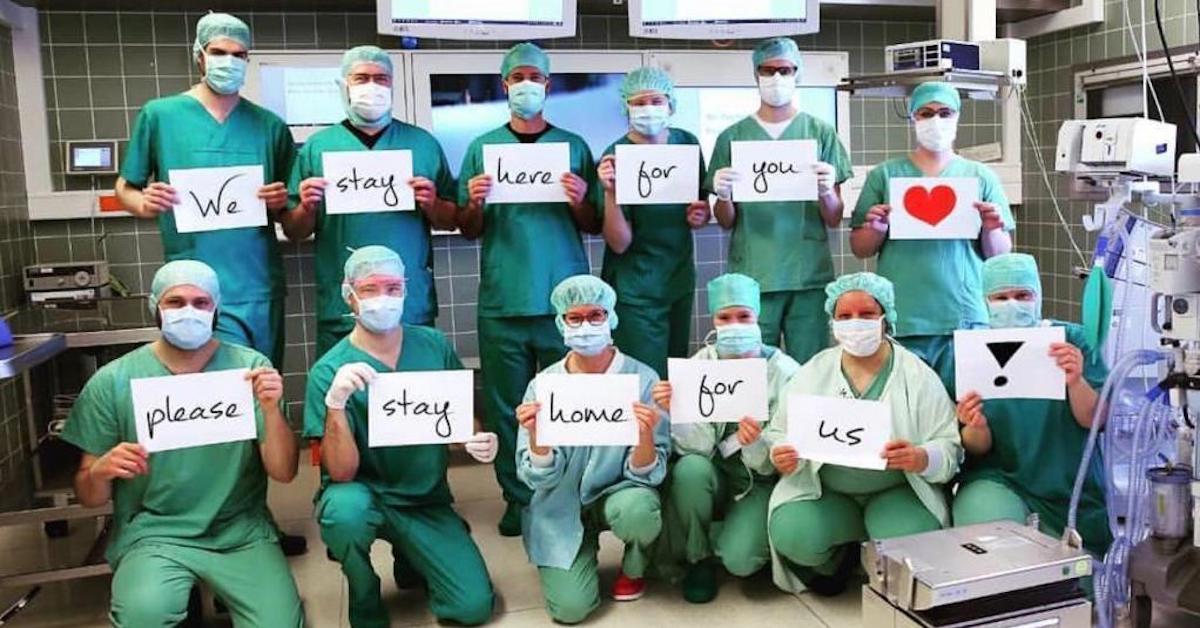 At the beginning of this week, I was attending the 9th edition of the PI conference in London. Where it started as a popular conference with 300 – 400 attendees at its best, we were now back to a smaller number of approximately 100 attendees.
It illustrates that PLM as a standalone topic is no longer attracts a broad audience as Marketkey (the organization of the conference) confirms. The intention is that future conferences will be focusing on the broader scope of PLM, where business transformation will be one of the main streams.
In this post, I will share my highlights of the conference, knowing that other sessions might have been valuable too, but I had to make a choice.
It is about people
Armin Prommersberger, CTO from DIRAC and the chairman of the conference, made a great point: "What we will discuss in the upcoming two days, it is all about people not about technology."
I am not sure if this opening has influenced the mood of the conference, as when I look back to what was the central theme: It is all about how we deal with people when explaining, implementing and justifying PLM.
AI at the Forefront of a Digital Transformation
Muhannad Alomari from R2 Data Labs as a separate unit within Rolls Royce to explore and provide data innovation started with his keynote speech sharing the AI initiatives within his team.
He talked about several projects where AI will become crucial.
For example, the EHM program related to engine behavior. How to detect anomalies, how to establish predictive maintenance and maximize the time an airplane engine is in operation. Interesting to mention is that Muhannad explained that most simulation models are based on simplified simulation models, not accurate enough to discover anomalies.
Machine learning and feedback loops are crucial to optimize the models both for the discovery of irregularities and, of course, to improve understanding of the engine behavior and predict maintenance. Currently, maintenance is defined based on the worst-case scenario for the engine, which in reality, of course, will not be the case for most engines. There is a lot (millions) to gain here for a company.
Interesting to mention is that Muhannad gave a realistic view of the current status of Artificial Intelligence (AI). AI is currently still dumb – it is a set of algorithms that need to be adapted whenever new patterns are discovered. Deep learning is still not there – currently, we still need human beings for that.
This was in contrast with the session from Kalypso later with the title: Supercharge your PLM with advanced analytics. It was a typical example of where a realistic story (R2 Data Labs) shows such a big difference with what is sold by PLM vendors or implementers. Kalypso introduced Product Lifecycle Intelligence (PLI) – you can see the dream on the left (click on the image to enlarge).
Combine PLM with Analytics, and you have Intelligence.  My main comment is, knowing from the field the first three phases in most companies have a lack of data quality and consistency. Therefore any "Intelligence" probably will be based on unreliable sources. Not an issue if you are working in the domain of politics, however when it comes to direct cost and quality implications, it can be a significant risk. We still have a way to go before we have a reliable PLM data backbone for analytics.
Keeping PLM Momentum after a Successful Campaign
Susanna Mäentausta from Kemira in Finland gave an exciting update of their PLM project. Where in 2019, she shared with us their PLM roadmap (see my 2019 post: The weekend after PI PLMx London 2019); this time, Susanna shared with us how they are keeping the PLM momentum.
Often PLM implementations are started based on a hypothetical business case (I talked about this in my post The PLM ROI Myth). But then, when you implement PLM, you need to take care you provide proof points to motivate the management. And this is exactly what the PLM team in Kemira has been doing. Often management believes that after the first investment, the project is done ("We bought the software – so we are done") however the business and process change that will deliver the value is not reported.
Susanna shared with us how they defined measurable KPIs for two reasons.  First, to motivate the management that there are business progress and benefits, however, it is a journey. And secondary the facts are used to kill the legends that "Before PLM we were much faster or efficient." These types of legends are often expressed loudly by persons who consider PLM as an overhead (killing their freedom) instead of a way to be more efficient in business. In the end, for a company, the business is more important than the person's belief.
On the question for Susanna, what she would have done better with hindsight, she answered: "Communicate, communicate, communicate." A response I fully support as often PLM teams are too busy completing their day-to-day work, that there is no spare time for communication. Crucial to achieving a business change.
My agreement: PLM needs facts based during implementation and support combined with the understanding we are dealing with people and their emotions too. Both need full attention.
Acceleration Digitalization at Stora Enso
Samuli Savo, Chief Digital Officer at Stora Enso, explained the principles of innovation, related to digitalization at his company. Stora Enso, a Swedish/Finish company, historically one of the largest forestry companies in the world as well as one of the most significant paper and packaging producers, is working on a transformation to become the renewable materials company. For me, he made two vital points on how Stora Enso's digitalization's journey is organized.
He pleads for experimentation funded by corporate as in the experimental stage, as it does not make sense to have a business case. First DO and then ANALYZE, where many companies have to policy first to ANALYZE and then DO, killing innovative thinking.
The second point was the active process to challenge startups to solve business challenges they foresee and, combined with a governance process for startups, allow these companies to be supported and become embedded within member companies of the Combient Foundry, like Stora Enso. By doing such in a structured way, the outcome must lead to innovation.
I was thinking about the hybrid enterprise model that I have been explaining in the past. Great story.
Cyber-security and Future Mobility
Out of interest, I followed the session from Madeline Cheah, Cybersecurity Innovation Lead at HORIBA MIRA. She gave an excellent and well-structured overview. Madeline leads the cybersecurity research program. Part of this job is investigating ways to prevent vehicles from being attacked.  In particular, when it comes to connected and autonomous vehicles. How to keep them secure.
She discussed the known gaps are and the cybersecurity implications of future mobility so extensive that I even doubted will there ever be an autonomous vehicle on the road. So much to define and explore. She looked at it from the perspective of the Internet of Everything, where Everything is divided into Things, Data, Processes, and People. Still, a lot of work to do, see image below
Good Times Ahead: Delay Mitigation Through a Plan for Every Part
Ian Quest, director at Quick Release, gave an overview of what their company aims to be. You could translate it as the plumbers of the automotive industry Where in the ideal world information should be flowing from design to release, there are many bottlenecks, leakages, hiccups that need to be resolved as the image shows.
Where their customers often do not have the time and expertise to fix these issues, Quick Release brings in various skillsets and common sense. For example, how to deal with the Bill of Materials, Configuration Management, and many other areas that you need to address with methodology first instead of (vendor-based) technology. I believe there is a significant need for this type of company in the PLM-domain.
The second part, presented by Nick Solly, with a focus on their QRonos tool, was perhaps a little too much a focus on the capabilities of the tool. Ian Quest, in his introduction,  already made the correct statement:
The QRonos tool, which is more or less a reporting tool, illustrates again that when people care about reliable data (planning, tasks, parts, deliverables, …..), you can improve your business significantly by creating visibility to delays or bottlenecks. The value lies in measurable activities and from there, learn to predict or enhance – see R2 Labs, Kemira and the PLI dream.
Conclusion
It is clear that a typical PLM conference is no longer a technology festival – it is about people. People are trying to change or improve their business. Trying to learn from each other, knowing that the technical concepts and technology are there.
I am looking forward to the upcoming PI events where this change will become more apparent.
It's the beginning of the year. Companies are starting new initiatives, and one of them is potentially the next PLM-project. There is a common understanding that implementing PLM requires a business case with ROI and measurable results. Let me explain why this understanding is a myth and requires a myth.
I was triggered by a re-post from Lionel Grealou, titled: Defining the PLM Business Case. Knowing Lionel is quite active in PLM and digital transformation, I was a little surprised by the content of the post. Then I noticed the post was from January 2015, already 5 years old. Clearly, the world has changed (perhaps the leadership has not changed).
So I took this post as a starting point to make my case.
In 2015, we were in the early days of digital transformation. Many PLM-projects were considered as traditional linear projects. There is the AS-IS situation, there is the TO-BE situation. Next, we know the (linear) path to the solution and we can describe the project and its expected benefits.
It works if you understand and measure exactly the AS-IS situation and know almost entirely the TO-BE situation (misperception #1).
However, implementing PLM is not about installing a new transactional system. PLM implementations deal with changing ways-of-working and therefore implementing PLM takes time as it is not just a switch of systems. Lionel was addressing this point:
"The inherent risks associated with any long term business benefit driven projects include the capability of the organization to maintain a valid business case with a benefit realization forecast that remains above the initial baseline. The more rework is required or if the program delivery slips, the more the business case gets eroded and the longer the payback period."
Interestingly here is the mentioning "..the business case gets eroded" – this is most of the time the case. Lionel proposes to track business benefits. Also, he mentions the justification of the PLM-project could be done by considering PLM as a business transformation tool (misperception #2) or a way to mitigate risk,s due to unsupported IT-solutions (misperception #3).
Let's dive into these misperceptions
#1 Compare the TO-BE and the AS-IS situation
Two points here.
Does your company measure the AS-IS situation? Do you know how your company performs when it comes to PLM related processes? The percentage of time spent by engineers for searching for data has been investigated – however, PLM goes beyond engineering. What about product management, marketing, manufacturing, and service? Typical performance indicators mentioned are:
Do you know the exact TO-BE situation? In particular, when you implement PLM, it is likely to be in the scope of a digital transformation. If you implement to automate and consolidate existing processes, you might be able to calculate the expected benefits. However, you do not want to freeze your organization's processes. You need to implement a reliable product data infrastructure that allows you to enhance, change, or add new processes when required. In particular, for PLM, digital transformation does not have a clear target picture and scope yet. We are all learning.
#2 PLM is a business transformation tool
Imagine you install the best product innovation platform relevant for your business and selected by your favorite consultancy firm. It might be a serious investment; however, we are talking about the future of the company, and the future is in digital platforms. So nothing can go wrong now.
Does this read like a joke? Yes, it is, however, this is how many companies have justified their PLM investment. First, they select the best tool (according to their criteria, according to their perception), and then business transformation can start. Later in time, the implementation might not be so successful; the vendor and/or implementer will be blamed. Read: The PLM blame game
When you go to PLM conferences, you will often hear the same mantras: Have a vision, Have C-level sponsoring/involved, No Big Bang, it is a business project, not an IT-project, and more. And vendor-sponsored sessions always talk about amazing fast implementations (or did they mean installing the POC ?)
However, most of the time, C-level approves the budget without understanding the full implications (expecting the tool will do the work); business is too busy or does not get enough allocated time to supporting implementation (expecting the tool will do the work). So often the PLM-project becomes an IT-project executed mainly by the cheapest implementation partner (expecting the tool will do the work). Again this is not a joke!
A business transformation can only be successful if you agree on a vision and a learning path. The learning path will expose the fact that future value streams require horizontal thinking and reallocation of responsibilities – breaking the silos, creating streams.
Small teams can demonstrate these benefits without disrupting the current organization. However, over time the new ways of working should become the standard, therefore requiring different types of skills (people), different ways of working (different KPIs and P&L for departments), and ultimate different tools.
As mentioned before, many PLM-projects start from the tools – a guarantee for discomfort and/or failure.
#3 – mitigate risks due to unsupported IT-solutions
Often PLM-projects are started because the legacy environment becomes outdated. Either because the hardware infrastructure is no longer supported/affordable or the software code dependencies on the latest operating systems are no longer guaranteed.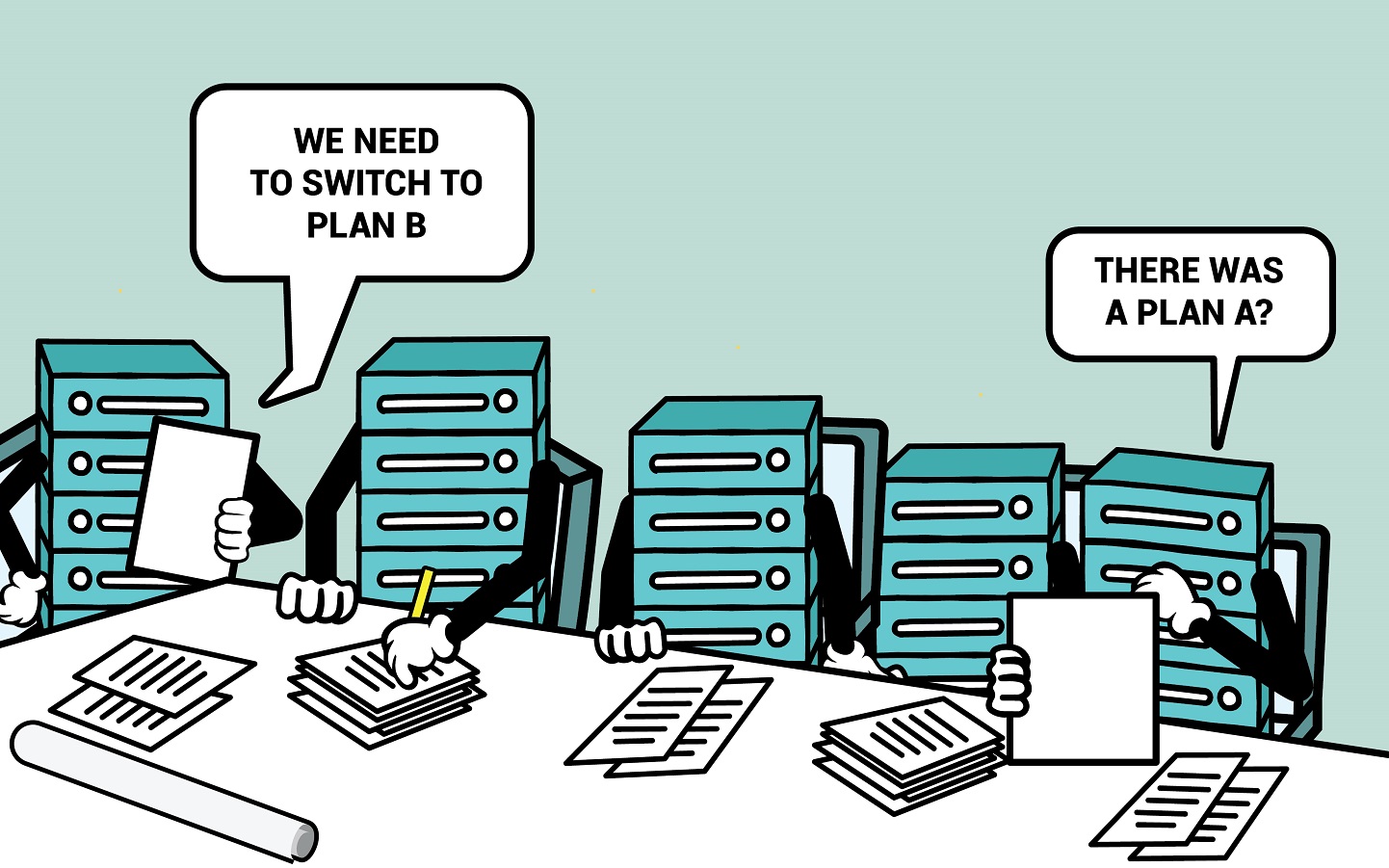 A typical approach to solve this is a big-bang project – the new PLM system needs to contain all the old data and meanwhile, to justify the project, the new PLM system needs to bring additional business value. The latter part is most of the time not difficult to identify as traditional PLM implementations most of the time were in reality cPDM environments with a focus on engineering only.
However, the legacy migration can have such a significant impact on the new PLM-system that it destroys the potential for the future. I wrote about this issue in The PLM Migration Dilemma
How to approach PLM ROI?
A PLM-project never will get a budget or approval from the board when there is no financial business case. Building the right financial business case for PLM is a skill that is often overlooked. During the upcoming PI PLMx London conference (3 – 4 February), I will moderate a Focus Group where we will discuss how to get PLM on the Exec's agenda.
Two of my main experiences:
Connect your PLM-project to the business strategy. As mentioned before, isolated PLM fails most of the time because business transformation, organizational change and the targeted outcome are not included. If PLM is not linked to an actual business strategy, it will be considered as a costly IT-project with all its bad connotations. Have a look at my older post: PLM, ROI and disappearing jobs
Create a Myth. Perhaps the word Myth is exaggerated – it is about an understandable vision. Myth connects nicely to the observations from behavioral experts that our brain does not decide on numbers but by emotion. Big decisions and big themes in the world or in a company need a myth: "Make our company great again" could be the tagline. In such a case people get aligned without a deep understanding of what is the impact or business case; the myth will do the work – no need for a detailed business case. A typical human behavior, see also my post: PLM as a myth.
Conclusion
There should never be a business case uniquely for PLM – it should always be in the context of a business strategy requiring new ways of working and new tools. In business, we believe that having a solid business case is the foundation for success. Sometimes an overwhelming set of details and numbers can give the impression that the business case is solid. Consultancy firms are experts in this area to build a business case based on emotion. They know how to combine numbers with a myth. Therefore look at their approach – don't be too technical / too financial. If the myth will hold, at the end depends on the people and organization, not on the investments in tools and services.
For me, the joint conference from CIMdata and Eurostep is always a conference to look forward too. The conference is not as massive as PLM-Vendor conferences (slick presentations and happy faces); it is more a collection of PLM-practitioners (this time a 100+) with the intent to discuss and share their understanding and challenges, independent from specific vendor capabilities or features.  And because of its size a great place to network with everyone.
Day 1 was more a business/methodology view on PLM and Day 2 more in-depth focusing on standards and BIM. In this post, the highlights from the first day.
The State of PLM
Peter Bilello, CIMdata's president, kicked of with a review of the current state of the PLM industry. Peter mentioned the PLM-market grew by 9.4 % to $47.8 billion (more than the expected 7 %). Good for the PLM Vendors and implementers.
However, Peter also mentioned that despite higher spending, PLM is still considered as a solution for engineering, often implemented as PDM/CAD data management. Traditional organizational structures, marketing, engineering, manufacturing, quality were defined in the previous century and are measured as such.
This traditional approach blocks the roll-out of PLM across these disciplines. Who is the owner of PLM or where is the responsibility for a certain dataset are questions to solve. PLM needs to transform to deliver end-to-end support instead of remaining the engineering silo. Are we still talking about PLM in the future? See Peter's takeaways below:
We do not want to open the discussion if the the name PLM should change – too many debates – however unfortunate too much framing in the past too.
The Multi View BOM
Fred Feru from Airbus presented a status the Aerospace & Defense PLM action group are working on: How to improve and standardize on a PLM solution for multi-view BOM management, in particular, the interaction between the EBOM and MBOM. See below:
You might think this is a topic already solved when you speak with your PLM-vendor. However, all existing solutions at the participant implementations rely on customizations and vary per company. The target is to come up with common requirements that need to be addressed in the standard methodology. Initial alignment on terminology was already a first required step as before you standardize, you need to have a common dictionary. Moreover, a typical situation in EVERY PLM implementation.
An initial version was shared with the PLM Editors for feedback and after iterations and agreement to come with a solution that can be implemented without customization. If you are interested in the details, you can read the current status here with Appendix A en Appendix B.
Enabling the Circular Economy for Long Term Prosperity
Graham Aid gave a fascinating presentation related to the potentials and flaws of creating a circular economy. Although Graham was not a PLM-expert (till he left this conference), as he is the Strategy and Innovation Coordinator for the Ragn-Sells Group, which performs environmental services and recycling across Sweden, Norway, Denmark, and Estonia. Have a look at their website here.
Graham shared with us the fact that despite logical arguments for a circular economy – it is more profitable at the end – however, our short term thinking and bias block us from doing the right things for future generations.
Look at the missing link for a closed resource-lifecycle view below.
Graham shared weird examples where scarce materials for the future currently were getting cheaper, and therefore there is no desire for recycling them. A sound barrier with rubble could contain more copper than copper ore in a mine.
In the PLM-domain, there is also an opportunity for supporting and working on more sustainable products and services. It is a mindset and can be a profitable business model. In the PDT 2014 conference, there was a session on circular product development with Xerox as the best example. Circular product development but also Product As A Service can be activities that contribute to a more sustainable world. Graham's presentation was inspiring for our PLM community and hopefully planted a few seeds for the future. As it is all about thinking long-term.
With the PLM Green Alliance, I hope we will be able to create a larger audience and participation for a sustainable future. More about the PLM Green Alliance next week.
The Fundamental Role of PLM in Data-driven Product Portfolio Management
Hannu Hannila (Polar) presented his study related to data-driven product portfolio management and why it should be connected to PLM.  For many companies, it is a challenge to understand which products are performing well and where to invest. These choices are often supported by Data Damagement as Hannu called it.
An example below:
The result of this fragmented approach is that organizations make their decisions on subjective data and emotions. Where the assumption is that 20 % of the products a company is selling is related to 80 % of the revenue, Hannu found in his research companies where only 10 % of the products were contributing to the revenue. As PPM (Product Portfolio Management)  often is based on big emotions – who shouts the loudest mentality, influenced by the company's pet products and influence by the HIPPO (HIghest Paid Person in the Office).  So how to get a better rationale?
Hannu explained a data-driven framework that would provide the right analytics on management level, depending on overall data governance from all disciplines and systems.  See below:
I liked Hannu's conclusions as it aligns with my findings:
To be data-driven, you need Master Data Management and Data Governance
Product Portfolio Management is the driving discipline for PLM, and in a modern digital enterprise, it should be connected.
Sponsor sessions
Sponsors are always needed to keep a conference affordable for the attendees.  The sponsor sessions on day 1 were of good quality.  Here a quick overview and a link if you want to invest further
Configit – explaining the value of a configurator that connects marketing, technical and sales, introducing CLM (Configuration Lifecycle Management) – a new TLA
Aras – explaining their view on what we consider the digital thread
Variantum – explaining their CPQ solution as part of a larger suite of cloud offerings
Quick Release – bringing common sense to PLM implementations, similar to what I am doing as PLM coach – focusing on the flow of information
SAP – explaining the change in focus when a company moves toward a product as a service model
SharePLM – A unique company addressing the importance of PLM training delivered through eLearning
Conclusion
The first day was an easy to digest conference with a good quality of presentations. I only shared 50 % of the session as we already reached 1000+ words.  The evening I enjoyed the joint dinner, being able to network and discuss in depth with participants and finished with a social network event organized by SharePLM. Next week part 2.