You are currently browsing the category archive for the 'Competitiveness' category.
This time in the series of complementary practices to PLM, I am happy to discuss product modularity. In my previous post related to Virtual Events, I mentioned I had finished reading the book "The Modular Way", written by Björn Eriksson & Daniel Strandhammar, founders of the consulting company Brick Strategy.
The first time I got aware of Brick Strategy was precisely a year ago during the Technia Innovation Forum, the first virtual event I attended since COVID-19. Daniel's presentation at that event was one of the four highlights that I shared about the conference. See My four picks from PLMIF.
As I wrote in my last post:
Modularity is a popular topic in many board meetings. How often have you heard: "We want to move from Engineering To Order (ETO) to more Configure To Order (CTO)"? Or another related incentive: "We need to be cleverer with our product offering and reduced the number of different parts".

Next, the company buys a product that supports modularity, and management believes the work has been done. Of course, not. Modularity requires a thoughtful strategy.
I am now happy to have a dialogue with Daniel to learn and understand Brick Strategy's view on PLM and Modularization. Are these topics connected? Can one live without the other? Stay tuned till the end if you still have questions for a pleasant surprise.
The Modular Way

Daniel, first of all, can you give us some background and intentions of the book "The Modular Way"?
Let me start by putting the book in perspective. In today's globalized business, competition among industrial companies has become increasingly challenging with rapidly evolving technology, quickly changing customer behavior, and accelerated product lifecycles. Many companies struggle with low profitability.
To survive, companies need to master product customizations, launch great products quickly, and be cost-efficient – all at the same time. Modularization is a good solution for industrial companies with ambitions to improve their competitiveness significantly.
The aim of modularization is to create a module system. It is a collection of pre-defined modules with standardized interfaces. From this, you can build products to cater to individual customer needs while keeping costs low. The main difference from traditional product development is that you develop a set of building blocks or modules rather than specific products.
The Modular Way explains the concept of modularization and the "how-to." It is a comprehensive and practical guidebook, providing you with inspiration, a framework, and essential details to succeed with your journey. The book is based on our experience and insights from some of the world's leading companies.
Björn and I have long thought about writing a book to share our combined modularization experience and learnings. Until recently, we have been fully busy supporting our client companies, but the halted activities during the peak of the COVID-19 pandemic gave us the perfect opportunity.
PLM and Modularity

Did you have PLM in mind when writing the book?
Yes, definitely. We believe that modularization and a modular way of working make product lifecycle management more efficient. Then we talk foremost about the processes, roles, product structure, decision making etc. Companies often need minor adjustments to their IT systems to support and sustain the new way of working.
Companies benefit the most from modularization when the contents, or foremost the products, are well structured for configuration in streamlined processes.
Many times, this means "thinking ahead" and preparing your products for more configuration and less engineering in the sales process, i.e., go from ETO to CTO.
Modularity for Everybody?
It seems like the modularity concept is prevalent in the Scandinavian countries, with famous examples of Scania, LEGO, IKEA, and Electrolux mentioned in your book. These examples come from different industries. Does it mean that all companies could pursue modularity, or are there some constraints?
We believe that companies designing and manufacturing products fulfilling different customer needs within a defined scope could benefit from modularization. Off-the-shelf content, commonality and reuse increase efficiency. However, the focus, approach and benefits are different among different types of companies.
We have, for example, seen low-volume companies expecting the same benefits as high-volume consumer companies. This is unfortunately not the case.
Companies can improve their ability and reduce the efforts to configure products to individual needs, i.e., customization. And when it comes to cost and efficiency improvements, high-volume companies can reduce product and operational costs.
Image:
Low-volume companies can shorten lead time and increase efficiency in R&D and product maintenance. Project solution companies can shorten the delivery time through reduced engineering efforts.
As an example, Electrolux managed to reduce part costs by 20 percent. Half of the reduction came from volume effects and the rest from design for manufacturing and assembly.
All in all, Electrolux has estimated its operating cost savings at approximately SEK 4bn per year with full effect, or around 3.5 percentage points of total costs, compared to doing nothing from 2010–2017. Note: SEK 4 bn is approximate Euro 400 Mio
Where to start?
Thanks to your answer, I understand my company will benefit from modularity. To whom should I talk in my company to get started? And if you would recommend an executive sponsor in my company, who would recommend leading this initiative.
Defining a modular system, and implementing a modular way of working, is a business-strategic undertaking. It is complex and has enterprise-wide implications that will affect most parts of the organization. Therefore, your management team needs to be aligned, engaged, and prioritize the initiative.
The implementation requires a cross-functional team to ensure that you do it from a market and value chain perspective. Modularization is not something that your engineering or IT organization can solve on its own.
We recommend that the CTO or CEO owns the initiative as it requires horizontal coordination and agreement.
Modularity and Digital Transformation
 The experiences you are sharing started before digital transformation became a buzzword and practice in many companies. In particular, in the PLM domain, companies are still implementing past practices. Is modularization applicable for the current (coordinated) and for the (connected) future? And if yes, is there a difference?
Modularization means that your products have a uniform design based on common concepts and standardized interfaces. To the market, the end products are unique, and your processes are consistent. Thus, modularization plays a role independently of where you are on the digital transformation journey.
Digital transformation will continue for quite some time. Costs can be driven down even further through digitalization, enabling companies to address the connection of all value chain elements to streamline processes and accelerate speed to market. Digitalization will enhance the customer experience by connecting all relevant parts of the value chain and provide seamless interactions.
Industry 4.0 is an essential part of digitalization, and many companies are planning further investments. However, before considering investing in robotics and digital equipment for the production system, your products need to be well prepared.
image
The more complex products you have, the less efficient and costlier the production is, even with advanced production lines. Applying modularization means that your products have a uniform design based on common concepts and standardized interfaces. To the market, the end products are unique, and your production process is consistent. Thus, modularization increases the value of Industry 4.0. 
Want to learn more?
First of all, I recommend people who are new to modularity to read the book as a starting point as it is written for a broad audience. Now I want to learn more. What can you recommend?
As you say,  we also encourage you to read the book, reflect on it, and adapt the knowledge to your unique situation. We know that it could be challenging to take the next steps, so you are welcome to contact us for advice.
Please visit our website www.brickstrategy.com for more.
For readers of the book, we plan to organize a virtual meeting in May 2021 -the date and time to be confirmed with the audience. Duration approx. 1 hour.
Björn Eriksson and Daniel Strandhammar will answer questions from participants in the meeting. Also, we are curious about your comments/feedback.
To allow time for a proper discussion, we will invite a maximum of 4 guests. Therefore be fast to apply for this virtual meeting by sending an email to tacit@planet.nl or info@brickstrategy.com with your contact details
before May 7th.
I will moderate and record the meeting. We will publish the recording in a short post, allowing everyone to benefit from the discussion. Stay tuned if you are interested, and be fast to apply if you have a question to ask.
What I learned
Modularization is a strategy that applies to almost every business and increases the competitiveness of a company.
Modularization is not a technical decision to be executed by R&D and Engineering. It requires an effort from all stakeholders in the company. Therefore, it should be led by a CEO or CTO.
For future products, modularization is even more important to fulfill one of the promises of Industry 4.0: batch-size 1 (manufacturing a unique product for a single customer with the cost and effort as if it were done in a serial production mode)
Although we talk a lot about modularization in PLM implementations, it is a people and processes first activity. Then the PLM infrastructure has to support modularization. Do not buy a PLM system to start modularization. Think first!
Conclusion
Modularization is a popular topic at board meetings as it is easy to explain the business benefits. People in engineering and marketing often miss the time and skills to translate modularization into a framework that aligns all stakeholders. After reading the book "The Modular Way," you will not have solved this issue. There are many, more academic books related to modularization. With this book, you will be better aware of where to start and how to focus.
There is another interesting virtual event in May: the CIMdata PLM Road Map & PDT Spring 2021conference. The theme:
DISRUPTION—the PLM Professionals' Exploration of Emerging Technologies that Will Reshape the PLM Value Equation.
I look forward to seeing you at this conference and discuss and learn together the changes we have to make – DISRUPTION or EXTINCTION or EVOLUTION. More on this topic soon.

Life goes on, and I hope you are all staying safe while thinking about the future. Interesting in the context of the future, there was a recent post from Lionel Grealou with the title: Towards PLM 4.0: Hyperconnected Asset Performance Management Framework.
Lionel gave a kind of evolutionary path for PLM. The path from PLM 1.0 (PDM) ending in a PLM 4.0 definition.  Read the article or click on the image to see an enlarged version to understand the logical order. Interesting to mention that PLM 4.0 is the end target, for sure there is a wishful mind-mapping with Industry 4.0.
When seeing this diagram, it reminded me of Marc Halpern's diagram that he presented during the PDT 2015 conference. Without much fantasy, you can map your company to one of the given stages and understand what the logical next step would be. To map Lionel's model with Marc's model, I would state PLM 4.0 aligns with Marc's column Collaborating.
In the discussion related to Lionel's post, I stated two points. First, an observation that most of the companies that I know remain in PLM 1.0 or 2.0, or in Marc's diagram, they are still trying to reach the level of Integrating.
Why is it so difficult to move to the next stage?
Oleg Shilovitsky, in a reaction to Lionel's post, confirmed this. In Why did manufacturing stuck in PLM 1.0 and PLM 2.0? Oleg points to several integration challenges, functional and technical. His take is that new technologies might be the answer to move to PLM 3.0, as you can read from his conclusion.
What is my conclusion?

There are many promising technologies, but integration is remaining the biggest problem for manufacturing companies in adopting PLM 3.0. The companies are struggling to expand upstream and downstream. Existing vendors are careful about the changes. At the same time, very few alternatives can be seen around. Cloud structure, new data management, and cloud infrastructure can simplify many integration challenges and unlock PLM 3.0 for future business upstream and especially downstream. Just my thoughts…
Completely disconnected from Lionel's post,  Angad Sorte from Plural Nordic AS wrote a LinkedIn post: Why PLM does not get attention from your CEO. Click on the image to see an enlarged version, that also neatly aligns with Industry 4.0. Coincidence, or do great minds think alike? Phil Collins would sing: It is in the air tonight
Angad's post is about the historical framing of PLM as a system, an engineering tool versus a business strategy. Angrad believes once you have a clear definition, it will be easier to explain the next steps for the business. The challenge here is: Do we need, or do we have a clear definition of PLM? It is a topic that I do not want to discuss anymore due to a variety of opinions and interpretations.  An exact definition will never lead to a CEO stating, "Now I know why we need PLM."
I believe there are enough business proof points WHY companies require a PLM-infrastructure as part of a profitable business. Depending on the organization, it might be just a collection of tools, and people do the work. Perhaps this is the practice in small enterprises?
In larger enterprises, the go-to-market strategy, the information needs, and related processes will drive the justification for PLM. But always in the context of a business transformation. Strategic consultancy firms are excellent in providing strategic roadmaps for their customers, indicating the need for a PLM-infrastructure as part of that.
Most of the time, they do not dive more in-depth as when it comes to implementation, other resources are needed.
What needs to be done in PLM 1.0 to 4.0 per level/stage is well described in all the diagrams on a high-level. The WHAT-domain is the domain of the PLM-vendors and implementers. They know what their tools and skillsets can do, and they will help the customer to implement such an environment.
The big illusion of all the evolutionary diagrams is that it gives a false impression of evolution.  Moving to the next level is not just switching on new or more technology and involve more people.
So the big question is HOW and WHEN to make progress.
HOW to make progress
In the past four years, I have learned that digital transformation in the domain of PLM is NOT an evolution. It is disruptive as the whole foundation for PLM changes. If you zoom in on the picture on the left, you will see the data model on the left, and the data model on the right is entirely different.
On the left side of the chasm, we have a coordinated environment based on data-structures (items, folders, tasks) to link documents.
On the right side of the chasm, we have a connected environment based on federated data elements and models (3D, Logical, and Simulation models).
I have been discussing this topic in the past two years at various PLM conferences and a year ago in my blog: The Challenges of a connected ecosystem for PLM
If you are interested in learning more about this topic, register for the upcoming virtual PLM Innovation Forum organized by TECHNIA. Registration is for free, and you will be able to watch the presentation, either live or recorded for 30 days.
At this moment, the detailed agenda has not been published, and I will update the link once the session is visible.  My presentation will not only focus on the HOW to execute a digital transformation, including PLM can be done, but also explain why NOW is the moment.
NOW to make progress
When the COVID19-related lockdown started, must of us thought that after the lockdown, we will be back in business as soon as possible. Now understanding the impact of the virus on our society, it is clear that we need to re-invent ourselves for a sustainable future, be more resilient.
It is now time to act and think differently as due to the lockdown, most of us have time to think.  Are you and your company looking forward to creating a better future? Or will you and your company try to do the same non-sustainable rat race of the past and being caught by the next crises.
McKinsey has been publishing several articles related to the impact of COVID19 and the article: Beyond coronavirus: The path to the next normal very insightful
As McKinsey never talks about PLM, therefore I want to guide you to think about more sustainable business.
Use a modern PLM-infrastructure, practices, and tools to remain competitive, meanwhile creating new or additional business models. Realizing concepts as digital twins, AR/VR-based business models require an internal transition in your company, the jump from coordinated to connected. Therefore, start investigating, experimenting in these new ways of working, and learn fast. This is why we created the PLM Green Alliance as a platform to share and discuss.
If you believe there is no need to be fast, I recommend you watch Rebecka Carlsson's presentation at the PLMIF event. The title of her presentation: Exponential Tech in Sustainability. Rebecca will share insights for business development about how companies can upgrade to new business models based on the new opportunities that come with sustainability and exponential tech.
The reason I recommend her presentation because she addresses the aspect of exponential thinking nicely. Rebecka states we are "programmed" to think local-linear as mankind. Exponential thinking goes beyond our experience. Something we are not used doing until with the COVID19-virus we discovered exponential growth of the number of infections.
Finally, and this I read this morning, Jan Bosch wrote an interesting post: Why Agile Matters, talking about the fact that during the design and delivery of the product to the market, the environment and therefore the requirements might change. Read his post, unless as Jan states:
Concluding, if you're able to perfectly predict the optimal set of requirements for a system or product years ahead of the start of production or deployment and if you're able to accurately predict the effect of each requirement on the user, the customer and the quality attributes of the system, then you don't need Agile.
What I like about Jan's post is the fact that we should anticipate changing requirements. This statement combined with Rebecka's call for being ready for exponential change, with an emerging need for sustainability, might help you discuss in your company how a modern New Product Introduction process might look like, including requirements for a sustainable future that might come in later (per current situation) or can become a practice for the future
Conclusion
Now is the disruptive moment to break with the old ways of working.  Develop plans for the new Beyond-COVID19-society.  Force yourselves to work in more sustainable modes (digital/virtual), develop sustainable products or services (a circular economy), and keep on learning. Perhaps we will meet virtually during the upcoming PLM Innovation Forum?
Note: You have reached the end of this post, which means you took the time to read it all. Now if you LIKE or DISLIKE the content, share it in a comment. Digital communication is the future. Just chasing for Likes is a skin-deep society. We need arguments.
Looking forward to your feedback.
In recent years, more and more PLM customers approached me with questions related to the usage of product information for downstream publishing. To be fair, this is not my area of expertise for the moment. However, with the mindset of a connected enterprise, this topic will come up.
For that reason, I have a strategic partnership with Squadra, a Dutch-based company, providing the same coaching model as TacIT; however, they have their roots in PIM and MDM.
Together we believe we can deliver a meaningful answer on the question: What are the complementary roles of PLM and PIM? In this post, our first joint introduction.
Note: The topic is not new. Already in 2005, Jim Brown from Tech-Clarity published a white-paper: The Complementary Roles of PIM and PLM. This all before digitization and connectivity became massive.
Let's start with the abbreviations, the TLAs (Three-Letter-Acronyms) and their related domains
PLM – level 1
(Product Lifecycle Management – push)
For PLM, I want to stay close to the current definitions. It is the strategic approach to provide a governance infrastructure to deliver a product to the market. Starting from an early concept phase till manufacturing and in its extended definition also during its operational phase.

The focus with PLM is to reduce time to market by ensuring quality, cost, and delivery through more and more a virtual product definition, therefore being able to decide upfront for the best design choices, manufacturing options with the lowest cost. In the retail world, own-brand products are creating a need for PLM.
The above image is nicely summarizing the expected benefits of a traditional PLM implementation.
MDM (Master Data Management)
When product data is shared in an enterprise among multiple systems, there is a need for Master Data Management (MDM). Master Data Management focuses on a governance approach that information stored in various systems has the same meaning and shared values where relevant.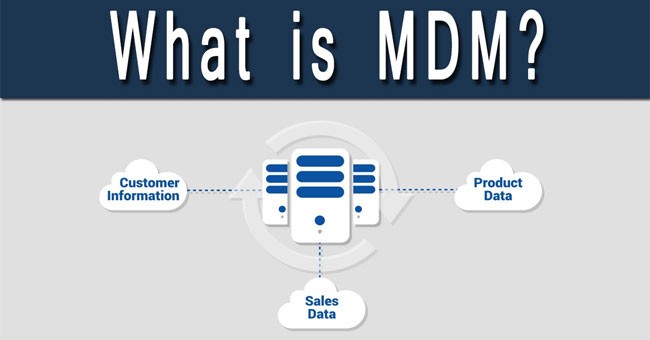 MDM guards and streamlines the way master data is entered, processed, guarded, and changed within the company, resulting in one single version of the truth and enabling different departments and systems to stay synced regarding their crucial data.
Interestingly, in the not-so-digital world of PLM, you do not see PLM vendors working on an MDM-approach. They do not care about an end-to-end connected strategy yet. I wrote about this topic in 2017 here: Master Data Management and PLM.
PIM (Product Information Management)
The need for PIM starts to become evident when selling products through various business channels. If you are a specialized machine manufacturer, your product information for potential customers might be very basic and based on a few highlights.
However, due to digitization and global connectivity, product information now becomes crucial to be available in real-time, wherever your customers are in the world.
In a competitive world, with an omnichannel strategy, you cannot survive without having your PIM streamlined and managed.
Product Innovation Platforms (PLM – Level 2 – Pull)
With the introduction of Product Innovation Platforms as described by CIMdata and Gartner, the borders of PLM, PIM, and MDM might become vague, as they might be all part of the same platform, therefore reducing the immediate need for an MDM-environment.  For example, companies like Propel, Stibo, and Oracle are building a joint PLM-PIM portfolio.
Let's dive more profound in the two scenarios that we meet the most in business, PLM driving PIM (my comfort zone) and PIM driving the need for PLM (Squadra's s area of expertise).
PLM driving PIM
Traditionally PLM (Product Lifecycle Management) has been focusing on several aspects of the product lifecycle. Here is an excellent definition for traditional PLM:
PLM is a collection of best practices, dependent per industry to increase product revenue, reduce product-related costs and maximize the value of the product portfolio  (source 2PLM)
This definition shows that PLM is a business strategy, not necessarily a system, but an infrastructure/approach to:
ensure shorter time to market with the right quality (increasing product revenue)
efficiently (reduce product-related costs – resources and scrap)
deliver products that bring the best market revenue (maximize the value of the product portfolio)
The information handled by traditional PLM consists mostly of design data, i.e., specifications, manufacturing drawings, 3D Models, and Bill of Materials (physical part definitions) combined with version and revision management. In elaborate environments combined with processes supporting configuration management.
PLM data is more focused on internal processes and quality than on targeting the company's customers. Sometimes the 3D Design data is used as a base to create lightweight 3D graphics for quotations and catalogs, combining it with relevant sales data. Traditional marketing was representing the voice of the customer.
PLM implementations are more and more providing an enterprise backbone for product data. As a result of this expansion, there is a wish to support sales and catalogs, more efficiently, sharing master data from creation till publishing, combining the product portfolio with sales and service information in a digital way.
In particular, due to globalization, there was a need to make information globally available in different languages without a significant overhead of resources to manage the data or manage the disconnect from the real product data.
Companies that have realized the need for connected data understood that Product Master Data Management is more than only the engineering/manufacturing view. Product Master Data Management is also relevant to the sales and services view. Historically done by companies as a customized extension on their PLM-system, now more and more interfacing with specialized PIM-systems. Proprietary PLM-PIM interfaces exist. Hopefully, with digital transformation, a more standardized approach will appear.
PIM driving the need for PLM
Because of changes in the retail market, the need for information in the publishing processes is also changing. Retailers also need to comply with new rules and legislation. The source of the required product information is often in the design process of the product.
In parallel, there is an ongoing market trend to have more and more private label products in the (wholesale and retail) assortments. This means a growing number of retailers and wholesalers will become producers and will have their own Ideation and innovation process.
A good example is ingredients and recipe information in the food retail sector. This information needs to be provided now by suppliers or by their own brand department that owns the design process of the product. Similar to RoHS or REACH compliance in the industry.
Retail and Wholesale can tackle own brands reasonably well with their PIM systems (or Excels), making use of workflows and product statuses. However, over the years, the information demands have increased, and a need for more sophisticated lifecycle management has emerged and, therefore the need for PLM (in this case, PLM also stands for Private Label Management).
In the image below, illustrates a PLM layer and a PIM layer, all leading towards rich product information for the end-users (either B2B or B2C).
In the fast-moving consumer goods (FMCG) world, most innovative products are coming from manufacturers. They have pipelines with lots of ideas resulting in a limited number of sellable products. In the Wholesale and Retail business, the Private Label development process usually has a smaller funnel but a high pressure on time to market, therefore, a higher need for efficiency in the product data chain.
Technological changes, like 3D Printing, also change the information requirements in the retail and wholesale sectors. 3D printing can be used for creating spare parts on-demand, therefore changing the information flow in processes dramatically. Technical drawings and models that were created in the design process, used for mass production, are now needed in the retail process closer to the end customer.
These examples make it clear that more and more information is needed for publication in the sales process and therefore needs to be present in PIM systems. This information needs to be collected and available during the PLM release process. A seamless connection between the product release and sales processes will support the changing requirements and will reduce errors and rework in on data.
PLM and PIM are two practices that need to go hand in hand like a relay baton in athletics. Companies that are using both tools must also organize themselves in a way that processes are integrated, and data governance is in place to keep things running smoothly.
Conclusion
Market changes and digital transformation force us to work in value streams along the whole product lifecycle ensuring quality and time to market. PLM and PIM will be connected domains in the future, to enable smooth product go-to-market. Important is the use of data standards (PLM and PIM should speak a common language) – best based on industry standards so that cross-company communication on product data is possible.
What do you think? Do you see PLM and PIM getting together too, in your business?

Please share in the comments.