You are currently browsing the tag archive for the 'Business Change' tag.
In March 2018, I started a series of blog posts related to model-based approaches. The first post was: Model-Based – an introduction. The reactions to these series of posts can be summarized in two bullets:
Readers believed that the term model-based was focusing on the 3D CAD model. A logical association as PLM is often associated with 3D CAD-model data management (actually PDM), and in many companies, the 3D CAD model is (yet) not a major information carrier/
Readers were telling me that a model-based approach is too far from their day-to-day life. I have to agree here. I was active in some advanced projects where the product's behavior depends on a combination of hardware and software. However, most companies still work in a document-driven, siloed discipline manner merging all deliverables in a BOM.
More than 3 years later, I feel that model-based approaches have become more and more visible for companies. One of the primary reasons is that companies start to collaborate in the cloud and realize the differences between a coordinated and a connected manner.
Initiatives as Industry 4.0 or concepts like the Digital Twin demand a model-based approach. This post is a follow-up to my recent post, The Future of PLM.
History has shown that it is difficult for companies to change engineering concepts. So let's first look back at how concepts slowly changed.
The age of paper drawings
In the sixties of the previous century, the drawing board was the primary "tool" to specify a mechanical product. The drawing on its own was often a masterpiece drawn on special paper, with perspectives, details, cross-sections.
All these details were needed to transfer the part or assembly information to manufacturing. The drawing set should contain all information as there were no computers.
Making a prototype was, depending on the complexity of the product, the interpretation of the drawings and manufacturability of a product, not always that easy. After a first release, further modifications to the product definition were often marked on the manufacturing drawings using a red pencil. Terms like blueprint and redlining come from the age of paper drawings.
There are still people talking nostalgically about these days as creating and interpreting drawings was an important skill. However, the inefficiencies with this approach were significant.
First, updating drawings because there was redlining in manufacturing was often not done – too much work.
Second, drawing reuse was almost impossible; you had to start from scratch.
Third, and most importantly, you needed to be very skilled in interpreting a drawing set. In particular, when dealing with suppliers that might not have the same skillset and the knowledge of which drawing version was actual.
However, paper was and still is the cheapest neutral format to distribute designs. The last time I saw companies still working with paper drawings was at the end of the previous century.
Curious to learn if they are now extinct?
The age of electronic drawings (CAD)
With the introduction of AutoCAD and personal computers around 1982, more companies started to look into drafting with the computer. There was already the IBM drafting system in 1965, but it was Autodesk that pushed the 2D drafting business with their slogan:
"80 percent of the functionality for 20 percent of the price (Autodesk 1982)"
A little later, I started to work for an Autodesk distributor/reseller. People would come to the showroom to see how a computer drawing could be plotted in the finest quality at the end. But, of course, the original draftsman did not like the computer as the screen was too small.
However, the enormous value came from making changes, the easy way of sharing drawings and the ease of reuse. The picture on the left is me in 1989, demonstrating AutoCAD with a custom-defined tablet and PS/2 computer.
The introduction of electronic drawings was not a disruption, more optimization of the previous ways of working.
The exchange with suppliers and manufacturing could still be based on plotted drawings – the most neutral format. And thanks to the filename, there was better control of versions between all stakeholders.
Aren't we all happy?
The introduction of mainstream 3D CAD
In 1995, 3D CAD became available for the mid-market, thanks to SolidWorks, Solid Edge and a little later Inventor. Before that working with 3D CAD was only possible for companies that could afford expensive graphic stations, provided by IBM, Silicon Graphics, DEC and SUN. Where are they nowadays? The PC is an example of disruptive innovation, purely based on technology. See Clayton Christensen's famous book: The Innovator's Dilemma.
The introduction of 3D CAD on PCs in the mid-market did not lead directly to new ways of working. Designing a product in 3D was much more efficient if you mastered the skills. 3D brought a better understanding of the product dimensions and shape, reducing the number of interpretation errors.
Still, (electronic) drawings were the contractual deliverable when interacting with suppliers and manufacturing. As students were more and more trained with the 3D CAD tools, the traditional art of the draftsman disappeared.
3D CAD introduced some new topics to solve.
First of all, a 3D CAD Assembly in the system was a collection of separate files, subassemblies, parts, and drawings that relate to each other with a specific version. So how to ensure the final assembly drawings were based on the correct part revisions? Companies were solving this by either using intelligent filenames (with revisions) or by using a PDM system where the database of the PDM system managed all the relations and their status.
The second point was that the 3D CAD assembly also introduced a new feature, the product structure, or the "Bill of Materials". This logical structure of the assembly up resembled a lot of the Bill of Material of the product. You could even browse deeper levels, which was not the case in the traditional Bill of Material on a drawing.
Note: The concept of EBOM and MBOM was not known in most companies. People were talking about the BOM as a one-level definition of parts or subassemblies in the assembly. See my Where is the MBOM? Post from July 2008 when this topic was still under discussion.
The third point that would have a more significant impact later is that parts and assemblies could be reused in other products. This introduced the complexity of configuration management. For example, a 3D CAD part or assembly file could contain several configurations where only one configuration would be valid for the given product. Managing this in the 3D CAD system lead to higher productivity of the designer, however downstream when it came to data management with PDM systems, it became a nightmare.
I experienced these issues a lot when discussing with companies and implementers, mainly the implementation of SmarTeam combined with SolidWorks and Inventor. Where to manage the configuration constraints? In the PDM system or inside the 3D CAD system.
These environments were not friends (image above), and even if they came from the same vendor, it felt like discussing with tribes.
The third point also covered another topic. So far, CAD had been the first step for the detailed design of a product. However, companies now had an existing Bill of Material in the system thanks to the PDM systems. It could be a Bill of Material of a sub-assembly that is used in many other products.
Configuring a product no longer started from CAD; it started from a Product or Bill of Material structure. Sales and Engineers identified the changes needed on the BoM, keeping as much as possible released information untouched. This led to a new best practice.
The item-centric approach
Around 2005, five years after introducing the term Product Lifecycle Management, slowly, a new approach became the standard. Product Lifecycle Management was initially introduced to connect engineering and manufacturing, driven by the automotive and aerospace industry.
It was with PLM that concepts as EBOM and MBOM became visible.
In particular, the EBOM was closely linked to engineering practices, i.e., modularity and reuse. The EBOM and its related information represented the product as it was specified. It is essential to realize that the parts in the EBOM could be generic specified purchase parts to be resolved when producing the product or that the EBOM contained Make-parts specified by drawings.
At that time, the EBOM was often used as the foundation for the ERP system – see image above. The BOM was restructured and organized according to the manufacturing process specifying materials and resources needed in the ERP system. Therefore, although it was an item-like structure, this BOM (the MBOM) always had a close relation to the Bill of Process.
For companies with a single manufacturing site, the notion of EBOM and MBOM was not that big, as the ERP system would be the source of the MBOM. However, the complexity came when companies have several manufacturing sites. That was when a generic MBOM in the PLM system made more sense to centralize all product information in a single system.
The EBOM-MBOM approach has become more and more a standard practice since 2010. As a result, even small and medium-sized enterprises realized a need to manage the EBOM and the MBOM.
There were two disadvantages introduced with this EBOM-MBOM approach.
First, the EBOM and the MBOM as information structures require a lot of administrative maintenance if information needs to be always correct (and that is the CM target). Some try to simplify this by keeping the EBOM part the same as the MBOM part, meaning the EBOM specification already targets a single supplier or manufacturer.
The second disadvantage of making every item in the BOM behave like a part creates inefficiencies in modern environments. Products are a mix of hardware(parts) and software(models/behavior). This BOM-centric view does not provide the proper infrastructure for a data-driven approach as part specifications are still done in drawings. We need 3D annotated models related to all kinds of other behavior and physical models to specify a product that contains hard-and software.
A new paradigm is needed to manage this mix efficiently, the enabling foundation for Industry 4.0 and efficient Digital Twins; there is a need for a model-based approach based on connected data elements.
More next week.
Conclusion
| | |
| --- | --- |
| The age of paper drawings | 1960 – now dead |
| The age of electronic drawings | 1982 – potentially dead in 2030 |
| The mainstream 3D CAD | 1995 – to be evolving through MBD and MBSE to the future – not dead shortly |
| Item-centric approach | 2005 – to be evolving to a connected model-based approach – not dead shortly |
One of my favorite conferences is the PLM Road Map & PDT conference. Probably because in the pre-COVID days, it was the best PLM conference to network with peers focusing on PLM practices, standards, and sustainability topics. Now the conference is virtual, and hopefully, after the pandemic, we will meet again in the conference space to elaborate on our experiences further.
Last year's fall conference was special because we had three days filled with a generic PLM update and several A&D (Aerospace & Defense) working groups updates, reporting their progress and findings. Sessions related to the Multiview BOM research, Global Collaboration, and several aspects of Model-Based practices: Model-Based Definition, Model-Based Engineering & Model-Based Systems engineering.
All topics that I will elaborate on soon. You can refresh your memory through these two links:
This year, it was a two-day conference with approximately 200 attendees discussing how emerging technologies can disrupt the current PLM landscape and reshape the PLM Value Equation. During the first day of the conference, we focused on technology.
On the second day, we looked in addition to the impact new technology has on people and organizations.
Today's Emerging Trends & Disrupters
Peter Bilello, CIMdata's President & CEO, kicked off the conference by providing CIMdata observations of the market. An increasing number of technology capabilities, like cloud, additive manufacturing, platforms, digital thread, and digital twin, all with the potential of realizing a connected vision. Meanwhile, companies evolve at their own pace, illustrating that the gap between the leaders and followers becomes bigger and bigger.
Where is your company? Can you afford to be a follower? Is your PLM ready for the future? Probably not, Peter states.
Next, Peter walked us through some technology trends and their applicability for a future PLM, like topological data analytics (TDA), the Graph Database, Low-Code/No-Code platforms, Additive Manufacturing, DevOps, and Agile ways of working during product development. All capabilities should be related to new ways of working and updated individual skills.
I fully agreed with Peter's final slide – we have to actively rethink and reshape PLM – not by calling it different but by learning, experimenting, and discussing in the field.
Digital Transformation Supporting Army Modernization
An interesting viewpoint related to modern PLM came from Dr. Raj Iyer, Chief Information Officer for IT Reform from the US Army. Rai walked us through some of the US Army's challenges, and he gave us some fantastic statements to think about. Although an Army cannot be compared with a commercial business, its target remains to be always ahead of the competition and be aware of the competition.
Where we would say "data is the new oil", Rai Iyer said: "Data is the ammunition of the future fight – as fights will more and more take place in cyberspace."
The US Army is using a lot of modern technology – as the image below shows. The big difference here with regular businesses is that it is not about ROI but about winning fights.
Also, for the US Army, the cloud becomes the platform of the future. Due to the wide range of assets, the US Army has to manage, the importance of product data standards is evident. – Rai mentioned their contribution and adherence to the ISO 10303 STEP standard crucial for interoperability. It was an exciting insight into the US Army's current and future challenges. Their primary mission remains to stay ahead of the competition.
Joining up Engineering Data without losing the M in PLM
Nigel Shaw's (Eurostep) presentation was somehow philosophical but precisely to the point what is the current dilemma in the PLM domain. Through an analogy of the internet, explaining that we live in a world of HTTP(s) linking, we create new ways of connecting information. The link becomes an essential artifact in our information model.
Where it is apparent links are crucial for managing engineering data, Nigel pointed out some of the significant challenges of this approach, as you can see from his (compiled) image below.
I will not discuss this topic further here as I am planning to come back to this topic when explaining the challenges of the future of PLM.
As Nigel said, they have a debate with one of their customers to replace the existing PLM tools or enhance the existing PLM tools. The challenge of moving from coordinated information towards connected data is a topic that we as a community should study.
Integration is about more than Model Format.
This was the presentation I have been waiting for. Mark Williams from Boeing had built the story together with Adrian Burton from Airbus. Nigel Shaw, in the previous session, already pointed to the challenge of managing linked information. Mark elaborated further about the model-based approach for system definition.
All content was related to the understanding that we need a model-based information infrastructure for the future because storing information in documents (the coordinated approach) is no longer viable for complex systems. Mark 'slide below says it all.
Mark stressed the importance of managing model information in context, and it has become a challenge.
Mark mentioned that 20 years ago, the IDC (International Data Corporation) measured Boeing's performance and estimated that each employee spent 2 ½ hours per day. In 2018, the IDC estimated that this number has grown to 30 % of the employee's time and could go up to 50 % when adding the effort of reusing and duplicating data.
The consequence of this would be that a full-service enterprise, having engineering, manufacturing and services connected, probably loses 70 % of its information because they cannot find it—an impressive number asking for "clever" ways to find the correct information in context.
It is not about just a full indexed search of the data, as some technology geeks might think. It is also about describing and standardizing metadata that describes the models. In that context, Mark walked through a list of existing standards, all with their pros and cons, ending up with the recommendation to use the ISO 10303-243 – MoSSEC standard.
MoSSEC standing for Modelling and Simulation information in a collaborative Systems Engineering Context to manage and connect the relationships between models.
MoSSEC and its implication for future digital enterprises are interesting, considering the importance of a model-based future. I am curious how PLM Vendors and tools will support and enable the standard for future interoperability and collaboration.
Additive Manufacturing
– not as simple as paper printing – yet
Andreas Graichen from Siemens Energy closed the day, coming back to the new technologies' topic: Additive Manufacturing or in common language 3D Printing. Andreas shared their Additive Manufacturing experiences, matching the famous Gartner Hype Cycle. His image shows that real work needs to be done to understand the technology and its use cases after the first excitement of the hype is over.
Material knowledge was one of the important topics to study when applying additive manufacturing. It is probably a new area for most companies to understand the material behaviors and properties in an Additive Manufacturing process.
The ultimate goal for Siemens Energy is to reach an "autonomous" workshop anywhere in the world where gas turbines could order their spare parts by themselves through digital warehouses. It is a grand vision, and Andreas confirmed that the scalability of Additive Manufacturing is still a challenge.
For rapid prototyping or small series of spare parts, Additive Manufacturing might be the right solution. The success of your Additive Manufacturing process depends a lot on how your company's management has realistic expectations and the budget available to explore this direction.
Conclusion
Day 1 was enjoyable and educational, starting and ending with a focus on disruptive technologies. The middle part related to data the data management concepts needed for a digital enterprise were the most exciting topics to follow up in my opinion.
Next week I will follow up with reviewing day 2 and share my conclusions. The PLM Road Map & PDT Spring 2021 conference confirmed that there is work to do to understand the future (of PLM).

For a year, we are now used to virtual events. PI PLMx 2020 in London was my last real event where I met people. When rereading my post about this event (the weekend after PI PLMx), I wrote that it was not a technology festival. Many presentations were about business change and how to engage people in an organization.
The networking discussions during the event and evenings were the most valuable parts of the conference.
And then came COVID-19. ☹
Shortly after, in April 2020, I participated in the TECHNIA Innovation Forum, which was the first virtual conference with a setup like a conference. A main stage, with live sessions, virtual booths, and many prerecorded sessions related to various PLM topics.
You can read my experience related to the conference in two posts: the weekend after PLMIF and My four picks from PLMIF. A lot of content available for 30 days. However, I was missing the social interaction, the people.
My favourite conference for 2020 was the CIMdata PLM Roadmap / PDT Fall 2020 conference in November. The PLM Roadmap/PDT conferences are not conferences for a novice audience; you have to be skilled in the domain of PLM most of the time with a strong presence from Aerospace and Defense companies.
The Fall 2020 theme: "Digital Thread—the PLM Professionals' Path to Delivering Innovation, Efficiency, and Quality" might sound like a marketing term.
We hear so many times the words Digital Thread and Digital Twin. However, this conference was with speakers, active practitioners, from the field. I wrote about this conference in two posts: The weekend after PLM Roadmap / PDT 2020 – Part 1 and Part 2. I enjoyed the conference; however, I was missing social interaction.
The Digital Twin
Beyond the marketing hype, there is still a lot to learn and discuss from each other. First of all, it is not about realizing a digital twin; a business need should be the driver to investigate the possibility of a digital twin.
I am preparing a longer blog post on this topic to share learnings from people in the field. For example, in November 2020, I participated in the Netherlands in a Digital Twin Conference, focusing on real-life cases.
Companies shared their vision and successes. It was clear that we are all learning to solve pieces of the big puzzle; there are small successes. However, without marketing language, this type of event becomes extremely helpful for further discussion and follow-up.
Recently, I enjoyed the panel discussions during the PI DX Spotlight session: Digital Twin-Driven Design. The PI DX Spotlight sessions are a collection of deep dives in various themes – have a look for the upcoming schedule here.
In the Digital Twin-Driven Design session, I enjoyed the session: What does a Digital Twin mean to your Business and Defining Requirements?
The discussion was moderated by Peter Bilello, with three interesting panellists with different industrial backgrounds. (Click on the image for the details). I have to re-watch some of the Spotlight sessions (the beauty of a virtual event) to see how they fit in the planned Digital Twin post.
The Cenit/Keonys Innovation day
On March 23rd (this Tuesday), Cenit & Keonys launch their virtual Innovation Day, another event that, before COVID-19, would have been a real people event. I am mentioning this event in particular, as I was allowed to interview fifteen of their customers about their day-to-day work, PLM-related plans, and activities.
All these interviews have been recorded and processed in such a manner that within 5 to 8 minutes, you get an understanding of what people are doing.
To prepare for these interviews, I spoke with each of them before the interview. I wanted to understand the passion for their work and where our interests overlap.
I will not mention the individual interviews in this post, as I do not want to spoil the event. I talked with various startups (do they need PLM?) and established companies that started a PLM journey. I spoke with simulation experts (the future) and dimensional management experts (listen to these interviews to understand what it means). And ultimately, I interviewed a traditional porcelain family brand using 3D printing and 3D design, and at the other end, the German CIO of the year from 2020
(if you Google a little, you will easily find the companies involved here)
The most common topics discussed were:
What was the business value of your PLM-related activity?
Did COVID-19 impact your business?
What about a cloud-based solution, and how do people align?
If relevant, what are your experiences with a Model-Based Definition?
What about sustainability?
I hope you will take the opportunity to register and watch these interviews as, for me, they were an excellent opportunity to be in touch with the reality in the field. As always, we keep on learning.
The Modular Way
Talking about learning. This week, I finished the book The Modular Way, written by Bjorn Eriksson & Daniel Strandhammar. During the lockdown last year, Bjorn & Daniel, founders of the Brick Strategy, decided to write down their experiences with mainly Scandinavian companies into a coherent framework to achieve modularization.
Modularity is a popular topic in many board meetings. How often have you heard: "We want to move from Engineering To Order to more Configure To Order"? Or another related incentive: "We need to be cleverer with our product offering and reduced the number of different parts".
Next, the company buys a product that supports modularity, and management believes the work has been done. Of course, not. Modularity requires a thoughtful strategy.
The book can be a catalyst for such companies that want to invest in modularity but do not know where and how to start. The book is not written academically. It is more a story taking you along the steps needed to define, implement, and maintain modularity. Every step has been illustrated by actual cases and their business motivation and achieved benefits where possible. I plan to come back with Bjorn and Daniel in a dedicated post related to PLM and Modularity.
Conclusion
Virtual Events are probably part of our new future. A significant advantage is the global reach of such events. Everyone can join from anywhere connected around the world. Besides the larger events, I look forward to discovering more small and targeted discussion events like PI DX Spotlights. The main challenge for all – keep it interactive and social.
Let us know your favourite virtual event !!

After "The PLM Doctor is IN #2," now again a written post in the category of PLM and complementary practices/domains.
After PLM and Configuration Lifecycle ManagementCLM (January 2021) and PLM and Configuration Management CM (February 2021), now it is time to address the third interesting topic:
PLM and Supply Chain collaboration.
In this post, I am speaking with Magnus Färneland from Eurostep, a company well known in my PLM ecosystem, through their involvement in standards (STEP and PLCS), the PDT conferences, and their PLM collaboration hub, ShareAspace.
Supply Chain collaboration
The interaction between OEMs and their suppliers has been a topic of particular interest to me. As a warming-up, read my post after CIMdata/PDT Roadmap 2020:  PLM and the Supply Chain. In this post, I briefly touched on the Eurostep approach – having a Supply Chain Collaboration Hub. Below an image from that post – in this case, the Collaboration Hub is positioned between two OEMs.
Recently Eurostep shared a blog post in the same context: 3 Steps to remove data silos from your supply chain addressing the dreams of many companies: moving from disconnected information silos towards a logical flow of data. This topic is well suited for all companies in the digital transformation process with their supply chain. So, let us hear it from Eurostep.
Eurostep – the company / the mission
First of all, can you give a short introduction to Eurostep as a company and the unique value you are offering to your clients?
Eurostep was founded in 1994 by several world-class experts on product data and information management. In the year 2000, we started developing ShareAspace. We took all the experience we had from working with collaboration in the extended enterprise, mixed it with our standards knowledge, and selected Microsoft as the technology for our software platform.
We now offer ShareAspace as a solution for product information collaboration in all three industry verticals where we are active: Manufacturing, Defense and AEC & Plant.
ShareAspace is based on an information standard called PLCS (ISO 10300-239). This means we have a data model covering the complete life cycle of a product from requirements and conceptual design to an existing installed base. We have added things needed, such as consolidation and security. Our partnership with Microsoft has also resulted in ShareAspace being available in Azure as a service (our Design to Manufacturing software).
Why a supply chain collaboration hub?
Currently, most suppliers work in a disconnected manner with their clients – sending files up and down or the need to work inside the OEM environment. What are the reasons to consider a supply chain collaboration hub or, as you call it, a product information collaboration solution?
The hub concept is not new per se. There are plenty of examples of file sharing hubs. Once you realize that sending files back and forth by email is a disaster for keeping control of your information being shared with suppliers, you would probably try out one of the available file-sharing alternatives.
However, after a while, you begin to realize that a file share can be quite time consuming to keep up to date. Files are being changed. Files are being removed! Some files are enormous, and you realize that you only need a fraction of what is in the file. References within one file to another file becomes corrupt because the other file is of a new version. Etc. Etc.
This is about the time when you realize that you need similar control of the data you share with suppliers as you have in your internal systems. If not better.
A hub allows all partners to continue to use their internal tools and processes. It is also a more secure way of collaboration as the suppliers and partners are not let into the internal systems of the OEM.
Another significant side effect of this is that you only expose the data in the hub intended for external sharing and avoid sharing too much or exposing internal sensitive data.
A hub is also suitable for business flexibility as partners are not hardwired with the OEM. Partners can change, and IT systems in the value chain can change without impacting more than the single system's connecting to the hub.
Should every company implement a supply chain collaboration hub?
Based on your experience, what types of companies should implement a supply chain collaboration hub and what are the expected benefits?
The large OEMs and 1st tier suppliers certainly benefit from this since they can incorporate hundreds, if not thousands, of suppliers. Sharing technical data across the supply chain from a dedicated hub will remove confusions, improve control of the shared data, and build trust with their partners.
With our cloud-based offering, we now also make it possible for at least mid-sized companies (like 200+ employees) to use ShareAspace. They may not have a well-adopted PLM system or the issues of communicating complex specifications originating from several internal sources. However still, they need to be professional in dealing with suppliers.

The smallest client we have is a manufacturer of pool cleaners, a complex product with many suppliers. The company Weda [www.weda.se] has less than 10 employees, and they use ShareAspace as SaaS. With ShareAspace, they have improved their collaboration process with suppliers and cut costs and lowered inventory levels.
ShareAspace can really scale big. It serves as a collaboration solution for the two new Aircraft carriers in the UK, the QUEEN ELIZABETH class. The aircraft carriers were built by a consortium that was closed in early 2020.
ShareAspace is being used to hold the design data and other documentation from the consortium to be available to the multiple organizations (both inside and outside of the Ministry of Defence) that need controlled access.
What is the dependency on standards?
I always associate Eurostep with the PLCS (ISO 10303-239) standard, providing an information model for "hardware" products along the lifecycle. How important is this standard for you in the context of your ShareAspace offering?
Should everyone adapt to this standard?
We have used PLCS to define the internal data schema in ShareAspace. This is an excellent starting point for capturing information from different systems and domains and still getting it to fit together. Why invent something new?
However, we can import data in most formats, and it does not have to be according to a standard. When connecting to Teamcenter, Windchill, Enovia, SAP, Oracle, Maximo etc., it is more often in a proprietary format than according to any standards.
On the other hand, in some industries like Defense, standards-based data exchange is required and put into contracts. Sometimes it prescribes PLCS.  For the plant industry, it could be CFIHOS or ISO15926.
Supply Chain Collaboration and digital transformation
As stated at the beginning of this post, digital transformation is about connecting the information siloes through a digital thread. How important is this related to the supply chain?


Many companies have come a long way in improving their internal management of product data. But still, the exchange and sharing of data with the external world has considerable potential for improvement. Just look at the chaos everyone has experienced with emails, still used a lot, in finding the latest Word document or PowerPoint file. Imagine if you collaborate on a ship, a truck, a power plant, or a piece of complex infrastructure. FTP is not the answer, and for product data, Dropbox is not doing the trick.
A Digital Thread must support versions and changes in all directions, as changes are natural with reasonably advanced products. Much of the information created about or around a product is generated within the supply chain, like production parameters, test and inspection protocols, certifications, and more. Without an intelligent way of capturing this data, companies will continue to spend a fortune on administration trying to manage this manually.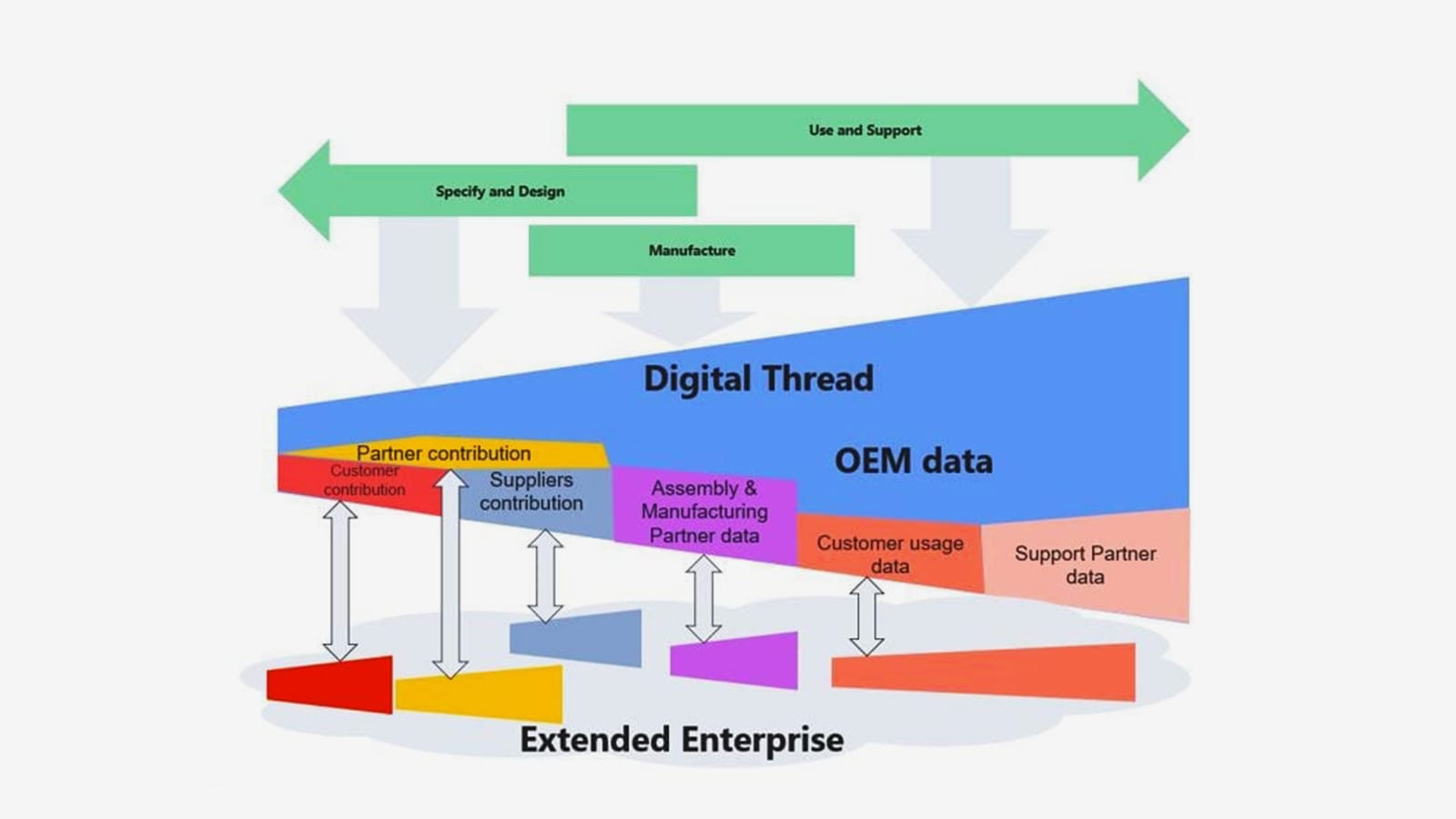 As the Digital Thread extends across the value chain, a useful sharing tool is needed to allow for configuration management across the complete chain – ShareAspace is designed for this. The great thing with PLCS is that it gives a standard model for the Digital Thread covering several Digital Twins. PLCS adds the life cycle component, which is essential, and there is no alternative. Therefore, we are welcome with ShareAspace and PLCS to add capabilities to snapshot standards like IFC etc., that are outside the STEP series of standards.
Learning more
We discussed that a supply chain collaboration hub can have specific value to a company. Where can readers learn more?
There is a lot of information available. Of course, on our Eurostep website, you will find information under the tab Resources or on the ShareAspace website under the tab News.
Other sources are:
What I have learned
I am surprised to see that the type of Supplier Collaboration Platform delivered by Eurostep is not a booming market. Where Time to Market is significantly impacted by how companies work with their suppliers, most companies still rely on the exchange of data packages.
The most advanced exchanges are using a model-based definition if relevant. Traditional PLM Vendors will not develop such platforms as the platform needs to be agnostic in both directions.
Having a recommended data model based on PLCS or a custom-data model in case of a large OEM can provide such a collaboration hub. Relative easy to implement (as you do not change your own PLM) and relatively easy to scale (adding a new supplier is easy).  For me, the supplier collaboration platform is a must in a modern, digital connected enterprise.
Conclusion
A lot of marketing money is spent on "Digital Thread" or "Digital Continuity".  If you are looking at the full value chain of product development and operational support, there are still many manual hand-over processes with suppliers. A supplier collaboration hub might be the missing piece of the puzzle to realize a real digital thread or continuity.
After the first episode of "The PLM Doctor is IN", this time a question from Helena Gutierrez. Helena is one of the founders of SharePLM, a young and dynamic company focusing on providing education services based on your company's needs, instead of leaving it to function-feature training.
I might come back on this topic later this year in the context of PLM and complementary domains/services.
Now sit back and enjoy.
Note: Due to a technical mistake Helena's mimic might give you a "CNN-like" impression as the recording of her doctor visit was too short to cover the full response.
PLM and Startups – is this a good match?
Relevant links discussed in this video
Marc Halpern (Gartner): The PLM maturity table
VirtualDutchman: Digital PLM requires a Model-Based Enterprise
Conclusion
I hope you enjoyed the answer and look forward to your questions and comments. Let me know if you want to be an actor in one of the episodes.
The main rule: A single open question that is puzzling you related to PLM.
As promised in my blog post: PLM 2021 – My plans – your goals? I was planning to experiment with a format, which I labeled as: The PLM Doctor is IN.
The idea behind this format that anyone interested could ask a question – anonymous or through a video recording – and I would answer this single question.
As you can see from the survey result, many of the respondents (approx. 30 % that did not skip the question) had a question. Enough for the upcoming year to experiment – if the experiment works for you. As it is an experiment, I am also looking forward to your feedback to optimize this format.
Today the first episode: PLM and ROI
Relevant links discussed in this video
CIMdata webinar: PLM Benefits, Metrics & ROI with John MacKrell
VirtualDutchman: The PLM ROI Myth
Conclusion
What do you think? Does this format help you to understand and ask PLM related questions? Or should I not waste my time as there is already so much content out there. Let me know what you think in the comments.
Added February 10th
As the PLM Doctor sometimes talks like an oracle, it was great to see the summary written by SharePLM Learning Expert Helena Guitierrez.
Click on the image to see the full post.
It Is 2021, and after two weeks' time-out and reflection, it is time to look forward. Many people have said that 2020 was a "lost year," and they are looking forward to a fresh restart, back to the new normal. For me, 2020 was the contrary of a lost year. It was a year where I had to change my ways of working. Communication has changed, digitization has progressed, and new trends have become apparent.
If you are interested in some of the details, watch the conversation I had with Rob Ferrone from QuickRelease, just before Christmas: Two Santas looking back to 2020.
It was an experiment with video, and you can see there is a lot to learn for me. I agree with Ilan Madjar's comment that it is hard to watch two people talking for 20 minutes. I prefer written text that I can read at my own pace, short videos (max 5 min), or long podcasts that I can listen to, when cycling or walking around.
So let me share with you some of the plans I have for 2021, and I am eager to learn from you where we can align.
PLM understanding
I plan a series of blog posts where I want to share PLM-related topics that are not necessarily directly implemented in a PLM-system or considered in PLM-implementations as they require inputs from multiple sources.  Topics in this context are: Configuration Management, Product Configuration Management, Product Information Management, Supplier Collaboration Management, Digital Twin Management, and probably more.
For these posts, I will discuss the topic with a subject matter expert, potentially a vendor or a consultant in that specific domain, and discuss the complementary role to traditional PLM. Besides a blog post, this topic might also be more explained in-depth in a podcast.
The PLM Doctor is in
Most of you might have seen Lucy from the Charley Brown cartoon as the doctor giving advice for 5¢. As an experiment, I want to set up a similar approach, however, for free.
These are my conditions:
Only one question at a time.
The question and answer will be published in a 2- 3 minute video.
The question is about solving a pain.
If you have such a question related to PLM, please contact me through a personal message on LinkedIn, and I will follow-up.
PLM and Sustainability
A year ago, I started with Rich McFall, the PLM Green Global Alliance.  Our purpose to bring people together, who want to learn and share PLM-related practices, solutions,  ideas contributing to a greener and more sustainable planet.
We do not want to compete or overlap with more significant global or local organizations, like the Ellen McArthur Foundation or the European Green Deal.
We want to bring people together to dive into the niche of PLM and its related practices.  We announced the group on LinkedIn; however, to ensure a persistent referential for all information and interactions, we have launched the website plmgreenaliance.com.
Here I will moderate and focus on PLM and Sustainability topics. I am looking forward to interacting with many of you.
PLM and digitization
For the last two years, I have been speaking and writing about the gap between current PLM-practices, based on shareable documents and files and the potential future based on shareable data, the Model-Based Enterprise.
Last year I wrote a series of posts giving insights on how we reached the current PLM-practices. Discovering sometimes inconsistencies and issues due to old habits or technology changes. I grouped these posts on a single blog page with the title:  Learning from the past.
This year I will create a collection of posts focusing on the transition towards a Model-Based Enterprise. Probably the summary page will be called: Working towards the future currently in private mode.
Your feedback
I am always curious about your feedback – to understand in which kind of environment your PLM activities take place. Which topics are unclear? What am I missing in my experience?
Therefore, I created a small anonymous survey for those who want to be interacting with me. On purpose, the link is at the bottom of the post, so when you answer the survey, you get my double appreciation, first for reaching the end of this post and second for answering the survey.
Take the survey here.
Conclusion
Most of us will have a challenging year ahead of us. Sharing and discussing challenges and experiences will help us all to be better in what we are doing. I look forward to our 2021 journey.
About a year ago we started the PLM Global Green Alliance, further abbreviated as the PGGA. Rich McFall, the main driver behind the PGGA started the website, The PLM Green Alliance, to have a persistent place to share information.
Also, we launched the PLM Global Alliance LinkedIn group to share our intentions and create a community of people who would like to share knowledge through information or discussion.
Our mission statement is:
The mission of the new PLM Green Alliance is to create global connection, communication, and community between professionals who use, develop, market, or support Product Lifecycle Management (PLM) related technologies and software solutions that have value in addressing the causes and consequences of climate change due to human-generated greenhouse gas emissions. We are motivated by the technological challenge to help create a more sustainable and green future for our economies, industries, communities, and all life forms on our planet that depend on healthy ecosystems.
My motivation
My personal motivation to support and join the PGGA was driven by the wish to combine my PLM-world with interest to create a more sustainable society for anyone around the world. It is a challenging combination. For example, PLM is born in the Aerospace and Defense industries, probably not the most sustainable industries.
Having worked with some companies in the Apparel and Retail industry, I have seen that these industries care more about their carbon footprint. Perhaps because they are "volume-industries" closely connected to their consumers, these industries actively build practices to reduce their carbon footprint and impact societies. The sense or non-sense of recycling is such a topic to discuss and analyze.
At that time, I got inspired by a session during the PLM Roadmap / PDT 2019 conference.
Graham Aid's from the Ragn-Sells group was a call to action. Sustainability and a wealthy economy go together; however, we have to change our habits & think patterns.  You can read my review from this session in this blog post: The weekend after PLM Roadmap / PDT 2019 – Day 1
Many readers of this post have probably never heard of the Ragn-Sells group or followed up on a call for action.  I have the same challenge. Being motivated beyond your day-to-day business (the old ways of working) and giving these activities priority above exploring and learning more about applying sustainability in my PLM practices.
And then came COVID-19.
I think most of you have seen the image on the left, which started as a joke. However, looking back, we all have seen that COVID-19 has led to a tremendous push for using digital technologies to modernize existing businesses.
Personally, I was used to traveling every 2 – 3 weeks to a customer, now I have left my home office only twice for business. Meanwhile, I invested in better communication equipment and a place to work. And hé, it remains possible to work and communicate with people.
Onboarding new people, getting to know new people takes more social interaction than a camera can bring.
In the PGGA LinkedIn community, we had people joining from all over the world. We started to organize video meetings to discuss their expectations and interest in this group with some active members.
We learned several things from these calls.
First of all, finding a single timeslot that everyone worldwide could participate in is a challenge. A late Friday afternoon is almost midnight in Asia and morning in the US. And is Friday the best day – we do not know yet.
Secondly, we realized that posts published in our LinkedIn group did not appear in everyone's LinkedIn feed due to LinkedIn's algorithms. For professionals, LinkedIn becomes less and less attractive as the algorithms seem to prefer frequency/spam above content.
For that reason, we are probably moving to the PLM Green Alliance website and combine this environment with a space for discussion outside the LinkedIn scope. More to come on the PGGA website.
Finally, we will organize video discussion sessions to ask the participants to prepare themselves for a discussion. Any member of the PGGA can bring in the discussion topics.
It might be a topic you want to clarify or better understand.
What's next
For December 4th, we have planned a discussion meeting related to the Exponential Roadmap 2019 report, where  36  solutions to halve carbon emission by 2030 are discussed. In our video discussion, we want to focus on the chapter: Digital Industries.
We believe that this topic comes closest to our PLM domain and hopes that participants will share their thinking and potential activities within their companies.
You can download the Exponential Roadmap here or by clicking on the image. More details about the PLM Global Green Alliance you will find in the LinkedIn group. If you want to participate, let us know.
The PGGA website will be the place where more and more information will be collected per theme, to help you understand what is happening worldwide and the place where you can contribute to let us know what is happening at your side.
Conclusion
The PLM Global Green Alliance exists now for a year with 192 members. With approximately five percent active members, we have the motivation to grow our efforts and value. We learned from COVID-19 there is a need to become proactive as the costs of prevention are always lower than the costs of (trying) fixing afterward.
And each of us has the challenge to behave a little differently than before.
Will you be one of them ?
In the last two weeks, three events were leading to this post.
First, I read John Stark's recent book Products2019. A must-read for anyone who wants to understand the full reach of product lifecycle related activities. See my recent post: Products2019, a must-read if you are new to PLM
Afterwards, I talked with John, discussing the lack of knowledge and teaching of PLM, not to be confused by PLM capabilities and features.
Second, I participated in an exciting PI DX USA 2020 event. Some of the sessions and most of the roundtables provided insights to me and, hopefully, many other participants. You can get an impression in the post: The Weekend after PI DX 2020 USA.
A small disappointment in that event was the closing session with six vendors, as I wrote. I know it is evident when you put a group of vendors in the arena, it will be about scoring points instead of finding alignment. Still, having criticism does not mean blaming, and I am always open to having a dialogue. For that reason, I am grateful for their sponsorship and contribution.
Oleg Shilovitsky mentioned cleverly that this statement is a contradiction.
"How can you accuse PLM vendors of having a limited view on PLM and thanking them for their contribution?"
I hope the above explanation says it all, combined with the fact that I grew up in a Dutch culture of not hiding friction, meanwhile being respectful to others.
We cannot simplify PLM by just a better tool or technology or by 3D for everybody. There are so many more people and processes related to product lifecycle management involved in this domain if you want a real conference, however many of them will not sponsor events.
It is well illustrated in John Stark's book. Many disciplines are involved in the product lifecycle. Therefore, if you only focus on what you can do with your tool, it will lead to an incomplete understanding.
If your tool is a hammer, you hope to see nails everywhere around you to demonstrate your value
The thirds event was a LinkedIn post from John Stark – 16 groups needing Product Lifecycle Knowledge, which for me was a logical follow-up on the previous two events. I promised John to go through these 16 groups and provide my thoughts.
Please read his post first as I will not rewrite what has been said by John already.
CEOs and CTOs
John suggested that they should read his book, which might take more than eight hours. CEOs and CTOs, most of the time, do not read this type of book with so many details, so probably mission impossible.
They want to keep up with the significant trends and need to think about future business (model).
New digital and technical capabilities allow companies to move from a linear, coordinated business towards a resilient, connected business. This requires exploring future business models and working methods by experimenting in real-life, not Proof of Concept. Creating a learning culture and allowing experiments to fail is crucial, as you only learn by failing.
CDO, CIOs and Digital Transformation Executives
They are the crucial people to help the business to imagine what digital technologies can do. They should educate the board and the business teams about the power of having reliable, real-time data available for everyone connected. Instead of standardizing on systems and optimizing the siloes, they should assist and lead in new infrastructure for connected services, end-to-end flows delivered on connected platforms.
These concepts won't be realized soon. However, doing nothing is a big risk, as the traditional business will decline in a competitive environment. Time to act.
Departmental Managers
These are the people that should worry about their job in the long term. Their current mission might be to optimize their department within its own Profit & Loss budget. The future is about optimizing the information flow for the whole value chain, including suppliers and customers.
I wrote about it in "The Middle Management Dilemma." Departmental Managers should become more team leaders inspiring and supporting the team members instead of controlling the numbers.
Products Managers
This is a crucial role for the future, assuming a product manager is not only responsible for the marketing or development side of the product but also gets responsibility for understanding what happens with the product during production and sales performance. Understanding the full lifecycle performance and cost should be their mission, supported by a digital infrastructure.
Product Developers
They should read the book Products2019 to be aware there is so much related to their work. From this understanding, a product developer should ask the question:
"What can I do better to serve my internal and external customers ?"
This question will no arise in a hierarchical organization where people are controlled by managers that have a mission to optimize their silo. Product Developers should be trained and coached to operate in a broader context, which should be part of your company's mission. Too many people complain about usability in their authoring and data management systems without having a holistic understanding of why you need change processes and configuration management.
Product Lifecycle Management (PLM) deployers
Here I have a little bit of the challenge that this might be read as PLM-system users. However, it should be clear that we mean here people using product data at any moment along the product lifecycle, not necessarily in a single system.
This is again related to your company's management culture. In the ideal world, people work with a purpose and get informed on how their contribution fits the company's strategy and execution.
Unfortunately, in most hierarchical organizations, the strategy and total overview get lost, and people become measured resources.
New Hires and others
John continues with five other groups within the organization. I will not comment on them, as the answers are similar to the ones above – it is about organization and culture.
Educators and Students
This topic is very close to my heart, and one of the reasons I continue blogging about PLM practices. There is not enough attention to product development methodology or processes. Engineers can get many years of education in specific domains, like product design principles, available tools and technologies, performing physical and logical simulations.
Not so much time is spent on educating current best practices, business models for product lifecycle management.
Check in your country how many vendor-independent methodology-oriented training you can find. Perhaps the only consistent organization I know is CIMdata, where the challenge is that they deliver training to companies after students have graduated. It would be great if education institutes would embed serious time for product lifecycle management topics in their curriculum. The challenge, of course, the time and budget needed to create materials and, coming next, prioritizing this topic on the overall agenda.
I am happy to participate to a Specialized Master education program aiming at the Products and Buildings Digital Engineering Manager (INGENUM). This program organized by Arts Et Metiers in France helps create the overview for understanding PLM and BIM – in the French language as before COVID-19 this was an on-site training course in Paris.
Hopefully, there are more institutes offering PLM eductation – feel free to add them in the comments of this post.
Consultants, Integrators and Software Company Employees
Of course, it would be nice if everyone in these groups understands the total flow and processes within an organization and how they relate to each other. Too often, I have seen experts in a specific domain, for example, a 3D CAD-system having no clue about revisioning, the relation of CAD to the BOM, or the fundamentals of configuration management.
Consultants, Integrators and Software Company Employees have their own challenges as their business model is often looking for specialized skills they can sell to their clients, where a broader and general knowledge will come from experience on-the-job.
And if you are three years working full-time on a single project or perhaps work in three projects, your broader knowledge does not grow fast. You might become the hammer that sees nails everywhere.
For that reason, I recommend everyone in my ecosystem to invest your personal time to read related topics of interest. Read LinkedIn-posts from others and learn to differentiate between marketing messages and people willing to share experiences. Don't waste your time on the marketing messages and react and participate in the other discussions. A "Like" is not enough. Ask questions or add your insights.
In the context of my personal learning, I mentioned that I participated in the DigitalTwin-conference in the Netherlands this week. Unfortunately, due to the partial lockdown, mainly a virtual event.
I got several new insights that I will share with you soon. An event that illustrated Digital Twin as a buzzword might be hype, however several of the participants illustrated examples of where they applied or plan to apply Digital Twin concepts. A great touch with reality.
Another upcoming conference that will start next week in the PLM Roadmap 2020 – PDT conference. The theme: Digital Thread—the PLM Professionals' Path to Delivering Innovation, Efficiency, and Quality is not a marketing theme as you can learn from the agenda. Step by step we are learning here from each other.
Conclusion
John Stark started with the question of who should need Product Lifecycle Knowledge. In general, Knowledge is power, and it does not come for free. Either by consultancy, reading or training. Related to Product Lifecycle Management, everyone must understand the bigger picture. For executives as they will need to steer the company in the right direction. For everyone else to streamline the company and enjoy working in a profitable environment where you contribute and can even inspire others.
An organization is like a human body; you cannot have individual cells or organs that optimize themselves only – we have a name for that disease. Want to learn more? Read this poem: Who should be the boss?