You are currently browsing the category archive for the 'PLCS' category.
This week I attended the SCAF conference in Jonkoping. SCAF is an abbreviation of the Swedish CATIA User Group. First of all, I was happy to be there as it was a "physical" conference, having the opportunity to discuss topics with the attendees outside the presentation time slot.
It is crucial for me as I have no technical message. Instead, I am trying to make sense of the future through dialogues. What is sure is that the future will be based on new digital concepts, completely different from the traditional approach that we currently practice.
My presentation, which you can find here on SlideShare, was again zooming in on the difference between a coordinated approach (current) and a connected approach (the future).
The presentation explains the concepts of datasets, which I discussed in my previous blog post. Now, I focussed on how this concept can be discovered in the Dassault Systemes 3DExperience platform, combined with the must-go path for all companies to more systems thinking and sustainable products.
It was interesting to learn that the concept of connected datasets like the spider's web in the image reflected the future concept for many of the attendees.
One of the demos during the conference illustrated that it is no longer about managing the product lifecycle through structures (EBOM/MBOM/SBOM).
Still, it is based on a collection of connected datasets – the path in the spider's web.
It was interesting to talk with the present companies about their roadmap. How to become a digital enterprise is strongly influenced by their legacy culture and ways of working. Where to start to be connected is the main challenge for all.
A final positive remark.  The SCAF had renamed itself to SCAF (3DX), showing that even CATIA practices no longer can be considered as a niche – the future of business is to be connected.
Now back to the thread that I am following on the series The road to model-based. Perhaps I should change the title to "The road to connected datasets, using models". The statement for this week to discuss is:
Data-driven means that you need to have an enterprise architecture, data governance and a master data management (MDM) approach. So far, the traditional PLM vendors have not been active in the MDM domain as they believe their proprietary data model is leading. Read also this interesting McKinsey article: How enterprise architects need to evolve to survive in a digital world
Reliable data
If you have been following my story related to PLM transition: From a connected to a coordinated infrastructure might have seen the image below:
The challenge of a connected enterprise is that you want to connect different datasets, defined in various platforms, to support any type of context. We called this a digital thread or perhaps even better framed a digital web.
This is new for most organizations because each discipline has been working most of the time in its own silo. They are producing readable information in neutral files – pdf drawings/documents. In cases where a discipline needs to deliver datasets, like in a PDM-ERP integration, we see IT-energy levels rising as integrations are an IT thing, right?
Too much focus on IT
In particular, SAP has always played the IT card (and is still playing it through their Siemens partnership). Historically, SAP claimed that all parts/items should be in their system. Thus, there was no need for a PDM interface, neglecting that the interface moment was now shifted to the designer in CAD. And by using the name Material for what is considered a Part in the engineering world, they illustrated their lack of understanding of the actual engineering world.
There is more to "blame" to SAP when it comes to the PLM domain, or you can state PLM vendors did not yet understand what enterprise data means. Historically ERP systems were the first enterprise systems introduced in a company; they have been leading in a transactional  "digital" world. The world of product development never has been a transactional process.
SAP introduced the Master Data Management for their customers to manage data in heterogeneous environments. As you can imagine, the focus of SAP MDM was more on the transactional side of the product (also PIM) than on the engineering characteristics of a product.
I have no problem that each vendor wants to see their solution as the center of the world. This is expected behavior. However, when it comes to a single system approach, there is a considerable danger of vendor lock-in, a lack of freedom to optimize your business.
In a modern digital enterprise (to be), the business processes and value streams should be driving the requirements for which systems to use. I was tempted to write "not the IT capabilities"; however, that would be a mistake. We need systems or platforms that are open and able to connect to other systems or platforms. The technology should be there, and more and more, we realize the future is based on connectivity between cloud solutions.
In one of my first posts (part 2), I referred to five potential platforms for a connected enterprise.  Each platform will have its own data model based on its legacy design, allowing it to service its core users in an optimized environment.
When it comes to interactions between two or more platforms, for example, between PLM and ERP, between PLM and IoT, but also between IoT and ERP or IoT and CRM, these interactions should first be based on identified business processes and value streams.
The need for Master Data Management
Defining horizontal business processes and value streams independent of the existing IT systems is the biggest challenge in many enterprises. Historically, we have been thinking around a coordinated way of working, meaning people shifting pieces of information between systems – either as files or through interfaces.
In the digital enterprise, the flow should be leading based on the stakeholders involved. Once people agree on the ideal flow, the implementation process can start.
Which systems are involved, and where do we need a connection between the two systems. Is the relationship bidirectional, or is it a push?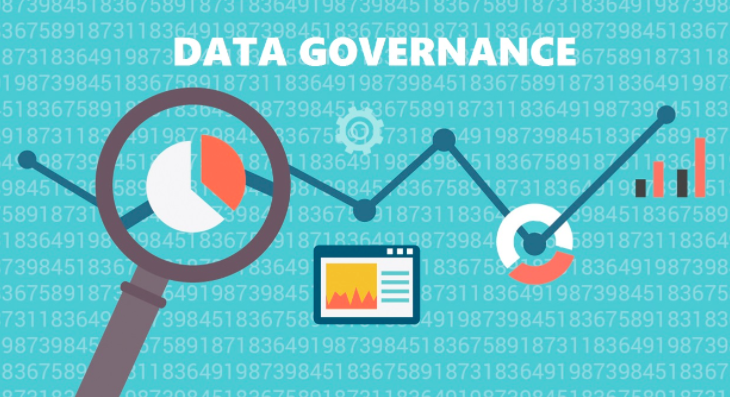 The interfaces need to be data-driven in a digital enterprise; we do not want human interference here, slowing down or modifying the flow. This is the moment Master Data Management and Data Governance comes in.
When exchanging data, we need to trust the data in its context, and we should be able to use the data in another context. But, unfortunately, trust is hard to gain.
I can share an example of trust when implementing a PDM system linked to a Microsoft-friendly ERP system. Both systems we able to have Excel as an interface medium – the Excel columns took care of the data mapping between these two systems.
In the first year, engineers produced the Excel with BOM information and manufacturing engineering imported the Excel into their ERP system. After a year, the manufacturing engineers proposed to automatically upload the Excel as they discovered the exchange process did not need their attention anymore – they learned to trust the data.
How often have you seen similar cases in your company where we insist on a readable exchange format?
When you trust the process(es), you can trust the data. In a digital enterprise, you must assume that specific datasets are used or consumed in different systems. Therefore a single data mapping as in the Excel example won't be sufficient
Master Data Management and standards?
Some traditional standards, like the ISO 15926 or ISO 10303, have been designed to exchange process and engineering data – they are domain-specific. Therefore, they could simplify your master data management approach if your digitalization efforts are in that domain.
To connect other types of data, it is hard to find a global standard that also encompasses different kinds of data or consumers. Think about the GS1 standard, which has more of a focus on the consumer-side of data management.  When PLM meets PIM, this standard and Master Data Management will be relevant.
Therefore I want to point to these two articles in this context:
How enterprise architects need to evolve to survive in a digital world focusing on the transition of a coordinated enterprise towards a connected enterprise from the IT point of view.  And a recent LinkedIn post, Web Ontology Language as a common standard language for Engineering Networks? by Matthias Ahrens exploring the concepts I have been discussing in this post.
To me, it seems that standards are helpful when working in a coordinated environment. However, in a connected environment, we have to rely on master data management and data governance processes, potentially based on a clever IT infrastructure using graph databases to be able to connect anything meaningful and possibly artificial intelligence to provide quality monitoring.
Conclusion
Standards have great value in exchange processes, which happen in a coordinated business environment. To benefit from a connected business environment, we need an open and flexible IT infrastructure supported by algorithms (AI) to guarantee quality. Before installing the IT infrastructure, we should first have defined the value streams it should support.
What are your experiences with this transition?
One of my favorite conferences is the PLM Road Map & PDT conference. Probably because in the pre-COVID days, it was the best PLM conference to network with peers focusing on PLM practices, standards, and sustainability topics. Now the conference is virtual, and hopefully, after the pandemic, we will meet again in the conference space to elaborate on our experiences further.
Last year's fall conference was special because we had three days filled with a generic PLM update and several A&D (Aerospace & Defense) working groups updates, reporting their progress and findings. Sessions related to the Multiview BOM research, Global Collaboration, and several aspects of Model-Based practices: Model-Based Definition, Model-Based Engineering & Model-Based Systems engineering.
All topics that I will elaborate on soon. You can refresh your memory through these two links:
This year, it was a two-day conference with approximately 200 attendees discussing how emerging technologies can disrupt the current PLM landscape and reshape the PLM Value Equation. During the first day of the conference, we focused on technology.
On the second day, we looked in addition to the impact new technology has on people and organizations.
Today's Emerging Trends & Disrupters
Peter Bilello, CIMdata's President & CEO, kicked off the conference by providing CIMdata observations of the market. An increasing number of technology capabilities, like cloud, additive manufacturing, platforms, digital thread, and digital twin, all with the potential of realizing a connected vision. Meanwhile, companies evolve at their own pace, illustrating that the gap between the leaders and followers becomes bigger and bigger.
Where is your company? Can you afford to be a follower? Is your PLM ready for the future? Probably not, Peter states.
Next, Peter walked us through some technology trends and their applicability for a future PLM, like topological data analytics (TDA), the Graph Database, Low-Code/No-Code platforms, Additive Manufacturing, DevOps, and Agile ways of working during product development. All capabilities should be related to new ways of working and updated individual skills.
I fully agreed with Peter's final slide – we have to actively rethink and reshape PLM – not by calling it different but by learning, experimenting, and discussing in the field.
Digital Transformation Supporting Army Modernization
An interesting viewpoint related to modern PLM came from Dr. Raj Iyer, Chief Information Officer for IT Reform from the US Army. Rai walked us through some of the US Army's challenges, and he gave us some fantastic statements to think about. Although an Army cannot be compared with a commercial business, its target remains to be always ahead of the competition and be aware of the competition.
Where we would say "data is the new oil", Rai Iyer said: "Data is the ammunition of the future fight – as fights will more and more take place in cyberspace."
The US Army is using a lot of modern technology – as the image below shows. The big difference here with regular businesses is that it is not about ROI but about winning fights.
Also, for the US Army, the cloud becomes the platform of the future. Due to the wide range of assets, the US Army has to manage, the importance of product data standards is evident. – Rai mentioned their contribution and adherence to the ISO 10303 STEP standard crucial for interoperability. It was an exciting insight into the US Army's current and future challenges. Their primary mission remains to stay ahead of the competition.
Joining up Engineering Data without losing the M in PLM
Nigel Shaw's (Eurostep) presentation was somehow philosophical but precisely to the point what is the current dilemma in the PLM domain. Through an analogy of the internet, explaining that we live in a world of HTTP(s) linking, we create new ways of connecting information. The link becomes an essential artifact in our information model.
Where it is apparent links are crucial for managing engineering data, Nigel pointed out some of the significant challenges of this approach, as you can see from his (compiled) image below.
I will not discuss this topic further here as I am planning to come back to this topic when explaining the challenges of the future of PLM.
As Nigel said, they have a debate with one of their customers to replace the existing PLM tools or enhance the existing PLM tools. The challenge of moving from coordinated information towards connected data is a topic that we as a community should study.
Integration is about more than Model Format.
This was the presentation I have been waiting for. Mark Williams from Boeing had built the story together with Adrian Burton from Airbus. Nigel Shaw, in the previous session, already pointed to the challenge of managing linked information. Mark elaborated further about the model-based approach for system definition.
All content was related to the understanding that we need a model-based information infrastructure for the future because storing information in documents (the coordinated approach) is no longer viable for complex systems. Mark 'slide below says it all.
Mark stressed the importance of managing model information in context, and it has become a challenge.
Mark mentioned that 20 years ago, the IDC (International Data Corporation) measured Boeing's performance and estimated that each employee spent 2 ½ hours per day. In 2018, the IDC estimated that this number has grown to 30 % of the employee's time and could go up to 50 % when adding the effort of reusing and duplicating data.
The consequence of this would be that a full-service enterprise, having engineering, manufacturing and services connected, probably loses 70 % of its information because they cannot find it—an impressive number asking for "clever" ways to find the correct information in context.
It is not about just a full indexed search of the data, as some technology geeks might think. It is also about describing and standardizing metadata that describes the models. In that context, Mark walked through a list of existing standards, all with their pros and cons, ending up with the recommendation to use the ISO 10303-243 – MoSSEC standard.
MoSSEC standing for Modelling and Simulation information in a collaborative Systems Engineering Context to manage and connect the relationships between models.
MoSSEC and its implication for future digital enterprises are interesting, considering the importance of a model-based future. I am curious how PLM Vendors and tools will support and enable the standard for future interoperability and collaboration.
Additive Manufacturing
– not as simple as paper printing – yet
Andreas Graichen from Siemens Energy closed the day, coming back to the new technologies' topic: Additive Manufacturing or in common language 3D Printing. Andreas shared their Additive Manufacturing experiences, matching the famous Gartner Hype Cycle. His image shows that real work needs to be done to understand the technology and its use cases after the first excitement of the hype is over.
Material knowledge was one of the important topics to study when applying additive manufacturing. It is probably a new area for most companies to understand the material behaviors and properties in an Additive Manufacturing process.
The ultimate goal for Siemens Energy is to reach an "autonomous" workshop anywhere in the world where gas turbines could order their spare parts by themselves through digital warehouses. It is a grand vision, and Andreas confirmed that the scalability of Additive Manufacturing is still a challenge.
For rapid prototyping or small series of spare parts, Additive Manufacturing might be the right solution. The success of your Additive Manufacturing process depends a lot on how your company's management has realistic expectations and the budget available to explore this direction.
Conclusion
Day 1 was enjoyable and educational, starting and ending with a focus on disruptive technologies. The middle part related to data the data management concepts needed for a digital enterprise were the most exciting topics to follow up in my opinion.
Next week I will follow up with reviewing day 2 and share my conclusions. The PLM Road Map & PDT Spring 2021 conference confirmed that there is work to do to understand the future (of PLM).

After "The PLM Doctor is IN #2," now again a written post in the category of PLM and complementary practices/domains.
After PLM and Configuration Lifecycle ManagementCLM (January 2021) and PLM and Configuration Management CM (February 2021), now it is time to address the third interesting topic:
PLM and Supply Chain collaboration.
In this post, I am speaking with Magnus Färneland from Eurostep, a company well known in my PLM ecosystem, through their involvement in standards (STEP and PLCS), the PDT conferences, and their PLM collaboration hub, ShareAspace.
Supply Chain collaboration
The interaction between OEMs and their suppliers has been a topic of particular interest to me. As a warming-up, read my post after CIMdata/PDT Roadmap 2020:  PLM and the Supply Chain. In this post, I briefly touched on the Eurostep approach – having a Supply Chain Collaboration Hub. Below an image from that post – in this case, the Collaboration Hub is positioned between two OEMs.
Recently Eurostep shared a blog post in the same context: 3 Steps to remove data silos from your supply chain addressing the dreams of many companies: moving from disconnected information silos towards a logical flow of data. This topic is well suited for all companies in the digital transformation process with their supply chain. So, let us hear it from Eurostep.
Eurostep – the company / the mission
First of all, can you give a short introduction to Eurostep as a company and the unique value you are offering to your clients?
Eurostep was founded in 1994 by several world-class experts on product data and information management. In the year 2000, we started developing ShareAspace. We took all the experience we had from working with collaboration in the extended enterprise, mixed it with our standards knowledge, and selected Microsoft as the technology for our software platform.
We now offer ShareAspace as a solution for product information collaboration in all three industry verticals where we are active: Manufacturing, Defense and AEC & Plant.
ShareAspace is based on an information standard called PLCS (ISO 10300-239). This means we have a data model covering the complete life cycle of a product from requirements and conceptual design to an existing installed base. We have added things needed, such as consolidation and security. Our partnership with Microsoft has also resulted in ShareAspace being available in Azure as a service (our Design to Manufacturing software).
Why a supply chain collaboration hub?
Currently, most suppliers work in a disconnected manner with their clients – sending files up and down or the need to work inside the OEM environment. What are the reasons to consider a supply chain collaboration hub or, as you call it, a product information collaboration solution?
The hub concept is not new per se. There are plenty of examples of file sharing hubs. Once you realize that sending files back and forth by email is a disaster for keeping control of your information being shared with suppliers, you would probably try out one of the available file-sharing alternatives.
However, after a while, you begin to realize that a file share can be quite time consuming to keep up to date. Files are being changed. Files are being removed! Some files are enormous, and you realize that you only need a fraction of what is in the file. References within one file to another file becomes corrupt because the other file is of a new version. Etc. Etc.
This is about the time when you realize that you need similar control of the data you share with suppliers as you have in your internal systems. If not better.
A hub allows all partners to continue to use their internal tools and processes. It is also a more secure way of collaboration as the suppliers and partners are not let into the internal systems of the OEM.
Another significant side effect of this is that you only expose the data in the hub intended for external sharing and avoid sharing too much or exposing internal sensitive data.
A hub is also suitable for business flexibility as partners are not hardwired with the OEM. Partners can change, and IT systems in the value chain can change without impacting more than the single system's connecting to the hub.
Should every company implement a supply chain collaboration hub?
Based on your experience, what types of companies should implement a supply chain collaboration hub and what are the expected benefits?
The large OEMs and 1st tier suppliers certainly benefit from this since they can incorporate hundreds, if not thousands, of suppliers. Sharing technical data across the supply chain from a dedicated hub will remove confusions, improve control of the shared data, and build trust with their partners.
With our cloud-based offering, we now also make it possible for at least mid-sized companies (like 200+ employees) to use ShareAspace. They may not have a well-adopted PLM system or the issues of communicating complex specifications originating from several internal sources. However still, they need to be professional in dealing with suppliers.

The smallest client we have is a manufacturer of pool cleaners, a complex product with many suppliers. The company Weda [www.weda.se] has less than 10 employees, and they use ShareAspace as SaaS. With ShareAspace, they have improved their collaboration process with suppliers and cut costs and lowered inventory levels.
ShareAspace can really scale big. It serves as a collaboration solution for the two new Aircraft carriers in the UK, the QUEEN ELIZABETH class. The aircraft carriers were built by a consortium that was closed in early 2020.
ShareAspace is being used to hold the design data and other documentation from the consortium to be available to the multiple organizations (both inside and outside of the Ministry of Defence) that need controlled access.
What is the dependency on standards?
I always associate Eurostep with the PLCS (ISO 10303-239) standard, providing an information model for "hardware" products along the lifecycle. How important is this standard for you in the context of your ShareAspace offering?
Should everyone adapt to this standard?
We have used PLCS to define the internal data schema in ShareAspace. This is an excellent starting point for capturing information from different systems and domains and still getting it to fit together. Why invent something new?
However, we can import data in most formats, and it does not have to be according to a standard. When connecting to Teamcenter, Windchill, Enovia, SAP, Oracle, Maximo etc., it is more often in a proprietary format than according to any standards.
On the other hand, in some industries like Defense, standards-based data exchange is required and put into contracts. Sometimes it prescribes PLCS.  For the plant industry, it could be CFIHOS or ISO15926.
Supply Chain Collaboration and digital transformation
As stated at the beginning of this post, digital transformation is about connecting the information siloes through a digital thread. How important is this related to the supply chain?


Many companies have come a long way in improving their internal management of product data. But still, the exchange and sharing of data with the external world has considerable potential for improvement. Just look at the chaos everyone has experienced with emails, still used a lot, in finding the latest Word document or PowerPoint file. Imagine if you collaborate on a ship, a truck, a power plant, or a piece of complex infrastructure. FTP is not the answer, and for product data, Dropbox is not doing the trick.
A Digital Thread must support versions and changes in all directions, as changes are natural with reasonably advanced products. Much of the information created about or around a product is generated within the supply chain, like production parameters, test and inspection protocols, certifications, and more. Without an intelligent way of capturing this data, companies will continue to spend a fortune on administration trying to manage this manually.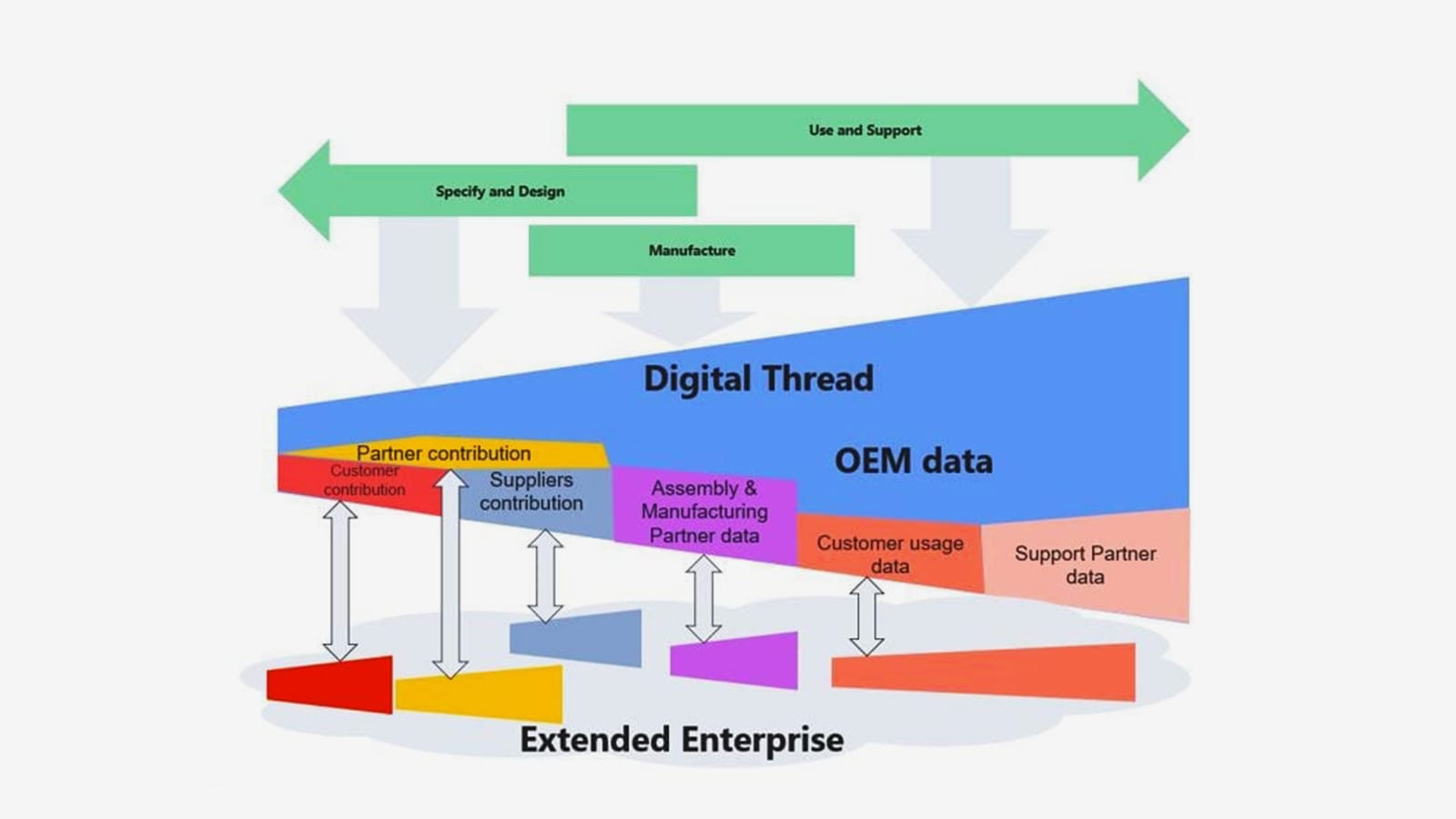 As the Digital Thread extends across the value chain, a useful sharing tool is needed to allow for configuration management across the complete chain – ShareAspace is designed for this. The great thing with PLCS is that it gives a standard model for the Digital Thread covering several Digital Twins. PLCS adds the life cycle component, which is essential, and there is no alternative. Therefore, we are welcome with ShareAspace and PLCS to add capabilities to snapshot standards like IFC etc., that are outside the STEP series of standards.
Learning more
We discussed that a supply chain collaboration hub can have specific value to a company. Where can readers learn more?
There is a lot of information available. Of course, on our Eurostep website, you will find information under the tab Resources or on the ShareAspace website under the tab News.
Other sources are:
What I have learned
I am surprised to see that the type of Supplier Collaboration Platform delivered by Eurostep is not a booming market. Where Time to Market is significantly impacted by how companies work with their suppliers, most companies still rely on the exchange of data packages.
The most advanced exchanges are using a model-based definition if relevant. Traditional PLM Vendors will not develop such platforms as the platform needs to be agnostic in both directions.
Having a recommended data model based on PLCS or a custom-data model in case of a large OEM can provide such a collaboration hub. Relative easy to implement (as you do not change your own PLM) and relatively easy to scale (adding a new supplier is easy).  For me, the supplier collaboration platform is a must in a modern, digital connected enterprise.
Conclusion
A lot of marketing money is spent on "Digital Thread" or "Digital Continuity".  If you are looking at the full value chain of product development and operational support, there are still many manual hand-over processes with suppliers. A supplier collaboration hub might be the missing piece of the puzzle to realize a real digital thread or continuity.
Last week I shared the first impression from my favorite conference, the PLM Roadmap / PDT conference organized by CIMdata and Eurostep. You can read some of the highlights here: The weekend after PLM Roadmap / PDT 2019 Day 1.
Click on the logo to see what was the full agenda. In this post, I will focus on some of the highlights of day 2.
Chernobyl, The megaproject with the New Arch
Christophe Portenseigne from the Bouygues Construction Group shared with us his personal story about this megaproject, called Novarka. 33 years ago, reactor #4 exploded and has been confined with an object shelter within six months in 1986. This was done with heroic speed, and it was anticipated that the shelter would only last for 20 – 30 years.  You can read about this project here.
The Novarka project was about creating a shelter for Confinement of the radioactive dust and protection of the existing against external actions (wind, water, snow…) for the next 100 years!
And even necessary, the inside the arch would be a plant where people could work safely on the process of decommissioning the existing contaminated structures. You can read about the full project here at the Novarka website.
What impressed me the most the personal stories of Christophe taking us through some of the massive challenges that need to be solved with innovative thinking. High complexity, a vast number of requirements, many parties, stakeholders involved closed in June 2019. As Christophe mentioned, this was a project to be proud of as it creates a kind of optimism that no matter how big the challenges are, with human ingenuity and effort, we can solve them.
A Model Factory for the Efficient Development of High Performing Vehicles
Eric Landel, expert leader for Numerical Modeling and Simulation at Renault, gave us an interesting insight into an aspect of digitalization that has become very valuable, the connection between design and simulation to develop products, in this case, the Renault CLIO V, as much as possible in the virtual world. You need excellent simulation models to match future reality (and tests). The target of simulation was to get the highest safety test results in the Europe NCAP rating – 5 stars.
The Renault modeling factory implemented a digital loop (below) to ensure that at the end of the design/simulation, a robust design would exist.  Eric mentioned that for the Clio, they did not build a prototype anymore. The first physical tests were done on cars coming from the plant. Despite the investment in simulation software, a considerable saving in crash part over cost before TGA (Tooling Go Ahead).
Combined with the savings, the process has been much faster than before. From 10 weeks for a simulation loop towards 4 weeks. The next target is to reduce this time to 1 week. A real example of digitization and a connected model-based approach.
From virtual prototype to hybrid twin
ESI – their sponsor session Evolving from Virtual Prototype Testing to Hybrid Twin: Challenges & Benefits was an excellent complementary session to the presentation from Renault
PLM, MBSE and Supply chain – challenges and opportunities
Nigel Shaw's presentation was one of my favorite presentations, as Nigel addressed the same topics that I have been discussing in the past years. His focus was on collaboration between the OEM and supplier with the various aspects of requirements management, configuration management, simulation and the different speeds of PLM (focus on mechanical) and ALM (focus on software)
How can such activities work in a digitally-connected environment instead of a document-based approach?  Nigel looked into the various aspects of existing standards in their domains and their future. There is a direction to MBE (Model-Based Everything) but still topics to consider. See below:
I agree with Nigel – the future is model-based – when will be the issue for the market leaders.
The ISO AP239 ed3 Project and the Through Life Cycle Interoperability Challenge
Yves Baudier from AFNET,  a reference association in France regarding industry digitation, digital threads, and digital processes for Extended Enterprise/Supply chain. All about a digital future and Yves presentation was about the interoperability challenge, mentioning three of my favorite points to consider:
Data becoming more and more a strategic asset – as digitalization of Industry and Services, new services enabled by data analytics
All engineering domains (from concept design to system end of life) need to develop a data-centric approach (not only model-centric)– An opportunity for PLM to cover the full life-cycle
Effectivity and efficiency of data interoperability through the life-cycle is now an essential industry requirement – e.g., "virtual product" and "digital twin" concepts
All the points are crucial for the domain of PLM.
In that context, Yves discussed the evolution of the ISO 10303-239 standard, also known as PLCS. The target with ISO AP239 ed3 is to become the standard for Aerospace and Defense for the full product lifecycle and through this convergence being able to push IT/PLM Vendors to comply – crucial for a digital enterprise
Time for the construction / civil industry
Christophe Castaing, director of digital engineering at Egis, shared with us their solution framework to manage large infrastructure projects by focusing on both the Asset Information (BIM-based) and the collaborative processes between the stakeholders, all based on standards. It was a broad and in-depth presentation – too much to share in a blog post. To conclude (see also Christophe's slide below) in the construction industry more and more, there is the desire to have a digital twin of a given asset (building/construction), creating the need for standard information models.
Pierre Benning, IT director from Bouygues Public Works gave us an update on the MINnD project. MINnD standing for Modeling INteroperable INformation for sustainable INfrastructures in xD, a French research project dedicated to the deployment of BIM and digital engineering in the infrastructure sector. Where BIM has been starting from the construction industry, there is a need for a similar, digital modeling approach for civil infrastructure. In 2014 Christophe Castaing already reported the activities of the MINnD project – see The weekend after PDT 2014. Now Pierre was updating us on what are the activities for MINnD Season 2 – see below:
As you can see, again, the interest in digital twins for operations and maintenance. Perhaps here, the civil infrastructure industry will be faster than traditional industries because of its enormous value. BIM and GIS reconciliation is a precise topic as many civil infrastructures have a GIS aspect – Road/Train infrastructure for example. The third bullet is evident to me. With digitization and the integration of contractors and suppliers, BIM and PLM will be more-and-more conceptual alike. The big difference still at this moment: BIM has one standard framework where PLM-standards are still not in a consolidation stage.
Digital Transformation for PLM is not an evolution
If you have been following my blog in the past two years, you may have noticed that I am exploring ways to solve the transition from traditional, coordinated PLM processes towards future, connected PLM. In this session, I shared with the audience that digital transformation is disruptive for PLM and requires thinking in two modes.
Thinking in two modes is not what people like, however, organizations can run in two modes. Also, I shared some examples from digital transformation stories that illustrate there was no transformation, either failure or smoke, and mirrors. You can download my presentation via SlideShare here.
Fireplace discussion: Bringing all the Trends Together, What's next
We closed the day and the conference with a fireplace chat moderated by Dr. Ken Versprille from CIMdata, where we discussed, among other things, the increasing complexity of products and products as a service. We have seen during the sessions from BAE Systems Maritime and Bouygues Construction Group that we can do complex projects, however, when there are competition and time to deliver pressure, we do not manage the project so much, we try to contain the potential risk. It was an interactive fireplace giving us enough thoughts for next year.
Conclusion
Nothing to add to Håkan Kårdén's closing tweet – I hope to see you next year.
The usage of standards has been a recurring topic the past 10 months, probably came back to the surface at PI PLMx Chicago during the PLM Leaders panel discussion. If you want to refresh the debate, Oleg Shilovitsky posted an overview: What vendors are thinking about PLM standards – Aras, Dassault Systemes, Onshape, Oracle PLM, Propel PLM, SAP, Siemens PLM.
It is clear for vendors when they would actively support standards they reduce their competitive advantage, after all, you are opening your systems to connect to other vendor solutions, reducing the chance to sell adjacent functionality. We call it vendor lock-in. If you think this approach only counts for PLM, I would suggest you open your Apple (iPhone) and think about vendor lock-in for a moment.
Vendors will only adhere to standards when pushed by their customers, and that is why we have a wide variety of standards in the engineering domain.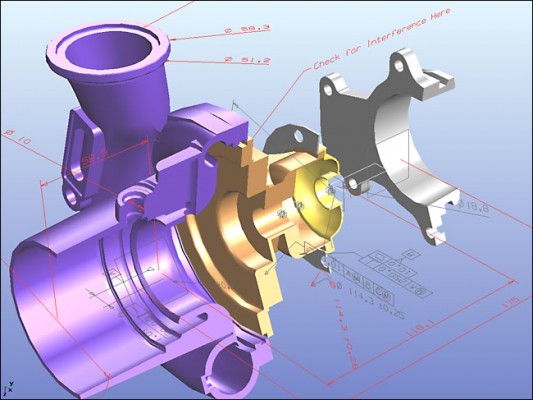 Take the example of JT as a standard viewing format, heavily pushed by Siemens for the German automotive industry to be able to work downstream with CATIA and NX models. There was a JT-version (v9.5) that reached ISO 1306 alignment, but after that, Siemens changed JT (v10) again to optimize their own exchange scenarios, and the standard was lost.
And as customers did not complain (too much), the divergence continued. So it clear  vendors will not maintain standards out of charity as your business does not work for charity either (or do you ?). So I do not blame them is there is no push from their customers to maintain them.
What about standards?
The discussion related to standards flared up around the IpX ConX19 conference and a debate between Oleg & Hakan Kardan (EuroSTEP) where Hakan suggested that PLCS could be a standard data model for the digital thread – you can read Oleg's view here: Do we need a standard like PLCS to build a digital thread.
Oleg's opening sentence made me immediately stop reading further as more and more I am tired of this type of framing if you want to do a serious discussion based on arguments. Such a statement is called framing and in particular in politics we see the bad examples of framing.
Standards are like toothbrushes, a good idea, but no one wants to use anyone else's. The history of engineering and manufacturing software is full of stories about standards.
This opening sentence says all about the mindset related to standards – it is a one-liner – not a fact. It could have been a tweet in this society of experts.
Still later,I read the blog post and learned Oleg has no arguments to depreciate PLCS, however as he does not know the details, he will probably not use it. The main challenge of standards: you need to spend time to understand and adhere to them and agree on following them. Otherwise, you get the same diversion of JT again or similar examples.
However, I might have been wrong in my conclusion as Oleg did some thinking on a Sunday and came with an excellent post: What would happen if PLM Vendors agree about data standards. Here Oleg is making the comparison with a standard in the digital world, established by Google, Microsoft, Yahoo, and Yandex : Schema.org: Evolution of Structured Data on the Web.
There is a need for semantic mapping and understanding in the day-to-day-world, and this understanding makes you realize the same is needed for PLM. That was one of the reasons why I wrote in the past (2015) a series of posts related to the importance of a PLM data model:
All these posts were aimed to help companies and implementers to make the right choices for an item-centric PLM implementation. At that time – 2015, item-centric was the current PLM best practice. I learned from my engagements in the past 15 years, in particular when you have a flexible modeling tool like SmarTeam or nowadays Aras, making the right data model decisions are crucial for future growth.
Who needs standards?
First of all, as long as you stay in your controlled environment, you do not need standards. In particular, in the Aerospace and Automotive industry, the OEMs defined the software versions to be used, and the supply chain had to adhere to their chosen formats. Even this narrow definition was not complete enough as a 3D CAD model needed to be exported for simulation or manufacturing purposes. There was not a single vendor working on a single CAD model definition at that time. So the need for standards emerged as there was a need to exchange data.
Data exchange is the driving force behind standards.
In a second stage also neutral format data storage became an important point – how to save for 75 years an aircraft definition.
Oil & Gas / Building – Construction
These two industries both had the need for standards. The Oil & Gas industry relies on EPC (Engineering / Procurement / Construction)  companies that build plants or platforms. Then the owner/operator takes over the operation and needs a hand-over of all the relevant information. However if this information would be delivered in the application-specific formats the EPC companies have used, the owner/operator would require various software environments and skills, just to have access to the data.
Therefore if the data is delivered in a standard format (ISO 15926) and the exchange follows CFIHOS (Capital Facilities Information Hand Over Specification) this exchange can be done more automated between the EPC and Owner/Operator environment, leading to lower overall cost of delivering and maintaining the information combined with a higher quality. For that reason, the Oil & Gas industry has invested already for a long time in standards as their plants/platform have a long lifecycle.
And the same is happening in the construction industry. Initially Autodesk and Bentley were fighting to become the vendor-standard and ultimately the IFC-standard has taken a lot from the Autodesk-world, but has become a neutral standard for all parties involved in a construction project to share and exchange data. In particular for the construction industry,  the cloud has been an accelerator for collaboration.
So standards are needed where companies/people exchange information
For the same reason in most global companies, English became the standard language. If you needed to learn all the languages spoken in a worldwide organization, you would not have time for business. Therefore everyone making some effort to communicate in one standard language is the best way to operate.
And this is the same for a future data-driven environment – we cannot afford for every exchange to go to the native format from the receiver or source – common neutral (or winning) standards will ultimately also come up in the world of manufacturing data exchange and IoT.
Companies need to push
This is probably the blocking issue for standards. Developing standards, using standards require an effort without immediate ROI. So why not use vendor-formats/models and create custom point-to-point interface as we only need one or two interfaces?  Companies delivering products with a long lifecycle know that the current data formats are not guaranteed for the future, so they push for standards (aerospace/defense/ oil & gas/construction/ infrastructure).
Other companies are looking for short term results, and standards are slowing them down. However as soon as they need to exchange data with their Eco-system (suppliers/ customers) an existing standard will make their business more scalable. The lack of standards is one of the inhibitors for Model-Based Definition or the Model-Based Enterprise – see also my post on this topic: Model-Based – Connecting Engineering and Manufacturing
When we would imagine the Digital Enterprise of the future, information will be connected through data streams and models. In a digital enterprise file conversions and proprietary formats will impede the flow of data and create non-value added work. For example if we look to current "Digital Twin" concepts, the 3D-representation of the twin is recreated again instead of a neutral 3D-model continuity. This because companies currently work in a coordinated manner. In perhaps 10 years from now we will reach maturity of a model-based enterprise, which only can exist based on standards. If the standards are based on one dominating platform or based on a merger of standards will be the question.
To discuss this question and how to bridge from the past to the future I am looking forward meeting you at the upcoming PLM Roadmap & PDT 2019 EMEA conference on 13-14 November in Paris, France. Download the program here: PLM for Professionals – Product Lifecycle Innovation
Conclusion
I believe PLM Standards will emerge when building and optimizing a digital enterprise. We need to keep on pushing and actively working for meaningful standards as they are crucial to avoid a lock-in of your data. Potentially creating dead-ends and massive inefficiencies.  The future is about connected Eco-systems, and the leanest companies will survive. Standards do not need to be extraordinarily well-defined and can start from a high-level alignment as we saw from schema.org. Keep on investing and contributing to standards and related discussion to create a shared learning path.
Thanks Oleg Shilovitsky to keep the topic alive.

p.s. I had not time to read and process your PLM Data Commodizitation post
A week ago I attended the joined CIMdata Roadmap and PDT Europe conference in Stuttgart as you can recall from last week's post: The weekend after CIMdata Roadmap / PDT Europe 2018. As there was so much information to share, I had to split the report into two posts. This time the focus on the PDT Europe. In general, the PDT conferences have always been focusing on sharing experiences and developments related to standards. A topic you will not see at PLM Vendor conferences. Therefore, your chance to learn and take part if you believe in standards.
This year's theme: Collaboration in the Engineering and Manufacturing Supply Chain – the Extended Digital Thread and Smart Manufacturing. Industry 4.0 plays a significant role here.
Model-based X: What is it and what is the status?
I have seen Peter Bilello presenting this topic now several times, and every time there is a little more progress. The fact that there is still an acronym war illustrated that the various aspects of a model-based approach are not yet defined. Some critics will be stating that's because we do not need model-based and it is only a vendor marketing trick again.  Two comments here:
If you want to implement an end-to-end model-based approach including your customers and supply chain, you cannot avoid standard. More will become clear when you read the rest of this post. Vendors will not promote standards as it reduces their capabilities to deliver unique So standards must come from the market, not from the marketing.
In 2007 Carl Bass, at that time CEO at Autodesk made his statement: "There are only three customers in the world that have a PLM problem; Dassault, PTC, and There are no other companies that say I have a PLM problem". Have a look here. PLM is understood by now and even by Autodesk. The statement illustrates that in the beginning the PLM target was not clear and people thought PLM was a system instead of a strategic approach. Model-based ways of working have to go through the same learning path, hopefully, faster.
Peter's presentation was a good walk-through pointing out what exists, where we focus and that there is still working to be done. Not by vendors but by companies. Therefore I wholeheartedly agree with Peter's closing remarks – no time to sit back and watch if you want to benefit from model-based approaches.
Smart Manufacturing
Kenny Swope, known from his presentations related to Boeing, now spoke to us as the Chair of the ISO/TC 184/SC 4 workgroup related to Industrial Data. To say it in decoded mode: Kenny is heading Sub-committee 4 with a focus on Industrial Data. SC4 is part of a more prominent theme: Automation Systems and integration identified by TC 184 all as part of the ISO framework. The scope:
Standardization of the content, meaning, structure, representation and quality management of the information required to define an engineered product and its characteristics at any required level of detail at any part of its lifecycle from conception through disposal, together with the interfaces required to deliver and collect the information necessary to support any business or technical process or service related to that engineered product during its lifecycle.
Perhaps boring to read if you think about all the demos you have seen at trade shows related to Smart Manufacturing. If you want these demos to become true in a vendor-independent environment, you will need to agree on a common framework of definitions to ensure future continuity beyond the demo. And here lies the business excitement, the real competitive advantages companies can have implementing Smart Manufacturing in a Scaleable, future-oriented way.
One of the often heard statements is that standards are too slow or incomplete. Incomplete is not a problem when there is a need, the standard will follow. Compare it with language, we will always invent new words for new concepts.
Being slow might be the case in the past. Kenny showed the relative fast convergence from country-specific Smart Manufacturing standards into a joined ISO/IEC framework – all within three years. ISO and IEC have been teaming-up already to build Smart Manufacturing Reference models.
This is already a considerable effort,  as the local reference models need to be studied and mapped to a common architecture. The target is to have a first Technical Specification for a joint standard final 2020 – quite fast!
Meinolf Gröpper from the German VDMA  presented what they are doing to support Smart Manufacturing / Industrie 4.0. The VDMA is a well-known engineering federation with 3200 member companies, 85 % of them are Small and Medium Enterprises – the power of the German economy.
The VDMA provides networking capabilities, readiness assessments for members to be the enabler for companies to transform. As Meinolf stated Industrie 4.0 is not about technology, it is about cross-border services and international cooperation. A strategy that every company has to develop and if possible implement at its own pace. Standards will accelerate the implementation of Industrie 4.0
The Smart Manufacturing session was concluded by Gunilla Sivard, Professor at KTH in Stockholm and Hampus Wranér, Consultant at Eurostep. They presented the work done on the DIgln project, targeting an infrastructure for Smart Manufacturing.
The presentation showed the implementation of the testbed using twittering bus communication and the ISO 10303-239 PLCS information standard as the persistent layer. The results were promising to further build capabilities on top of the infrastructure below:
The conclusion from the Smart Manufacturing session was that emerging and available standards can accelerate the deployment.
Enabling digital continuity in the Factory of the Future
Alcibiades Gonzalez-Noval from Airbus shared challenges and the strategy for Airbus's factory of the future based on digital continuity from the virtual world towards the physical world, connecting with PLM, ERP, and MOM. Concepts many companies are currently working on with various maturity stages.
I agree with his lessons learned. We cannot think in silos anymore in a digital future – everything is connected. And please forget the PoC, to gain time start piloting and fail or succeed fast. Companies have lost years because of just doing PoCs and not going into action. The last point, networks segregation for sure is an issue, relevant for plant operations. I experienced this also in the past when promoting PLM concepts for (nuclear) owners/operators of plants. Network security is for sure an issue to resolve.
Cross-Discipline Lifecycle Collaboration Forum
Setting up the digital thread across engineering and the value chain.
Peter Gerber, Chairman of CDLC Forum and Data Exchange & Integration Leader at Schaefller and Pierre Bodin at Senior Manager Mews Partners, presented their findings related to the challenge of managing complex products (mechanical, electrical, software using system engineering methodology)  to work properly at affordable cost in a real-time mode, multidisciplinary and coordination across the whole value chain. Something you might expect could be done when reviewing all PLM Vendor's marketing materials, something you might expect hard to do when remembering Martin Eigner's statement that 95 % of the companies have not solved mechatronics collaboration yet. (See: The weekend after CIMdata PLM Roadmap and PDT Europe)
A demonstrator was defined, and various vendors participated in building a demonstrator based on their Out-Of-The-Box capabilities. The result showed that for all participants there were still gaps to resolve for full collaboration. A new version of the demonstrator is now planned for the middle of next year – curious to learn the results at that time. Multi-disciplinary collaboration is a (conceptual) pillar for future digital business – it needs to be possible.
A Digital Thread based on the PLCS standard.
Nigel Shaw, Eurostep's managing director in the UK, took us through his evolution of PLCS (Product Life Cycle Support) and extension of the ISO 10303 STEP standard. (STEP Standard for Exchange of Product data). Nigel mentioned how over all these years, millions (and a lot of brain power) have been invested in PLCS to where it is now.
PLCS has been extremely useful as an interface standard for contracting, provide product data in a neutral way. As an example, last year the Swedish Defense organization (FMV) and France's DGA made PLCS DEXs as part of the contractual conditions. It would be too costly to have all product data for all defense systems in proprietary vendor formats and this over the product lifecycle.
Those following the standards in the process industry will rely on ISO 15926 / CFIHOS as this standard's dictionary, and data model is more geared to process data- and in particular the exchange of data from the various contractors with the owner/operator.
Coming back to PLCS and the Digital Twin – it is all about digital continuity of information. Otherwise, if we have to recreate information in every lifecycle stage of a product (design/manufacturing / operations), it will be too costly and not digital connected. This illustrates the growing needs for standards. I had nothing to add to Nigel's conclusions:
It is interesting to note that product management has moved a long way over the last 10-20 years however as we include more and more into PLM, there are all the time new concepts to be solved. The cases we discuss today in our PLM communities were most of the time visions 10 years ago. Nowadays we want to include Model-Based Systems Engineering, 3D Modeling and simulation, electronics and software and even aftermarket, product support in true PLM. This was not the case 20 years ago. The people involved in the development of PLCS were for sure visionaries as product data connectivity along the whole lifecycle is needed and enabled by the standard.
Investing in Industry 4.0?
Hard Realities of the Grand Vision.
Marc Halpern from Gartner is one of the regular speakers at the PDT conference. Unfortunate he could not be with us that day, however, through a labor-intensive connection (mobile phone close to the speaker and Nigel Shaw trying to stay in sync with the presented slides) we could hear Marc speak about what we wanted to achieve too – a digital continuity.
Marc restated the massive potential of Industrie 4.0 when it comes to scalability, agility, flexibility, and efficiency.
Although technologies are evolving rapidly, it is the existing legacy that inhibits fast adoption. A topic that was also central in my presentation. It is not just a change in technology, there is much more connected.
Marc recommends a changing role for IT, where they should focus more on business priorities and business leadership strategies. This as opposed to the classical role of the IT organization where IT needed to support the business, now they will be part of leading the business too.
To orchestrate such an IT evolution, Marc recommends a "systems of systems" planning and execution across IT and Business. One of my recent blog posts: Moving to a model-based enterprise:  The business (information) model can be seen in that context.
How to deal with the incompatible future?
I was happy to conclude the sessions with the topic that concerns me the most at this time. Companies in their current business are already struggling to get aligned and coordinated between disciplines and external stakeholders, the gap to be connected is vast as it requires a master data management approach, an enterprise data model and model-based ways of working. Read my posts from the past ½ year starting here, and you get the picture.
Note: This image is based on Marc Halpern's (Gartner) Technology/Maturity diagram from PDT 2015
I concluded with explaining companies need to learn to work in two modes. One mode will be the traditional way of working which I call the coordinated approach and a growing focus on operating in a connected mode.  You can see my full presentation here on SlideShare: How to deal with the incompatible future.
Conclusion
The conference was closed with a panel discussion where we shared our concerns related to the challenges companies face to change their traditional ways of working meanwhile entering a digital era. The positive points are there – baby steps – PLM is becoming understood, the significance of standards is becoming more clear. The need: a long-term vision.
 This concludes my review of an excellent conference – I learned again a lot and I hope to see you next year too. Thanks again to CIMdata and Eurostep for organizing this event
PDT Europe is over, and it was this year a surprising aligned conference, showing that ideas and concepts align more and more for modern PLM. Håkan Kårdén opened the conference mentioning the event was fully booked, about 160 attendees from over 19 countries. With a typical attendance of approx. 120 participants, this showed the theme of the conference: Continuous Transformation of PLM to support the Lifecycle Model-Based Enterprise was very attractive and real. You can find a history of tweets following the hashtag #pdte17
Setting the scene
Peter Bilello from CIMdata kicked-off by bringing some structure related to the various Model-Based areas and Digital Thread. Peter started by mentioning that technology is the least important issue as organization culture, changing processing and adapting people skills are more critical factors for a successful adoption of modern PLM. Something that would repeatedly be confirmed by other speakers during the conference.
Peter presented a nice slide bringing the Model-Based terminology together on one page. Next, Peter took us through various digital threads in the different stages of the product lifecycle. Peter concluded with the message that we are still in a learning process redefining optimal processes for PLM, using Model-Based approaches and Digital Threads and thanks (or due) to digitalization these changes will be rapid. Ending with an overall conclusion that we should keep in mind:

It isn't about what we call digitalization; It is about delivering value to customers and all other stakeholders of the enterprise
Next Marc Halpern busted the Myth of Digital Twins (according to his session title) and looked into realistic planning them. I am not sure if Marc smashed some of the myths although it is sure Digital Twin is at the top of the hype cycle and we are all starting to look for practical implementations. A digital twin can have many appearances and depends on its usage. For sure it is not just a 3D Virtual model.
There are still many areas to consider when implementing a digital twin for your products. Depending on what and how you apply the connection between the virtual and the physical model, you have to consider where your vendor really is in maturity and avoid lock in on his approach. In particular, in these early stages, you are not sure which technology will last longer, and data ownership and confidentially will play an important role. And opposite to quick wins make sure your digital twin is open and use as much as possible open standards to stay open for the future, which also means keep aiming for working with multiple vendors.
Industry sessions
Next, we had industry-focused sessions related to a lifecycle Model-Based enterprise and later in the afternoon a session from Outotec with the title: Managing Installed Base to Unlock Service opportunities.
The first presentation from Väino Tarandi, professor in IT in Construction at KTH Sweden presented his findings related to BIM and GIS in the context of the lifecycle, a test bed where PLCS meets IFC. Interesting as I have been involved in BIM Level 3 discussions in the UK, which was already an operational challenge for stakeholders in the construction industry now extended with the concept of the lifecycle. So far these projects are at the academic level, and I am still waiting for companies to push and discover the full benefits of an integrated approach.
Concepts for the industrial approach could be learned from Outotec as you might understand later in this post. Of course the difference is that Outotec is aiming for data ownership along the lifecycle, where in case of the construction industries, each silo often is handled by a different contractor.
Fredrik Ekström from Swedish Transport Administration shared his challenges of managing assets for both road and railway transport – see image on the left. I have worked around this domain in the Netherlands, where asset management for infrastructure and asset management for the rail infrastructure are managed in two different organizations. I believe Fredrik (and similar organizations) could learn from the concepts in other industries. Again Outotec's example is also about having relevant information to increase service capabilities, where the Swedish Transport Administration is aiming to have the right data for their services. When you look at the challenges reported by Fredrik, I assume he can find the answers in other industry concepts.
Outotec's presentation related to managing installed base and unlock service opportunities explained by Sami Grönstrand and Helena Guiterrez was besides entertaining easy to digest content and well-paced. Without being academic, they explained somehow the challenges of a company with existing systems in place moving towards concepts of a digital twin and the related data management and quality issues. Their practical example illustrated that if you have a clear target, understanding better a customer specific environment to sell better services, can be achieved by rational thinking and doing, a typical Finish approach. This all including the "bi-modal approach" and people change management.
Future Automotive
Ivar Hammarstadt, Senior Analyst Technology Intelligence for Volvo Cars Corporation entertained us with a projection toward the future based on 160 years of automotive industry. Interesting as electrical did not seem to be the only way to go for a sustainable future depending on operational performance demands.
Next Jeanette Nilsson and Daniel Adin from Volvo Group Truck shared their findings related to an evaluation project for more than one year where they evaluated the major PLM Vendors (Dassault Systemes / PTC / Siemens) on their Out-of-the-box capabilities related to 3D product documentation and manufacturing.
They concluded that none of the vendors were able to support the full Volvo Truck complexity in a OOTB matter. Also, it was a good awareness project for Volvo Trucks organization to understand that a common system for 3D geometry reduces the need for data transfers and manual data validation. Cross-functional iterations can start earlier, and more iterations can be performed. This will support a shortening of lead time and improve product quality. Personally, I believe this was a rather expensive approach to create awareness for such a conclusion, pushing PLM vendors in a competitive pre-sales position for so much detail.
Future Aerospace
Kenny Swope from Boeing talked us through the potential Boeing journey towards a Model-Based Enterprise. Boeing has always been challenging themselves and their partners to deliver environments close to what is possible. Look at the Boeing journey and you can see that already in 2005 they were aiming for an approach that most of current manufacturing enterprises cannot meet. And now they are planning their future state.
To approach the future state Boeing aims to align their business with a single architecture for all aspects of the company. Starting with collecting capabilities (over 400 in 6 levels) and defining value streams (strategic/operational) the next step is mapping the capabilities to the value streams.  Part of the process would be to look at the components of a value stream if they could be fulfilled by a service. In this way you design your business for a service-oriented architecture, still independent from any system constraints. As Kenny states the aerospace and defense industry has a long history and therefore slow to change as its culture is rooted in the organization. It will be interesting to learn from Kenny next hear how much (mandatory) progress towards a model-based enterprise has been achieved and which values have been confirmed.
Gearing up for day 2
Martin Eigner took us in high-speed mode through his vision and experience working in a bi-modular approach with Aras to support legacy environments and a modern federated layer to support the complexity of a digital enterprise where the system architecture is leading. I will share more details on these concepts in my next post as during day 2 of PDT Europe both Marc Halpern and me were talking related to this topic, and I will combine it in a more extended story.
The last formal presentation for day one was from Nigel Shaw from Eurostep Ltd where he took us through the journey of challenges for a model-based enterprise. As there will not be a single model that defines all, it will be clear various models and derived models will exist for a product/system.  Interesting was Nigel's slide showing the multiple models disciplines can have from an airplane (1948). Similar to the famous "swing" cartoon, used to illustrate that every single view can be entirely different from the purpose of the product.
Next are these models consistent and still describing the same initial specified system. On top of that, even the usage of various modeling techniques and tools will lead to differences in the system. And the last challenge on top is managing the change over the system's lifecycle. From here Nigel stepped into the need for digital threads to govern relations between the various views per discipline and lifecycle stage, not only for the physical and the virtual twin.  When comparing the needs of a model-based enterprise through its lifecycle, Nigel concluded that using PLCS as a framework provides an excellent fit to manage such complexity.
Finally, after a panel discussion, which was more a collection of opinions as the target was not necessary to align in such a short time, it was time for the PDT dinner always an excellent way to share thoughts and verify them with your peers.
Conclusion
Day 1 was over before you knew it without any moment of boredom and so I hope is also this post. Next week I will close reviewing the PDT conference with some more details about my favorite topics.

Two terms pass me every day: Digital Transformation appears in every business discussion, and IP Security, a topic also discussed in all parts of society. We realize it is easy to steal electronic data without being detected (immediately).
What is Digital Transformation?
Digital Transformation is reshaping business processes to enable new business models, create a closer relation with the market, and react faster while reducing the inefficiencies of collecting, converting and processing analog or disconnected information.
Digital Transformation became possible thanks to the lower costs of technology and global connectivity, allowing companies, devices, and customers to interact in almost real-time when they are connected to the internet.
IoT (Internet of Things) and IIoT (Industrial Internet of Things) are terms closely related to Digital Transformation. Their focus is on creating connectivity with products (systems) in the field, providing a tighter relation with the customer and enabling new (upgrade) services to gain better performance. Every manufacturing company should be exploring IoT and IIoT possibilities now.
Digital Transformation is also happening in the back office of companies. The target is to create a digital data flow inside the company and with the outside stakeholders, e.g., customers, suppliers, authorities. The benefits are mainly improved efficiency, faster response and higher quality interaction with the outside world.
The part of Digital Transformation that concerns me the most is the domain of PLM. As I have stated in earlier posts (Best Practices or Next Practices ? / What is Digital PLM ?), the need is to replace the classical document-driven product to market approach by a modern data-driven interaction of products and services.
I am continually surprised that companies with an excellent Digital Transformation profile on their websites have no clue about Digital Transformation in their product innovation domain. Marketing is faster than reality.
I am happy to discuss this topic with many of my peers in the product innovation world @ PI Berlin 2017, three weeks from now. I am eagerly looking to look at how and why companies do not embrace the Digital Transformation sooner and faster. The theme of the conference, "Digital Transformation: From Hype to Value " says it all. You can find the program here, and I will report about this conference the weekend after.
IP Security
The topic of IP protection has always been high on the agenda of manufacturing companies. Digital Transformation brings new challenges. Digital information will be stored somewhere on a server and probably through firewalls connected to the internet. Some industries have high-security policies, with separate networks for their operational environments. Still, many large enterprises are currently struggling with IP security policies as sharing data while protecting IP between various systems creates a lot of administration per system.
Cloud solutions for sharing data are still a huge security risk. Where is the data stored and who else have access to it? Dropbox came in the news recently as "deleted" data came back after five years, "due to a bug." Cloud data sharing cannot be trusted for real sensitive information.
Cloud providers always claim that their solutions are safer due to their strict safety procedures compared to the improvident behavior of employees. And, this is true. For example, a company I worked with had implemented Digital Rights Management (DRM) for internal sharing of their IP, making sure that users could only read information on the screen, and not store it locally if they had an issue with the server. "No problem", one of the employees said, "I have here a copy of the documents on my USB-drive."
Cloud-based PLM systems are supposed to be safer. However, it still matters where the data is stored; security and hacking policies of countries vary. Assume your company´s IP is safe for hacking. Then the next question is "How about ownership of your data?"
Vendor lock-in and ownership of data are topics that always comes back at the PDT conferences (see my post on PDT2016). When a PLM cloud provider stores your product data in a proprietary data format, you will always be forced to have a costly data migration project when you decide to change from the provider.
Why not use standards for data storage? Hakan Kårdén triggered me on this topic again with his recent post: Data Is The New Oil So Make Sure You Ask For The Right Quality.
Conclusion:
Digital Transformation is happening everywhere but not always with the same pace and focus. New PLM practices still need to be implemented on a larger scale to become best practices. Digital information in the context of Intellectual Property creates extra challenges to be solved. Cloud providers do not offer yet solutions that are safe and avoiding vendor lock-in.
Be aware. To be continued…
Many thanks (again) to Dick Bourke for his editing suggestions
In my earlier post The weekend after PDT Europe I wrote about the first day of this interesting conference. We ended that day with some food for thought related to a bimodal PLM approach. Now I will take you through the highlights of day 2.
Interoperability and openness in the air (aerospace)
I believe Airbus and Boeing are one of the most challenged companies when it comes to PLM. They have to cope with their stakeholders and massive amount of suppliers involved, constrained by a strong focus on safety and quality. And as airplanes have a long lifetime, the need to keep data accessible and available for over 75 years are massive challenges. The morning was opened by presentations from Anders Romare (Airbus) and Brian Chiesi (Boeing) where they confirmed they could switch the presenter´s role between them as the situations in Airbus and Boeing are so alike.
Anders Romare started with a presentation called: Digital Transformation through an e2e PLM backbone, where he explained the concept of extracting data from the various silo systems in the company (CRM, PLM, MES, ERP) to make data available across the enterprise. In particular in their business transformation towards digital capabilities Airbus needed and created a new architecture on top of the existing business systems, focusing on data ("Data is the new oil").
In order to meet a data-driven environment, Airbus extracts and normalizes data from their business systems and provides a data lake with integrated data on top of which various apps can run to offer digital services to existing and new stakeholders on any type of device. The data-driven environment allows people to have information in context and almost real-time available to make right decisions. Currently, these apps run on top of this data layer.
Now imagine information captured by these apps could be stored or directed back in the original architecture supporting the standard processes. This would be a real example of the bimodal approach as discussed on day 1. As a closing remark Anders also stated that three years ago digital transformation was not really visible at Airbus, now it is a must.
Next Brian Chiesi from Boeing talked about Data Standards: A strategic lever for Boeing Commercial Airplanes. Brian talked about the complex landscape at Boeing. 2500 Applications / 5000 Servers / 900 changes annually (3 per day) impacting 40.000 users. There is a lot of data replication because many systems need their own proprietary format. Brian estimated that if 12 copies exist now, in the ideal world 2 or 3 will do. Brian presented a similar future concept as Airbus, where the traditional business systems (Systems Engineering, PLM, MRP, ERP, MES) are all connected through a service backbone. This new architecture is needed to address modern technology capabilities (social / mobile / analytics / cloud /IoT / Automation / ,,)
Interesting part of this architecture is that Boeing aims to exchange data with the outside world (customers / regulatory/supply chain /analytics / manufacturing) through industry standard interfaces to have an optimal flow of information. Standardization would lead to a reduction of customized applications, minimize costs of integration and migration, break the obsolescence cycle and enable future technologies. Brian knows that companies need to pull for standards, vendors will deliver. Boeing will be pushing for standards in their contracts and will actively work together with five major Aerospace & Defense companies to define required PLM capabilities and have a unified voice to PLM solutions providers.
My conclusion on these to Aerospace giants is they express the need to adapt to move to modern digital businesses, no longer the linear approach from the classic airplane programs. Incremental innovation in various domains is the future. The existing systems need to be there to support their current fleet for many, many years to come. The new data-driven layer needs to be connected through normalization and standardization of data. For the future focus on standards is a must.
Simon Floyd from Microsoft talked about The Impact of Digital Transformation in the Manufacturing Enterprise where he talked us through Digital Transformation, IoT, and analytics in the product lifecycle, clarified by examples from the Rolls Royce turbine engine. A good and compelling story which could be used by any vendor explaining digital transformation and the relation to IoT. Next, Simon walked through the Microsoft portfolio and solution components to support a modern digital enterprise based on various platform services. At the end, Simon articulated how for example ShareAspace based on Microsoft infrastructure and technology can be an interface between various PLM environments through the product lifecycle.
Simon's presentation was followed by a panel discussion where the theme was: When is history and legacy an asset and barriers of entry and When does it become a burden and an invitation to future competitors.

Mark Halpern (Gartner) mentioned here again the bimodal thinking. Aras is bimodal. The classical PLM vendors running in mode 1 will not change radically and the new vendors, the mode 2 types will need time to create credibility. Other companies mentioned here PropelPLM (PLM on Salesforce platform) or OnShape will battle the next five years to become significant and might disrupt.
Simon Floyd(Microsoft) mentioned that in order to keep innovation within Microsoft, they allow for startups within in the company, with no constraints in the beginning to Microsoft. This to keep disruption inside you company instead of being disrupted from outside. Another point mentioned was that Tesla did not want to wait till COTS software would be available for their product development and support platform. Therefore they develop parts themselves. Are we going back to the early days of IT ?
Interesting trend I believe too, in case the building blocks for such solution architecture are based on open (standardized ?) services.
Data Quality
After the lunch, the conference was split in three streams where I was participating in the "Creating and managing information quality stream." As I discussed in my presentation from day 1, there is a need for accurate data, starting a.s.a.p. as the future of our businesses will run on data as we learned from all speakers (and this is not a secret – still many companies do not act).
In the context of data quality, Jean Brange from Boost presented the ISO 8000 framework for data and information quality management. This standard is now under development and will help companies to address their digital needs. The challenge of data quality is that we need to store data with the right syntax and semantic to be used and in addition, it needs to be pragmatic: what are we going to store that will have value. And then the challenge of evaluating the content. Empty fields can be discovered, however, how do you qualify the quality of field with a value. The ISO 8000 framework is a framework, like ISO 9000 (product quality) that allow companies to work in a methodological way towards acceptable and needed data quality.
Magnus Färneland from Eurostep addressed the topic of data quality and the foundation for automation based on the latest developments done by Eurostep on top of their already rich PLCS data model. The PLCS data model is an impressive model as it already supports all facets of product lifecycle from design, through development and operations. By introducing soft typing, EuroStep allows a more detailed tuning of the data model to ensure configuration management. When at which stage of the lifecycle is certain information required (and becomes mandatory) ? Consistent data quality enforced through business process logic.
The conference ended with Marc Halpern making a plea for Take Control of Your Product Data or Lose Control of Your Revenue, where Marc painted the future (horror) scenario that due to digital transformation the real "big fish" will be the digital business ecosystem owner and that once you are locked in with a vendor, these vendors can uplift their prices to save their own business without any respect for your company's business model. Marc gave some examples where some vendor raised prices with the subscription model up to 40 %. Therefore even when you are just closing a new agreement with a vendor, you should negotiate a price guarantee and a certain bandwidth for increase. And on top of that you should prepare an exit strategy – prepare data for migration and have backups using standards. Marc gave some examples of billions extra cost related to data quality and loss. It can hurt !! Finally, Marc ended with recommendations for master data management and quality as a needed company strategy.
Gerard Litjens from CIMdata as closing speaker gave a very comprehensive overview of The Internet of Thing – What does it mean for PLM ? based on CIMdata' s vision. As all vendors in this space explain the relation between IoT and PLM differently, it was a good presentation to be used as a base for the discussion: how does IoT influence our PLM landscape. Because of the length of this blog post, I will not further go into these details – it is worth obtaining this overview.
Concluding: PDT2016 is a crucial PLM conference for people who are interested in the details of PLM. Other conferences might address high-level customer stories, at PDT2016 it is about the details and sharing the advantages of using standards. Standards are crucial for a data-driven environment where business platforms with all their constraints will be the future. And I saw more and more companies are working with standards in a pragmatic manner, observing the benefits and pushing for more data standards – it is not just theory.

See you next year ?
I am just back from the annual PDT conference (12th edition), this year hosted in Paris from 9 to 10 November, co-located with CIMdata's PLM Road Map 2016 for Aerospace & Defense. The PDT conference, organized by EuroStep and CIMdata, is a relatively small conference with a little over a hundred attendees. The attractiveness of this conference is that the group of dedicated participants is very interactive with each other sharing honest opinions and situations, sometimes going very deep into the details, needed to get the full picture. The theme of the conference was: "Investing for the future while managing product data legacy and obsolescence." Here are some of the impressions from these days, giving you food for thought to join next year.
Setting the scene
Almost traditionally Peter Bilello (CIMdata) started the conference followed by Marc Halpern (Gartner). Their two presentations had an excellent storyline together.
Pieter Bilello started and discussed Issues and Remedies for PLM Obsolescence. Peter did not address PLM obsolescence for the first time. It is a topic many early PLM adaptors are facing and in a way the imminent obsolescence of their current environments block them of taking advantage of new technologies and capabilities current PLM vendors offer. Having learned from the past CIMdata provides a PLM Obsolescence Management model, which should be on every companies agenda, in the same way as data quality (which I will address later). Being proactive in obsolescence can save critical situations and high costs. From the obsolescence theme, Peter looked forward to the future and the value product innovation platforms can offer, given the requirements that data should be able to flow through the organization, connecting to other platforms and applications, increasing the demand to adhere and push for standards.
Marc Halpern followed with his presentation, titled: More custom products demand new IT strategies and new PLM application where he focused on the new processes and methodology needed for future businesses with a high-focus on customer-specific deliveries, speed, and automation. Automation is always crucial to reducing production costs. In this delivery process 3D printing could bring benefits and Mark shared the plusses and minuses of 3D printing. Finally, when automation of a customer specific order would be possible, it requires a different IT-architecture, depicted by Mark. After proposing a roadmap for customizable products, Mark shared some examples of ROI benefits reported by successful transformation projects. Impressive !!
My summary of these two sessions is that both CIMdata and Gartner confirm the challenges companies have to change their old legacy processes and PLM environments which support the past, meanwhile moving to more, customer-driven processes and, modern data-driven PLM functionality. This process is not just an IT or Business change, it will also be a cultural change.
JT / STEP AP242 / PLCS
Next, we had three sessions related to standards, where Alfred Katzenbach told the success story of JT, the investment done to get this standard approved and performing based on an active community to get the most out of JT, beyond its initial purpose of viewing and exchanging data in a neutral format. Jean-Yves Delanaunay explained in Airbus Operation the STEP AP242 definition is used as the core standard for 3D Model Based Definition (MB) exchange, part of the STEP standards suite and as the cornerstone for Long Term Archiving and Retrieval of Aerospace & Defense 3D MBD.
There seems to be some rivalry between JT and STEP242 viewing capabilities, which go beyond my understanding as I am not an expert from the field here. Nigel Shaw ended the morning session positioning PLCS as a standard for interoperability of information along the whole lifecycle of a product. Having a standardized data model as Nigel showed would be a common good approach for PLM vendors to converge to a more interoperable standard.
My summary of standards is that there is a lot of thinking, evaluation, and testing done by an extensive community of committed people. It will be hard for a company to define a better foundation for a standard in their business domain. Vendors are focusing on performance inside their technology offering and therefore will never push for standards (unless you use their products as a standard). A force for adhering to standards should come from the user community.
Using standards
After lunch we had three end-users stories from:
Eric Delaporte (Renault Group) talked about their NewPDM project and the usage of standards mainly for exchanges. Two interesting observations: Eric talks about New PDM – the usage of the words New (when does New become regular?) and PDM (not talking about PLM ?) and secondly as a user of standards he does not care about the JT/AP242 debate and uses both standards where applicable and performing.
Sebastien Olivier (France Ministry of Defense) gave a bi-annual update of their PCLS-journey used in two projects, Pencil (Standardized Exchange platform and centralized source of logistical information) and MAPS (Managing procurement contracts for buying In-Service Support services) and the status of their S3000L implementation (International procedure for Logistic Support Analysis). A presentation for the real in-crowd of this domain.
Juha Rautjarvi discussion how efficient use of knowledge for safety and security could be maintained and enhanced through collaboration. Here Juha talks about the Body of Knowledge which should be available for all stakeholders in the context of security and safety. And like a physical product this Body of Knowledge goes through a lifecycle, continuous adapting to what potentially arises from the outside world
My conclusion on this part was that if you are not really in these standards on a day-to-day base (and I am not), it is hard to pick the details. Still, the higher level thought processes behind these standard approaches allow you to see the benefits and impact of using standards, which is not the same as selecting a tool. It is a strategic choice.
Modular / Bimodular / not sexy ?
Jakob Asell from Modular Management gave an overview how modularity can connect the worlds of sales, engineering, and manufacturing by adding a modular structure as a governing structure to the various structures used by each discipline. This product architecture can be used for product planning and provides and end-to-end connectivity of information. Modular Management is assisting companies in moving towards this approach.
Next my presentation title: The importance of accurate data. Act now! addressed the topic of the switch from classical, linear, document-driven PLM towards a modern, more incremental and data-driven PLM approach. Here I explained the disadvantage of the old evolutionary approach (impossible – too slow/too costly) and an alternative method, inspired by Gartner's bimodular IT-approach (read my blog post: Best Practices or Next Practices). No matter which option you are looking for correct and quality data is the oil for the future, so companies should consider allowing the flow of data as a health issue for the future.
The day was closed with a large panel, where the panelist first jumped on the topic bimodal (bipolar ?? / multimodal ??) talking about mode 1 (the strategic approach) and mode 2 (the tactical and fast approach based on Gartner's definition). It was clear that the majority of the panel was in Mode 1 mode. Which fluently lead to the discussion of usage of standards (and PLM) as not being attractive for the young generations (not sexy). Besides the conclusion that it takes time to understand the whole picture and see the valuable befits a standard can bring and join this enthusiasm
Conclusion
I realize myself that this post is already too long according blogging guidelines. Therefore I will tell more about day 2 of the conference next week with Airbus going bimodal and more.
Stay tuned for next week !