You are currently browsing the category archive for the 'Supplier Collaboration' category.
This week I attended the PLM Roadmap & PDT Fall 2021 with great expectations based on my enthusiasm last year. Unfortunately, the excitement was less this time, and I will explain in my conclusions why. This time it was unfortunate again a virtual event which makes it hard to be interactive, something I realize I am missing a lot.
Over two hundred attendees connected for the two days, and you can find the agenda here. Typically I would discuss the relevant sessions; now, I want to group some of them related to a theme, as there was complementary information in these sessions.
Disruption
Again like in the spring, the theme was focusing on DISRUPTION. The word disruption can give you an uncomfortable feeling when you are not in power. It is more fun to disrupt than to be disrupted, as I mentioned in my spring presentation. Read The week after PLM Roadmap & PDT Spring 2021
In his keynote speech Peter Bilello (CIMdata) kicked off with: The Critical Dozen: 12 familiar, evolving trends and enablers of digital transformation that you cannot or should not live without.
You can see them on the slide below:
I believe many of them should be familiar to you as these themes have been "in the air" already for quite some time. Vendors first and slowly companies start to investigate them when relevant. You will find many of them back in my recent series: The road to model-based and connected PLM, where I explored the topics that would cross your path on that journey.
Like Peter said: "For most of the topics you cannot pick and choose as they are all connected."
Another interesting observation was that we are more and more moving away from the concept of related structures (digital thread) but more to connected datasets (digital web). Marc Halpern first introduced this topic last year at the 2020 conference and has become an excellent image to frame what we should imagine in a connected world.
Digital web also has to do with the uprise of the graph database mentioned by Peter Bilello as a potentially disruptive technology during the fireside chat. Relational databases can be seen as rigid, associated with PLM structures. On the other hand, graph databases can be associated with flexible relations between different types of data – the image of the digital web.
Where Peter was mainly telling WHAT was happening, two presentations caught my attention because of the HOW.
First of all, Dr. Rodney Ewing (Cummins) 's session: A Balanced Strategy to Reap Continuous Business Value from Digital PLM was a great story of a transformational project. It contained both having a continuous delivery of business value in mind while moving to the connected enterprise.
As Rodney mentioned, the contribution of TCS was crucial here, which I can imagine. It is hard for a company to understand what is happening in the outside (PLM) world when applying it to your company. Their transformation roadmap is an excellent example of having the long-term vision in mind, meanwhile delivering value during the transformation.
Talking about the right partner and synergy, the second presentation I liked in this context of disruption was Ian Quest's presentation (Quick Release): Open-source Disruption in Support of Audacious Goals. As a sponsor of the conference, they had ten minutes to pitch their area of expertise.
After Ian's presentation, focused on audacious goals (for non-English natives translated as "brave" goals), there was only one word that stuck to my mind: pragmatic.
Instead of discussions about the complexity, Ian gave examples of where a pragmatic data-centric approach could lead to great benefits, as you can see from one of the illustrated benefits below:
Standards
A characteristic topic of this conference is that we always talk about standards. Torbjörn Holm (Eurostep) gave an excellent overview of where standards have led to significant benefits. For example, the containerization of goods has dramatically improved transportation of goods (we all benefit) while killing proprietary means of transport (trains, type of ships, type of unloading).  See the image below:
Torbjörn rightfully expanded this story to the current situation in the construction industry or the challenges for asset operators. Unfortunately, in these practices, many content suppliers remain focusing on their unique capabilities, reluctantly neglecting the demand for interoperability among the whole value chain.
It is a topic Marc Halpern also mentioned last year as an outcome of their Gartner PLM benefits survey. Gartner's findings:
Time to Market is not so much improved by using PLM as the inefficient interaction with suppliers is the impediment.
Like transport before containerization, the exchange of information is not standardized and designed for digital exchange. Torbjorn believes that more and more companies will insist on exchange standards –  like CHIFOS – an ISO1596-derived exchange standard in the process industry. It is a user-driven standard, the best standard.
In this context, the presentation from Kenny Swope (Boeing) and Jean Yves Delaunay (Airbus) The Business Value of Standards-based Information Interoperability for Aerospace & Defense illustrated this fact.
While working for competitors, the Aerospace industry understands the criticality of standards to become more efficient and less vendor-dependent.  In the aerospace & defense group, they discuss these themes. The last year's 2020 Fall sessions showed the results. You can read their publications here
The A&D PLM action group uses the following framework when evaluating standards – as you can see on the image below:
The result – and this is a combined exercise of many participating experts from the field; this is their recommendation:
To conclude:
People often complain about standards, framed by proprietary data format vendors, that they lead to a rigid environment, blocking agility.
In reality, standards allow companies to be more agile as the (proprietary) data flow is less an issue. Remember the containerization example.
Sustainability and System Thinking
This conference has always been known for its attention to the circular economy and green thinking. In the past, these topics might have been considered disconnected from our PLM practices; now, they have become a part of everyone's mission.
Two presentations stood out on this topic for me. First, Ken Webster, with his keynote speech: In the future, you will own nothing and you will be happy was a significant oversight of how we as consumers currently are disconnected from the circular economy. His plea, as shown below, for making manufacturers responsible for the legal ownership of the materials in the products they deliver would impact consumer behavior.
Product as a Service (PaaS) and new ways to provide a service is becoming essential. For example, buildings as power stations, as they are a place to collect solar or wind energy?
His thoughts are aligned with what is happening in Europe related to the European Green Deal (not in his presentation). There is a push for a PaaS model for all products as this would be an excellent stimulant for the circular economy.  PaaS combined with a Digital Product Passport – more on that next year.
Making upgrades to your products has less impact on the environment than creating new products to sell (and creating waste of the old product).  Ken Webster was an interesting statement about changing the economy – do we want to own products or do we want to benefit from the product and leave the legal ownership to the manufacturer.
A topic I discussed in the PLM Roadmap & PDT Conference Spring 2021 – look here at slide 11
Patrick Hillberg's presentation Rising to the challenge of engineering and optimizing . . . what?  was the one closest to my heart. We discussed Sustainability and Systems Thinking with Patrick in our PLM Global Green Alliance, being pretty aligned on this topic.  Patrick started by explaining the difference between Systems Engineering and Systems Thinking. Looking at the product go-to-market of an organization is more than the traditional V-model. Economic pressure and culture will push people to deviate from the ideal technological plan due to other priorities.
Expanding on this observation, Partick stated that there are limits to growth, a topic discussed by many people involved in the sustainable economy. Economic growth is impossible on a limited planet, and we have to take more dimensions into account. Patrick gave some examples of that, including issues related to the infamous Boeing 737 Max example.
For Patrick, the COVID-pandemic is the end of the old 2nd Industrial Revolution and a push for a new Fourth Industrial Revolution, which is not only technical, as the slide below indicates.
With Patrick, I believe we are at a decisive moment to disrupt ourselves, reconsider many things we do and are used to doing. Even for PLM practitioners, this is a new path to go.
Data
There were two presentations related to digitization and the shift from document-based to a data-driven approach.
First, there was Greg Weaver (Gulfstream) with his presentation Indexing Content – Finding Your Needle in the Haystack. Greg explained that by using indexation of existing document-based information combined with a specific dashboard, they could provide fast access to information that otherwise would have been hidden in so many document or even paper archives.
It was a pragmatic solution, making me feel nostalgic seeing the SmarTeam profile cards. It was an excellent example of moving to a digital enterprise, and Gulfstream has always been a front runner on this topic.
Warning: Don't use this by default at home (your company). The data in a regulated industry like Aerospace is expected to be of high quality due to the configuration management processes in place. If your company does not have a strong CM practice, the retrieved data might be inaccurate.
Martijn Dullaart (ASML)'s presentation The Next disruption, please…..  was the next step into the future. With his statement "No CM = No Trust," he made an essential point for data-driven environments.
There is a need for Configuration Management, and I touched on this topic in my last post: The road to model-based and connected PLM (part 9 – CM).
Martijn's presentation can also be found on his blog here, and I encourage you to read it (saving me copy & paste text). It was interesting to see that Martijn improved his CM pyramid, as you can see, more discipline and activity-oriented instead of a system view. With Martijn and others, I will elaborate on this topic soon.
Conclusion
This has been an extremely long post, and thanks for reading until the end. Many interesting topics were presented at the conference. I was less excited this time because many of these topics are triggers for a discussion. Innovation comes from meeting people with different backgrounds. In a live conference, you would meet during the break or during the famous dinner. How can we ensure we follow up on all this interesting information.
Your thoughts? Contact me for a Corona Friday discussion.
After "The PLM Doctor is IN #2," now again a written post in the category of PLM and complementary practices/domains.
After PLM and Configuration Lifecycle ManagementCLM (January 2021) and PLM and Configuration Management CM (February 2021), now it is time to address the third interesting topic:
PLM and Supply Chain collaboration.
In this post, I am speaking with Magnus Färneland from Eurostep, a company well known in my PLM ecosystem, through their involvement in standards (STEP and PLCS), the PDT conferences, and their PLM collaboration hub, ShareAspace.
Supply Chain collaboration
The interaction between OEMs and their suppliers has been a topic of particular interest to me. As a warming-up, read my post after CIMdata/PDT Roadmap 2020:  PLM and the Supply Chain. In this post, I briefly touched on the Eurostep approach – having a Supply Chain Collaboration Hub. Below an image from that post – in this case, the Collaboration Hub is positioned between two OEMs.
Recently Eurostep shared a blog post in the same context: 3 Steps to remove data silos from your supply chain addressing the dreams of many companies: moving from disconnected information silos towards a logical flow of data. This topic is well suited for all companies in the digital transformation process with their supply chain. So, let us hear it from Eurostep.
Eurostep – the company / the mission
First of all, can you give a short introduction to Eurostep as a company and the unique value you are offering to your clients?
Eurostep was founded in 1994 by several world-class experts on product data and information management. In the year 2000, we started developing ShareAspace. We took all the experience we had from working with collaboration in the extended enterprise, mixed it with our standards knowledge, and selected Microsoft as the technology for our software platform.
We now offer ShareAspace as a solution for product information collaboration in all three industry verticals where we are active: Manufacturing, Defense and AEC & Plant.
ShareAspace is based on an information standard called PLCS (ISO 10300-239). This means we have a data model covering the complete life cycle of a product from requirements and conceptual design to an existing installed base. We have added things needed, such as consolidation and security. Our partnership with Microsoft has also resulted in ShareAspace being available in Azure as a service (our Design to Manufacturing software).
Why a supply chain collaboration hub?
Currently, most suppliers work in a disconnected manner with their clients – sending files up and down or the need to work inside the OEM environment. What are the reasons to consider a supply chain collaboration hub or, as you call it, a product information collaboration solution?
The hub concept is not new per se. There are plenty of examples of file sharing hubs. Once you realize that sending files back and forth by email is a disaster for keeping control of your information being shared with suppliers, you would probably try out one of the available file-sharing alternatives.
However, after a while, you begin to realize that a file share can be quite time consuming to keep up to date. Files are being changed. Files are being removed! Some files are enormous, and you realize that you only need a fraction of what is in the file. References within one file to another file becomes corrupt because the other file is of a new version. Etc. Etc.
This is about the time when you realize that you need similar control of the data you share with suppliers as you have in your internal systems. If not better.
A hub allows all partners to continue to use their internal tools and processes. It is also a more secure way of collaboration as the suppliers and partners are not let into the internal systems of the OEM.
Another significant side effect of this is that you only expose the data in the hub intended for external sharing and avoid sharing too much or exposing internal sensitive data.
A hub is also suitable for business flexibility as partners are not hardwired with the OEM. Partners can change, and IT systems in the value chain can change without impacting more than the single system's connecting to the hub.
Should every company implement a supply chain collaboration hub?
Based on your experience, what types of companies should implement a supply chain collaboration hub and what are the expected benefits?
The large OEMs and 1st tier suppliers certainly benefit from this since they can incorporate hundreds, if not thousands, of suppliers. Sharing technical data across the supply chain from a dedicated hub will remove confusions, improve control of the shared data, and build trust with their partners.
With our cloud-based offering, we now also make it possible for at least mid-sized companies (like 200+ employees) to use ShareAspace. They may not have a well-adopted PLM system or the issues of communicating complex specifications originating from several internal sources. However still, they need to be professional in dealing with suppliers.

The smallest client we have is a manufacturer of pool cleaners, a complex product with many suppliers. The company Weda [www.weda.se] has less than 10 employees, and they use ShareAspace as SaaS. With ShareAspace, they have improved their collaboration process with suppliers and cut costs and lowered inventory levels.
ShareAspace can really scale big. It serves as a collaboration solution for the two new Aircraft carriers in the UK, the QUEEN ELIZABETH class. The aircraft carriers were built by a consortium that was closed in early 2020.
ShareAspace is being used to hold the design data and other documentation from the consortium to be available to the multiple organizations (both inside and outside of the Ministry of Defence) that need controlled access.
What is the dependency on standards?
I always associate Eurostep with the PLCS (ISO 10303-239) standard, providing an information model for "hardware" products along the lifecycle. How important is this standard for you in the context of your ShareAspace offering?
Should everyone adapt to this standard?
We have used PLCS to define the internal data schema in ShareAspace. This is an excellent starting point for capturing information from different systems and domains and still getting it to fit together. Why invent something new?
However, we can import data in most formats, and it does not have to be according to a standard. When connecting to Teamcenter, Windchill, Enovia, SAP, Oracle, Maximo etc., it is more often in a proprietary format than according to any standards.
On the other hand, in some industries like Defense, standards-based data exchange is required and put into contracts. Sometimes it prescribes PLCS.  For the plant industry, it could be CFIHOS or ISO15926.
Supply Chain Collaboration and digital transformation
As stated at the beginning of this post, digital transformation is about connecting the information siloes through a digital thread. How important is this related to the supply chain?


Many companies have come a long way in improving their internal management of product data. But still, the exchange and sharing of data with the external world has considerable potential for improvement. Just look at the chaos everyone has experienced with emails, still used a lot, in finding the latest Word document or PowerPoint file. Imagine if you collaborate on a ship, a truck, a power plant, or a piece of complex infrastructure. FTP is not the answer, and for product data, Dropbox is not doing the trick.
A Digital Thread must support versions and changes in all directions, as changes are natural with reasonably advanced products. Much of the information created about or around a product is generated within the supply chain, like production parameters, test and inspection protocols, certifications, and more. Without an intelligent way of capturing this data, companies will continue to spend a fortune on administration trying to manage this manually.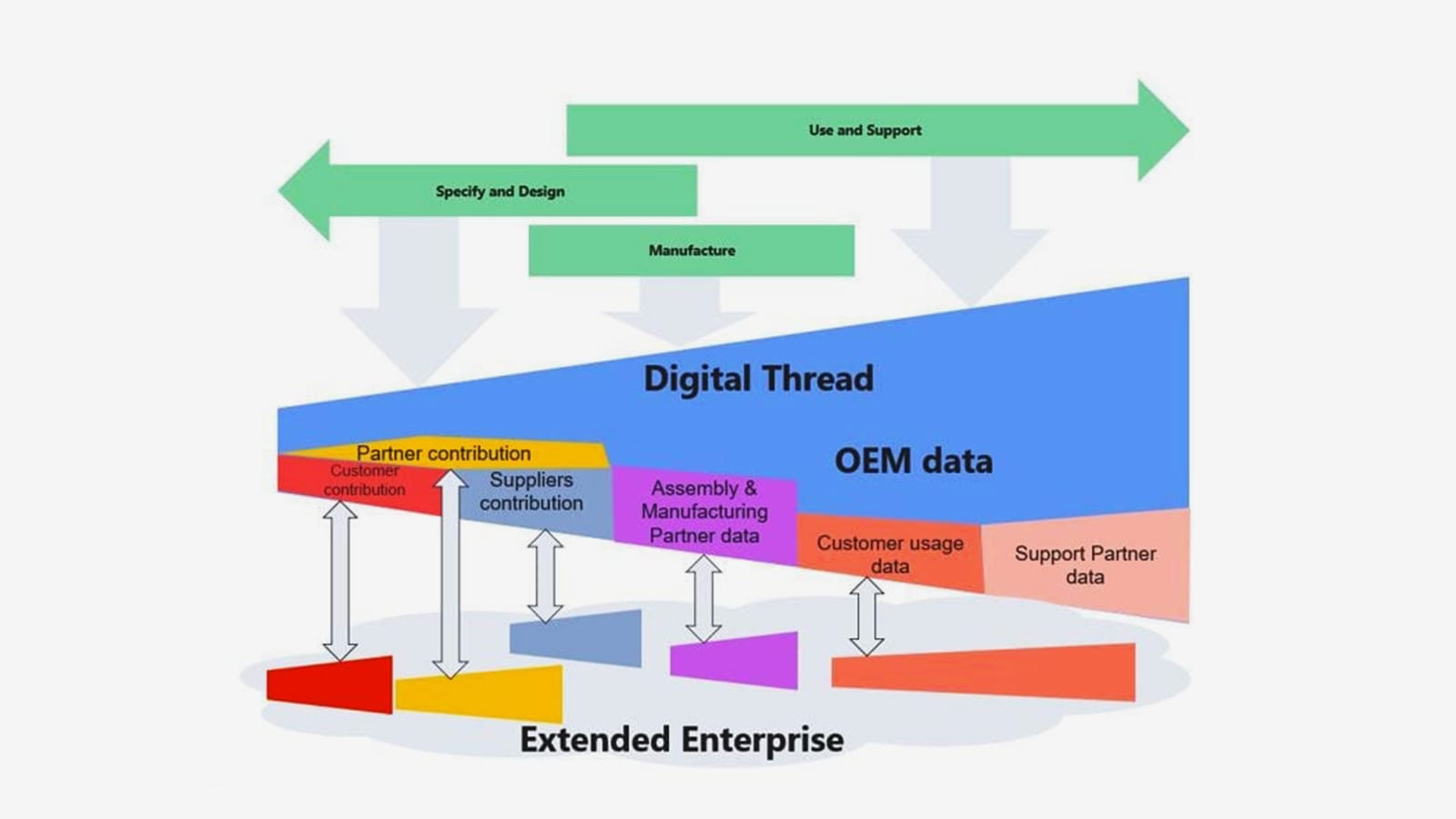 As the Digital Thread extends across the value chain, a useful sharing tool is needed to allow for configuration management across the complete chain – ShareAspace is designed for this. The great thing with PLCS is that it gives a standard model for the Digital Thread covering several Digital Twins. PLCS adds the life cycle component, which is essential, and there is no alternative. Therefore, we are welcome with ShareAspace and PLCS to add capabilities to snapshot standards like IFC etc., that are outside the STEP series of standards.
Learning more
We discussed that a supply chain collaboration hub can have specific value to a company. Where can readers learn more?
There is a lot of information available. Of course, on our Eurostep website, you will find information under the tab Resources or on the ShareAspace website under the tab News.
Other sources are:
What I have learned
I am surprised to see that the type of Supplier Collaboration Platform delivered by Eurostep is not a booming market. Where Time to Market is significantly impacted by how companies work with their suppliers, most companies still rely on the exchange of data packages.
The most advanced exchanges are using a model-based definition if relevant. Traditional PLM Vendors will not develop such platforms as the platform needs to be agnostic in both directions.
Having a recommended data model based on PLCS or a custom-data model in case of a large OEM can provide such a collaboration hub. Relative easy to implement (as you do not change your own PLM) and relatively easy to scale (adding a new supplier is easy).  For me, the supplier collaboration platform is a must in a modern, digital connected enterprise.
Conclusion
A lot of marketing money is spent on "Digital Thread" or "Digital Continuity".  If you are looking at the full value chain of product development and operational support, there are still many manual hand-over processes with suppliers. A supplier collaboration hub might be the missing piece of the puzzle to realize a real digital thread or continuity.