You are currently browsing the category archive for the 'model-based' category.
After the first article discussing "The Future of PLM," now again a post in the category of PLM and complementary practices/domains a topic that is already for a long time on the radar: Model-Based Definition, I am glad to catch up with Jennifer Herron, founder of Action Engineering, who is one of the thought leaders related to Model-Based Definition (MBD) and Model-Based Enterprise (MBE).
In 2016 I spoke with Jennifer after reading her book: "Re-Use Your CAD – The Model-Based CAD Handbook". At that time, the discussion was initiated through two articles on Engineering.com. Action Engineering introduced OSCAR seven years later as the next step towards learning and understanding the benefits of Model-Based Definition.
Therefore, it is a perfect moment to catch up with Jennifer. Let's start.
Model-Based Definition
Jennifer, first of all, can you bring some clarity in terminology. When I discussed the various model-based approaches, the first response I got was that model-based is all about 3D Models and that a lot of the TLA's are just marketing terminology.
Can you clarify which parts of the model-based enterprise you focus on and with the proper TLA's?
Model-Based means many things to many different viewpoints and systems of interest. All these perspectives lead us down many rabbit holes, and we are often left confused when first exposed to the big concepts of model-based.
At Action Engineering, we focus on Model-Based Definition (MBD), which uses and re-uses 3D data (CAD models) in design, fabrication, and inspection.
There are other model-based approaches, and the use of the word "model" is always a challenge to define within the proper context.
For MBD, a model is 3D CAD data that comes in both native and neutral formats
Another model-based approach is Model-Based Systems Engineering (MBSE). The term "model" in this context is a formalized application of modeling to support system requirements, design, analysis, verification and validation activities beginning in the conceptual design phase and continuing throughout development and later lifecycle phases.
<Jos> I will come back on Model-Based Systems Engineering in future posts
Sometimes MBSE is about designing widgets, and often it is about representing the entire system and the business operations. For MBD, we often focus our education on the ASME Y14.47 definition that MBD is an annotated model and associated data elements that define the product without a drawing.
Model-Based Definition for Everybody?
I believe it took many years till 3D CAD design became a commodity; however, I still see the disconnected 2D drawing used to specify a product or part for manufacturing or suppliers. What are the benefits of model-based definition?
Are there companies that will not benefit from the model-based definition?
There's no question that the manufacturing industry is addicted to their drawings. There are many reasons why, and yet mostly the problem is lack of awareness of how 3D CAD data can make design, fabrication, and inspection work easier.
For most, the person doing an inspection in the shipping and receiving department doesn't have exposure to 3D data, and the only thing they have is a tabulated ERP database and maybe a drawing to read. If you plop down a 3D viewable that they can spin and zoom, they may not know how that relates to their job or what you want them to do differently.
Today's approach of engineering championing MBD alone doesn't work. To evolve information from the 2D drawing onto the 3D CAD model without engaging the stakeholders (machinists, assembly technicians, and inspectors) never yields a return on investment.
Organizations that succeed in transitioning to MBD are considering and incorporating all departments that touch the drawing today.
Incorporating all departments requires a vision from the management. Can you give some examples of companies that have transitioned to MBD, and what were the benefits they noticed?
I'll give you an example of a small company with no First Article Inspection (FAI) regulatory requirements and a huge company with very rigorous FAI requirements.
Note: click on the images below to enjoy the details.
The small company instituted a system of CAD modeling discipline that allowed them to push 3D viewable information directly to the factory floor. The assembly technicians instantly understood engineering's requirements faster and better.
The positive MBD messages for these use cases are 3D navigation, CAD Re-Use, and better control of their revisions on the factory floor.
The large company has added inspection requirements directly onto their engineering and created a Bill of Characteristics (BOC) for the suppliers and internal manufacturers. They are removing engineering ambiguity, resulting in direct digital information exchange between engineering, manufacturing, and quality siloes.
These practices have reduced error and reduced time to market.
The positive MBD messages for these use cases are unambiguous requirements capture by Engineering, Quality Traceability, and Model-Based PMI (Product and Manufacturing Information).
Model-Based Definition and PLM?
How do you see the relation between Model-Based Definition and PLM? Is a PLM system a complication or aid to implement a Model-Based Definition? And do you see a difference between the old and new PLM Vendors?
Model-Based Definition data is complex and rich in connected information, and we want it to be. With that amount of connected data, a data management system (beyond upload/download of documents) must keep all that data straight.
Depending on the size and function of an organization, a PLM may not be needed. However, a way to manage changes and collaboration amongst those using 3D data is necessary. Sometimes that results in a less sophisticated Product Data Management (PDM) system. Large organizations often require PLM.
There is significant resistance to doing MBD and PLM implementations simultaneously because PLM is always over budget and behind schedule. However, doing just MBD or just PLM without the other doesn't work either. I think you should be brave and do both at once.
I think we can debate why PLM is always over budget and behind schedule. I hear the same about ERP implementations. Perhaps it has to deal with the fact that enterprise applications have to satisfy many users?
I believe that working with model versions and file versions can get mixed in larger organizations, so there is a need for PDM or PLM. Have you seen successful implementations of both interacting together?
Yes, the only successful MBD implementations are those that already have a matured PDM/PLM (scaled best to the individual business).
Model-Based Definition and Digital Transformation
In the previous question, we already touched on the challenge of old and modern PLM. How do you see the introduction of Model-Based Definition addressing the dreams of Industry 4.0, the Digital Twin and other digital concepts?
I just gave a presentation at the ASME Digital Twin Summit discussing the importance of MBD for the Digital Twin. MBD is a foundational element that allows engineering to compare their design requirements to the quality inspection results of digital twin data.
The feedback loop between Engineering and Quality is fraught with labor-intensive efforts in most businesses today.
Leveraging the combination of MBD and Digital Twin allows automation possibilities to speed up and increase the accuracy of the engineering to inspection feedback loop. That capability helps organizations realize the vision of Industry 4.0.
And then there is OSCAR.
I noticed you announced OSCAR. First, I thought OSCAR was a virtual aid for model-based definition, and I liked the launching page HERE. Can you tell us more about what makes OSCAR unique?
One thing that is hard with MBD implementation is there is so much to know. Our MBDers at Action Engineering have been involved with MBD for many years and with many companies. We are embedded in real-life transitions from using drawings to using models.
Suppose you start down the model-based path for digital manufacturing. In that case, there are significant investments in time to learn how to get to the right set of capabilities and the right implementation plan guided by a strategic focus. OSCAR reduces that ramp-up time with educational resources and provides vetted and repeatable methods for an MBD implementation.
OSCAR combines decades of Action Engineering expertise and lessons learned into a multi-media textbook of sorts. To kickstart an individual or an organization's MBD journey, it includes asynchronous learning, downloadable resources, and CAD examples available in Creo, NX, and SOLIDWORKS formats.
CAD users can access how-to training and downloadable resources such as the latest edition of Re-Use Your CAD (RUYC). OSCAR enables process improvement champions to make their case to start the MBD journey. We add content regularly and post what's new. Free trials are available to check out the online platform.
Learn more about what OSCAR is here:

Want to learn more?
In this post, I believe we only touched the tip of the iceberg. There is so much to learn and understand. What would you recommend to a reader of this blog who got interested?
RUYC (Re-Use Your CAD) is an excellent place to start, but if you need more audio-visual, and want to see real-life examples of MBD in action, get a Training subscription of OSCAR to get rooted in the vocabulary and benefits of MBD with a Model-Based Enterprise. Watch the videos multiple times! That's what they are for. We love to work with European companies and would love to support you with a kickstart coaching package to get started.
What I learned
First of all, I learned that Jennifer is a very pragmatic person. Her company (Action Engineering) and her experience are a perfect pivot point for those who want to learn and understand more about Model-Based Definition. In particular, in the US, given her strong involvement in the American Society of Mechanical Engineers (ASME).
I am still curious if European or Asian counterparts exist to introduce and explain the benefits and usage of Model-Based Definition to their customers. Feel free to comment.
Next, and an important observation too, is the fact that Jennifer also describes the tension between Model-Based Definition and PLM. Current PLM systems might be too rigid to support end-to-end scenarios, taking benefit of the Model-Based definition.
I have to agree here. PLM Vendors mainly support their own MBD (model-based definition), where the ultimate purpose is to share all product-related information using various models as the main information carriers efficiently.
We have to study and solve a topic in the PLM domain, as I described in my technical highlights from the PLM Road Map & PDT Spring 2021 conference.
There is work to do!
Conclusion
Model-Based Definition is, for me, one of the must-do steps of a company to understand the model-based future. A model-based future sometimes incorporates Model-Based Systems Engineering, a real Digital Thread and one or more Digital Twins (depending on your company's products).
It is a must-do activity because companies must transform themselves to depend on digital processes and digital continuity of data to remain competitive. Document-driven processes relying on the interpretation of a person are not sustainable.

One of my favorite conferences is the PLM Road Map & PDT conference. Probably because in the pre-COVID days, it was the best PLM conference to network with peers focusing on PLM practices, standards, and sustainability topics. Now the conference is virtual, and hopefully, after the pandemic, we will meet again in the conference space to elaborate on our experiences further.
Last year's fall conference was special because we had three days filled with a generic PLM update and several A&D (Aerospace & Defense) working groups updates, reporting their progress and findings. Sessions related to the Multiview BOM research, Global Collaboration, and several aspects of Model-Based practices: Model-Based Definition, Model-Based Engineering & Model-Based Systems engineering.
All topics that I will elaborate on soon. You can refresh your memory through these two links:
This year, it was a two-day conference with approximately 200 attendees discussing how emerging technologies can disrupt the current PLM landscape and reshape the PLM Value Equation. During the first day of the conference, we focused on technology.
On the second day, we looked in addition to the impact new technology has on people and organizations.
Today's Emerging Trends & Disrupters
Peter Bilello, CIMdata's President & CEO, kicked off the conference by providing CIMdata observations of the market. An increasing number of technology capabilities, like cloud, additive manufacturing, platforms, digital thread, and digital twin, all with the potential of realizing a connected vision. Meanwhile, companies evolve at their own pace, illustrating that the gap between the leaders and followers becomes bigger and bigger.
Where is your company? Can you afford to be a follower? Is your PLM ready for the future? Probably not, Peter states.
Next, Peter walked us through some technology trends and their applicability for a future PLM, like topological data analytics (TDA), the Graph Database, Low-Code/No-Code platforms, Additive Manufacturing, DevOps, and Agile ways of working during product development. All capabilities should be related to new ways of working and updated individual skills.
I fully agreed with Peter's final slide – we have to actively rethink and reshape PLM – not by calling it different but by learning, experimenting, and discussing in the field.
Digital Transformation Supporting Army Modernization
An interesting viewpoint related to modern PLM came from Dr. Raj Iyer, Chief Information Officer for IT Reform from the US Army. Rai walked us through some of the US Army's challenges, and he gave us some fantastic statements to think about. Although an Army cannot be compared with a commercial business, its target remains to be always ahead of the competition and be aware of the competition.
Where we would say "data is the new oil", Rai Iyer said: "Data is the ammunition of the future fight – as fights will more and more take place in cyberspace."
The US Army is using a lot of modern technology – as the image below shows. The big difference here with regular businesses is that it is not about ROI but about winning fights.
Also, for the US Army, the cloud becomes the platform of the future. Due to the wide range of assets, the US Army has to manage, the importance of product data standards is evident. – Rai mentioned their contribution and adherence to the ISO 10303 STEP standard crucial for interoperability. It was an exciting insight into the US Army's current and future challenges. Their primary mission remains to stay ahead of the competition.
Joining up Engineering Data without losing the M in PLM
Nigel Shaw's (Eurostep) presentation was somehow philosophical but precisely to the point what is the current dilemma in the PLM domain. Through an analogy of the internet, explaining that we live in a world of HTTP(s) linking, we create new ways of connecting information. The link becomes an essential artifact in our information model.
Where it is apparent links are crucial for managing engineering data, Nigel pointed out some of the significant challenges of this approach, as you can see from his (compiled) image below.
I will not discuss this topic further here as I am planning to come back to this topic when explaining the challenges of the future of PLM.
As Nigel said, they have a debate with one of their customers to replace the existing PLM tools or enhance the existing PLM tools. The challenge of moving from coordinated information towards connected data is a topic that we as a community should study.
Integration is about more than Model Format.
This was the presentation I have been waiting for. Mark Williams from Boeing had built the story together with Adrian Burton from Airbus. Nigel Shaw, in the previous session, already pointed to the challenge of managing linked information. Mark elaborated further about the model-based approach for system definition.
All content was related to the understanding that we need a model-based information infrastructure for the future because storing information in documents (the coordinated approach) is no longer viable for complex systems. Mark 'slide below says it all.
Mark stressed the importance of managing model information in context, and it has become a challenge.
Mark mentioned that 20 years ago, the IDC (International Data Corporation) measured Boeing's performance and estimated that each employee spent 2 ½ hours per day. In 2018, the IDC estimated that this number has grown to 30 % of the employee's time and could go up to 50 % when adding the effort of reusing and duplicating data.
The consequence of this would be that a full-service enterprise, having engineering, manufacturing and services connected, probably loses 70 % of its information because they cannot find it—an impressive number asking for "clever" ways to find the correct information in context.
It is not about just a full indexed search of the data, as some technology geeks might think. It is also about describing and standardizing metadata that describes the models. In that context, Mark walked through a list of existing standards, all with their pros and cons, ending up with the recommendation to use the ISO 10303-243 – MoSSEC standard.
MoSSEC standing for Modelling and Simulation information in a collaborative Systems Engineering Context to manage and connect the relationships between models.
MoSSEC and its implication for future digital enterprises are interesting, considering the importance of a model-based future. I am curious how PLM Vendors and tools will support and enable the standard for future interoperability and collaboration.
Additive Manufacturing
– not as simple as paper printing – yet
Andreas Graichen from Siemens Energy closed the day, coming back to the new technologies' topic: Additive Manufacturing or in common language 3D Printing. Andreas shared their Additive Manufacturing experiences, matching the famous Gartner Hype Cycle. His image shows that real work needs to be done to understand the technology and its use cases after the first excitement of the hype is over.
Material knowledge was one of the important topics to study when applying additive manufacturing. It is probably a new area for most companies to understand the material behaviors and properties in an Additive Manufacturing process.
The ultimate goal for Siemens Energy is to reach an "autonomous" workshop anywhere in the world where gas turbines could order their spare parts by themselves through digital warehouses. It is a grand vision, and Andreas confirmed that the scalability of Additive Manufacturing is still a challenge.
For rapid prototyping or small series of spare parts, Additive Manufacturing might be the right solution. The success of your Additive Manufacturing process depends a lot on how your company's management has realistic expectations and the budget available to explore this direction.
Conclusion
Day 1 was enjoyable and educational, starting and ending with a focus on disruptive technologies. The middle part related to data the data management concepts needed for a digital enterprise were the most exciting topics to follow up in my opinion.
Next week I will follow up with reviewing day 2 and share my conclusions. The PLM Road Map & PDT Spring 2021 conference confirmed that there is work to do to understand the future (of PLM).

Last summer, I wrote a series of blog posts grouped by the theme "Learning from the past to understand the future". These posts took you through the early days of drawings and numbering practices towards what we currently consider the best practice: PLM BOM-centric backbone for product lifecycle information.
You can find an overview and links to these posts on the page Learning from the past.
If you have read these posts, or if you have gone yourself through this journey, you will realize that all steps were more or less done evolutionarily. There were no disruptions. Affordable 3D CAD systems, new internet paradigms (interactive internet), global connectivity and mobile devices all introduced new capabilities for the mainstream. As described in these posts, the new capabilities sometimes created friction with old practices. Probably the most popular topics are the whole Form-Fit-Function interpretation and the discussion related to meaningful part numbers.
What is changing?
In the last five to ten years, a lot of new technology has come into our lives. The majority of these technologies are related to dealing with data. Digital transformation in the PLM domain means moving from a file-based/document-centric approach to a data-driven approach.
A Bill of Material on the drawing has become an Excel-like table in a PLM system. However, an Excel file is still used to represent a Bill of Material in companies that have not implemented PLM.
Another example, the specification document has become a collection of individual requirements in a system. Each requirement is a data object with its own status and content. The specification becomes a report combining all valid requirement objects.
Related to CAD, the 2D drawing is no longer the deliverable as a document; the 3D CAD model with its annotated views becomes the information carrier for engineering and manufacturing.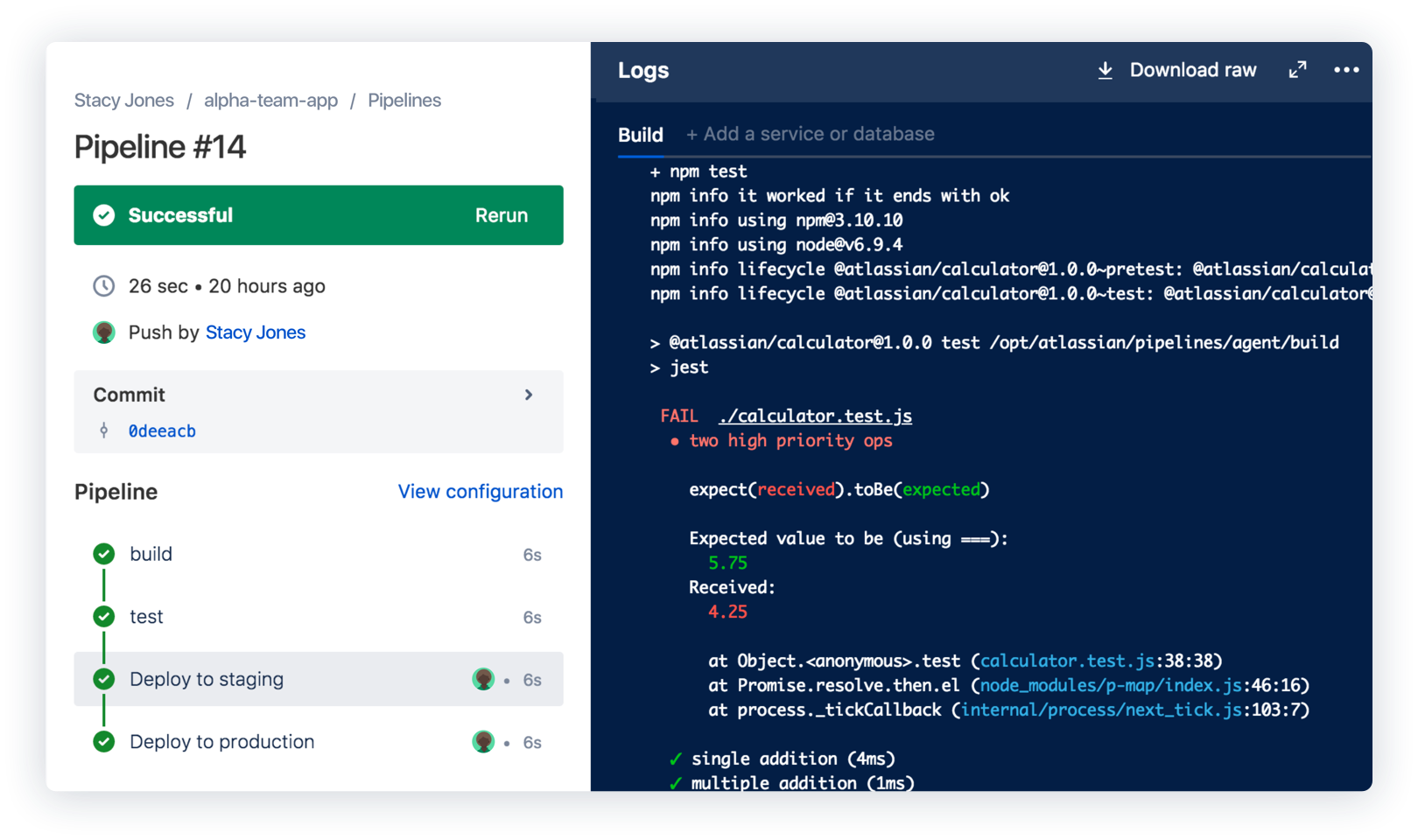 And most important of all, traditional PLM methodologies have been based on a mechanical design and release process. Meanwhile, modern products are systems where the majority of capabilities are defined by software. Software has an entirely different configuration and lifecycle approach conflicting with a mechanical approach, which is too rigid for software.
The last two aspects, from 2D drawings to 3D Models and Mechanical products towards Systems (hardware and software), require new data management methods. In this environment, we need to learn to manage simulation models, behavior models, physics models and 3D models as connected as possible.
I wrote about these changes three years ago: Model-Based – an introduction, which led to a lot of misunderstanding (too advanced – too hypothetical).
I plan to revisit these topics in the upcoming months again to see what has changed over the past three years.
What will I discuss in the upcoming weeks?
My first focus is on participating and contributing to the upcoming PLM Roadmap & PDS spring 2021 conference. Here speakers will discuss the need for reshaping the PLM Value Equation due to new emerging technologies. A topic that contributes perfectly to the future of PLM series.
My contribution will focus on the fact that technology alone cannot disrupt the PLM domain. We also have to deal with legacy data and legacy ways of working.
Next, I will discuss with Jennifer Herron from Action Engineering the progress made in Model-Based Definition, which fits best practices for today – a better connection between engineering and manufacturing. We will also discuss why Model-Based Definition is a significant building block required for realizing the concepts of a digital enterprise, Industry 4.0 and digital twins.
Another post will focus on the difference between the digital thread and the digital thread. Yes, it looks like I am writing twice the same words. However, you will see based on its interpretation, one definition is hanging on the past, the other is targeting the future. Again here, the differentiation is crucial if the need for a maintainable Digital Twin is required.
Model-Based Systems Engineering (MBSE) in all its aspects needs to be discussed too. MBSE is crucial for defining complex products. Model-Based Systems Engineering is seen as a discipline to design products. Understanding data management related to MBSE will be the foundation for understanding data management in a Model-Based Enterprise. For example, how to deal with configuration management in the future?
Writing Learning from the past was an easy job as explaining with hindsight is so much easier if you have lived it through. I am curious and excited about the outcome of "The Future of PLM". Writing about the future means you have digested the information coming to you, knowing that nobody has a clear blueprint for the future of PLM.
There are people and organizations are working on this topic more academically, for example read this post from Lionel Grealou related to the Place of PLM in the Digital Future. The challenge is that an academic future might be disrupted by unpredictable events, like COVID, or disruptive technologies combined with an opportunity to succeed. Therefore I believe, it will be a learning journey for all of us where we need to learn to give technology a business purpose. Business first – then technology.
No Conclusion
Normally I close my post with a conclusion. At this moment. there is no conclusion as the journey has just started. I look forward to debating and learning with practitioners in the field. Work together on methodology and concepts that work in a digital enterprise. Join me on this journey. I will start sharing my thoughts in the upcoming months

After the first episode of "The PLM Doctor is IN", this time a question from Helena Gutierrez. Helena is one of the founders of SharePLM, a young and dynamic company focusing on providing education services based on your company's needs, instead of leaving it to function-feature training.
I might come back on this topic later this year in the context of PLM and complementary domains/services.
Now sit back and enjoy.
Note: Due to a technical mistake Helena's mimic might give you a "CNN-like" impression as the recording of her doctor visit was too short to cover the full response.
PLM and Startups – is this a good match?
Relevant links discussed in this video
Marc Halpern (Gartner): The PLM maturity table
VirtualDutchman: Digital PLM requires a Model-Based Enterprise
Conclusion
I hope you enjoyed the answer and look forward to your questions and comments. Let me know if you want to be an actor in one of the episodes.
The main rule: A single open question that is puzzling you related to PLM.
Last week I shared my plans for 2021 related to my blog, virtualdutchman.com. Those of you who follow my blog might have noticed my posts are never short as I try to discuss or explain a topic from various aspects. This sometimes requires additional research from my side. The findings will provide benefits for all of us. We keep on learning.
At the end of the post, I asked you to participate in a survey to provide feedback on the proposed topics. So far, only one percent of my readers have responded to this short survey. The last time I shared a short survey in 2018, the response was much more significant.
Perhaps you are tired of the many surveys; perhaps you did not make it to the end. Please make an effort this time. Here is on more time the survey
The results so far
To understand the topics below, please make sure you have read the previous blog post to understand each paragraph's context.
PLM understanding
For PLM-related topics that I proposed, Product Configuration Management, Supplier Collaboration Management, and Digital Twin Management got the most traction. I started preparing for them, combined with a few new suggested topics that I will further explore. You can click on the images below to read the details.
PLM Deep dive
From the suggested topics for a PLM deep-dive, it is interesting to see most respondents want to learn more about Product Portfolio Management and Systems Engineering within PLM. Traditional topics like Enterprise/Engineering Change Management, BOM Management, or PLM implementation methodologies have been considered less relevant.
The PLM Doctor is in
Several questions were coming in for the "PLM Doctor," and I started planning the first episodes. The formula: A single question and an answer through a video recording – max. 2 – 3 minutes. Suitable for fast consumers of information.
PLM and Sustainability
Here we can see the majority is observing what is happening. Only a few persons reported interest in sustainability and probably not disconnected; they work for a company that takes sustainability seriously.
PLM and digitization
When discussing PLM's digitization, I believe one of the fundamental changes that we need to implement (and learn to master) is a more Model-Based approach for each phase of the product life cycle. Also, most respondents have a notion of what model-based means and want to apply these practices to engineering and manufacturing.
Your feedback
I think you all have heard this statement before about Lies and Statistics. Especially with social media, there are billions of people digging for statistics to support their theories. Don't worry about my situation; I would like to make my statement based on some larger numbers, so please take the survey here if you haven't done so.
Conclusion
I am curious about your detailed inputs, and the next blog post will be the first of the 2021 series.
It Is 2021, and after two weeks' time-out and reflection, it is time to look forward. Many people have said that 2020 was a "lost year," and they are looking forward to a fresh restart, back to the new normal. For me, 2020 was the contrary of a lost year. It was a year where I had to change my ways of working. Communication has changed, digitization has progressed, and new trends have become apparent.
If you are interested in some of the details, watch the conversation I had with Rob Ferrone from QuickRelease, just before Christmas: Two Santas looking back to 2020.
It was an experiment with video, and you can see there is a lot to learn for me. I agree with Ilan Madjar's comment that it is hard to watch two people talking for 20 minutes. I prefer written text that I can read at my own pace, short videos (max 5 min), or long podcasts that I can listen to, when cycling or walking around.
So let me share with you some of the plans I have for 2021, and I am eager to learn from you where we can align.
PLM understanding
I plan a series of blog posts where I want to share PLM-related topics that are not necessarily directly implemented in a PLM-system or considered in PLM-implementations as they require inputs from multiple sources.  Topics in this context are: Configuration Management, Product Configuration Management, Product Information Management, Supplier Collaboration Management, Digital Twin Management, and probably more.
For these posts, I will discuss the topic with a subject matter expert, potentially a vendor or a consultant in that specific domain, and discuss the complementary role to traditional PLM. Besides a blog post, this topic might also be more explained in-depth in a podcast.
The PLM Doctor is in
Most of you might have seen Lucy from the Charley Brown cartoon as the doctor giving advice for 5¢. As an experiment, I want to set up a similar approach, however, for free.
These are my conditions:
Only one question at a time.
The question and answer will be published in a 2- 3 minute video.
The question is about solving a pain.
If you have such a question related to PLM, please contact me through a personal message on LinkedIn, and I will follow-up.
PLM and Sustainability
A year ago, I started with Rich McFall, the PLM Green Global Alliance.  Our purpose to bring people together, who want to learn and share PLM-related practices, solutions,  ideas contributing to a greener and more sustainable planet.
We do not want to compete or overlap with more significant global or local organizations, like the Ellen McArthur Foundation or the European Green Deal.
We want to bring people together to dive into the niche of PLM and its related practices.  We announced the group on LinkedIn; however, to ensure a persistent referential for all information and interactions, we have launched the website plmgreenaliance.com.
Here I will moderate and focus on PLM and Sustainability topics. I am looking forward to interacting with many of you.
PLM and digitization
For the last two years, I have been speaking and writing about the gap between current PLM-practices, based on shareable documents and files and the potential future based on shareable data, the Model-Based Enterprise.
Last year I wrote a series of posts giving insights on how we reached the current PLM-practices. Discovering sometimes inconsistencies and issues due to old habits or technology changes. I grouped these posts on a single blog page with the title:  Learning from the past.
This year I will create a collection of posts focusing on the transition towards a Model-Based Enterprise. Probably the summary page will be called: Working towards the future currently in private mode.
Your feedback
I am always curious about your feedback – to understand in which kind of environment your PLM activities take place. Which topics are unclear? What am I missing in my experience?
Therefore, I created a small anonymous survey for those who want to be interacting with me. On purpose, the link is at the bottom of the post, so when you answer the survey, you get my double appreciation, first for reaching the end of this post and second for answering the survey.
Take the survey here.
Conclusion
Most of us will have a challenging year ahead of us. Sharing and discussing challenges and experiences will help us all to be better in what we are doing. I look forward to our 2021 journey.
Last week I shared my first review of the PLM Roadmap / PDT Fall 2020 conference, organized by CIMdata and Eurostep. Having digested now most of the content in detail, I can state this was the best conference of 2020. In my first post, the topics I shared were mainly the consultant's view of digital thread and digital twin concepts.
This time, I want to focus on the content presented by the various Aerospace & Defense working groups who shared their findings, lessons-learned (so far) on topics like the Multi-view BOM, Supply Chain Collaboration, MBSE Data interoperability.
These sessions were nicely wrapped with presentations from Alberto Ferrari (Raytheon), discussing the digital thread between PLM and Simulation Lifecycle Management and Jeff Plant (Boeing) sharing their Model-Based Engineering strategy.
I believe these insights are crucial, although there might be people in the field that will question if this research is essential. Is not there an easier way to achieve to have the same results?
Nicely formulated by Ilan Madjar as a comment to my first post:
Ilan makes a good point about simplifying the ideas to the masses to make it work. The majority of companies probably do not have the bandwidth to invest and understand the future benefits of a digital thread or digital twins.
This does not mean that these topics should not be studied. If your business is in a small, simple eco-system and wants to work in a connected mode, you can choose a vendor and a few custom interfaces.
However, suppose you work in a global industry with an extensive network of partners, suppliers, and customers.
In that case, you cannot rely on ad-hoc interfaces or a single vendor. You need to invest in standards; you need to study common best practices to drive methodology, standards, and vendors to align.
This process of standardization is so crucial if you want to have a sustainable, connected enterprise. In the end, the push from these companies will lead to standards, allowing the smaller companies to ad-here or connect to.
The future is about Connected through Standards, as discussed in part 1 and further in this post. Let's go!
Global Collaboration – Defining a baseline for data exchange processes and standards
Katheryn Bell (Pratt & Whitney Canada) presented the progress of the A&D Global Collaboration workgroup. As you can see from the project timeline, they have reached the phase to look towards the future.
Katheryn mentioned the need to standardize terminology as the first point of attention. I am fully aligned with that point; without a standardized terminology framework, people will have a misunderstanding in communication.
This happens even more in the smaller businesses that just pick sometimes (buzz) terms without a full understanding.
Several years ago, I talked with a PLM-implementer telling me that their implementation focus was on systems engineering. After some more explanations, it appeared they were making an attempt for configuration management in reality. Here the confusion was massive. Still, a standard, common terminology is crucial in our domain, even if it seems academic.
The group has been analyzing interoperability standards, standards for long-time archival and retrieval (LOTAR), but also has been studying the ISO 44001 standard related to Collaborative business relationship management systems
In the Q&A session, Katheryn explained that the biggest problem to solve with collaboration was the risk of working with the wrong version of data between disciplines and suppliers.
Of course, such errors can lead to huge costs if they are discovered late (or too late). As some of the big OEMs work with thousands of suppliers, you can imagine it is not an issue easily discovered in a more ad-hoc environment.
The move to a standardized Technical Data Package based on a Model-Based Definition is one of these initiatives in this domain to reduce these types of errors.
You can find the proceedings from the Global Collaboration working group here.
Connect, Trace, and Manage Lifecycle of Models, Simulation and Linked Data: Is That Easy?
I loved Alberto Ferrari's (Raytheon) presentation how he described the value of a model-based digital thread, positioning it in a targeted enterprise.
Click on the image and discover how business objectives, processes and models go together supported by a federated infrastructure.
Alberto's presentation was a kind of mind map from how I imagine the future, and it is a pity if you have not had the chance to see his session.
Alberto also focused on the importance of various simulation capabilities combined with simulation lifecycle management. For Alberto, they are essential to implement digital twins. Besides focusing on standards, Alberto pleas for a semantic integration, open service architecture with the importance of DevSecOps.
Enough food for thought; as Alberto mentioned, he presented the corporate vision, not the current state.
More A&D Action Groups
There were two more interesting specialized sessions where teams from the A&D action groups provided a status update.
Brandon Sapp (Boeing) and Ian Parent (Pratt & Whitney) shared the activities and progress on Minimum Model-Based Definition (MBD) for Type Design Certification.
As Brandon mentioned, MBD is already a widely used capability; however, MBD is still maturing and evolving.  I believe that is also one of the reasons why MBD is not yet accepted in mainstream PLM. Smaller organizations will wait; however, can your company afford to wait?
More information about their progress can be found here.
Mark Williams (Boeing) reported from the A&D Model-Based Systems Engineering action group their first findings related to MBSE Data Interoperability, focusing on an Architecture Model Exchange Solution.  A topic interesting to follow as the promise of MBSE is that it is about connected information shared in models. As Mark explained, data exchange standards for requirements and behavior models are mature, readily available in the tools, and easily adopted. Exchanging architecture models has proven to be very difficult. I will not dive into more details, respecting the audience of this blog.
For those interested in their progress, more information can be found here
Model-Based Engineering @ Boeing
In this conference, the participation of Boeing was significant through the various action groups. As the cherry on the cake, there was Jeff Plant's session, giving an overview of what is happening at Boeing. Jeff is Boeing's director of engineering practices, processes, and tools.
In his introduction, Jeff mentioned that Boeing has more than 160.000 employees in over 65 countries. They are working with more than 12.000 suppliers globally. These suppliers can be manufacturing, service or technology partnerships. Therefore you can imagine, and as discussed by others during the conference, streamlined collaboration and traceability are crucial.
The now-famous MBE Diamond symbol illustrates the model-based information flows in the virtual world and the physical world based on the systems engineering approach. Like Katheryn Bell did in her session related to Global Collaboration, Jeff started explaining the importance of a common language and taxonomy needed if you want to standardize processes.
Zoom in on the Boeing MBE Taxonomy, you will discover the clarity it brings for the company.
I was not aware of the ISO 23247 standard concerning the Digital Twin framework for manufacturing, aiming to apply industry standards to the model-based definition of products and process planning. A standard certainly to follow as it brings standardization on top of existing standards.
As Jeff noted: A practical standard for implementation in a company of any size. In my opinion, mandatory for a sustainable, connected infrastructure.
Jeff presented the slide below, showing their standardization internally around federated platforms.
This slide resembles a lot the future platform vision I have been sharing since 2017 when discussing PLM's future at PLM conferences, when explaining the differences between Coordinated and Connected – see also my presentation here on Slideshare.
You can zoom in on the picture to see the similarities. For me, the differences were interesting to observe. In Jeff's diagram, the product lifecycle at the top indicates the platform of (central) interest during each lifecycle stage, suggesting a linear process again.
In reality, the flow of information through feedback loops will be there too.
The second exciting detail is that these federated architectures should be based on strong interoperability standards. Jeff is urging other companies, academics and vendors to invest and come to industry standards for Model-Based System Engineering practices.  The time is now to act on this domain.
It reminded me again of Marc Halpern's message mentioned in my previous post (part 1) that we should be worried about vendor alliances offering an integrated end-to-end data flow based on their solutions. This would lead to an immense vendor-lock in if these interfaces are not based on strong industry standards.
Therefore, don't watch from the sideline; it is the voice (and effort) of the companies that can drive standards.
Finally, during the Q&A part, Jeff made an interesting point explaining Boeing is making a serious investment, as you can see from their participation in all the action groups. They have made the long-term business case.
The team is confident that the business case for such an investment is firm and stable, however in such long-term investment without direct results, these projects might come under pressure when the business is under pressure.
The virtual fireside chat
The conference ended with a virtual fireside chat from which I picked up an interesting point that Marc Halpern was bringing in. Marc mentioned a survey Gartner has done with companies in fast-moving industries related to the benefits of PLM. Companies reported improvements in accuracy and product development. They did not see so much a reduced time to market or cost reduction. After analysis, Gartner believes the real issue is related to collaboration processes and supply chain practices. Here lead times did not change, nor the number of changes.
Marc believes that this topic will be really showing benefits in the future with cloud and connected suppliers. This reminded me of an article published by McKinsey called The case for digital reinvention. In this article, the authors indicated that only 2 % of the companies interview were investing in a digital supply chain. At the same time, the expected benefits in this area would have the most significant ROI.
The good news, there is consistency, and we know where to focus for early results.
Conclusion
It was a great conference as here we could see digital transformation in action (groups). Where vendor solutions often provide a sneaky preview of the future, we saw people working on creating the right foundations based on standards. My appreciation goes to all the active members in the CIMdata A&D action groups as they provide the groundwork for all of us – sooner or later.
Last week I was happy to attend the PLM Roadmap / PDT Fall 2020 conference as usual organized by CIMdata and Eurostep. I wrote about the recent PI DX conference, which touched a lot on the surface of PLM and Digital Transformation. This conference is really a conference for those who want to understand the building blocks needed for current and future PLM.
In this conference, usually with approximately 150 users on-site, now with over 250 connected users for 3 (half) days. Many of us, following every session of the conference. As an active participant in the physical events, it was a little disappointing not to be in the same place with the other participants this time. The informal network meetings in this conference have always been special thanks to a relatively small but stable group of experts. Due to the slightly reduced schedule, there was this time, less attention for some of the typical PDT-topics most of the time coming from Sweden and related to sustainability.
The conference's theme was Digital Thread—the PLM Professionals' Path to Delivering Innovation, Efficiency, and Quality and might sound like a marketing statement. However, the content presented was much more detailed than just marketing info. The fact that you watched the presentation on your screen made it an intense conference with many valuable details.
Have a look at the agenda, and I will walk you through some of the highlights for me. As there was so much content to discuss, I will share this time part 1. Next week, in part 2, you will see the coherence of all the presentations.
As if there was a Coherent Thread.
Digital Twin, It Requires a Digital Thread
Peter Bilello, President & CEO, CIMdata, 's keynote with the title Digital Twin, It Requires a Digital Thread was immediately an illustration of discussing reality. When I stated at the Digital Twin conference in the Netherlands that "Digital Twins do not run on Documents", it had the same meaning as when Peter stated," A Digital Twin without a Digital Thread is an orphan".
And Peter's statement, "All companies do PLM, most of the time however disconnected", is another way to stimulate companies working in a connected manner.
As usual Peter's session was a good overview of the various aspect related to the Digital Thread and Digital Twin.
The concept of a virtual twin is not new. The focus is as mentioned before now more on the term "Connected" Peter provided the CIMdata definition for Digital Thread and Digital Twin. Click on the images to the left to read the full definition.
Peter's overview also referred to the Boeing Diamond, illustrating the mapping of the physical and virtual world, connected through a Digital Thread the various Digital Twins that can exist. The Boeing Diamond was one of the favorites during the conference.
When you look at Peter's conclusions, there is an alignment with what I wrote in the post: A Digital Twin for Everyone and the fact that we need to strive for a connected enterprise. Only then we can benefit from a Digital Twin concept.
The Multi-view BOM Solution Evaluation
– Process, Results, and Industry Impacts
The reports coming from the various A&D PLM action groups are always engaging sessions to watch. Here, nine companies, even competitors, discuss and explore PLM themes between themselves supported by CIMdata.
These companies were the first that implemented PLM; it is interesting to watch how they move forward like supertankers. They cannot jump from one year to another year on a new fashionable hype. Their PLM-infrastructure needs to be consistent and future-proof due to their data's longevity and the high standards for regulatory compliance and safety.
However, these companies are also pioneers for the future. They have been practicing Model-Based approaches for over ten years already and are still learning. In next week's post, you will read later that these frontrunners are pushing for standards to make a Model-Based future affordable and achievable.
In that context, the action group Multi-View BOM shared their evaluation results for a study related to the multi-view BOM. A year ago, I wrote about this topic when Fred Feru from Airbus presented the intermediate results at the CIMdata Roadmap/PDT 2019 conference.
Dan Ganser (Gulfstream) and Javier Reines (Airbus) presented the findings. The conclusion was that the four vendors evaluated, i.e., Aras, Dassault Systems, PTC and Siemens, all passed the essential requirements and use cases. You can find the report and the findings here: Multi-view Bill of Materials
One interesting remark.
When the use cases were evaluated, the vendors could score on a level from 0 to 5, see picture. Interesting to see that apparently, it was possible to exceed the requirement, something that seems like a contradiction.
In particular, in this industry, where formal requirements management is a must – either you meet a requirement or not.
Dan Ganser explained that the current use cases were defined based on the minimum expectations, therefore there was the option to exceed the requirement. I still would be curious to see what does it mean to exceed the requirement. Is it usability, time, or something innovative we might have missed?
5G for Digital Twins & Shadows
I learned a lot from the presentation from Niels Koenig, working at the Fraunhofer Institute for Production Technology. Niels explained how important 5G is for realizing the Industry 4.0 targets. At the 5G Industry Campus, several projects are running to test and demonstrate the value of 5G in relation to manufacturing.
If you want to get an impression of the 5G Industry Campus – click on the Youube movie.
One of the examples Niels discussed was closed-loop manufacturing. Thanks to the extremely low latency (< 1ms), a connected NC machine can send real-time measurements to be compared with the expected values. For example, in the case of resonance, the cutting might not be smooth. Thanks to the closed-loop, the operator will be able to interfere or adjust the operation. See the image below.
Digital Thread: Be Careful What you Wish For, It Just Might Come True
I was looking forward to Marc Halpern's presentation. Marc often brings a less technical viewpoint but a more business-related viewpoint to the discussion. Over the past ten years, there have been many disruptive events, most recently the COVID-pandemic.
Companies are asking themselves how they can remain resilient. Marc shared some of his thoughts on how Digital Twins and Digital Threads can support resilience.
In that context, Gartner saw a trend that their customers are now eagerly looking for solutions related to Digital Twin, Digital Thread, Model-Based Approaches, combined with the aim to move to the cloud. Related to Digital Thread and Digital Twin, most of Gartner's clients are looking for traceability and transparency along the product lifecycle. Most Digital Twin initiatives focus on a twin of operational assets, particularly inside the manufacturing facility. Nicely linking to Niels Konig's session related to 5G.
Marc stated that there seems to be a consensus that a Digital Thread is compelling enough for manufacturers to invest. In the end, they will have to. However, there are also significant risks involved. Marc illustrated the two extremes; in reality, companies will end up somewhere in the middle, illustrated later by Jeff Plant from Boeing. The image on the left is a sneaky preview for next week.
When discussing the Digital Thread, Marc again referred to it more as a Digital Net, a kind of connected infrastructure for various different threads based on the various areas of interest.
I show here a slide from Marc's presentation at the PDT conference in 2018. It is more an artist's impression of the same concept discussed during this conference again, the Boeing Diamond.
Related to the risk of implementing a Digital Thread and Digital Twin, Marc showed another artistic interpretation; The two extremes of two potential end states of Digital Thread investment. Marc shared the critical risks for both options.
For the Vendor Black Hole, his main points were that if you choose a combined solution, diminished negotiating power, higher implementation costs, and potentially innovative ideas might not be implemented as they are not so relevant for the vendor. They have the power!
As an example of combined solutions Marc mentioned, the recently announced SAP-Siemens partnership, the Rockwell Automation-PTC partnership, the Schneider Electric-Aveva-partnership, and the ABB-Dassault Systemes partnership.
Once you are in the black hole, you cannot escape. Therefore, Marc recommended making sure you do not depend on a few vendors for your Digital Twin infrastructure.
The picture on the left illustrates the critical risks of the Enterprise Architecture "Mess". It is a topic that I am following for a long time. Suppose you have a collection of services related to the product lifecycle, like Workflow-services, 3D Modeling-services, BOM-services, Manufacturing-services.
Together they could provide a PLM-infrastructure.
The idea behind this is that thanks to openness and connectivity, every company can build its own unique enterprise architecture. No discussion about standard best practices. You build your company's best practices (for the future, the current ?)
It is mainly promoted as a kind of bottom-up PLM. If you are missing capabilities, just build them yourselves, using REST-services, APIs, using Low-Code platforms. It seems attractive for the smaller enterprises, however most of the time, only a short time. I fully concur with Marc's identified risks here.
As I often illustrated in presentations related to a digital future, you will need a mix of both. Based on your point of focus, you could imagine five major platforms being connected together to cover all aspects of a business. Depending on your company's business model and products, one of them might be the dominant one. With my PLM-focus, this would be the Product Innovation Platform, where the business is created.
Marc ended with five priorities to enable a long-term Digital Thread success.
First of all – set the ground rules for data governance. A topic often mentioned but is your company actively engaging on that already?
Next, learn from Model-Based Systems Engineering as a foundation for a Model-Based Enterprise. A topic often discussed during the previous CIMdata Roadmap / PDT-conference.
The change from storing and hiding information in siloes towards an infrastructure and mindset of search and access of data, in particular, the access to Bill of Materials
The last point induced two more points.
The need for an open architecture and standards. We would learn more on this topic on day 3 of the conference.
Make sure your digital transformation sticks within the organization by investing and executing on organizational change management.
Conclusion
The words "Digital Thread" and "Digital Twin" are mentioned 18 times in this post and during the conference even more. However, at this conference, they were not hollow marketing terms. They are part of a dictionary for the future, as we will see in next week's post when discussing some of the remaining presentations.
Closing this time with a point we all agreed upon: "A Digital Twin without a Digital Thread is an orphan". Next week more!
After the series about "Learning from the past," it is time to start looking towards the future.  I learned from several discussions that I am probably working most of the time with advanced companies. I believe this would motivate companies that lag behind even to look into the future even more.
If you look into the future for your company, you need new or better business outcomes. That should be the driver for your company. A company does not need PLM or a Digital Twin. A company might want to reduce its time to market, improve collaboration between all stakeholders. These objectives can be realized by different ways of working and an IT-infrastructure to allow these processes to become digital and connected.
That is the "game". Coming back to the future of PLM.  We do not need a discussion about definitions; I leave this to the academics and vendors. We will see the same applies to the concept of a Digital Twin.
My statement: The digital twin is not new. Everybody can have their own digital twin as long as you interpret the definition differently. Does this sound like the PLM definition?
The definition
I like to follow the Gartner definition:
A digital twin is a digital representation of a real-world entity or system. The implementation of a digital twin is an encapsulated software object or model that mirrors a unique physical object, process, organization, person, or other abstraction. Data from multiple digital twins can be aggregated for a composite view across a number of real-world entities, such as a power plant or a city, and their related processes.
As you see, not a narrow definition. Now we will look at the different types of interpretations.
Single-purpose siloed Digital Twins
Simple – data only
One of the most straightforward applications of a digital twin is, for example, my Garmin Connect environment. When cycling, my device registers performance parameters (speed, cadence, power, heartbeat, location). After every trip, I can analyze my performance. I can see changes in my overall performance; compare my performance with others in my category (weight, age, sex).
Based on that, I can decide if I want to improve my performance. My personal business goal is to maintain and improve my overall performance, knowing I cannot stop aging by upgrading my body.
On November 4th, 2020, I am participating in the (almost virtual) Digital Twin conference organized by Bits&Chips in the Netherlands. In the context of human performance, I look forward to Natal van Riel's presentation: Towards the metabolic digital twin – for sure, this direction is not simple. Natal is a full professor at the Technical University in Eindhoven, the "smart city" in the Netherlands
Medium – data and operating models
Many connected devices in the world use the same principle. An airplane engine, an industrial robot, a wind turbine, a medical device, and a train carriage; all track the performance based on this connection between physical and virtual, based on some sort of digital connectivity.
The business case here is also monitoring performance, predict maintenance, and upgrade the product when needed.
This is the domain of Asset Lifecycle Management, a practice that exists for decades. Based on financial and performance models, the optimal balance between maintaining and overhaul has to be found. Repairs are disruptive and can be extremely costly. A manufacturing site that cannot produce can costs millions per day. Connecting data between the physical and the virtual model allows us to have real-time insights and be proactive. It becomes a digital twin.
Advanced – data and connected 3D model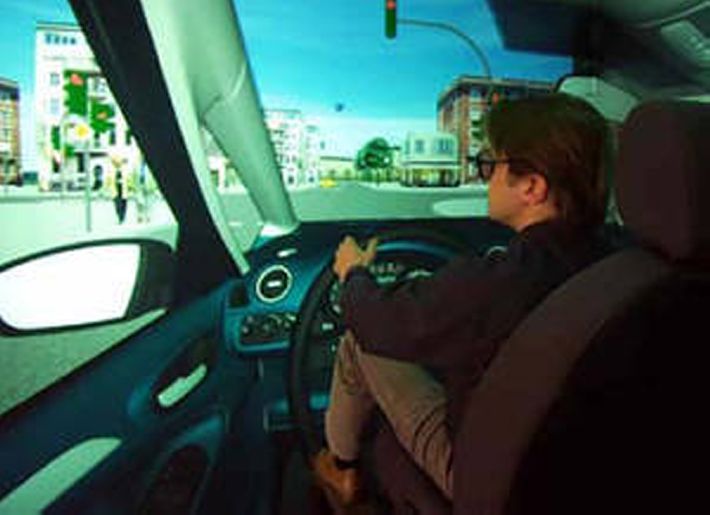 The ditial twin we see the most in marketing videos is a virtual twin, using a 3D-representation for understanding and navigation.  The 3D-representation provides a Virtual Reality (VR) environment with connected data. When pointing at the virtual components, information might appear, or some animation takes place.
Building such a virtual representation is a significant effort; therefore, there needs to be a serious business case.
The simplest business case is to use the virtual twin for training purposes. A flight simulator provides a virtual environment and behavior as-if you are flying in the physical airplane – the behavior model behind the simulator should match as good as possible the real behavior. However, as it is a model, it will never be 100 % reality and requires updates when new findings or product changes appear.
A virtual model of a platform or plant can be used for training on Standard Operating Procedures (SOPs). In the physical world, there is no place or time to conduct such training. Here the complexity might be lower. There is a 3D Model; however, serious updates can only be expected after a major maintenance or overhaul activity.
These practices are not new either and are used in places where the physical training cannot be done.
More challenging is the Augmented Reality (AR) use case. Here the virtual model, most of the time, a lightweight 3D Model, connects to real-time data coming from other sources. For example, AR can be used when an engineer has to service a machine. The AR-environment might project actual data from the machine, indicate service points and service procedures.
The positive side of the business case is clear for such an opportunity, ensuring service engineers always work with the right information in a real-time context. The main obstacle for implementing AR, in reality, is the access to data, the presentation of the data and keeping the data in the AR-environment matching the reality.
And although there are 3D Models in use, they are, to my knowledge, always created in siloes, not yet connected to their design sources.Have a look at the Digital Twin conference from Bits&Chips, as mentioned before.
Several of the cases mentioned above will be discussed here. The conference's target is to share real cases concluded by Q & A sessions, crucial for a virtual event.
Connected Virtual Twins along the product lifecycle
So far, we have been discussing the virtual twin concept, where we connect a product/system/person in the physical world to a virtual model. Now let us zoom in on the virtual twins relevant for the early parts of the product lifecycle, the manufacturing twin, and the development twin. This image from Siemens illustrates the concept: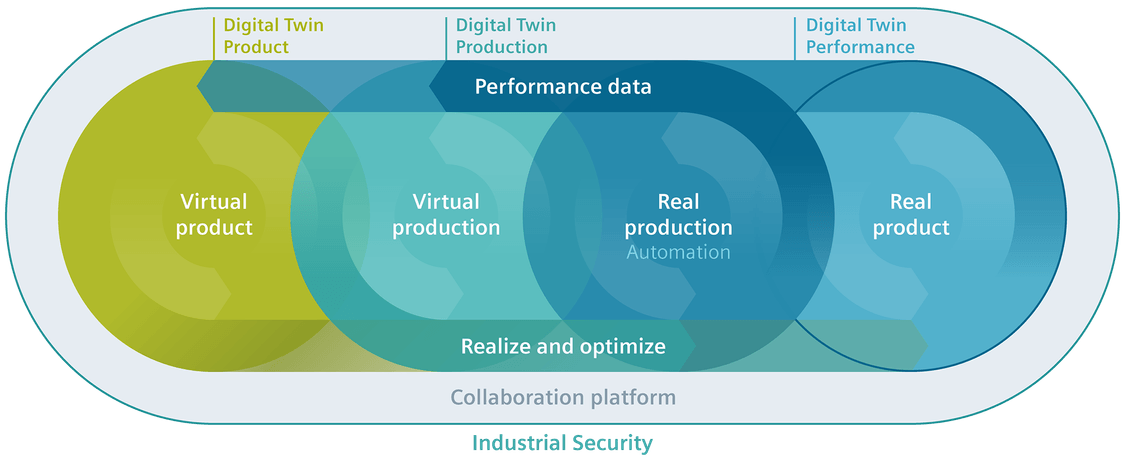 On slides they imagine a complete integrated framework, which is the future vision. Let us first zoom in on the individual connected twins.
The digital production twin
This is the area of virtual manufacturing and creating a virtual model of the manufacturing plant. Virtual manufacturing planning is not a new topic. DELMIA (Dassault Systèmes) and Tecnomatix (Siemens) are already for a long time offering virtual manufacturing planning solutions.
At that time, the business case was based on the fact that the definition of a manufacturing plant and process done virtually allows you to optimize the plant before investing in physical assets.
Saving money as there is no costly prototype phase to optimize production. In a virtual world, you can perform many trade-off studies without extra costs. That was the past (and for many companies still the current situation).
With the need to be more flexible in manufacturing to address individual customer orders without increasing the overhead of delivering these customer-specific solutions, there is a need for a configurable plant that can produce these individual products (batch size 1).
This is where the virtual plant model comes into the picture again. Instead of having a virtual model to define the ultimate physical plant, now the virtual model remains an active model to propose and configure the production process for each of these individual products in the physical plant.
This is partly what Industry 4.0 is about. Using a model-based approach to configure the plant and its assets in a connected manner. The digital production twin drives the execution of the physical plant. The factory has to change from a static factory to a dynamic "smart" factory.
In the domain of Industry 4.0, companies are reporting progress. However, to my experience, the main challenge is still that the product source data is not yet built in a model-based, configurable manner. Therefore, requiring manual rework. This is the area of Model-Based Definition, and I have been writing about this aspect several times. Latest post: Model-Based: Connecting Engineering and Manufacturing
The business case for this type of digital twin, of course, is to be able to customer-specific products with extremely competitive speed and reduced cost compared to standard. It could be your company's survival strategy. As it is hard to predict the future, as we see from COVID-19, it is still crucial to anticipate the future, instead of waiting.
The digital development twin
Before a product gets manufactured, there is a product development process. In the past, this was pure mechanical with some electronic components. Nowadays, many companies are actually manufacturing systems as the software controlling the product plays a significant role. In this context, the model-based systems engineering approach is the upcoming approach to defining and testing a system virtually before committing to the physical world.
Model-Based Systems Engineering can define a single complex product and perform all kinds of analysis on the system even before there is a physical system in place.  I will explain more about model-based systems engineering in future posts. In this context, I want to stress that having a model-based system engineering environment combined with modularity (do not confuse it with model-based) is a solid foundation for dealing with unique custom products. Solutions can be configured and validated against their requirements already during the engineering phase.
The business case for the digital development twin is easy to make. Shorter time to market, improved and validated quality, and reduced engineering hours and costs compared to traditional ways of working. To achieve these results,  for sure, you need to change your ways of working and the tools you are using. So it won't be that easy!
For those interested in Industry 4.0 and the Model-Based System Engineering approach, join me at the upcoming PLM Road Map 2020 and PDT 2020 conference on 17-18-19 November. As you can see from the agenda, a lot of attention to the Digital Twin and Model-Based approaches.
Three digital half-days with hopefully a lot to learn and stay with our feet on the ground.  In particular, I am looking forward to Marc Halpern's keynote speech: Digital Thread: Be Careful What you Wish For, It Just Might Come True
Conclusion
It has been very noisy on the internet related to product features and technologies, probably due to COVIC-19 and therefore disrupted interactions between all of us – vendors, implementers and companies trying to adjust their future. The Digital Twin concept is an excellent framing for a concept that everyone can relate to. Choose your business case and then look for the best matching twin.
To avoid that software geeks are getting curious about the title – in this context, ALM means Asset Lifecycle Management. In 2008 I was active for SmarTeam to promote PLM concepts relevant for Asset Lifecycle Management. The focus was on PLM being complementary to asset operation management (EAM Enterprise Asset Management and MRO – Maintenance Repair and Overhaul).
This topic has become actual for me in the past two months, having discussed and seen (PDT) the concepts of a model-based approach for assets and constructions. PLM, ALM, and BIM converge conceptually. Every year I give a one-day update from the field for students doing a master for PLM & BIM on top of their engineering/architectural background. Five years ago, there was no mentioning of BIM, now the ratio of BIM-oriented students has become significant. For me it is always great to see young students willing to learn PLM or BIM on top of their own skillset. Read more about this particular Master class in French when you click on the logo to the left.
In 2012 I started to explain PLM benefits to EPC companies (Engineering Procurement Construction), targeting a more profitable and efficient delivery of their constructions (oil platform, plant, building, infrastructure). The simplified reasoning behind using PLM was related to a more efficient and quality of multidisciplinary collaboration, reducing costly fixes during construction, and smoothening the intensive process of data handover.
More and more in the process industry, standards, like ISO 15926 (Process Industry) and ISO 19650 (BIM – mainly in the UK), became crucial.  At that time, it was difficult to convince companies to focus on the horizontal-integrated process instead of dedicated, disconnected tools. Meanwhile, this has changed, thanks to the Digital Twin hype. Let's have a look.
PLM and ALM
The initial value for using PLM concepts complementary to MRO systems came from the fact that MRO systems are mainly focusing on plant operations. You could compare these systems with ERP systems for manufacturing companies, focusing execution and continuous operation. Scheduled maintenance and inspections are also driven by the MRO system. Typical MRO systems are Maximo and SAP PM. PLM could deliver configuration management, linking the design intent to the physical implementation. Therefore provide higher data quality, visibility, and traceability of the asset history.
In 2010, I shared these concepts in two posts: Asset Lifecycle Management using a PLM-system and PLM for Asset Lifecycle Management and Asset Development based on lessons learned with some (nuclear) plant owner/operators. They started to discover the need for configuration management to ensure data quality for operations. In 2010-2014 the business case using PLM complementary to MRO was data quality and therefore reduced down-time when executing large maintenance programs (dependencies between the individual projects were not visible without PLM)
In MRO-systems, like in ERP-systems, the data for execution is based on information coming from various engineering sources – specifications, PFDs, P&IDs.  Questions owner/operators ask themselves are:
What are the designed operational settings?
Are the asset parameters currently running as designed?
What is the optimized maintenance period?
Can we stretch maintenance intervals?
Can we reduce inspections?
Can we reduce downtime for maintenance and overhaul?
What about predictive maintenance?
Most of these questions are answered by experts that use their tacit knowledge and experience to give the best so far answers. And when the answers were wrong, they were accepted as new learning points. Next time we won't make this mistake, and the experts become even more knowledgeable.
Now, these questions could be answered if you can model your asset in a virtual environment. In the virtual world, you would use simulation models, logical models, and 3D Models to describe the asset. This is where Model-Based Systems Engineering practices are used. However, these models need to be calibrated based on reality. And that is where IoT and Asset Operation Monitoring comes in connecting physical behavior with virtual predicted behavior. You can read more about this relationship in my post: Will MBSE the new PLM instead of IoT?

PLM and BIM
In 2014 when I started to discuss PLM concepts with EPC-companies (Engineering, Procurement, and Construction), mainly in the Oil & Gas industry. Here excellent asset development tools (AVEVA, Intergraph, Bentley) are the standard, and as the purpose of an EPC company is to deliver a plant or platform. Each software tool has its purpose and there is no lifecycle strategy.  The value PLM could bring was providing a program overview (complementary with Primavera), standardization, multidisciplinary coordination and visibility across projects to capture knowledge.
Most of the time, the EPC companies did not see the value of optimizing themselves as this was accepted in the process. Even while their productivity and cost due to poor quality (fixing during construction /commissioning) were absurd (10-20 % of the project budget). Cultural change – think longer instead of fix later – was hard to explain. In the end, the EPC was not responsible for operations, so why bother that much?
My blog posts: PLM for all Industries and 2014 – the year that the construction industry did not discover PLM illustrate the challenge at that time. None of the EPCs and construction companies had the, that improving collaboration based on information-continuity (not data-driven yet) could bring the significant benefits, despite their relatively low-profit margin (1- 3 % is considered excellent). Breaking the silos is too.
Two recent trends, however, changed the status quo that existed.
First of all, more and more, the owner/operator does not want to be responsible for the maintenance and operations of the asset. The typical EPC-companies now became DBO-companies (Design Build and Operate), this requires lifecycle thinking for these companies as most of the costs of an asset are during its maintenance and operation phase.
Advanced Thinking (read: (Model-Based) Systems Engineering) can help these companies to shift their focus on a more sustainable design of the asset for the future and get rewarded for that. In the old EPC-model, the target was "just" to deliver as specified.
A second significant trend is the availability of cloud infrastructure for the construction world. A cloud infrastructure does not require considerable investment for the stakeholders in a construction project. By introducing BIM in a common data environment (CDE), a comparable infrastructure to PLM is created and likely the Maintenance-and-Operatie stakeholder is eager to have the full virtual definition here for the future.
Read more about BIM and CDE for example, here: CDE – strategic BIM process tool.
Of course, technology and standards are there to collaborate. Now it is up to the stakeholders involved to develop new skills for collaboration (learn or hire) and implement them through new ways of working. A learning process can never be pushed by a big-bang, so make sure your company operates in two modes while learning.
As I mentioned the Maintenance-and-Operate stakeholders or in traditional cases, the Owner/Operators are incredibly interested in a well-defined virtual model of the asset. This allows them to analyze and simulate the implementation of fixes and enhancements for the future with an optimum result. Again we are talking about a digital twin of the asset here
Conclusion
Even though the digital twin is on the top of the Gartner Hype cycle, it has become already a vital principle to implement in particular for substantial, critical assets. As these precious assets, minor inefficiencies in data continuity can still be afforded to learn. From the moment companies have established a digital continuity between their virtual and physical assets, the concept for Digital Twin can also be profitable (and required) for other industries. In particular when these companies want to deliver their products as a service.

Note: I have been talking this year a lot about the challenges of digital transformation applied to PLM in particular. During PI PLMx London 2020 on February 3 and 4, I will lead a Think Thank session related to the challenge of connecting your PLM transformation to your executives' vision (and budget). See you there ?