You are currently browsing the category archive for the 'model-based' category.
Model-based continued: Model-Based Definition
After a short celebration, 10 years blogging and 200 posts, now it is time to continue my series related to the future of model-based. So far my introduction and focus on the bigger picture of the term Model-Based has led to various reactions. In particular, related to Model-Based Definition, the topic I am going to discuss in this post. Probably this is the topic where opinions vary the most as it is more close to the classical engineering and manufacturing processes.
What is Model-Based Definition?
There are various definitions of the term Model-Based Definition. Often the term Model-Based Enterprise is used in the same context. Where some people might stop thinking because the terminology is not 100 % aligned, I propose to focus on content. Let's investigate what it is.
In the classical product lifecycle, a product is first designed for its purpose based on specifications. The product can be simple, purely mechanical or more complex, requiring mechanical design, electronic components, and software to work together. For the first case, I will focus on Model-Based definition, for the second case I recommend to start reading about Model-Based Systems Engineering approaches where the mechanical design is part of a more complex system.
Model-Based Definition for Mechanical Designs – the role of 2D
Historically designs were done on the drawing board in 2D. After the introduction of 2D CAD and later affordable 3D CAD systems at the end of the previous century, companies made a shift from designing in 2D towards 3D.  The advantages were clear. A much better understanding of products. Reading a 2D drawing requires special skills and sometimes they were not unambiguous. Therefore, 3D CAD models lead to increased efficiency and quality combined with the potential to reuse and standardize parts or sub-assemblies in a design.
These benefits were not always observed as complementary to the design (the engineering point of view), there was still the need to describe and define how a product needs to be manufactured. The manufacturing definition remained in a set of 2D drawings, and the 2D Drawings were the legal authority describing the product.
An interesting side note observation:
You will still see in industrial machinery companies, a pure EBOM does not exist, as designs were made to target the manufacturing drawings, not the 3D Model, engineering focused, intent. In this type of companies, the discussion EBOM/MBOM is challenging to explain.
Once the 3D Model becomes the authority, the split between design and manufacturing information will create extra work if you keep on creating 2D drawings for manufacturing.  It requires non-value added extra work, i.e., reinterpreting 3D data in 2D formats (extra engineering hours) and there is the risk for new errors (interpretations/versioning issues). This non-value added engineering time can add up to over 30 percent of the time spent by engineering. You can find these numbers through the links below this post. I will not be the MBD teacher in this post, I will focus on the business impact.
Model-Based Definition based on 3D
The logical step is to use the 3D Model and add manufacturing information attached to the model, through different views.  This can be Geometric Dimensioning and Tolerancing information (GF&T), Quality measurement information, Assembly instructions and more, all applied to different views of the model.
Of course here you become dependent on the chosen environments that support the combination of a 3D CAD model combined with annotation views that can be selected in the context of the model. There are existing standards how to annotate a model, find your most practical standard to your industry / Eco-system. Next, most CAD vendors and PLM vendors have their proprietary 3D formats and when you stay within their solution range working with a model-based definition will bring direct benefits, however …..
Model-Based Definition data standards
Every company needs to be able to combine and share information internally with other teams or with partners and suppliers, so a single vendor solution is a utopia. Even if your company has standardized themselves to one system, the next acquisition might be disturbing this dream. Anticipating for openness is crucial and when you start working according to a model-based definition, make sure that at least you have import or export capabilities from within your environment towards model-based definition standards.
The two major standards for model-based definition are 3DPDF and AP242/JT based. Don't expect these standards to be complete. They will give you a good foundation for your model-based journey and make sure you are part of this journey. (Listen to the CIMdata webinar also listed below)
The Model-Based journey
It took almost 20 years for 3D CAD to become the mainstream for mechanical design. Engineers are now trained in 3D and think in 3D. Now it is time to start the journey to abandon 2D and connect engineering, manufacturing and service more efficient. Similar gains can be expected. Follow the links below this article, here already a quote from an old post by Isha Gupta Ray (Capgemini) related to MBD:
MBE Drivers: The need for consumption of 3D product data by non-engineering departments and the elimination of 2D drawing related rework and costs are driving companies to adopt 3D MBE methods rapidly. DoD predicts that the move away from 2D Drawings and into open and free-to-view 3D MBE documents will reduce the cost of its internal engineering activities by up to 30%, reduce the scrap and rework it currently deals with from its supply channel by nearly 20% and improves supplier response times by up to 50%.
Conclusion
Model-Based Definition is not as challenging as becoming a Model-Driven enterprise, that I described in my introduction post to this theme. It is a first step to challenge or energize your company to become a digital enterprise, as sharing between engineering and manufacturing needs to be orchestrated, even with your external parties. It is easy to do nothing and to wait till your company is pushed or pushed out, which would cause extra stress (or relieve forever).  For me Model-Based Definition is a first (baby) step towards a digital enterprise, warming-up your company to change a look at your data in a different way. Next when you combine parameters and simulation to your models, you will make the next step towards a model-driven digital enterprise.
Below a selection of links related to the theme of Model-Based Definition. If you feel I missed some crucial links, please provide them through the comments section of this post, and I will add them to the post if relevant.
Tech-Clarity: The How-to Guide for Adopting Model Based Definition (MBD)
Action Engineering: Articles, Blog plus training
Engineering.com: How Model-Based Definition Can Fix Your CAD Models
Lifecycle Insights: Quantifying the value of Model-Based definitions
CIMdata: Webinar on Model-Based Definition and Standards
Capgemini: Model-Based Enterprise with 3D PDF
if you want to learn more in-depth the advanced usage and potential of MBD, try to understand:
CIMdata: Minimum MDB and BOM definition with STEP AP 242
This is already my fourth post related to Model-Based concepts, which started with Model-Based – An Introduction. There are at least two more posts  to come depending on your feedback. The amount of posts also illustrates that the topic is not easy to explain through blog posts with a target length of 500-1000 words.
This combined with the observation that model-based in the context of PLM is quickly associated with replacing 2D Drawings by 3D annotated CAD models, or a marketing synonym for the classical interaction between a PDM-system and a CAD-system, see Model-Based – The Confusion, there is a lot to share.  I will come back to Model-Based Definition in an upcoming post. But now Model-Based Systems Engineering.
Systems Engineering
When you need to define a complex product, that has to interact in various ways in a safe manner with the outside world, like an airplane or a car, systems engineering is the recommended approach to define the product. In 2004, when I spoke at a generic PLM conference about the possibilities to extend SmarTeam with a system engineering data model:
(a Requirements/Functional/Logical decomposition connecting to the Product- RFLP) most engineers considered this as extra work. Too complex was the feedback. A specification document was enough most of the time as the base for a product to develop. Perhaps at that time these engineers were right. At that time most of their products were purely mechanical and served a single purpose.
Now almost 15 years later products have become complex due to the combination of electronic and software. And by adding software and sensors,  the product becomes a multi-purpose product, interacting with the outside world, a system.
If you want to dive deeper into an unambiguous explanation of systems engineering, follow this link to the INCOSE website.
INCOSE (International Council On Systems Engineering) is a not-for-profit membership organization founded to develop and disseminate the interdisciplinary principles and practices that enable the realization of successful systems.
There are a few points that I want you to remember from systems engineering approach.
First of all, it is an iterative approach, where you start with a high-level concept defining which functions are needed to full-fill the high-level requirement.
Then, by choosing for certain solutions concepts, you will have trade-off  studies during this phase to select the solution concept is defined. Which functions will be supported, what are the logical components needed for the solutions and what are the lower-level requirements for these components.
Trade-off studies eliminate alternatives and create the base for the final design which will be more and more detailed and specific over time. You need a functional and logical decomposition before jumping into the design phase for mechanical electrical and software components. Therefore, jumping from requirements directly into building a solution is not real systems engineering. You use this approach only if you already know the products solutions concept and logical components. Something perhaps possible when there is no involvement of electronics and software.
 Model-Based Systems Engineering
So what's the difference between Systems Engineering and Model-Based Systems Engineering ?
As the addition of model-based already indicates, the process of systems engineering will be driven by using domain models to exchange information between engineers instead of documents. And more recently these models are also linked to simulations to define the best trade-off and decide on lower-level requirements.
In model-based systems engineering the most efficient way of working is to use parameters for requirements, logical and physical settings.  Next decide on lower-level requirements and constraints the concept "Design of Experiments" is used, where the performance of a product is simulated by varying several design parameters. The results of a Design of Experiment assist the engineering teams to select the optimized solution, of course based on the model used.
Model-Based Systems Engineering and PLM
As I mentioned in the introduction systems engineering was often a disconnected discipline from engineering. Systems Engineering defines the boundaries for the engineering department. In a modern digital enterprise, the target is to offer data continuity where systems engineering is connected. Incremental innovation in particular thanks to software will require an environment where multidisciplinary teams can collaborate in the most efficient way together.
The above image from CIMdata concludes my post on model-based related to systems engineering. As you can see MBSE is situated at the front-end of the product lifecycle, however we have to realize that the modern product lifecycle is no longer linear but iterative (you can read more here: From a linear world to fast and circular)
Conclusion
Model-Based Systems Engineering might have been considered as a discipline for the automotive and aerospace industry only. As products become more and more complex, thanks to IoT-based applications and software, companies should consider evaluating the value of model-based systems engineering for their products / systems
A month ago I announced to write a series of posts related to the various facets of Model-Based. As I do not want to write a book for a limited audience, I still believe blog posts are an excellent way to share knowledge and experience to a wider audience. Remember PLM is about sharing!
There are three downsides to this approach:
you have to chunk the information into pieces; my aim is not to exceed 1000 words per post
Isolated posts can be taken out of context (in a positive or negative way)
you do not become rich and famous for selling your book
Model-Based ways of working are a hot topic and crucial for a modern digital enterprise.  The modern digital enterprise does not exist yet to my knowledge, but the vision is there. Strategic consultancy firms are all active exploring and explaining the potential benefits – I have mentioned McKinsey / Accenture / Capgemini before.
In the domain of PLM, there is a bigger challenge as here we are suffering from the fact that the word "Model" immediately gets associated with a 3D Model. In addition to the 3D CAD Model, there is still a lot of useful legacy data that does not match with the concepts of a digital enterprise. I wrote and spoke about this topic a year ago. Among others at PI 2017 Berlin and you can  check this presentation on SlideShare: How digital transformation affects PLM
Back to the various aspects of Model-Based
My first post: Model-Based – an introduction described my intentions what I wanted to explain.  I got some interesting feedback and insights from my readers . Some of the people who responded understood that the crucial characteristic of the model-based enterprise is to use models to master a complex environment. Business Models, Mathematical Models, System Models are all part of a model-based enterprise, and none of them have a necessary relation to the 3D CAD model.
Why Model-Based?
Because this is an approach to master complex environments ! If you are studying the concepts for a digital enterprise model, it is complex. Artificial intelligence, predictive actions all need a model to deliver. The interaction and response related to my first blog post did not show any problems – only a positive mindset to further explore. For example, if you read this blog post from Contact, you will see the message came across very well: Model-Based in  Model-Based Systems Engineering – what's up ?
Where the confusion started
My second post: Why Model-Based? The 3D CAD Model  was related to model-based, focusing on the various aspects related to the 3D CAD model, without going into all the details. In particular, in the PLM world, there is a lot of discussion around Model-Based Design or Model-Based Definition, where new concepts are discussed to connect engineering and manufacturing in an efficient and modern data-driven way. Lifecycle Insights, Action Engineering, Engineering.com, PTC,   Tech-Clarity and many more companies are publishing information related to the model-based engineering phase.
Here is was surprised by Oleg's blog with his post Model-Based Confusion in 3D CAD and PLM.
If you read his post, you get the impression that the model-based approach is just a marketing issue instead of a significant change towards a digital enterprise. I quote:
Here is the thing… I don't see much difference between saying PLM-CAD integration sharing data and information for downstream processes and "model-driven" data sharing. It might be a terminology thing, but data is managed by CAD-PLM tools today and accessed by people and other services. This is how things are working today. If model-driven is an approach to replace 2D drawings, I can see it. However, 2D replacement is something that I've heard 20 years ago. However, 2D drawings are still massively used by manufacturing companies despite some promises made by CAD vendors long time ago.
I was surprised by the simplicity of this quote. As if CAD vendors are responsible for new ways of working. In particular, automotive and aerospace companies are pushing for a model-based connection between engineering and manufacturing to increase quality, time to market and reduced handling costs. The model-based definition is not just a marketing issue as you can read from benefits reported by Jennifer Herron (Re-use your CAD – the model-based CAD handbook – describing practices and benefits already in 2013) or Tech-Clarity (The How-To Guide for adopting model-based definition – describing practices and benefits – sponsored by SolidWorks)
Oleg's post unleashed several reactions of people who shared his opinion (read the comments here). They are all confused, t is all about marketing / let's not change / too complex. Responses you usually hear from a generation that does not feel and understand the new approaches of a digital enterprise. If you are in the field working with multiple customers trying to understand the benefits of model-based definition, you would not worry about terminology – you would try to understand it and make it work.
Model-Based – just marketing?
In his post, Oleg refers to CIMdata' s explanation of the various aspects of model-based in the context of PLM. Instead of referring to the meaning of the various acronyms, Peter Bilello (CIMdata) presented at the latest PDT conference (Oct 2017 – Gothenburg) an excellent story related to the various aspects of the model-based aspects, actually the whole conference was dedicated to the various aspects of a Model-Based Enterprise illustrates that it is not a vendor marketing issue. You can read my comments from the vendor-neutral conference here: The weekend after PDT Europe 2017 Part 1 and Part 2.
There were some dialogues on LinkedIn this weekend, and I promised to publish this post first before continuing on the other aspects of a model-based enterprise.  Just today Oleg published a secondary post related to this topic: Model-Based marketing in CAD and PLM, where again the tone and blame is to the PLM/CAD vendors, as you can see from his conclusion:
I can see "mode-based" as a new and very interesting wave of marketing in 3D CAD and PLM.  However, it is not pure marketing and it has some rational. The rational part of model-based approach is to have information model combined from 3D design and all connected data element. Such model can be used as a foundation for design, engineering, manufacturing, support, maintenance. Pretty much everything we do. It is hard to create such model and it is hard to combine a functional solution from existing packages and products. You should think how to combine multiple CAD systems, PLM platforms and many other things together. It requires standards. It requires from people to change. And it requires changing of status quo. New approaches in data management can change siloed world of 3D CAD and PLM. It is hard, but nothing to do with slides that will bring shiny words "model-base". Without changing of technology and people, it will remain as a history of marketing
Again it shows the narrow mindset on the future of a model-based enterprise. When it comes to standards I recommend you to register and watch CIMdata's educational webinar called: Model-Based Enterprise and Standards – you need to register. John MacKrell CIMdata's chairman gives an excellent overview and status of model-based enterprise initiative.  After having studied and digested all the links in this post, I challenge you to make your mind up. The picture below comes from John's presentation, an illustration where we are with model-based definition currently
Conclusion
The challenge of modern businesses is that too often we conclude too fast on complex issues or we frame new developments because they do not fit our purpose. You know it from politics. Be aware it is also valid in the world of PLM. Innovation and a path to a modern digital enterprise do not come easy – you need to invest and learn all the aspects. To be continued (and I do not have all the answers either)
I wrote in my previous posts about the various aspects of a model-based enterprise. In case you missed this post you can find it here: Model-Based an introduction. In this post I will zoom in on the aspects related to the 3D model, probably in the context of PLM, the most anticipated approach.
3D CAD vs 3D CAD Model
At the time 3D CAD was introduced for the mid-market, the main reason why 3D CAD was introduced was to provide a better understanding of the designed product. Visualization and creating cross-sections of the design became easy although the "old" generation of 2D draftsmen had to a challenge to transform their way of working. This lead often to 3D CAD models setup with the mindset to generate 2D Manufacturing drawings,  not taking real benefits from the 3D CAD Model. Let's first focus on Model-Based Definition.
Model-Based Definition
We talk about Model-Based Definition when the product and manufacturing information is embedded / connected to the 3D CAD model, allowing the same source of information to be used downstream for manufacturing, analysis and inspection. The embedded information normally contains geometric dimensions, annotations, surface finish and material specifications. Instead of generating easy to distribute 2D drawings, you would be using the 3D model now with its embedded information.
According to an eBook, sponsored by SolidWorks and published by Tech-Clarity: "The How-to Guide for Adopting Model-Based Definition MBD", Tech-Clarity's research discovered that 33 percent of design time is spent on drawing generation. Imagine you do not need this time anymore to specify manufacturing processes and operations.  Does this mean the design activities can be reduced by 30 % ? Probably not, the time could be used to spend on design alternatives too, at the end contributing to better designs.
Still this is not the reason why companies would move to MBD. Companies that have implemented MBD report fewer manufacturing mistakes/less rework (61 %) – here is where the value becomes visible. In addition, improved communication with suppliers was reported by 50 % of the companies. More clarity in the communication, however as some of the suppliers are not used to MBD either, this excuse is used not to implement MBD. Instead of creating a win-win situation a status-quo is created.
Read the eBook to demystify Model-Based Definition and realize that although it might look like a complex change, within 8 to 9 months the company might have gone through this change, assuming you have found the proper trainers / coaches for that.
When discussion a roadmap towards a digital enterprise, this is one of the "easier" steps to take as it does not force the organization to change their primary processes. They become more efficient, lean and integrated, delivering rapid benefits within a year.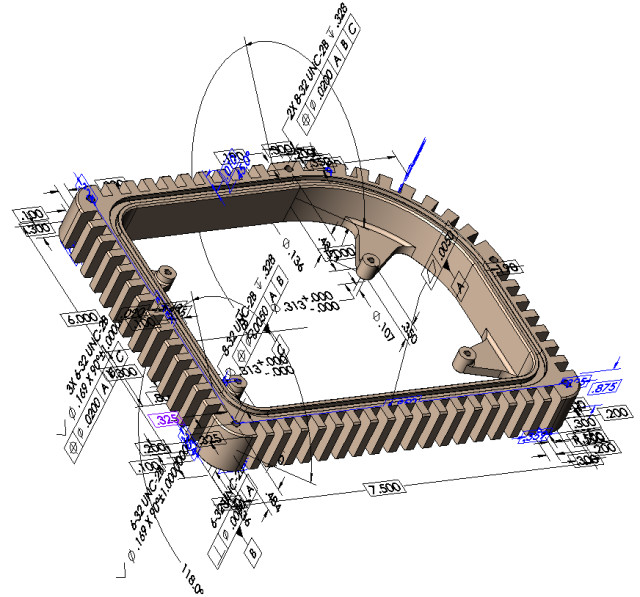 In the same context of MBD, in my post: Digital PLM requires a Model-Based Enterprise I referred to two articles in engineering.com written by Dick Bourke with the support from Jennifer Herron.  The first article: How Model-based Definition Can Fix Your CAD Models digs into more detail and provides additional insights into benefits realizable by implementing MBD. As I am not the expert, I would recommend if you agree on the benefits and necessity for your company's future, find the right literature. There is a lot of information related to MBD coming from vendors but also vendor-neutral sources. Technology Is not the issue. You just have to study, digest and implement it  with your suppliers.
Beyond MDB using a 3D CAD Model
Although the post gets long, it is crucial to understand that the 3D CAD model should also be built in a more sophisticated manner. Using parameters in the model instead of hard-coded values allows the model to be used and interact with other disciplines in a digital manner.
A parametric model, combined with business rules can be accessed and controlled by other applications in a digital enterprise. In this way, without the intervention of individuals a set of product variants can be managed and not only from the design point of view. Geometry and manufacturing parameters are also connected and accessible. This is one of the concepts where Industry 4.0 is focusing on: intelligent and flexible manufacturing by exchanging parameters
The 3D CAD Model and Simulation
The last (short) part related to the 3D CAD Model is about its relation to simulation. If you do no use simulation together with your 3D CAD Models, you are still designing in the past. No real advantage between 2D and 3D, just better understanding?
In engineering we often talk about Form, Fit and Function – the three dimensions to decide on a change.  With 2D (and 3D without simulation) we manage Form and Fit disconnected from Function. Once we use 3D combined with Simulation we are able to manage these three parameters in relation.
For example, when designing product, first simulations can provide direct feedback on shape and dimension constraints. Where to save material costs, choose from another design solution? The ultimate approach is Generative Design where the Functional constraints and the Fit are the given constraints and the Form is optimized based on artificial intelligence rules.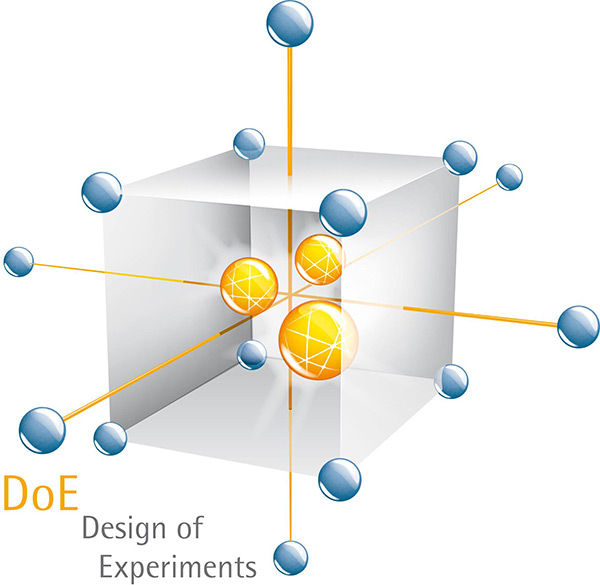 In case a company has a close relation between 3D Design and Simulation, the concept of Design of Experiments (DOE) will help to find the optimal product constraints. The more integrated the 3D CAD model and the simulation are, the more efficient alternatives can be evaluated and optimized.
Conclusion
In this post we focused on model-based in relation to the 3D CAD Model. Without going to the expert level for each of the topics discussed, I hope it creates the interest and enthusiasm for further investment in model-based practices.  One commonality for all model-based practices: it is about parameters. Parameters provide digital continuity where each discipline (design, simulation, manufacturing) can build upon in almost real-time without the need for people to convert or adjust information. Digital Continuity – one of the characteristics of the future digital enterprise