You are currently browsing the category archive for the 'Circulair Economy' category.
In several discussions and posts I wrote, I talked about systems thinking, assuming everyone has the same understanding.
For example last year with the PLM Global Green Alliance (PGGA) we had a discussion with Frank Popielas Managing Partner and Co-founder of SMS_ThinkTank™ related to sustainability. We used the term "Systems Thinking" several times assuming everyone knows the concept.

I should have known better. When using terms in your profession, you always have to verify if the others have the same meaning. Crucial when you start a PLM implementation project.
For example, several years ago, I was asked to audit a PLM implementation that got stalled because the PDM and ERP-system capabilities created a conflict. In my first interview with the PLM team, they mentioned they were quite advanced in Systems Engineering. Everyone in the core team confirmed this. However, when diving into the details of the "Systems Engineering" activities, it appeared that they were talking about (product) Configuration Management.
When working with different people, always make sure you have a common dictionary.
What is a part? What is a material? What is a Workflow, and is it different from a Business Process? And also, for Configuration Management, you often see two definitions.
One focuses on the consistency of the product's definition, the other more on the allowed configurations of a product. So now let's dive into Systems Thinking which is not the same as Systems Engineering.
Systems thinking – a definition
When I checked on Wiki, I found this complex definition:

Systems thinking is a way of making sense of the complexity of the world by looking at it in terms of wholes and relationships rather than by splitting it down into its part. It has been used as a way of exploring and developing effective action in complex contexts. Systems thinking draws on and contributes to systems theory and the system sciences.
A careful reader would extract from this definition that the focus for systems thinking is looking at the bigger picture, the whole, a holistic approach. Of course, when using a holistic approach, you take more relationships or possibilities into account,  which broadens your thinking (or value of your solution). The opposite of Systems Thinking is to focus on a single issue or part and describe it best. Let me explain this by an example:
The BIC ballpoint
You might remember the first BIC ballpoints with the sharp cap when you are as old as me.
This image is from the time I was born. The BIC ballpoint, with the pointed cap, was one of the most popular ballpoints during my teenage years.
In primary school not allowed, as we first had to learn to write with an ink pen or fountain pen. The BIC pen at that time was designed as a product with a single purpose: enabling people to write affordable, comfortable, and fast.
With a more holistic view of the BIC pen, you might say: "What happens when children play with it?" And apparently, there were accidents with children stabbing themselves in the eye with the sharp cap.
And this was indeed the case when considering the BIC ballpoint as a system; other stakeholders and scenarios were considered.
Now the cap is flattened (safe for children). The cap's open end is apparently there to support performing a tracheotomy when no medical equipment is available (just a sharp knife and the BIC ballpoint are needed).
Don't try this at home for fun: Performing the Tracheotomy
I hope the example illustrates that you can look at a product differently.
First as a product with a single purpose (single stakeholder) or as a system interacting with other stakeholders (writing, safe for children, first aid support).
System Thinking, therefore, is an attitude which not natural for humans. In his famous book Thinking Fast & Slow, Daniel Kahneman explains that our evolutionary brain always wants to save energy.
Therefore our brain is pushing us to make fast intuitive decisions, not always the ones that you would make after serious thinking.
Systems Thinking costs energy for the brain.
Often we hear that companies want to reduce their costs and time spent on engineering – more efficiency.
Systems Thinking and Systems Engineering are aiming for the opposite – spend more time thinking and analyzing in the virtual world, before committing to the physical world. Fixing issues once you are in the physical world is much more costly than in the virtual world.
Click on the image to see the details.
This brings us to the relationship with Systems Engineering
Systems thinking and Systems Engineering
You could say Systems Engineering is the best example of Systems Thinking. There are various viewpoints on Systems Engineering, best characterized in these two directions (Wiki here):
Systems engineering is an interdisciplinary field of engineering and engineering management that focuses on how to design, integrate, and manage complex systems over their life cycles. At its core, systems engineering utilizes systems thinking principles to organize this body of knowledge. The individual outcome of such efforts, an engineered system, can be defined as a combination of components that work in synergy to collectively perform a useful function. Here the focus is on managing in a proven manner complexity
Systems engineering focuses on analyzing and eliciting customer needs and required functionality early in the development cycle, documenting requirements, then proceeding with design synthesis and system validation while considering the complete problem, the system lifecycle. This includes fully understanding all of the stakeholders involved. Here the focus is on delivering the best product for the relevant stakeholders involved, not necessarily managing the complexity of the product.
To manage complexity, we have always used models. The weather forecast is based on models, the profitability of a business is based on models, and the behavior of a product can be predicted and analyzed using models. This is Model-Based Systems Engineering MBSE), and I wrote a lot about the Model-Based approach last year. Read The road to model-based and connected PLM
When it comes to extending the support for different stakeholders, we have seen the example of the BIC ballpoint.
However, when we start to talk about sustainability, we will see that by enlarging the number of stakeholders and their importance, we observe another way of Systems Thinking.
Systems thinking and sustainability
The title of this post is related to the challenges we have with sustainability, our society and even our planet. Currently, reducing carbon emissions gets the highest priority as we see the impact on our planet. Perhaps the awareness is not the same for everyone; the richer you are, the less you might feel impacted by climate change. Still, indisputably it is happening as the IPCC is reporting.
Now let's look at the relation between systems thinking and sustainability.
Let's imagine I work for a tier 2 or tier 3 supplier of an OEM. This means the OEM wants a component for their solution with the highest quality and the lowest price.
In the traditional approach, the supplier will try to find the cheapest materials that match the required quality. They will look for the most inexpensive manufacturing process to build their component. Everything extra will reduce their chances of remaining the OEM contractor and profitable. The only stakeholder in this process is the OEM and potentially some existing regulations. For example, ROHS controls the usage of hazardous materials.
Next, imagine a supplier that wants to be more sustainable. They will add sustainability requirements to their component design. They start to treat their product as a system. What would be the difference between choosing material A over material B or choosing production process ABC over production Process XYZ?
If it is up to the OEM, it is only costs, quality and compliance. Suppose the supplier will select an alternative material that has less impact on the environment. For example, recycling or needing less energy (carbon emissions) is easier to produce. In that case, this option might be more expensive. It is up to the OEM to decide if they accept this higher cost price to be more sustainable with their products.
To understand the sustainability of a product, we need to dive into a full Life Cycle Assessment (LCA). LCA is at the heart of PLM.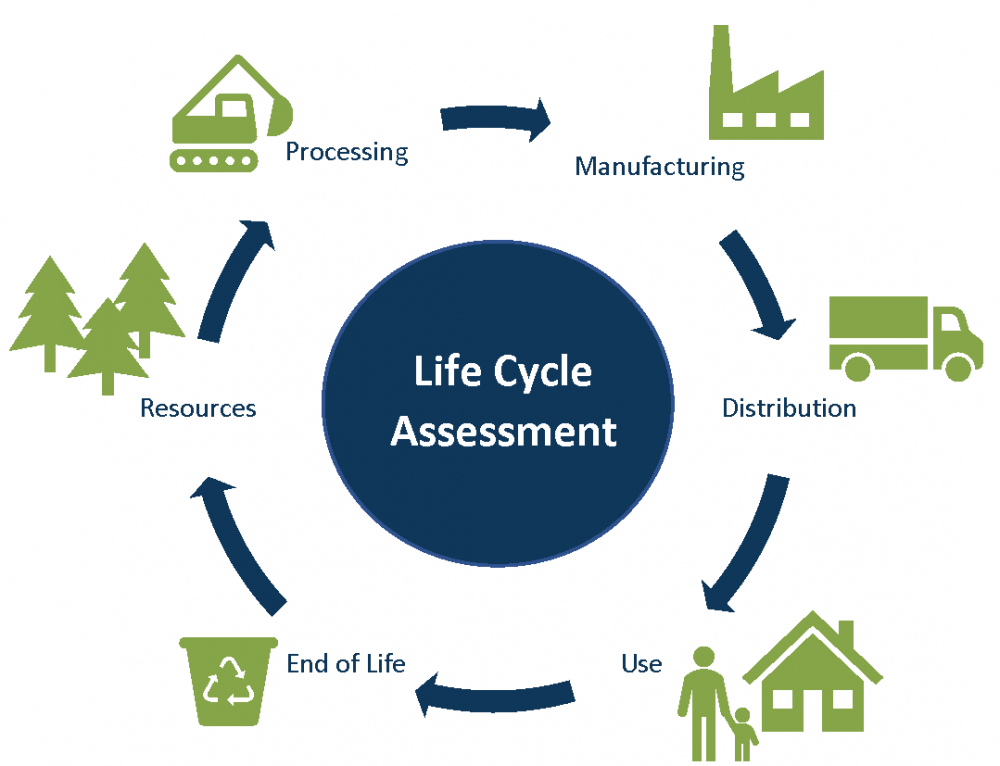 When a product or component is designed, the LCA will give you the information related to the impact of your product, assuming you have the accurate data to make the assessment. This is currently one of the major areas to focus on when it comes to sustainability – how can we measure the environmental impact of each part through its whole lifecycle.
With sustainability, the needs are no longer defined by the OEM. Other stakeholders, like authorities and consumers, will also have an impact. Realistically, we will see that mainly regulations will be the biggest driver towards sustainability as consumers still want the lowest price.
Currently, we see this behavior with the rising energy prices. Unfortunately, people complain about the price instead of realizing the price has always been too low. Changing behavior (energy consumption) might be the best path for the future, but that is more difficult than complaining.
Systems Thinking and the Circular Economy
Finally, I want to mention one topic closely related to Systems Thinking and Sustainability: the Circular Economy. The Circular Economy is well explained by the Ellen McArthur Foundation. Follow the link and get educated as the Circular Economy is about a system. A system that tries to minimize the leakage of resources and the need for new raw materials. Each loop is a process to consider.
With the PLM Global Green Alliance, we discussed the circular economy together with Darren West from SAP in our session: PLM and Sustainability: talking with SAP. I hope and trust we will learn more about companies to follow the principle of a circular economy.
Want to learn more?
There is so much more to say about Systems Thinking in general, and I will come back to this topic in a future post. Meanwhile, I recommend this post for all of you who want to learn more about systems thinking and sustainability: Systems Thinking can help build a sustainable world:  A Beginning Conversation from the MAHB (Millennium Alliance for Humanity and the Biosphere). There is so much to learn and discuss if you are actively looking for it.
Conclusions
Systems Thinking is needed to solve the issues in a complex society. It is an attitude, not a new approach. Systems Thinking helps to manage a complex system, it helps to address sustainability, and it helps fight against populism. Simple answers do not exist – looking to the bigger picture, using systems thinking will make you better informed wherever you are on this limited planet
War is a place where young people who don't know each other, and don't hate each other, kill each other, by the decision of old people who know each other, and hate each other, but don't kill each other…"
Sustainability has been already a topic on my agenda for many years. So when Rich McFall asked me to start the PLM Global Green Alliance (PGGA) in 2018, I supported that initiative. You can read more about my PLM and Sustainability ideas in this post here.
I have been lecturing about the relation between PLM and Sustainability last year. In 2018, the PGGA was a niche alliance trying to find people who would like to work and share PLM-related practices with others for a greener and sustainable planet.
Thanks to, or actually due to, the pandemic, climate disasters and the return of the US supporting the Paris Climate agreements, it became clear companies need to act. And preferably as soon as possible, which led to sustainability activities in many companies.
Also, the main PLM vendors started to publish their support and vision for a sustainable future, the area where we believe the PGGA can contribute in spreading the practices and experiences.
For that reason, the PGGA is aiming this year to have a series of discussions with the main PLM Vendors and their sustainability programs.
SAP
This time we are happy to publish an interview with Darren West from SAP. Darren West is the product management lead for SAP's Circular Economy solutions. His role is to work with customers, sales and pre-sales colleagues, partners, solutions teams and product owners to expand existing and build new sustainability products, particularly those impacting Circular Economy topics.
We are glad to speak with Darren, as we believe sustainability and the circular economy go hand in hand and it requires systems thinking. We believe SAP, strong in managing materials and manufacturing processes, should be a leader in providing insights in ESG reporting. Helping companies to improve their environmental impact of products and production processes as they have the data.
Have a look at this 34 minutes interview and discussion with Darren West

The slides shown in this recording can be found  here: Circular Economy -SAP for PLM Green Alliance
What we have learned
The interview showed that SAP is actively working on a sustainable future. Both by acting by themselves, but even more important, by helping their customers to change to more sustainable designs and production methods. There is still a way to go and we do not have too much time to sit back. The power of the current SAP Responsible Design and Production module is that it allows companies to understand their environmental impact and improve where possible. This is step 1 in my opinion to find a way to create sustainable products and business models.
The second, more general observation, is that we need to make our full product lifecycle management digital and connected. Data-driven is the only way to have efficient processes to estimate and calculate our environmental impact – my favorite From Coordinated to Connected topic.
Want to learn more?
In the context of this recording, Daren shared the following links for those of you who got inspired by the discussion (in alphabetical order):
Conclusion
This was a motivating session to see PLM-related vendors are taking action. Next time, you will learn more from the design side when we talk with Autodesk about their sustainability program.
Unfortunately the day after this motivating session we were shocked by the invasion of Ukraine by Russia.  So I am in a mixed mood, as having friends in both countries makes me realize that one dictator can kill people and hope.
Listen to president Zelensky's speech to the Russian people and get inspired to act against any brainwashing or dictatorship. To my friends and readers, wherever you are, stay strong, informed and human.

After two quiet weeks of spending time with my family in slow motion, it is time to start the year.
First of all, I wish you all a happy, healthy, and positive outcome for 2022, as we need energy and positivism together. Then, of course, a good start is always cleaning up your desk and only leaving the relevant things for work on the desk.
Still, I have some books at arm's length, either physical or on my e-reader, that I want to share with you – first, the non-obvious ones:
The Innovators Dilemma
A must-read book was written by Clayton Christensen explaining how new technologies can overthrow established big companies within a very short period. The term Disruptive Innovation comes up here. Companies need to remain aware of what is happening outside and ready to adapt to your business. There are many examples even recently where big established brands are gone or diminished in a short period.
In his book, he wrote about DEC (Digital Equipment Company)  market leader in minicomputers, not having seen the threat of the PC. Or later Blockbuster (from video rental to streaming), Kodak (from analog photography to digital imaging) or as a double example NOKIA (from paper to market leader in mobile phones killed by the smartphone).
The book always inspired me to be alert for new technologies, how simple they might look like, as simplicity is the answer at the end. I wrote about in 2012: The Innovator's Dilemma and PLM, where I believed cloud, search-based applications and Facebook-like environments could disrupt the PLM world. None of this happened as a disruption; these technologies are now, most of the time, integrated by the major vendors whose businesses are not really disrupted. Newcomers still have a hard time to concur marketspace.
In 2015 I wrote again about this book, The Innovator's dilemma and Generation change. – image above. At that time, understanding disruption will not happen in the PLM domain. Instead, I predict there will be a more evolutionary process, which I would later call: From Coordinated to Connected.
The future ways of working address the new skills needed for the future. You need to become a digital native, as COVID-19 pushed many organizations to do so. But digital native alone does not bring success. We need new ways of working which are more difficult to implement.
Sapiens
The book Sapiens by Yuval Harari made me realize the importance of storytelling in the domain of PLM and business transformation. In short, Yuval Harari explains why the human race became so dominant because we were able to align large groups around an abstract theme. The abstract theme can be related to religion, the power of a race or nation, the value of money, or even a brand's image.
The myth (read: simplified and abstract story) hides complexity and inconsistencies. It allows everyone to get motivated to work towards one common goal. A Yuval says: "Fiction is far more powerful because reality is too complex".
Too often, I have seen well-analyzed PLM projects that were "killed" by management because it was considered too complex. I wrote about this in 2019  PLM – measurable or a myth? claiming that the real benefits of PLM are hard to predict, and we should not look isolated only to PLM.
My 2020 follow-up post The PLM ROI Myth, eludes to that topic. However, even if you have a soundproof business case at the management level, still the myth might be decisive to justify the investment.
That's why PLM vendors are always working on their myths: the most cost-effective solution, the most visionary solution, the solution most used by your peers and many other messages to influence your emotions, not your factual thinking. So just read the myths on their websites.
If you have no time to read the book, look at the above 2015 Ted to grasp the concept and use it with a PLM -twisted mind.
Re-use your CAD
In 2015, I read this book during a summer holiday (meanwhile, there is a second edition). Although it was not a PLM book, it was helping me to understand the transition effort from a classical document-driven enterprise towards a model-based enterprise.
Jennifer Herron's book helps companies to understand how to break down the (information) wall between engineering and manufacturing.
At that time, I contacted Jennifer to see if others like her and Action Engineering could explain Model-Based Definition comprehensively, for example, in Europe- with no success.
As the Model-Based Enterprise becomes more and more the apparent future for companies that want to be competitive or benefit from the various Digital Twin concepts. For that reason, I contacted Jennifer again last year in my post: PLM and Model-Based Definition.
As you can read, the world has improved, there is a new version of the book, and there is more and more information to share about the benefits of a model-based approach.
I am still referencing Action Engineering and their OSCAR learning environment for my customers. Unfortunately, many small and medium enterprises do not have the resources and skills to implement a model-based environment.
Instead, these companies stay on their customers' lowest denominator: the 2D Drawing. For me, a model-based definition is one of the first steps to master if your company wants to provide digital continuity of design and engineering information towards manufacturing and operations. Digital twins do not run on documents; they require model-based environments.
The book is still on my desk, and all the time, I am working on finding the best PLM practices related to a Model-Based enterprise.
It is a learning journey to deal with a data-driven, model-based environment, not only for PLM but also for CM experts, as you might have seen from my recent dialogue with CM experts: The future of Configuration Management.
Products2019
This book was an interesting novelty published by John Stark in 2020. John is known for his academic and educational books related to PLM. However, during the early days of the COVID-pandemic, John decided to write a novel. The novel describes the learning journey of Jane from Somerset, who, as part of her MBA studies, is performing a research project for the Josef Mayer Maschinenfabrik. Her mission is to report to the newly appointed CEO what happens with the company's products all along the lifecycle.
Although it is not directly a PLM book, the book illustrates the complexity of PLM. It Is about people and culture; many different processes, often disconnected. Everyone has their focus on their particular discipline in the center of importance. If you believe PLM is all about the best technology only, read this book and learn how many other aspects are also relevant.
I wrote about the book in 2020: Products2019 – a must-read if you are new to PLM if you want to read more details. An important point to pick up from this book is that it is not about PLM but about doing business.
PLM is not a magical product. Instead, it is a strategy to support and improve your business.
System Lifecycle Management
Another book, published a little later and motivated by the extra time we all got during the COVID-19 pandemic, was Martin Eigner's book System Lifecycle Management.
A 281-page journey from the early days of data management towards what Martin calls System Lifecycle Management (SysLM). He was one of the first to talk about System Lifecycle Management instead of PLM.
I always enjoyed Martin's presentations at various PLM conferences where we met. In many ways, we share similar ideas. However, during his time as a professor at the University of Kaiserslautern (2003-2017), he explored new concepts with his students.
I briefly mentioned the book in my series The road to model-based and connected PLM (Part 5) when discussing SLM or SysLM. His academic research and analysis make this book very valuable. It takes you in a very structured way through the times that mechatronics becomes important, next the time that systems (hardware and software) become important.
We discussed in 2015 the applicability of the bimodal approach for PLM. However, as many enterprises are locked in their highly customized PDM/PLM environments, their legacy blocks the introduction of modern model-based and connected approaches.
Where John Stark's book might miss the PLM details, Martin's book brings you everything in detail and with all its references.
It is an interesting book if you want to catch up with what has happened in the past 20 years.
More Books …..
More books on my desk have helped me understand the past or that helped me shape the future. As this is a blog post, I will not discuss more books this time reaching my 1500 words.
Still books worthwhile to read – click on their images to learn more:
I discussed this book two times last year. An introduction in PLM and Modularity and a discussion with the authors and some readers of the book: The Modular Way – a follow-up discussion
x
x
A book I read this summer contributed to a better understanding of sustainability. I mentioned this book in my presentation for the Swedish CATIA Forum in October last year – slide 29 of The Challenges of model-based and traditional plm. So you could see it as an introduction to System Thinking from an economic point of view.

System Thinking becomes crucial for a sustainable future, as I addressed in my post PLM and Sustainability.
Sustainability is my area of interest at the PLM Green Global Alliance, an international community of professionals working with Product Lifecycle Management (PLM) enabling technologies and collaborating for a more sustainable decarbonized circular economy.
Conclusion
There is a lot to learn. Tell us something about your PLM bookshelf – which books would you recommend. In the upcoming posts, I will further focus on PLM education. So stay tuned and keep on learning.
After all my writing about The road to model-based and connected PLM, a topic that interests me significantly is the positive contribution real PLM can have to sustainability.
To clarify this statement, I have to explain two things:
First, for me, real PLM is a strategy that concerns the whole product lifecycle from conception, creation, usage, and decommissioning.
Real PLM to articulate the misconception that PLM is considered as an engineering infrastructure of even system. We discussed this topic related to this post (7 easy tips nobody told you about PLM adoption) from my SharePLM peers.
Second, sustainability should not be equated with climate change, which gets most of the extreme attention.
However, the discussion related to climate change and carbon gas emissions drew most of the attention. Also, recently it seemed that the COP26 conference was only about reducing carbon emissions.
Unfortunately, reducing carbon gas emissions has become a political and economic discussion in many countries. As I am not a climate expert, I will follow the conclusions of the latest IIPC report.
However, I am happy to participate in science-based discussions, not in conversations about failing statistics (lies, damned lies and statistics) or the mixture of facts & opinions.
The topic of sustainability is more extensive than climate change. It is about understanding that we live on a limited planet that cannot support the unlimited usage and destruction of its natural resources.
Enough about human beings and emotions, back to the methodology
Why PLM and Sustainability
In the section PLM and Sustainability of the PLM Global Green Alliance website,  we explain the potential of this relation:
The goals and challenges of Product Lifecycle Management and Sustainability share much in common and should be considered synergistic. Where in theory, PLM is the strategy to manage a product along its whole lifecycle, sustainability is concerned not only with the product's lifecycle but should also address sustainability of the users, industries, economies, environment and the entire planet in which the products operate.
If you read further, you will bump on the term System Thinking. Again there might be confusion here between Systems Thinking and Systems Engineering. Let's look at the differences
Systems Engineering
For Systems Engineering, I use the traditional V-shape to describe the process. Starting from the Needs on the left side, we have a systematic approach to come to a solution definition at the bottom. Then going upwards on the right side, we validate step by step that the solution will answer the needs.
The famous Boeing "diamond" diagram shows the same approach, complementing the V-shape with a virtual mirrored V-shape. In this way providing insights in all directions between a virtual world and a physical world. This understanding is essential when you want to implement a virtual twin of one of the processes/solutions.
Still, systems engineering starts from the needs of a group of stakeholders. So it works to the best technical and beneficial solution, most of the time only measured by money.
System Thinking
The image below from the Ellen McArthur Foundation is an example of system thinking. But, as you can see, it is not only about delivering a product.
Systems Thinking is a more holistic approach to bringing products to the market. It is about how we deliver a product to the market and what happens during its whole life cycle. The drivers for system thinking, therefore, are not only focusing on product performance at the most economical price, but we also take into account the impact on resource extraction in the world, the environmental impact during its active life (more and more regulated) and ultimately also how to minimize the waste to the eco-system. This means more recycling or reuse.
If you want to read more about systems thinking more professionally, read this blog post from the Millennium Alliance for Humanity and the Biosphere (MAHB) related to Systems Thinking: A beginning conversation.
Product as a Service (PaaS)

To ensure more responsibility for the product lifecycle, one of the European Green Deal aspects is promoting Product as a Service. There is already a trend towards products as a service, and I mentioned Ken Webster's presentation at the PLM Roadmap & PDT Fall 2021 conference: In the future, you will own nothing, and you will be happy.


Because if we can switch to such an economy, the manufacturer will have complete control over the product's lifecycle and its environmental impact. The manufacturer will be motivated to deliver product upgrades, create repairable products instead of dumping old or broken stuff because this is cheap for selling. PaaS brings opportunities for manufacturers, like greater customer loyalty, but also pushes manufacturers to stay away from so-called "greenwashing". They become fully responsible for the entire lifecycle.
A different type of growth
The concept of Product as a Service is not something that typical manufacturing companies endorse. Instead, it requires them to restructure their business and restructure their product.
Delivering a Product as a Service requires a fast feedback loop between the products in the field and R&D deciding on improving or adding new features.
In traditional manufacturing companies, the service department is far from engineering due to historical reasons. However, with the digitization of our product information and connected products, we should be able to connect all stakeholders related to our products, even our customers.
A few years ago, I was working with a company that wanted to increase their service revenue by providing maintenance as a service on their products on-site. The challenge they had was that the total installation delivered at the customer site was done through projects. There was some standard equipment in their solution; however, ultimately, the project organization delivered the final result, and product information was scattered all around the company.
There was some resistance when I proposed creating an enterprise product information backbone (a PLM infrastructure) with aligned processes.  It would force people to work upfront in a coordinated manner. Now with the digitization of operations, this is no longer a point of discussion.
In this context, I will participate on December 7th in an open panel discussion Creating a Digital Enterprise: What are the Challenges and Where to Start? As part of the PI DX spotlight series. I invite you to join this event if you are interested in hearing various digital enterprise viewpoints.
Doing both?
As companies cannot change overnight, the challenge is to define a transformation path. The push for transformation for sure will come from governments and investors in the following decades. Therefore doing nothing is not a wise strategy.
Early this year, the Boston Consultancy Group published this interesting article: The Next Generation of Climate Innovation, showing different pathways for companies.
A trend that they highlighted was the fact that Shareholder Returns over the past ten years are negative for the traditional Oil & Gas and Construction industries (-18 till -6 %). However, the big tech and first generation of green industries provide high shareholders returns (+30 %), and the latest green champions are moving in that direction. In this way, promoting investors will push companies to become greener.
The article talks about the known threat of disrupters coming from outside. Still, it also talks about the decisions companies can make to remain relevant. Either you try to reduce the damage, or you have to innovate. (Click on the image below on the left).
As described before, innovating your business is probably the most challenging part. In particular, if you have many years of history in your industry. Processes and people are engraved in an almost optimal manner (for now).
An example of reducing the damage could be, for example, what is happening in the steel industry. As making steel requires a lot of (cheap) energy, this industry is powered by burning coal. Therefore, an innovation to reduce the environmental impact would be to redesign the process with green energy as described in this Swedish example: The first fossil-free production of steel.
On December 9th, I will discuss both strategies with Henrik Hulgaard from Configit. We will discuss how Product Lifecycle Management and Configuration Lifecycle Management can play a role in the future. Feel free to subscribe to this session and share your questions. Click on the image to see the details.
Note:  you might remember Henrik from my earlier post this year in January: PLM and Product Configuration Management (CLM)
Conclusion
Sustainability is a topic that will be more and more relevant for all of us, locally and globally. Real PLM, covering the whole product lifecycle, preferably data-driven, allows companies to transform their current business to future sustainable business. Systems Thinking is the overarching methodology we have to learn – let's discuss
This week I attended the PLM Roadmap & PDT Fall 2021 with great expectations based on my enthusiasm last year. Unfortunately, the excitement was less this time, and I will explain in my conclusions why. This time it was unfortunate again a virtual event which makes it hard to be interactive, something I realize I am missing a lot.
Over two hundred attendees connected for the two days, and you can find the agenda here. Typically I would discuss the relevant sessions; now, I want to group some of them related to a theme, as there was complementary information in these sessions.
Disruption
Again like in the spring, the theme was focusing on DISRUPTION. The word disruption can give you an uncomfortable feeling when you are not in power. It is more fun to disrupt than to be disrupted, as I mentioned in my spring presentation. Read The week after PLM Roadmap & PDT Spring 2021
In his keynote speech Peter Bilello (CIMdata) kicked off with: The Critical Dozen: 12 familiar, evolving trends and enablers of digital transformation that you cannot or should not live without.
You can see them on the slide below:
I believe many of them should be familiar to you as these themes have been "in the air" already for quite some time. Vendors first and slowly companies start to investigate them when relevant. You will find many of them back in my recent series: The road to model-based and connected PLM, where I explored the topics that would cross your path on that journey.
Like Peter said: "For most of the topics you cannot pick and choose as they are all connected."
Another interesting observation was that we are more and more moving away from the concept of related structures (digital thread) but more to connected datasets (digital web). Marc Halpern first introduced this topic last year at the 2020 conference and has become an excellent image to frame what we should imagine in a connected world.
Digital web also has to do with the uprise of the graph database mentioned by Peter Bilello as a potentially disruptive technology during the fireside chat. Relational databases can be seen as rigid, associated with PLM structures. On the other hand, graph databases can be associated with flexible relations between different types of data – the image of the digital web.
Where Peter was mainly telling WHAT was happening, two presentations caught my attention because of the HOW.
First of all, Dr. Rodney Ewing (Cummins) 's session: A Balanced Strategy to Reap Continuous Business Value from Digital PLM was a great story of a transformational project. It contained both having a continuous delivery of business value in mind while moving to the connected enterprise.
As Rodney mentioned, the contribution of TCS was crucial here, which I can imagine. It is hard for a company to understand what is happening in the outside (PLM) world when applying it to your company. Their transformation roadmap is an excellent example of having the long-term vision in mind, meanwhile delivering value during the transformation.
Talking about the right partner and synergy, the second presentation I liked in this context of disruption was Ian Quest's presentation (Quick Release): Open-source Disruption in Support of Audacious Goals. As a sponsor of the conference, they had ten minutes to pitch their area of expertise.
After Ian's presentation, focused on audacious goals (for non-English natives translated as "brave" goals), there was only one word that stuck to my mind: pragmatic.
Instead of discussions about the complexity, Ian gave examples of where a pragmatic data-centric approach could lead to great benefits, as you can see from one of the illustrated benefits below:
Standards
A characteristic topic of this conference is that we always talk about standards. Torbjörn Holm (Eurostep) gave an excellent overview of where standards have led to significant benefits. For example, the containerization of goods has dramatically improved transportation of goods (we all benefit) while killing proprietary means of transport (trains, type of ships, type of unloading).  See the image below:
Torbjörn rightfully expanded this story to the current situation in the construction industry or the challenges for asset operators. Unfortunately, in these practices, many content suppliers remain focusing on their unique capabilities, reluctantly neglecting the demand for interoperability among the whole value chain.
It is a topic Marc Halpern also mentioned last year as an outcome of their Gartner PLM benefits survey. Gartner's findings:
Time to Market is not so much improved by using PLM as the inefficient interaction with suppliers is the impediment.
Like transport before containerization, the exchange of information is not standardized and designed for digital exchange. Torbjorn believes that more and more companies will insist on exchange standards –  like CHIFOS – an ISO1596-derived exchange standard in the process industry. It is a user-driven standard, the best standard.
In this context, the presentation from Kenny Swope (Boeing) and Jean Yves Delaunay (Airbus) The Business Value of Standards-based Information Interoperability for Aerospace & Defense illustrated this fact.
While working for competitors, the Aerospace industry understands the criticality of standards to become more efficient and less vendor-dependent.  In the aerospace & defense group, they discuss these themes. The last year's 2020 Fall sessions showed the results. You can read their publications here
The A&D PLM action group uses the following framework when evaluating standards – as you can see on the image below:
The result – and this is a combined exercise of many participating experts from the field; this is their recommendation:
To conclude:
People often complain about standards, framed by proprietary data format vendors, that they lead to a rigid environment, blocking agility.
In reality, standards allow companies to be more agile as the (proprietary) data flow is less an issue. Remember the containerization example.
Sustainability and System Thinking
This conference has always been known for its attention to the circular economy and green thinking. In the past, these topics might have been considered disconnected from our PLM practices; now, they have become a part of everyone's mission.
Two presentations stood out on this topic for me. First, Ken Webster, with his keynote speech: In the future, you will own nothing and you will be happy was a significant oversight of how we as consumers currently are disconnected from the circular economy. His plea, as shown below, for making manufacturers responsible for the legal ownership of the materials in the products they deliver would impact consumer behavior.
Product as a Service (PaaS) and new ways to provide a service is becoming essential. For example, buildings as power stations, as they are a place to collect solar or wind energy?
His thoughts are aligned with what is happening in Europe related to the European Green Deal (not in his presentation). There is a push for a PaaS model for all products as this would be an excellent stimulant for the circular economy.  PaaS combined with a Digital Product Passport – more on that next year.
Making upgrades to your products has less impact on the environment than creating new products to sell (and creating waste of the old product).  Ken Webster was an interesting statement about changing the economy – do we want to own products or do we want to benefit from the product and leave the legal ownership to the manufacturer.
A topic I discussed in the PLM Roadmap & PDT Conference Spring 2021 – look here at slide 11
Patrick Hillberg's presentation Rising to the challenge of engineering and optimizing . . . what?  was the one closest to my heart. We discussed Sustainability and Systems Thinking with Patrick in our PLM Global Green Alliance, being pretty aligned on this topic.  Patrick started by explaining the difference between Systems Engineering and Systems Thinking. Looking at the product go-to-market of an organization is more than the traditional V-model. Economic pressure and culture will push people to deviate from the ideal technological plan due to other priorities.
Expanding on this observation, Partick stated that there are limits to growth, a topic discussed by many people involved in the sustainable economy. Economic growth is impossible on a limited planet, and we have to take more dimensions into account. Patrick gave some examples of that, including issues related to the infamous Boeing 737 Max example.
For Patrick, the COVID-pandemic is the end of the old 2nd Industrial Revolution and a push for a new Fourth Industrial Revolution, which is not only technical, as the slide below indicates.
With Patrick, I believe we are at a decisive moment to disrupt ourselves, reconsider many things we do and are used to doing. Even for PLM practitioners, this is a new path to go.
Data
There were two presentations related to digitization and the shift from document-based to a data-driven approach.
First, there was Greg Weaver (Gulfstream) with his presentation Indexing Content – Finding Your Needle in the Haystack. Greg explained that by using indexation of existing document-based information combined with a specific dashboard, they could provide fast access to information that otherwise would have been hidden in so many document or even paper archives.
It was a pragmatic solution, making me feel nostalgic seeing the SmarTeam profile cards. It was an excellent example of moving to a digital enterprise, and Gulfstream has always been a front runner on this topic.
Warning: Don't use this by default at home (your company). The data in a regulated industry like Aerospace is expected to be of high quality due to the configuration management processes in place. If your company does not have a strong CM practice, the retrieved data might be inaccurate.
Martijn Dullaart (ASML)'s presentation The Next disruption, please…..  was the next step into the future. With his statement "No CM = No Trust," he made an essential point for data-driven environments.
There is a need for Configuration Management, and I touched on this topic in my last post: The road to model-based and connected PLM (part 9 – CM).
Martijn's presentation can also be found on his blog here, and I encourage you to read it (saving me copy & paste text). It was interesting to see that Martijn improved his CM pyramid, as you can see, more discipline and activity-oriented instead of a system view. With Martijn and others, I will elaborate on this topic soon.
Conclusion
This has been an extremely long post, and thanks for reading until the end. Many interesting topics were presented at the conference. I was less excited this time because many of these topics are triggers for a discussion. Innovation comes from meeting people with different backgrounds. In a live conference, you would meet during the break or during the famous dinner. How can we ensure we follow up on all this interesting information.
Your thoughts? Contact me for a Corona Friday discussion.
Last week I wrote about the recent PLM Road Map & PDT Spring 2021 conference day 1, focusing mainly on technology. There were also interesting sessions related to exploring future methodologies for a digital enterprise. Now on Day 2, we started with two sessions related to people and methodology, indispensable when discussing PLM topics.
Designing and Keeping Great Teams
This keynote speech from Noshir Contractor, Professor of Behavioral Sciences in the McCormick School of Engineering & Applied Science, intrigued me as the subtitle states: Lessons from Preparing for Mars. What Can PLM Professionals Learn from This?
You might ask yourself, is a PLM implementation as difficult and as complex as a mission to Mars? I hoped, so I followed with great interest Noshir's presentation.
Noshir started by mentioning that many disruptive technologies have emerged in recent years, like Teams, Slack, Yammer and many more.
The interesting question he asked in the context of PLM is:
As the domain of PLM is all about trying to optimize effective collaboration, this is a fair question
Noshir shared with us that it is not the most crucial point to look at people's individual skills but more about who they know.
Measure who they work with is more important than who they are.
Based on this statement, Noshir showed some network patterns of different types of networks.
Click on the image to see the enlarged picture.
It is clear from these patterns how organizations communicate internally and/or externally. It would be an interesting exercise to perform in a company and to see if the analysis matches the perceived reality.
Noshir's research was used by NASA to analyze and predict the right teams for a mission to Mars.
Noshir went further by proposing what PLM can learn from teams that are going into space. And here, I was not sure about the parallel. Is a PLM project comparable to a mission to Mars? I hope not! I have always advocated that a PLM implementation is a journey. Still, I never imagined that it could be a journey into the remote unknown.
Noshir explained that they had built tools based on their scientific model to describe and predict how teams could evolve over time. He believes that society can also benefit from these learnings. Many inventions from the past were driven by innovations coming from space programs.
I believe Noshir's approach related to team analysis is much more critical for organizations with a mission. How do you build multidisciplinary teams?
The proposed methodology is probably best for a holocracy based organization. Holocrazy is an interesting concept for companies to get their employees committed, however, it also demands a type of involvement that not every person can deliver.  For me, coming back to PLM, as a strategy to enable collaboration, the effectiveness of collaboration depends very much on the organizational culture and created structure.
DISRUPTION – EXTINCTION or still EVOLUTION?
We talk a lot about disruption because disruption is a painful process that you do not like to happen to yourself or your company. In the context of this conference's theme, I discussed the awareness that disruptive technologies will be changing the PLM Value equation.

However, disruptive technologies are not alone sufficient. In PLM, we have to deal with legacy data, legacy processes, legacy organization structures, and often legacy people.
A disruption like the switch from mini-computers to PCs (killed DEC) or from Symbian to iOS (killed Nokia) is therefore not likely to happen that fast. Still, there is a need to take benefit from these new disruptive technologies.
My presentation was focusing on describing the path of evolution and focus areas for the PLM community. Doing nothing means extinction; experimenting and learning towards the future will provide an evolutionary way.
Starting from acknowledging that there is an incompatibility between data produced most of the time now and the data needed in the future, I explained my theme: From Coordinated to Connected. As a PLM community, we should spend more time together in focus groups, conferences on describing and verifying methodology and best practices.
Nigel Shaw (EuroStep) and Mark Williams (Boeing) hinted in this direction during this conference  (see day 1). Erik Herzog (SAAB Aeronautics) brought this topic to last year's conference (see day 3). Outside this conference, I have comparable touchpoints with Martijn Dullaert when discussing Configuration Management in the future in relation to PLM.
In addition, this decade will probably be the most disruptive decade we have known in humanity due to external forces that push companies to change. Sustainability regulations from governments (the Paris agreement),  the implementation of circular economy concepts combined with the positive and high Total Share Holder return will push companies to adapt themselves more radical than before.
What is clear is that disruptive technologies and concepts, like Industry 4.0, Digital Thread and Digital Twin, can serve a purpose when implemented efficiently, ensuring the business becomes sustainable.
Due to the lack of end-to-end experience, we need focus groups and conferences to share progress and lessons learned. And we do not need to hear the isolated vendor success stories here as a reference, as often they are siloed again and leading to proprietary environments.
You can see my full presentation on SlideShare: DISRUPTION – EXTINCTION or still EVOLUTION?
Building a profitable Digital T(win) business
Beatrice Gasser,  Technical, Innovation, and Sustainable Development Director from the Egis group, gave an exciting presentation related to the vision and implementation of digital twins in the construction industry.
The Egis group both serves as a consultancy firm as well as an asset management organization. You can see a wide variety of activities on their website or have a look at their perspectives
Historically the construction industry has been lagging behind having low productivity due to fragmentation, risk aversion and recently, more and more due to the lack of digital talent. In addition, some of the construction companies make their money from claims inside of having a smooth and profitable business model.
Without innovation in the construction industry, companies working the traditional way would lose market share and investor-focused attention, as we can see from the BCG diagram I discussed in my session.
The digital twin of construction is an ideal concept for the future. It can be built in the design phase to align all stakeholders, validate and integrate solutions and simulate the building operational scenarios at almost zero materials cost. Egis estimates that by using a digital twin during construction, the engineering and construction costs of a building can be reduced between 15 and 25 %
More importantly, the digital twin can also be used to first simulate operations and optimize energy consumption. The connected digital twin of an existing building can serve as a new common data environment for future building stakeholders. This could be the asset owner, service companies, and even the regulatory authorities needing to validate the building's safety and environmental impact.
Beatrice ended with five principles essential to establish a digital twin, i.e
I think the construction industry has a vast potential to disrupt itself. Faster than the traditional manufacturing industries due to their current needs to work in a best-connected manner.
Next, there is almost no legacy data to deal with for these companies. Every new construction or building is a unique project on its own. The key differentiators will be experience and efficient ways of working.
It is about the belief, the guts and the skilled people that can make it work – all for a more efficient and sustainable future.
Leveraging PLM and Cloud Technology for Market Success
Stan Przybylinski, Vice President of CIMdata, reported their global survey related to the cloud, completed in early 2021.  Also, Stan typified Industry 4.0 as a connected vision and cloud and digital thread as enablers to implementing this vision.
The companies interviewed showed a lot of goodwill to make progress – click on the image to see the details. CIMdata is also working with PLM Vendors to learn and describe better the areas of beneft. I remain curious about who comes with a realization and business case that is future-proof. This will define our new PLM Value Equation.
Conclusion
These were two exciting days with enough mentioning of disruptive technologies. Our challenge in the PLM domain will be to give them a purpose. A purpose is likely driven by external factors related to the need for a sustainable future.  Efficiency and effectiveness must come from learning to work in connected environments (digital twin, digital thread, industry 4.0, Model-Based (Systems) Engineering.
Note: You might have seen the image below already – a nice link between sustainability and the mission to Mars
Last Friday, we discussed with several members of the PLM Global Green Alliance the book: "How to avoid a Climate Disaster" written by Bill Gates. I was happy to moderate the session between Klaus Brettschneider, Rich McFall, Lionel Grealou, Ilan Madjar and Patrick Hillberg. From the LinkedIn profiles of each of them, you can see we are all active in the domain of PLM. And they have read the book upfront before the discussion.
I think the book addresses climate change in a tangible manner. Bill Gates brings structure into addressing climate changes and encourages you to be active. What you can do as an individual, as a citizen. My only comment to this book would be that as a typical nerd, Bill Gates does not understand so much human behavior, understanding people's emotions that might lead to non-logical behavior.
When you browse through the book's reviews, for example, on Goodreads, you see the extreme, rating from 1 to 5. Some people believe that Bill Gates, due to his wealth and ways of living, is not allowed to write this book. Other like the transparent and pragmatic approach discussing the related themes in the book.
Our perspective
Klaus, Rich, Lio, Ilan and Patrick did not have extreme points of view – so don't watch the recording if you are looking for anxiety. They reviewed How to Avoid a Climate Disaster from their perspective and how it could be relevant for PLM practitioners. It became a well-balanced dialogue. You can watch or listen to the recording following this link:
Book discussion: How to avoid a climate disaster written by Bill Gates
Note: we will consolidate all content on our PLMGreenAlliances website to ensure nothing is lost – feel free to comment/discuss further.
More on sustainability
If you want to learn more about all sorts of disruption, not only disruption caused by climate change, have a look at the upcoming conference this week: DISRUPTION—the PLM Professionals' Exploration of Emerging Technologies that Will Reshape the PLM Value Equation.
My contribution will be on day 2, where I combine disruptive technology with the need to become really sustainable in our businesses.
It will be a call for action from our PLM community. In the coming nine years, we have to change our business, become sustainable and use the relevant new technologies. This requires system thinking – will mankind being able to deal with so many different parameters.
Conclusion
Start the dialogue with us, the PLM Global Green Alliance, by watching and reading content from the website. Or become an active member participating in discussion sessions related to any relevant topic for our alliance. More to come at the end of May, you too?
This Friday, February 26th, we had a PLM Green Global Alliance (PGGA) core team meeting to discuss our current status and next steps for 2021. If you are a PGGA member, you joined us because of the PLM Green Global Alliance LinkedIn group. The LinkedIn group is currently our primary channel for social interaction with the outside world.
Meanwhile, in the background, Rich McFall has been working on structuring the PLM Green Alliance website, which you can find here.
The PLM Green Alliance website is the place where we consolidate information and will experiment with forum discussions. LinkedIn is not the place to serve as an archive for information. Neither is LinkedIn a place for discussion on sensitive topics. Viewpoints on LinkedIn might even damage your current or future career if you have a controversial opinion. More about the forum discussions soon.
The PLM Green Alliance website
Therefore, the PLM Green Alliance website will be the place where interested parties can obtain information and active members can participate in forum discussions.
As a reminder, all our actions are related to PLM and PLM-related technologies – a niche environment bringing PLM-related skills and a Green and Sustainable society together.
Our actions are driven by a personal interest to contribute. With the limited time and means, we are aware of the differences with more prominent and professional organizations addressing a much broader scope and audience.
What makes us unique is the focus on PLM and PLM-related practices/technologies.
The PLM Green Themes
Although the website is still under development, our intentions become visible through the home page header.  I want to zoom in on the area where we are currently focusing, the PLM Green Themes.
We decided on five PLM Green Themes, with each of them having their dedicated moderation and focus. Although the themes can overlap, they will help us to specialize and dive deeper into specific topics.
PLM and Climate Change
You might argue PLM and its related technologies do not directly impact activities related to climate change. However, as the moderators of this theme group, Klaus Brettschneider, and Richard McFall state:
The goal of this PLM Green discussion forum and working group on Climate Change is to promote activities to understand, analyze and reduce human-generated greenhouse gas (GHG) emissions through PLM-enabling technologies. We hope to help to answer the question of what the role and value of PLM technologies is in addressing the most critical challenge facing humankind this century, climate change.
And although there are still individuals with other opinions, the group will focus on the targeted outcome: reducing greenhouse gasses in the atmosphere. What are the types of innovations that make this possible? Find interesting posts here and start contributing.
PLM and Sustainability
This theme will be moderated by me, Jos Voskuil. We are still looking for one or more volunteers to extend our capabilities here.
The topic of sustainability is again broad, as you can read on the Sustainability theme page.
To be more precise, the page states:
Specific topics we wish to discuss further in this forum include how PLM can be used to:
Make products and processes more efficient and greener.
Understand and measure the impact on the carbon footprint of design decisions and production processes, along with changes to them.
Develop, distribute, and use new sources of renewable green energy.
Design products and their lifecycles to be sustainable.
Recycle, reuse, or repurpose assets, materials, and natural resources.
Enhance the resiliency and Sustainability of infrastructures, communities, and economies.
In my early 2021 survey asked participants their viewpoint on PLM and Sustainability. As you can see from the scores, the majority of us are currently observing what is happening.
One of the interesting "other" responses I highlighted here: "I am not sure if you mean real sustainability or just greenwashing."
Good point. Greenwashing is needed when you know you have something to fix/hide. We are not fixing or hiding; we will discuss and share information and probably dismantle greenwashing attempts.
PLM and Green Energy
Green energy is an important topic on its own as many of the issues related to a green and sustainable society are dealing with the transition from limited fossil energy sources to a sustainable energy model. The moderator of this theme group, Bjorn Fidjeland, is well known for his skills and coaching on PLM in the context of Plant Lifecycle Management through his PLMpartner website.
Of course, we are looking for an additional moderator to support Bjorn, so feel free to contact Bjorn through the website if you can and want to contribute. The theme group objectives are:
…. to share experiences, examples, and best practices in a collaborative mode to promote discussion, learning, and understanding with respect to the mentioned focus areas. We also plan to publish our own "industry heads up" news, articles and case studies illustrating all that is happening in the global race towards "going green" and a low-carbon economy.
PLM and a Circular Economy
As the Circular Economy is itself an innovation, it provides an opportunity to innovate business models and reimagine how we consider something to be a product, a service, or a product as a service. Similarly, a more circular way of thinking requires different expectations when it comes to Information Technology systems, including PLM, that support the enablement of these new business models and the execution of their commercial strategies.
This theme group is currently moderated by a real passionate follower of the Circular Economy, Hannes Lindfred, and also here we are looking to another volunteer.
A year ago, I saw Hannes Lindfred presentation at the TECHNIA PLM Innovation Forum and wrote about his lecture as one of the highlights from the first day.
See my blog post: The Weekend after the PLM Innovation Forum, where I mention his session in the Business drivers for Sustainable Manufacturing paragraph.
The circular economy framework nicely aligns with concepts like "Product as a Service" or Outcome-based services. The original manufacturer becomes responsible for the full lifecycle of their products. A theme group, I expect we can make a lot of progress through sharing.
Accordingly, the main objective within our theme discussion group is to provide a support network for PLM professionals who seek to overcome the legacy linear economy mindset that may be systemic in their jobs, products, employers, or industries. We hope to incite the development and use of road maps for employing both existing and new PLM technologies to implement Circular Economy principles and best practices.
PLM and Industry 4.0
A topic that is closely related to PLM is Industry 4.0. At first glance, Industry 4.0 is an initiative to manufacture products smarter, more flexible, more automated, more modular by using new technologies and practices, all with the goal for (initially German) companies to become more competitive.
We are pleased that the PLM and Industry 4.0 theme group's moderator is Lionel Grealou, quite active in the area of knowledge sharing related to PLM. A second moderator would be more than welcome too for this theme.
Recently Lionel published this interesting article on engineering.com: Exploring the Intersection of PLM and Industry 4.0. In this article, Lionel touches briefly on the potential contribution of Industry 4.0 towards a circular economy, new business models, and waste reduction, thanks to the interaction of PLM and Industry 4.0.  There is a lot to explore, as Lionel states on the theme group introduction page:
This PLM Green theme group's plan will explore the "intersection" of how PLM strategies and technologies enable the vision of Industry 4.0 for a more sustainable circular economy. In doing so, we plan to investigate the following questions concerning their green value:
How do data and product connectivity contribute to feeding smart factories and enhancing the product lifecycle practice?
How to improve feedback loops and data integration upstream-downstream of new product development to contribute positively to the circular economy?
How to drive downstream waste reduction by improving data traceability and accessibility with better product analytics throughout its lifecycle?
How to link more tightly manufacturing planning and execution?
How to more robustly connect and integrate engineering, manufacturing, and service/maintenance process operations?
How to reduce time to market, with both product development and production cost optimization, integrating co-creation from the design office to the shop floor?
How to align the digital and the physical worlds, delivering more customer-centric products enabled by fully horizontally-integrated PLM strategies, taking an ecosystem approach to collaboration, leveraging more agile and continual release processes?
How to reduce pre-launch costs and generate downstream manufacturing improvements?
Much more to do.
As you can see, the PLM Green Global Alliance is transforming slowly, as we are not marketing people, web designers, or a sponsored organization. We rely on our networks and your inputs to reach the next level of interaction. The majority of the PLM Themes need a second moderator to keep the workload balanced.
Do you want to contribute?
In the core team meeting, we also discussed improving ways to make the PLM Green Alliance more interactive, shifting and balancing the LinkedIn group's activities and the persistent PLM Green Alliance website.
Conclusion
As a person, I cannot do big things for our future society; however, I can do small things. And if we all make sure our "small things" are directed to the same outcome, we achieve big things without a revolution. Be part of the active PLM Global Green Alliance with your small things.