Three weeks ago, I closed my PLM-twisted mind for a short holiday. Meanwhile, some interesting posts appeared about the PLM journey.
Is it a journey?
Should the journey be measurable?
And what kind of journey could you imagine?
Together these posts formed a base for a decent discussion amongst the readers.  I like these discussions. For me, the purpose of blogging is not the same as tweeting. It is not about just making noise so others will chime in or react (tweeting), it is about sharing an opinion, and if more people are interested, the discussion can start. And a discussion is not about right or false, as many conversations happen to be nowadays, it is about learning.
Let's start with the relevant posts.
How to measure PLM?
The initial discussion started with Oleg Shilovitsky's post about the need to measure the value of PLM. As Oleg mentions in his comments:
"During the last decades, I learned that every company that measured what they do was winning the business and succeeded (let's count Google, Amazon, etc ..)"
This is an interesting statement, just measure! The motto people are using for digital businesses. In particular for the fast-moving software business. Sounds great, so let's measure PLM. What can we measure with PLM? Oleg suggests as an example:
"Let's say before PLM implemented a specific process, sales needed 2 days to get a quote. After PLM process implementation, it is 15 min."
So what does this result tell us? Your sales can do 64 times more sales quotes. Do we need fewer salespeople now? We do not know from this KPI what is the real value for the company. This because there are so many other dependencies related to this process, and that makes PLM different from, for example, ERP. We do not talk about optimizing a process as Oleg might suggest below:
"Some of my PLM friends like to say – PLM is a journey and not some kind of software. Well, I'm not sure to agree about "journey," but I can take PLM as a process. A process, which includes all stages of product development, manufacturing, support, and maintenance."
Note: I do not want to be picky on Oleg, as he is provoking us all many times with just his thoughts. Moreover, several of them are a good points for discussion. So please dive into his LinkedIn posts and follow the conversation.
In Oleg's follow-up post on measuring the value, he continued with Can we measure the PLM-journey which summarizes the comments from the previous post with a kind of awkward conclusion:
What is my conclusion? It is a time for PLM get out of old fashion guessing and strategizing and move into digital form of thinking – calculating everything. Modern digital businesses are strongly focused on the calculation and measurement of everything. Performance of websites, metrics of application usage, user experience, efficiency, AB testing of everything. Measurement of PLM related activity sounds like no brainier decision to me. Just my thoughts…
I think all of us agree that there needs to be a kind of indicative measurement in place to justify investments in place. There must be expected benefits that solve current business problems or bottlenecks.
My points that I want to share with you are:
It is hard to measure non-comparable ways of working – how do you measure collaboration?
Do you know what to measure? – engineering/innovation is not an ERP process
People and culture have so much impact on the results – how do you measure your company's capability to adapt to new ways of working?
Meanwhile, we continue our journey…
Is PLM a never-ending journey?
In the context of the discussion related to the PLM journey, I assume Chad Jackson from Lifecycle Insights added his 3 minutes of thoughts. You can watch the video here:
Vlogging seems to become more prevalent in the US. The issue for me is that vlogs only touch the surface, and they are hard to scan for interesting reusable content. Something you miss when you are an experienced speed-reader. I like written content as it is easier to pick and share relevant pieces, like what I am doing now in this post.
Chad states that as long as PLM delivers quantified value, PLM could be expanding. This sounds like a journey, and I could align here. The only additional thought I would like to add to this point is that it is not necessary expanding all the time, it is also about a continuous change in the world and therefore your organization. So instead of expanding, there might be a need to do things differently: Have you noticed PLM is changing.
Next Chad mentions organizational fatigue. I understand the point – our society and business are currently changing extremely fast, which causes people to long for the past. A typical behavior I observe everywhere: in the past, everything was better. However, if companies would go back and operate like in the past, they would be out of business. We moved from the paper drawing board to 3D CAD, managing it through PDM and PLM to remain significant. So there is always a journey.
Fatigue comes from choosing the wrong directions, having a reactive culture – instead of being inspired and motivated to reach the next stage, the current stage is causing already so much stress. Due to the reactive culture, people cannot imagine a better future – they are too busy. I believe it is about culture and inspiration that makes companies successful – not by just measuring.  For avoiding change, think about the boiling frog metaphor, and you see what I mean
Upgrading to PLM when PDM falls short
At the same time, Jim Brown from Tech-Clarity published a PTC-sponsored eBook: Upgrading to PLM when PDM fall short, in which as he states:
This eBook explains how to recognize that you've outgrown PDM and offers several options to find the data and process management capabilities your company needs, whether it's time to find a more capable PDM or upgrade to PLM. It also provides practical advice on what to look for in a PLM solution, to ensure a successful implementation, and in a software partner.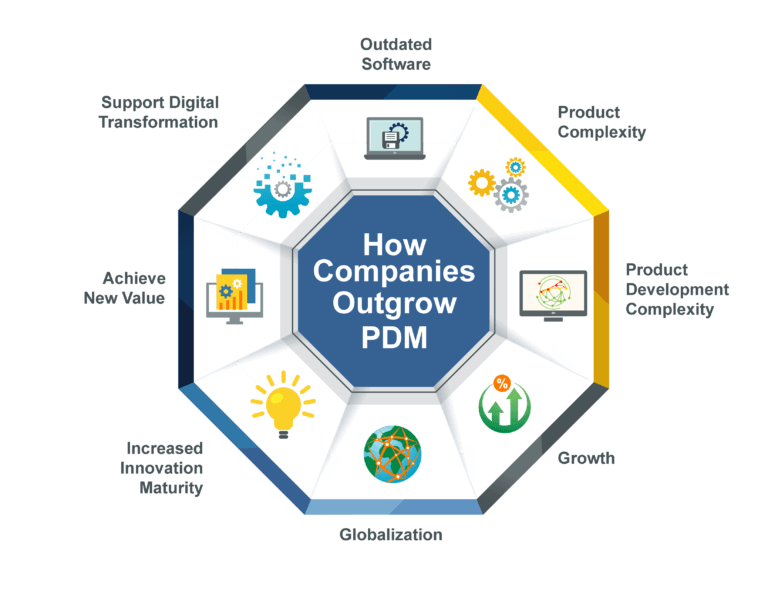 Jim is mentioning various business drivers that can drive this upgrade path. Enlarge the image to the left. I challenge all the believers in measurable digital results to imagine which KPIs they would use and how they can be related to pure PLM.
Here the upgrade process is aiming at replacing PDM by PLM something PLM vendors like. Immediate a significant numbers of licenses for the same basic PDM functionality – for your company hard to justify there is no additional value.
In many situations, I have seen that this type of PDM upgrade projects became advanced PDM projects – not PLM. The new PLM system was introduced in the engineering department and became an even bigger silo than before as other disciplines/departments were not willing to work with this new "monster" and preferred their own system. They believe that PLM is a system to be purchased and implemented, which is killing for a real PLM strategy.
Therefore I liked Oleg Shilovitsky's post: 3 Reasons for Not Growing Existing PDM Into the Full PLM System.  Where Oleg's points were probably more technology-driven, the value of this post was extended in the discussion. It became a discussion where various people and different opinions which I would like to have in real-time. The way LinkedIn filters/prioritizes comments makes it hard to have a chronological view of the discussion.
Still, if you are interested and have time for a puzzle, follow this discussion and add your thoughts
Conclusion
During my holidays, there was a vivid discussion related to the PLM value and journey. Looking back, it is clear we are part of a PLM journey. Some do not take part in the journey and keep on hanging to the past, those who understand the journey are all seeing different Points Of Interests – the characteristics of a journey